I have a semi-official policy of ignoring Christian media mogul Pat Robertson whenever possible. You can set a clock by how often he says something stupid, insensitive, outrageous, or inadvertently amusing about any belief system that doesn't walk lockstep with his own. He's a calculating offender who knows that causing controversy is good for his business. I frankly have no idea how the folks at Right Wing Watch or Talk to Action manage to cling to sanity in their daily trawl through the seamy underbelly of conservative Christianity.  Surely that much Pat Robertson isn't healthy for anyone? In any event, the folks at RWW reported on yet another stupid observation on Robertson's 700 Club, this time from current Roberston sycophant Kristi Watts.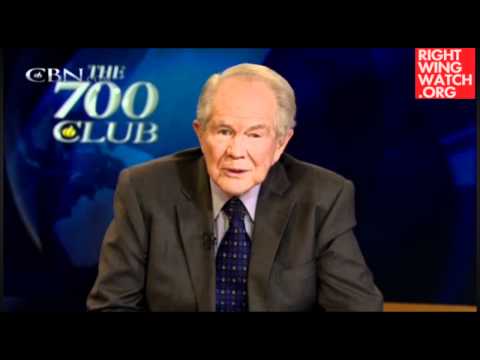 www.youtube.com/watch?v=l_4IurtU5LQ
Robertson's cohost Kristi Watts mockingly asked that since the Wicca religion "believes in the environment and believes that trees are there God," then "why are these atheists not saying we should cut down every tree because it's offensive?"
Luckily, Heathen political commentator Hrafnkell Haraldsson jumps in to tear Watts bizarre argument apart.
"The obvious answer to this is that Wiccans don't worship trees. This is more of the ever-popular  Old Testament dumb idol meme, the hatred of the Yahwists for trees as representative of goddesses, and repeated all through early Christian history (e.g. 1 Corinthians 12:2), where Pagans become people who worship rocks and trees rather than seeing in nature the divine all around us. On a whole, this is roughly analogous to and about as accurate as saying Christians worship a cross.

Although, it wouldn't surprise me if even militant atheists aren't too worked up about Wicca, which like other Pagan religions, eschews proselytization and preaching to "non-believers" like Kristi Watts' own religion. Pagans also aren't known to be busy either trying to deprive atheists of their right to not believe. But then, comprehension of causation is not a strong suit for those who believe their god's will decides everything, including who is born to whom and when."
Since Hrafnkell has done such an able job of dismantling the anti-Pagan (and anti-atheist) religious hit-job on Robertson's program, I'll instead bring up one other point. Atheists aren't gunning to chop down all the trees us Pagan tree-huggers hug because they predominantly believe in environmental and climate science, and know that cutting down "every tree" would destroy our ecosystem, and life on earth itself (sadly, ski resort Jesus statues don't absorb carbon dioxide and produce oxygen). To some Christians climate change initiatives and environmental regulations aren't a matter of responsible stewardship, but a form of "paganism" in of itself. However, interestingly, Robertson isn't one of them.

www.youtube.com/watch?v=NhmpsUMdTH8
"They have broken heat records in a number of cities already this year and broken all-time records and it is getting hotter and the ice caps are melting and there is a build up of carbon dioxide in the air. We really need to address the burning of fossil fuels. If we are contributing to the destruction of the planet we need to do manage about it."
So even if Wiccans worshiped trees as their "god," I think both Robertson and the straw-man atheists described on his program would agree that a policy of cutting "down every tree because it's offensive" wouldn't be in their best interests. It's a shame that Robertson didn't correct his sidekick on this simple point of logic.

•
Email to a friend
•
Article Search
•
View comments
•
Track comments
•

•
Today the political elite of the United States engaged in an annual tradition, the National Prayer Breakfast, attended by every president since Eisenhower, and held up by supporters as a peace-making, problem-solving moment of unity.
"The purpose of the National Prayer Breakfast, which will be held for the 60th time on Thursday, is to attempt to bridge political and even religious differences through what is called "the spirit of Jesus of Nazareth" in order that leaders consider a Higher Authority to Whom they are ultimately accountable and answerable. [...] One can debate whether the National Prayer Breakfast engages in a type of "civil religion," but there is much good that emerges from it. For at least a short time, politicians — from the President of the United States on down — acknowledge they are not as powerful as the Almighty."
However, as Citizens for Responsibility and Ethics in Washington (CREW) point out,  the organizers of this event, the Fellowship Foundation (aka "The Family") use its influence to further a noxious agenda.
"Outside of Washington, "The Family" has used its government clout to facilitate backdoor meetings between U.S. and foreign officials, and has persuaded members of Congress, including Sen. James Inhofe (R-OK), to engage in Fellowship-sanctioned evangelizing while traveling at taxpayer expense.  Salon.com uncovered, revolting detail, the lengths to which members of "The Family" went to help Laurent Gbagbo, the now former president and dictator of the Ivory Coast, hold on to power.  Mr. Gbagbo is now in The Hague awaiting trial by the International Criminal Court for crimes against humanity.  "The Family" has also supported abhorrent anti-gay legislation in Uganda."
Journalist and author Jeff Sharlet, who as written two important books about this organization, "The Family: The Secret Fundamentalism at the Heart of American Power" and "C Street: The Fundamentalist Threat to American Democracy," says that the Fellowship Foundation has been waging a war on the United States' Establishment Clause since its formation.
"Domestically, The Family have long been at the heart of the Christianist assault on the First Amendment's Establishment Clause – "Congress shall make no laws respecting the establishment of religion" – which is the guarantee of the Free Exercise Clause that makes America free (in theory, at least) for Pagan. In 1953, The Family established the National Prayer Breakfast; in 1954, Family politicians led the fight for "Under God" in the pledge and "In God We Trust" on our currency. More recently, Representative Tony Hall, a conservative Democrat from Ohio, made the National Day of Prayer a fixed, permanent affair, with White House observance orchestrated by Shirley Dobson – wife of Christian Right leader Jim Dobson."
The fact that a group tied to abhorrent and lethal anti-gay legislation in Uganda, and committed to an agenda that mocks our constitution, is still awarded such position in our society says much about the venality of our political climate and the clout this group has been allowed to cultivate. Instead of an interfaith event, or secular gathering, our nation's moment of unity is interpreted through the lens of Christianity, and a limited, conservative, empire-minded, Christianity at that. This audacious enforcement of a Christian America technically side-steps constitutional issues by being a "private" event, a fact that allows smaller, local, prayer breakfasts to invite notoriously controversial figures while avoiding litigation.
This year, thanks to Occupy Faith D.C., there's an interfaith People's Prayer Breakfast that calls on Americans "to pray and to stand in unity with those suffering economic hardship and inequality in our nation."
"…where people of all faiths can both listen to and offer up the prayers of the poor. It's an event where all are welcome, but we especially invite those who are impoverished or work with impoverished people groups to come and bring their prayers. We will offer up the prayers of children in the form of artwork on the theme of "enough for everyone", first to God, and then to the attendees at the National Prayer Breakfast."
So here we have two competing Prayer Breakfasts, and two competing views of our nation. One favors gathering power and establishing Christianity as the focal point of national unity, while the other opens its doors to all faiths, and concerns itself with those who aren't being served or supported by our current system. One is about back room deals, while the other is about "breakout sessions." Only one of these visions is one in which modern Paganism has a place at the table, and its that vision that our interfaith efforts work on building. As our community, our movement, continues to grow, we need to work on growing institutions and events that are inclusive, open, and support our core values. Eventually, with enough work, perhaps we can build a large enough interfaith coalition to challenge The Family's Prayer Breakfast, to provide a robust counter-narrative that is truly in the grand spirit of our secular nation.

•
Email to a friend
•
Article Search
•
View comments
•
Track comments
•

•