IBM's Watson supercomputer won a practice round against Jeopardy champions Ken Jennings and Brad Rutter and raised a lot of questions about the capabilities of artificial intelligence.

Watson, a four-year effort by IBM, was quicker on the draw, didn't fall prey to emotion and had a voice that could be confused for wayward computer Hal 9000 from the movie 2001: A Space Odyssey. For IBM, Watson is about tackling verticals and bringing hardware and analytics to the fore.
It's very likely IBM's Watson will win, from what I understand Watson is not doing voice recognition, Watson gets the questions asked electronically. Some will say it's not a fair match until the questions are asked the same way, perhaps that doesn't matter - but what does matter is IBM will eventually beat the pants off us humans AGAIN and not share how they did it with human kind. We've previously asked, begged and guilted IBM about open sourcing Deep Blue, the chess computer that beat us humans, but we've not been able to find anyone who even knows where or if it exists. A retired engineer from IBM joked with me at Maker Faire saying "Lenovo has the real Deep Blue in a special room where all the execs hang out, in China". Lenovo acquired IBM's ThinkPad laptop line in 2005 for approximately $1.75 billion.
A fun quote from the article about Watson...
Rutter said Watson can be a bit overwhelming. Jennings and Rutter quipped about how computer capabilities are part of human advancement, but acknowledged that they were a bit uncomfortable. Jennings said he "didn't want technology to advance that far just yet." When John Kelly III, director of IBM Research reminded Jennings and Rutter that computer and human intelligence were at an intersection point and computing would only improve, Rutter quipped: "So we're all extinct."
If Watson beats us, like Deep Blue did - will we ever be able to see how? 10 years from now, ever? Shouldn't kids of today be tinkering with their own Deep Blue in a virtual machine? There's nothing magical about a super Chess computer or Google-like IBM interface for answering trivia questions but each time a human vs machine bout happens shouldn't there also be a time when we share how it's done so we can do it better, or come up with something that's a bigger challenge? Or figure out a question a computer will never be able to answer?
I know there will be some comments like "who cares!" but think about the people (and machines) 100 years from now, I'm betting both would want to know how this all happened. We have a unique opportunity to comment the fossil record /*
So before I end this plea to IBM, how about this - IBM, you bring Watson to Maker Faire bay Area 2011 in May, last year we had over 80,000 attend - think of all the next-generation scientists and engineers that will be there to inspire.
This post was automatically generated by Multivac
Previously:
IBM supercomputer '"Watson" to challenge "Jeopardy" stars.
Also check out the great video on Engadget.

Read the Full Story »
|
More on MAKE »
|
Comments »
|
Read more articles in Robotics
|
Digg this!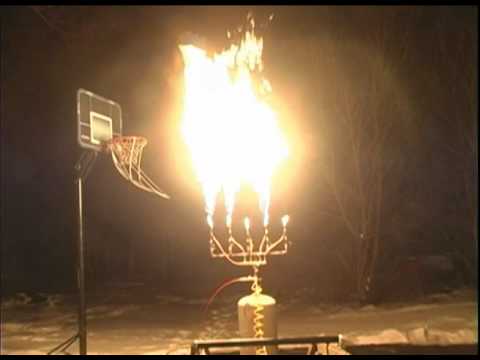 Chris Marion (Andover, NJ) is an amazing teenage maker I found out about through element14's website. I love his "About" statement:
If you look up "Chris Marion" on Google, you will find a folk singer and a professional photographer. What you won't find is a high school student routinely doing incredible projects on his own time and trying to change the world for the better. The intent of this website is to change that. I will try to paint an accurate picture of my ever-changing life by expressing myself through my website.
Above is an awesome project he's done to create a propane fire organ controlled by a Guitar Hero guitar. Here he describes his initial idea (riffing off of Mikey Sklar's fire trampoline).
Simply interface a Guitar Hero controller to a microcontroller that would power some relays which would in turn fire off solenoid valves on five individual fire poofers! Now this could be cool; a large fire "sculpture" that is playable by anybody. Read on to see how I turned this idea into reality in a week's time!
Read the Full Story »
|
More on MAKE »
|
Comments »
|
Read more articles in Arts
|
Digg this!
Yesterday's post about artist Wayne Chisnall's life-size model kit of his own body actually marks the second time I have posted about a life-size plastic model kit version of something, and the second time a commenter has responded by mentioning James May's life-size Airfix Spitfire model from the first episode of his 2009 BBC series Toy Stories. Which means it's time for a proper post. Unfortunately May's model doesn't have a very robust web presence. The BBC hosts a streaming teaser video for the episode, and this page has a brief review. If anybody's got a better link, your comment would be appreciated.
More:
Entire house made from Lego bricks
Read the Full Story »
|
More on MAKE »
|
Comments »
|
Read more articles in Arts
|
Digg this!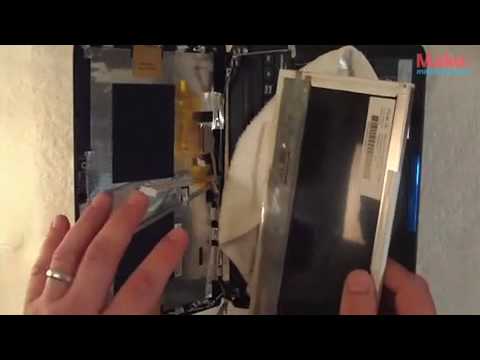 The Pixel Qi screen from the Maker Shed is a revolutionary plug-and-play LCD display technology for your netbook. This one-of-a-kind 10.1-inch display offers two modes, an easy-to-read multimedia color mode, or a crisp low power e-reader mode. The e-reader mode has 3 times the resolution of the fully saturated color mode, allowing for a high resolution reading experience without sacrifice to super color fidelity for graphics. Upgrade your current display for incredible battery life, and the ability to use your netbook outside in full sunlight. Check out the product page for more information on compatibility, and links to more resources.
Read the Full Story »
|
More on MAKE »
|
Comments »
|
Read more articles in Maker Shed Store
|
Digg this!