---
Summary

Hack a day has an excellent "Intro to Circuit Bending". Their article combined with some previous coverage and pages of MAKE will allow you to make incredible retro, blippy, noise :)
Electronic musical instruments are a lot of fun for a hacker because, with a small palette of tools, know-how and curiosity, they are easily modified. As with any hack, there is always the chance that the subject will be ruined, so it's not necessarily worth the risk to muck about inside your thousand-dollar pro synthesizer. Luckily for all of us, there are shovel-fulls of old electronic musical toys littering the curbs and second-hand shops of the world. These fun little devices provide ample opportunity to get familiar with audio electronics and circuit bending techniques.

A note on definitions: the term "circuit bending" can be synonymous with "hardware hacking" in the world of audio electronics, and we have seen some debate as to which term is better suited to a given project. We welcome you to share your viewpoints in the comments. Keep reading to get started.

More:
Love weird sounds and curious about circuit bending? Check out this blast from the past: MAKE Volume 04's Circuit Bending project by Cristiana Yambo and Sabastian Boaz. This 12-page how-to shows you how to modify a Casio keyboard (they used the SK-5):
And make this "unstoppably flexible sound organ and sonic effects generator" setup, ready to crank out some Franken-beats (above the keyboard on the right is the patch bay box and on the left is external controller port):
The best part is that you can take what you learn in this project and bend just about any battery-powered audio toy or musical instrument. This cool illustration (full-sized in Digital Edition link below) shows how you can play open circuits to test out what sounds your device is capable of making:
Check out the full article in our Digital Edition and for more, pick up a copy of MAKE Volume 04 in the Maker Shed and learn how to make a cigar box guitar, a mint-tin amp, use your Game Boy as a musical instrument, start VJing, and more. Long live bleeps!

Read the Full Story »
|
More on MAKE »
|
Comments »
|
Read more articles in Music
|
Digg this!
Calling all wheel freaks, go-kart aficionados, bike builders, skateboard modders, soapbox specialists, trailer tinkerers, and vehicle hackers! Wanna get published in MAKE magazine? Here's your chance! We've just extended the deadline for our Karts and Wheels contest by a week. The new deadline is Friday, January 24th, which gives you two extra weekends to get in your entry.
The theme for the upcoming MAKE Volume 26 is "Karts and Wheels," and we know you've got some great builds that fit the bill. Go-karts, electric bikes and scooters, biodiesel buggies, powered skateboards, self-balancing whatsits, illegal soapbox derby cars, taco trikes, high-tech chariots -- if it's got wheels and carries a person, we want to see it.
The rules are simple:
1. Come up with a cool, original go-kart or alt wheels project fitting the Volume 26 theme.
2. Document your build step-by-step with clear instructions and photos, then share it on Make: Projects.
3. Send an email to wheels@makeprojects.com with a link to your Make: Projects entry when you're done. Easy!
The editors of MAKE will then pick the best project, polish it up, and publish it in MAKE Volume 26. Entries will be judged on the quality of the documentation as well as the originality/coolness of the project.
Show us what you make!
Read the Full Story »
|
More on MAKE »
|
Comments »
|
Read more articles in Contest
|
Digg this!
To coincide with the imminent release of MAKE Volume 25, the Arduino issue, we're launching an Ardunio site here on MAKE. Over the years, we've amassed tons of Arduino content here, offered dozens of Arduino projects in the magazine (and now on Make: Projects), and stocked plenty of Arduino awesomeness in the Maker Shed. But we've never had a convenient way for readers to access all of this via a single entry point. Now we do! We'll be building this site out in the next few weeks and hope it will become an invaluable portal to all things Arduino. We'd love to hear from you about what you'd love to see on this Arduino page. Our thanks to element14 for helping us to get this project off the ground.
>> This way to Make: Arduino
Read the Full Story »
|
More on MAKE »
|
Comments »
|
Read more articles in Arduino
|
Digg this!
Bethany Shorb, a Detroit maker of hand-silkscreened neckties at Cyberoptix, is showing new auto-inspired creations in a show at the Public Pool Artspace in Hamtramck, MI. This show opens Saturday as a kind of counterpoint to the North American Auto Show, which runs from January 15-23 in Detroit. On opening night, Apetechnology will present a smash-up derby involving 1/3-scale, robotic, fiber-glass cars in the streets of Hamtramck. (We'd love to see video!)
We love our cars. We hate our cars. We're stuck with our cars.

So, just in time for the public opening of the largest auto show in the world, Public Pool brings you "Automobiles: Shaping Our Landscape, Designing Our Lives."

For it, we've asked nine artists to think about cars and create some art. The results are all over the road, from Ian Swanson's study of the effects of window tinting to Carrie Dickason's 12-foot sculptural interior of a 1997 Subaru legacy to Kate Daughdrill's performance piece on what can happen in the intimate spaces of cars (using one that's parked outside the gallery), and more.
Bethany's contribution to the show is the "Supplemental Restraint System: Triumph/Ford Disaster. (A tale of a chance meeting between a '73 Triumph TR6 and a '64 Ford Fairlane.)"
"Triumph/Ford Disaster is born from classic American and vintage European sports car parts harvested only from wrecked vehicles, tightly wrapped in an outer skin made exclusively of previously deployed airbags, then lovingly beaded and sutured back together forming another protective barrier in an imagined crash narrative."
Here's more info on the event.
Facebook event page
Public Pool Artspace, Hamtramck, MI
Read the Full Story »
|
More on MAKE »
|
Comments »
|
Read more articles in Arts
|
Digg this!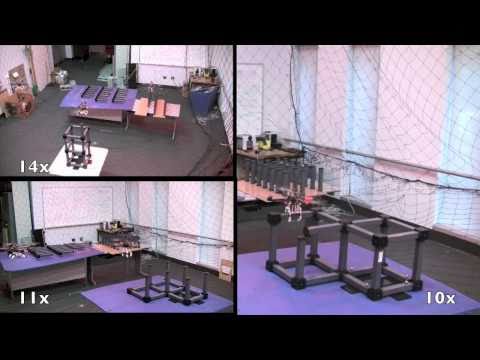 Teams of quadrotors autonomously build tower-like cubic structures from modular parts. Work done by Quentin Lindsey, Daniel Mellinger, and Vijay Kumar at the GRASP Lab, University of Pennsylvania.
Read the Full Story »
|
More on MAKE »
|
Comments »
|
Read more articles in News from the Future
|
Digg this!
It's that time of the year again! February is Thing-A-Day month:
Thing-a-day is a yearly creative sprint where, every year in February, participants commit to creating one new thing a day and post it on a collective blog.Sign-up now to get inspired and fight the mid-winter blues! Registration opens Jan 21st and ends at midnight on the 1st.
Read the Full Story »
|
More on MAKE »
|
Comments »
|
Read more articles in DIY Projects
|
Digg this!
Clever idea from reddit user Crath. Unfortunately, I think most of us are likely to have many more cables than empty CD/DVD-ROM spindles lying around. Still, me likey. [via Recyclart]
More:
Read the Full Story »
|
More on MAKE »
|
Comments »
|
Read more articles in Green
|
Digg this!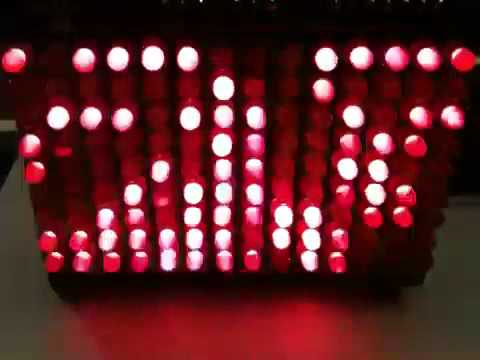 We love it when our customers share their projects! This example by Todd Moore uses an Arduino and a LoL Shield to make a simulated rain pattern on the display. Not bad for a first Arduino project! Thanks for sharing Todd.
Building and coding the Arduino Lol Shield has been a lot of fun. My next goal will be to create a game of some kind. I know others have created Pong and Space Invaders. I'd like to come up with something different. Any ideas?
Did you build something with a kit from the Maker Shed? If so, leave a comment below or Twitter a link to @makershed. We always enjoy seeing what everyone is making. Thanks!
Read the Full Story »
|
More on MAKE »
|
Comments »
|
Read more articles in Maker Shed Store
|
Digg this!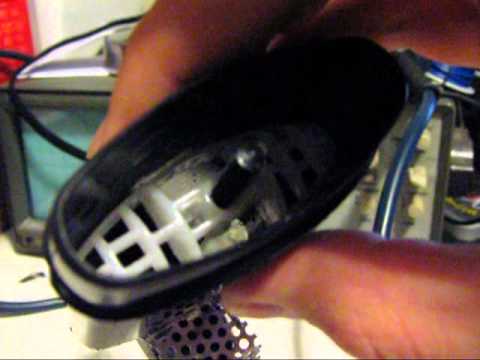 MAKE Magazine subscriber Jeremie Boulianne of Calgary, Alberta, came with a unique way to build a linear actuator:
Linear actuation is an elusive and expensive field to get into but I always seem to find a need for it with robots I build. Whether it being to raise a turret or dispense a marker a linear actuator would be so handy.

My proof-of-concept solution (hack) was to create a linear actuator design that is accessible to even electronics enthusiasts on the tightest budget. Using a common item, that I hope everyone uses :), you can build one yourself after the product has been used up. I recommend leaving the dispenser under hot water for a few minutes and then use an old toothbrush to clean off the remaining residue before you hack it. The amount of travel for this plastic worm gear assembly is a tad over 3 inches. Right now I don't have an installed solution for detecting end of travel but I would assume it'd be easy enough to add a Freeduino with some limit switches or current sensing chips. The Freeduino could also drive your servo signal at the same time...BONUS!
Read the Full Story »
|
More on MAKE »
|
Comments »
|
Read more articles in hacks
|
Digg this!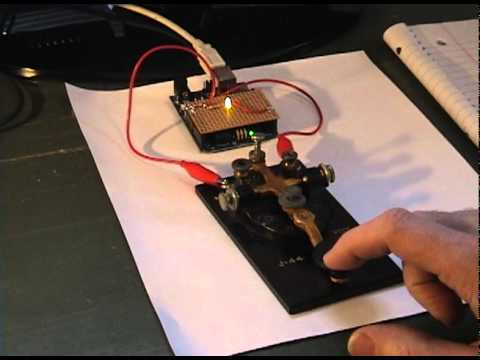 Joe McKay of Beacon, NY, writes:
The Tweetagraph uses an Arduino to capture the dots and dashes created by the telegraph. The Ardruino itself is running Firmata (now comes as a built in library with the arduino software) so that it can talk to Processing. The Processing sketch is using the java library twitter4j which handles the communication with the Twitter API.
[Thanks, Joe!]
More:
Read the Full Story »
|
More on MAKE »
|
Comments »
|
Read more articles in Retro
|
Digg this!
Missing an issue? Well, today is your lucky day. One day only. Get any back issue of MAKE: Technology on Your Time as PDF for only $5.99 from oreilly.com by entering the code DDMAK. Act now! You never know when a deal like this will come around again.
Read the Full Story »
|
More on MAKE »
|
Comments »
|
Read more articles in MAKE PDF
|
Digg this!
More Recent Articles