---
From the NYTimes... Why Green Energy Can't Power a Job Engine -
Evergreen Solar announced last week that it was closing its plant in Devens, Mass., laying off 800 workers, and moving production to China. Evergreen's factory had received more than $40 million in subsidies, which led many to see the plant closing as lesson in the futility of green energy and industrial policy. But what does Evergreen's story really teach us about solar energy, public subsidies and the future of American manufacturing? ... The Devens closing reminds us that even when ideas are "made in America," production is almost always cheaper in China.
I know this looks like a Debbie Downer story, but I think it's an important example to consider what to focus on, and what we (Americans) can do best at this time -- as a government we do not seem to do so great when when we try to be venture capitalists with a specific business (solar) but we do amazingly when we collectively invest in infrastructure and education. The article sums it up nicely...
For decades, local economic success has come from entrepreneurship and education, not large-scale manufacturing. The Devens closing doesn't imply that there is anything wrong with clean energy, but it does suggest the difficulties inherent in trying to beat China at cheap manufacturing. In the long run, America will be richer than China only by having smarter citizens, and that requires the skills that come from schools and cities, not dispersed factories.
If $40m and all the advantages in the world couldn't keep a solar plant competitive in the USA, what races
can
enter in to win? Design, engineering, rapid-prototyping designs -- and of course working with partners around the globe for manufacturing.
Read the Full Story »
|
More on MAKE »
|
Comments »
|
Digg this!
We've recently rolled out two new useful functions in our online DIY library, Make: Projects. The first is that you can embed YouTube or Vimeo videos in the introduction field of any project, and the second is that you can easily embed any project in its entirety anywhere else on the web. Check out the Soda Bottle Rocket project from MAKE Volume 05 to see how a vid looks in layout (with size=large and alignment=center). And check out the Wiki Syntax guide for the video embed code.
As for embedding a whole project elsewhere, all projects now have a handy Embed link under Formats. Grab it, drop it, and it looks like this:
We've working hard to fine-tune Make: Projects into a truly valuable tool for makers of all stripes. If you have feedback, let us know!
Read the Full Story »
|
More on MAKE »
|
Comments »
|
Read more articles in Announcements
|
Digg this!
Stamatios M. Krimigis of the Johns Hopkins University Applied Physics Laboratory is pictured with the Voyager spacecraft's backup flight unit which was never used. (Jed Kirschbaum, Baltimore Sun/January 17, 2011)

So cool. Thanks to Michael Doyle for posting this on Facebook.
Last June, Krimigis' team noticed that solar particles had stopped striking from behind, and started to hit their Voyager 1 instrument from the front. And they were striking at the same speed -- 17 kilometers per second -- that Voyager 1 was moving away from the sun, like bugs striking the windshield of a moving car.


It suggested the solar particles' speed outward from the sun had fallen to zero. Scientists watched the data for six months and it didn't change. "We're pretty certain this is a steady-state condition," Krimigis said.

Their instrument is still detecting a particle flow perpendicular to Voyager's direction of travel, a mix of solar and interstellar particles. It's not entirely clear what's going on.

"All this stuff should have disappeared, and it's still there," he said. "It's as if we're in some vast region where the solar wind is kind of sloshing around, instead of being in true interstellar space where there is nothing like this."

True interstellar space might remain years and billions of miles away, scientists say.

"Within the next decade we'll be there for sure," said Ness. Voyager will know because all the particle readings from the lab's instrument will drop to zero, or nearly so.

Ness is confident the Voyager craft will make it. "It runs autonomously," he said. "The question is, 'Will NASA be listening?' "

Sometime around 2025, the two craft will fall silent. In 40,000 years, Voyager 1 will sail as Earth's ambassador among the stars of the constellation Camelopardalis -- the Giraffe -- in the northern sky. Voyager 2 is headed for Sirius, the brightest star in the sky. It should arrive in 296,000 years.
Voyager 1 at edge of solar system APL instrument still running after 33 years
Read the Full Story »
|
More on MAKE »
|
Comments »
|
Read more articles in Science
|
Digg this!
This past Saturday, the latest Open MAKE/Young Makers program took place at the Exploratorium in San Francisco. Lanny Smoot (above) showcased his incredible strobing zoetrope, Virginia Fleck (middle image) hosted a workshop on building inflatable meditation cushions made from recycled plastic bags, Shih Chieh Huang (bottom image) displayed and discussed his mind-bending multimedia art, and Michael Schiess showcased some of his transparent pinball machines. The webcast of the day includes an intro by Dale Dougherty, presentations by the four featured makers, and a Q&A with the audience.
The "Materiality: Plastics" theme will run at The Tinkering Studio through Feb 6th. Starting on Feb 7th, the theme is "Materiality: Cardboard." The next Open MAKE session, centered on the Cardboard theme, will be Feb 19th. See The Tinkering Studio website for more details.

Read the Full Story »
|
More on MAKE »
|
Comments »
|
Read more articles in Announcements
|
Digg this!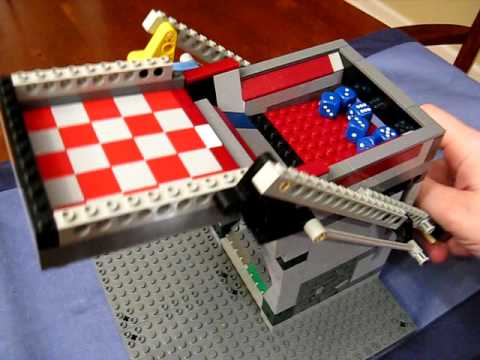 Really cool gizmo from YouTuber skadar. Even cooler that it's built from Lego elements. Kind of puts the Pop-O-Matic to shame.
More:
Read the Full Story »
|
More on MAKE »
|
Comments »
|
Read more articles in LEGO
|
Digg this!
In the comments from the last Codebox, someone asked for more info about video and Processing, which got me wondering: what other topics are people interested in? For example, I'd like to know more about firmata, Android - Processing, and Kinect.
On this last point, BTW, Daniel Shiffman has a great tutorial on Getting Started with Kinect and Processing. Check out this video that shows how to control a sketch using gestures:
Read the Full Story » | More on MAKE » | Comments » | Read more articles in Arduino | Digg this!
For the past year, MAKE contributor James Floyd Kelly has been exhaustively performing every experiment in Charles Platt's amazing Make: Electronics tome, and now he's done.
This is the book I WISH I had in high school - it may very well have changed the course of my studies. I'm happy with my chosen vocation, but it took over a decade out of university for me to find the time and the right book to get my understanding of electronics to this level. So... high school teachers and parents - try to buy a few copies of this for your high school library.
<...>
I am still in shock that a book like this has eluded me all these years, but I'm glad it's here now, and I have shared (and will continue to share) both the book and the skills I've learned with teachers, parents, and students.
In the Maker Shed:


Make: Electronics
Our Price: $34.99
Want to learn the fundamentals of electronics in a fun and experiential way? Start working on some excellent projects as soon as you crack open this unique, hands-on book. Build the circuits first, then learn the theory behind them! With Make: Electronics, you'll learn all of the basic components and important principles through a series of "learn by discovery" experiments. And you don't need to know a thing about electricity to get started.
Read the Full Story »
|
More on MAKE »
|
Comments »
|
Read more articles in Electronics
|
Digg this!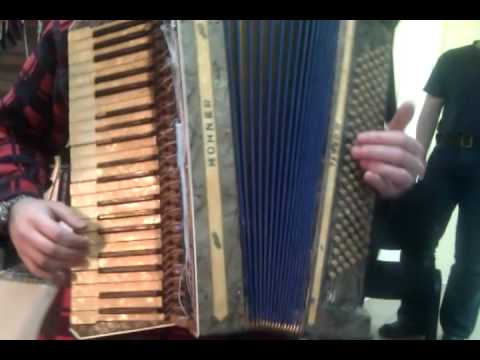 Incredible, a MIDI accordion for under $100! Ukraine's Dmitry Yegorenkov wanted a way to practice accordion while wearing headphones, and didn't want to shell out over six grand for the Roland model with MIDI out, so he made his own, source code and schematics included. Accordion Mega [via Arduino Blog]
Read the Full Story »
|
More on MAKE »
|
Comments »
|
Read more articles in Music
|
Digg this!
When I was a teenager, we had a distinctly impolite name for a pull tab that had been removed from the can with the rivet ring still intact, said name being based on a persistent urban legend about the alleged redemption value of these relatively rare tabs. I can assure you, dear readers, that legend has nothing to do with the reason I am familiar with this handy trick for removing pull tabs with the ring intact every time. Turns out, a tab with an intact rivet ring is quite useful for mounting to wooden frames as a picture hanger. And I, you know, have to hang up lots of pictures. Seriously.
More:
Read the Full Story »
|
More on MAKE »
|
Comments »
|
Read more articles in Make: Projects
|
Digg this!

You never know when you'll find yourself in a MacGyver moment. It can happen anywhere, at any time. Wouldn't it be easier to hack those electronics with some real components instead of a rubber band and a paper clip? The Mintronics: Survival Pack from the Maker Shed contains over 60 useful components for making, hacking, and modifying electronic circuits and repairs on the go.

This jam-packed mint tin might not make your breath smell better, but it will make you next escape a whole lot easier!
Read the Full Story »
|
More on MAKE »
|
Comments »
|
Read more articles in Maker Shed Store
|
Digg this!
This shows an early incarnation of the Sporenspiel, a glockenspiel which is automatically played based on the amount of spores falling from a mushroom in real time.

This video shows the Sporenspiel being played from a video file of mushroom spores, but it will eventually be triggered by real life mushroom spores.
[Thanks, Adam!]
Read the Full Story »
|
More on MAKE »
|
Comments »
|
Read more articles in Music
|
Digg this!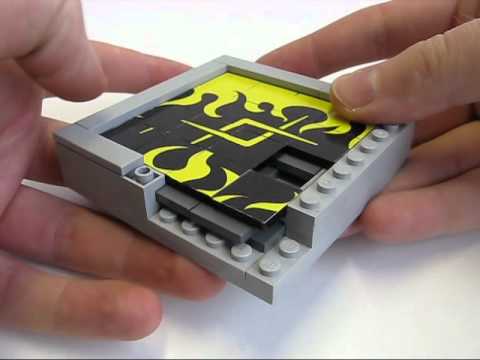 Spotted in the MAKE Flickr pool, this elegant working version of the classic sliding-tile puzzle executed in Lego elements by Peer Kreuger. It's shown here partially disassembled; the assembled version has no visible studs.
More:
Read the Full Story »
|
More on MAKE »
|
Comments »
|
Read more articles in LEGO
|
Digg this!
Our friends at Photojojo give us a step-by-step tutorial on how to paint with light. All you need is a camera with manual exposure control, a tripod, things that glow, dark clothing, and a dark space.
If you have enough time, you can create a stunning stop-frame animation, or even write out your marriage proposal across a few city blocks. [via Lifehacker]
More:

HOW TO - stop motion light painting
Read the Full Story »
|
More on MAKE »
|
Comments »
|
Read more articles in Imaging
|
Digg this!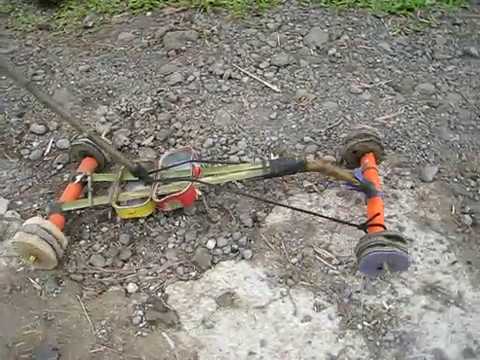 Toys are so much more fun when you make them yourself rather than purchasing one. Popular in Cameroon, these so called "remote controlled" toys are made from the various bits of debris cast off from modern life. It may not have accelerated graphics or play PVZ, but then again it'll never run out of batteries and can always be scavenged for parts for the next improvised toy fad. [via AfriGadget]
Read the Full Story »
|
More on MAKE »
|
Comments »
|
Read more articles in Kids
|
Digg this!
More Recent Articles