---
Even though the theme of the newest issue of MAKE, Volume 25, is Microcontrollers and Arduino, rest assured that it features a wide variety of projects, something for everyone. Case in point is the Giant Spin Art project by brothers Bob and Pete Goldstein. This simple wooden rig holds a canvas powered by a corded drill; think of it as the supersized version of the classic. The project is fun and easy, provides hours of amusement for kids young and old, and produces fancy results like shown below. Plus, to get you started collaborating right away, we've shared the whole project with you in our DIY library, Make: Projects. Be sure to pick up the issue, on newsstands now, for enough projects to keep you busy until Volume 26.

Check out MAKE Volume 25:


MAKE Volume 25: Arduino Revolution
Give your gadgets a brain! Previously out of reach for the do-it-yourselfer, the tiny computers called microcontrollers are now so cheap and easy to use that anyone can make their stuff smart. With a microcontroller, your gadget can sense the environment, talk to the internet or other hardware, and make things happen in the real world by controlling motors, lights, or any electronic device.
Read the Full Story »
|
More on MAKE »
|
Comments »
|
Read more articles in Arts
|
Digg this!
Science on the SPOT: Open Source Creativity - Hackerspaces
Read the Full Story »
|
More on MAKE »
|
Comments »
|
Read more articles in Makers
|
Digg this!
Circuit diagrams, aka schematics, are line drawings that show how a circuit's components are connected together. They serve as a map or plan for assembling electronics projects, and they are easy to read -- far easier than understanding how the circuits they describe actually work. This is an important point: You can read and successfully build from a schematic diagram without understanding the circuit.*
Schematics are also readily available for countless easily-buildable electronic devices. Do you hear that? That's the sound of freedom.
Schematic diagrams are made up of two things: symbols that represent the components in the circuit, and lines that represent the connections between them. That's it. Let's start with the connections, since that's easier.
Connections
Circuit diagrams depict a perfect world where wires and other conductors do not interfere with one another and have no resistance of their own. If a line runs between components, it means that they are connected, period, and it tells you nothing else. The connection can be a wire, a copper trace, a plug-socket connection, a metal chassis, or anything else that electricity will run through without much resistance. Messy details like wire or cable specifications and routing, if they are important for a project, belong elsewhere in its documentation. The length of a line also has nothing to do with the connection's actual distance in real life. Schematics are drawn (ideally) to be clear and simple, with components and connections arranged on the page to minimize clutter, not to represent how they might be placed on a circuit board.
Lines represent connections, but where two lines cross, it doesn't necessarily designate a 4-way shared connection. Schematics distinguish between unconnected paths that happen to be drawn with lines crossing each other, and junctions where the line crossings designate a shared connection. The most common way to make this distinction is to put a dot over the line intersections that indicate connections, which means that any line crossings without dots are all unconnected. The other method is to assume that plain crossed lines do connect, but draw small "jumps" at wire crossings where there is no connection.
As a corollary, a three-way intersection always means a three-way connection, even without a dot. Some people follow the dot drawing rule with 3-way connections and others see no need, because there's no reason to draw a connection to nowhere.
Read the Full Story »
|
More on MAKE »
|
Comments »
|
Read more articles in Electronics
|
Digg this!
Quick question: If you were having a heart attack and could choose one person to help you &emdash; either a paramedic, 10 miles away, or a CPR-certified neighbor, three blocks away &emdash; who'd make the cut?
Since it's your life at stake, let me give you a few more details to help aid in your decision. After cardiac arrest, if heart rhythm does not rapidly return to its normal rhythm, brain damage and death results. The window for survival is about 10 minutes.
In order to survive, speed is of the essence. Neighbors with the right training will often be able to provide help more quickly than the closest professionals. In our example, the small difference in arrival time of a few minutes could save your life.
With that in mind, the San Ramon Valley Fire Protection District (SRVFPD) in California yesterday announced the launch of an iPhone geolocation app that matches and dispatches trained citizens to those in crisis.
Said Tim O'Reilly, who attended the announcement:
Everyone knows that mobile devices are changing the way we live and work. By providing some critical communications, location-awareness, and alert infrastructure, the application lets citizens closest to a life-threatening emergency be of help before official resources arrive. The creators of this application have moved beyond the real-time Web to the right time Web.
For more on the implications and development of the app, see this O'Reilly Radar post.

More:
Check out all of our citizen science coverage on MAKE
Read the Full Story »
|
More on MAKE »
|
Comments »
|
Read more articles in iPhone
|
Digg this!
Well, OK, admittedly Tal Golesworthy had a team of respected doctors and medical imaging experts to consult with, but, as he puts it, "[w]hen you've got the scalpel of Damocles hanging over your sternum, it motivates you into making things happen and so they do." Only two years elapsed between his fateful diagnosis and his recent successful surgery. The implant itself was designed on a computer based on digital imagery of Golesworthy's heart, and fabricated on a form made using a rapid prototyping technique. Check out all the details at The Engineer. [via Boing Boing]
More:
Read the Full Story »
|
More on MAKE »
|
Comments »
|
Read more articles in 3D printing
|
Digg this!
Join us this evening for the premiere of Make: Live! We've been Windexing the gumball machine and flossing our teeth in preparation for the show. Matt and I wanted to remind you of a few housekeeping notes:
Head to makezine.com/live to watch or check out our UStream page.
We'll start the broadcast with a title slide and some music a few minutes before the show, so you'll be able to check that you're getting visuals and sound.
To join the chat, you must have a UStream account (free of course) and be signed in. We recommend you do this well before the show.
Twitter is ok for questions too, just use tag #makelive.
If you can't watch live, we'll be archiving the show to YouTube (in bite-sized segments) and our iTunes Podcast (episodes in their entirety). We hope to have this week's show up by Friday.
After the show, please send us your feedback! We set up live@makezine.com for your suggestions, comments, and for sending us projects you want to show off on the Make: Live, of course!
Here are the details for the show tonight:
Make: Live 01 - The Arduino Episode
Wednesday January 26th, 9pm ET/6pmPT
Watch at makezine.com/live or on UStream
Guests:
Steve Hoefer - The Secret Knock Gumball Machine dispenses candies when you know the secret rhythm.
Collin Cunningham - The MidiVox shield turns an Arduino board into a programmable MIDI synthesizer.
Read the Full Story »
|
More on MAKE »
|
Comments »
|
Read more articles in Make: Live
|
Digg this!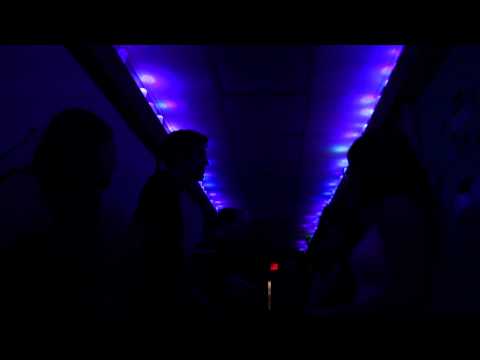 ChArLeS from Cambridge, MA, wrote in to share this awesome hall lighting setup consisting of 1,600 LEDs:
Here's yet another random electroninjutsu project from MIT undergrads. Several years ago, First East hall at MIT built the famous LED Disco Dance Floor over one week during our January Independent Activities month. Now, in the course of one week*end*, this programmable hall lighting system was put together. The group soldered over 200 (custom designed) boards each with multiple colored LEDs and a driver chip.
[Note to those concerned about such things, the music accompanying the video is somewhat risqué.]
Read the Full Story »
|
More on MAKE »
|
Comments »
|
Read more articles in Electronics
|
Digg this!
Handmade and for sale by British eBay seller kidsrusje, with three days to go as of this writing. [via Boing Boing]
More:
Read the Full Story »
|
More on MAKE »
|
Comments »
|
Read more articles in Furniture
|
Digg this!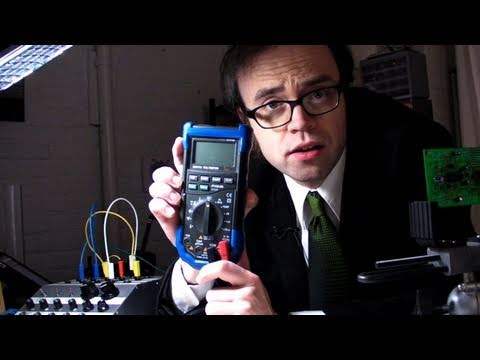 Get acquainted with the Digital Multimeter - an engineer's best friend!
The ability to test resistance, voltage, current & continuity are vital to any electronics maker - even the freshest of newbies. In fact, having a reliable multimeter on hand is a huge help when learning the basics. Even before understanding what each value means, you'll be able to establish reference points for applying each new concepts and troubleshooting experiments.
For those curious, the big blue meter I use in the video is a Protek 6300 (Mastech MS8229 seems to be a similar model). While you can find functional multimeters for under $10, I do recommend getting yourself a higher quality device. Increased accuracy, build quality, display backlight, and expanded measurement options are all very welcome features at my workbench.
If you find yourself getting a bit frustrated using the pointy-stylus stock multimeter test probes, I highly recommend picking up a pair of 'Minigrabber Test Clip to Banana Plug' leads (they make a brief cameo early on in the above vid). I keep a set of Pamona brand minigrabbers on hand for connecting to IC pins & through-hole part leads. Alligator clip leads would likely work as well.
Happy Testing!
Subscribe to the MAKE Podcast in iTunes, download the m4v video directly, or watch it on YouTube and Vimeo.


Read the Full Story »
|
More on MAKE »
|
Comments »
|
Read more articles in Electronics
|
Digg this!


Bzzzzrrrreeeeepehkhkhkhhhhhhhk! Build your own Noise Toy with this kit from electronic noise group the Loud Objects. Plug in your headphones and glitch out, or jack into an amp and play it as an instrument. These kits come with a custom-printed circuit board, a noise generating microchip from their live performances, two buttons for modulating the sound, headphone jack, and battery.

Read the Full Story »
|
More on MAKE »
|
Comments »
|
Read more articles in Maker Shed Store
|
Digg this!
[Via Boing Boing]
Read the Full Story »
|
More on MAKE »
|
Comments »
|
Read more articles in Arts
|
Digg this!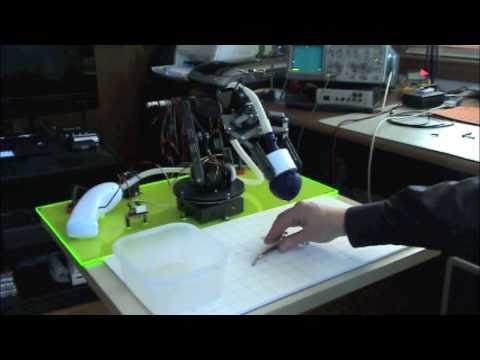 In this video, Steve Norris of Norris Labs presents his low-cost implementation of Cornell's jamming-skin-enabled balloon gripper using a Handi-Vac as a vacuum source. [via BotJunkie]
More:
DIY universal robot gripper
Read the Full Story »
|
More on MAKE »
|
Comments »
|
Read more articles in Robotics
|
Digg this!
Northwestern University professor Malcolm MacIver's GhostBot is a robotic fish that can swim forward, backward, and vertically using its incredible ribbon-like fin. Ghostbot's locomotion is inspired by a knifefish in MacIver's aquarium, which a colleague observed making an unexpected, vertical movement.
Further observations revealed that while the fish only uses one traveling wave along the fin during horizontal motion (forward or backward depending on the direction on the wave), while moving vertically it uses two waves. One of these moves from head to tail, and the other moves tail to head. The two waves collide and stop at the center of the fin.
[via Neatorama]
Read the Full Story »
|
More on MAKE »
|
Comments »
|
Read more articles in Robotics
|
Digg this!
Check out the groovy art bikes of Todd Kundla--many of which have appeared on Tour de Fat. [via LikeCool]

Read the Full Story »
|
More on MAKE »
|
Comments »
|
Read more articles in Bicycles
|
Digg this!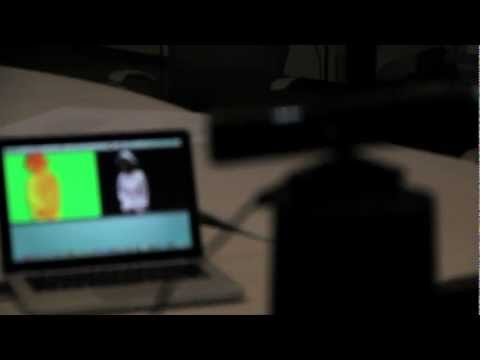 From New Scientist [via Boing Boing]:
The holographic images are still rather fuzzy. But just a couple of months after the first demonstration of holographic telepresence, the frame rate has jumped a factor of 30, from one frame every two seconds to an impressive 15 frames per second.


Michael Bove's group at the MIT Media Lab achieved the feat by hacking the camera sensor from a Kinect gesture-recognition system for Microsoft's Xbox 360 and crunching data with standard graphics chips.To give their demonstration extra flair, graduate student Edwina Portocarrero dressed up as Princess Leia from Star Wars and recreated the famous holographic projection of a plea for help from the movie.
Kinect used to create holographic video of Princess Leia

More:

Read the Full Story »
|
More on MAKE »
|
Comments »
|
Read more articles in Gaming
|
Digg this!
More Recent Articles