---
Temporary Restraining Order Issued in Sony vs. Geohot via Engadget. This means three things 1) The GetHot team cannot link to, distribute or really do anything with the jailbreak code while the case continues. And 2) Sony wants all the computers and tools used to hack the PS3. And 3) All this is really going to do is encourage everyone to share the code like the DeCSS days. In fact, a Research Professor of Computer Science Carnegie Mellon University already has.

PDFS:
gov.uscourts.cand.235965.50.0.pdf
gov.uscourts.cand.235965.51.0.pdf

Mirror of GeoHot's PS3 Jailbreak
http://www.cs.cmu.edu/~dst/GeoHot/

Jailbreaking is already legal in the USA, this seems like a waste of time and money for Sony to pursue and it's likely only going to get worse for them. Sometimes I think Sony sits around and thinks of new ways to damage their company with their biggest fans. The Magic Gate Memory Stick Duo Pro Plus Sony, c'mon! Now this?

Read the Full Story »
|
More on MAKE »
|
Comments »
|
Read more articles in Gaming
|
Digg this!
I'm completely enamored by Tom Falconer's gorgeous bubble photography, and he was nice enough to share his tips and tricks with us. Tom is a Tahoe resident, so he's blessed by beautiful surroundings and cold temps that make shots like the one above possible. When I asked about shooting frozen bubbles, he said: "Frozen bubbles are easier to shoot than regular ones. Once it freezes, it just sits there. But floating bubbles in the wild are unpredictable and almost always tricky to photograph sharply." Check out this shot of a frozen bubble popping slowly:
The caption for this shot reads: "Bubbles get a bit rubbery when they freeze, so when they pop it happens really slow. It was around 15-20 °F and this bubble took about two minutes to freeze. When it's colder they freeze really fast and will shatter more like glass. This bubble took about fifteen minutes to disintegrate."
The way Tom captures reflections in the bubbles is truly notable as well:

Read the Full Story »
|
More on MAKE »
|
Comments »
|
Read more articles in Photography
|
Digg this!
Check out this sweet laser-cut Plexiglas case my HacDC homeboy Riley Porter fabbed to enclose a Seeedstudio Rainbow Cube Kit.
Riley's Flickr set
Rainbow LED Cube Case (Riley's blog post)

In the Maker Shed:


LED Cube Kit
An animated 3D cube of LEDs! The LED cube kit is a small 3x3x3 single-color version of the amazing color 3D Borg cube by Das-Labor. Please note: Soldering together the LED cube is tricky!
Read the Full Story »
|
More on MAKE »
|
Comments »
|
Read more articles in Electronics
|
Digg this!
Welcome to the third installment of the Make It Last Build Series and contest, sponsored by Microchip and Energizer. Over the next five weeks, we're going to be working on the third project, a cool mural drawing machine called the Drawbot. With two stepper motors, some monofilament line, a binder clip, a Sharpie and a microcontroller, the Drawbot draws cubic Bezier curves, circles and can move from one point to another accurately. Here's a video of the Drawbot in action!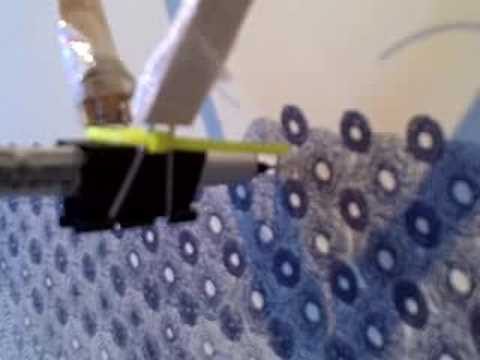 The contest part of the third build will be a simple drawing (as in names pulled from a hat, not a drawbot drawing). To be eligible, post your images on our MAKE Flickr pool, tagged "makeitlast." We will draw a first and second place winner from that tag pool.

The prizes for the third build are as follows.
First Prize
• Explorer 16 Demo Board
• $50 Maker Shed Gift Certificate
• Energizer® Night Strike Swivel Light
And the second prize winner will take home:
• F1 Evaluation Kit
• $25 Maker Shed Gift Certificate
• Energizer® Night Strike Swivel Light
Sign Up for the Newsletter!

Be sure to sign up for the weekly newsletter, if you haven't already. Just fill out the form below. This will sign you up for this series and all future contest/project newsletters. If you participated in the first two builds you'll still be signed up.
Please enter all required fields

Correct invalid entries

Read the Full Story »
|
More on MAKE »
|
Comments »
|
Read more articles in Contest
|
Digg this!
Matthias Wandel writes:
My dad originally started making wooden door latches for the cottages he built at Amogla camp. Conventionally available doorknobs and strike plates don't allow for a lot of latitude in terms of dealing with shifts in the buildings from frost heaving. That, and the available door hardware just didn't suit his style.The door latches pictured above are for the house he built for the main house, more than 10 years after making his first door knobs and latches. They are an evolved version of his original door handles.
Matthias' site bills itself as "an engineer's approach to woodworking." If you like what you see here, chances are you'll find it worth the click.
More:
Read the Full Story »
|
More on MAKE »
|
Comments »
|
Read more articles in Crafts
|
Digg this!
The global hackerspace cupcake challenge is a great idea for a contest. Hosted by Alpha One Labs (Brooklyn, NY), the contest rules are pretty simple: each participating hackerspace has to ship a cupcake to a different space, as far away as possible, in whatever manner they deem appropriate. To me, it exemplifies some of the best things about hackerspaces- the strong sense of community, willingness to not take themselves too seriously, and the audacity to do ridiculous things like gluing a cupcake to the side of a box and shipping it oversees.
The contest is still going on, however I'm digging the submissions that are already in: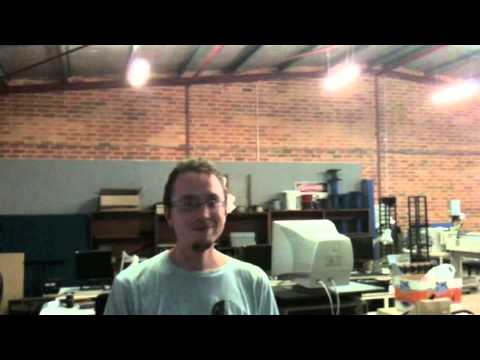 The Artifactory (Perth, Australia) opens TOG's (Dublin, Ireland) cupcake.
Read the Full Story »
|
More on MAKE »
|
Comments »
|
Read more articles in hacks
|
Digg this!
Looped under the fireman's seat is an electrical cord. I uncoil it and drape it over to the wall, and plug it in. I climb up into the cab, open the engineer's seatbox, and remove a trouble light. Plugging it into an electrical outlet in the cab, I open the firebox door and peer inside. There is a huge "bone" of unburned carbon in the front of the firebox, right in front of the burner. Damn. I go out to the tool car (an old Southern boxcar) and grab a pickaxe and a bucket. Back up in the cab, I hang the trouble light right outside the firebox door, toss the pickaxe into the firebox, and set the bucket on the floor in front of the door. Feet first, I squeeze into the firebox, feeling for the floor, being careful not to dislodge any of the firebrick if I can help it. Inside, I reach outside for the trouble light, locate the pickaxe, and break up the carboniferous mass. I toss the loose pieces out the door and into the bucket, and use the light to inspect the firebox, looking for loose or leaky staybolts, making sure the firebrick lining the sides of the firebox is in reasonably good condition, and checking the burner for obstructions. All I find is a couple of loose bricks, so I replace them, push my tools back out the door, and climb back out. I look back inside to make sure I didn't leave anything inside. Once, I left the pickaxe inside, and all that was left at the end of the day was the head.
How to boot a steam locomotive [Thanks, Jim!]
Read the Full Story »
|
More on MAKE »
|
Comments »
|
Read more articles in Retro
|
Digg this!
Low-tech magazine is back with another well-written and -researched article from Kris de Kecker, this one covering the history and evolution of elevated-cable systems for hauling cargo and people. As always, Kris's updates are informative and inspirational and provide a refreshing counterpoint, in both style and substance, to the frantic pace of today's blogosphere. [Thanks, Blake!]
More:
Read the Full Story »
|
More on MAKE »
|
Comments »
|
Read more articles in Retro
|
Digg this!
The first episode of Make: Live is online for your viewing pleasure! Matt and I had a great time hosting the premiere with guests Steve Hoefer and Collin Cunningham!
Subscribe to the MAKE Podcast in iTunes, download Make: Live episode 01 in its entirety (m4v), or watch clips on YouTube.
Steve Hoefer - Secret Knock Gumball Machine
Freshly published in MAKE Volume 25, the Secret Knock Gumball Machine dispenses candies when you know the secret rhythm! Take a tour of the project as we examine it in-studio. Project maker Steve Hoefer joined us via Skype to take your questions.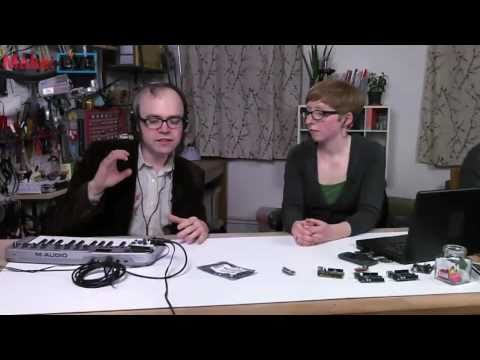 Collin Cunningham - MidiVox
MAKE video star Collin Cunningham joins us in-studio to share his Arduino add-on, the MidiVox, which turns an Arduino board into a programmable MIDI synthesizer. He engineered this shield himself and hand-picked the components that make up this kit, carried by the Maker Shed.
Read the Full Story »
|
More on MAKE »
|
Comments »
|
Read more articles in Make: Live
|
Digg this!


You can easily solder together the tinyCylon kit yourself, or you can buy one already assembled & tested, and jump right into the world domination stage of your evil plan. Not into Cylons? *gasp* Then maybe a Lux Spectralis or WeeBlinky might be a good choice? If you do like Cylons, don't forget to check out our How-to Tuesday: tinyCylon kit for complete details on how to make your own!
Hint, Hint - Follow the Maker Shed on Twitter, or Subscribe to our Deal of The Day RSS feed to keep up to date on the latest deal!
Read the Full Story »
|
More on MAKE »
|
Comments »
|
Read more articles in Maker Shed Store
|
Digg this!
Inspired by pirate radio and the free culture movement, PirateBox utilizes Free, Libre and Open Source software (FLOSS) to create mobile wireless file sharing networks where users can anonymously share images, video, audio, documents, and other digital content.

PirateBox is designed to be private and secure. No logins are required and no user data is logged. Users remain completely anonymous - the system is purposely not connected to the Internet in order to subvert tracking and preserve user privacy.
Read the Full Story »
|
More on MAKE »
|
Comments »
|
Read more articles in Culture jamming
|
Digg this!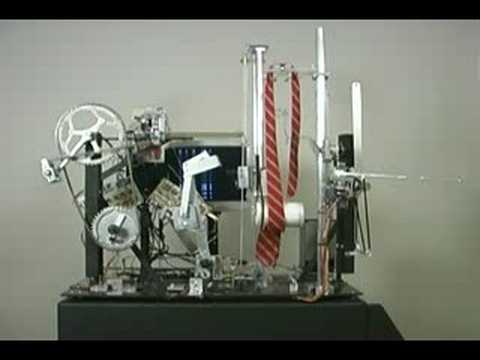 This video from sculptor Seth Goldstein shows one cycle of the operation of his piece Why Knot?, which is described as "[a] kinetic sculpture that continually ties and unties a necktie." While the video leaves me just a bit dubious about how long it could really run without human intervention, I'm impressed by the dedication, effort, and patience required to get it to work even once. [via Dug North]
Read the Full Story »
|
More on MAKE »
|
Comments »
|
Read more articles in Robotics
|
Digg this!
Looking for that special gift for your Klingon speaking friend? Billed as a steampunk accessory stand, this 'IH 'ach HeghmoH display unit from Austin area Etsy user voodoofabrication would look at home on any Bird-of-Prey or D5 Battlecruiser.
Read the Full Story »
|
More on MAKE »
|
Comments »
|
Read more articles in iPhone
|
Digg this!
More Recent Articles