---
New PS3 firmware hacked within hours...
Hackers have already moved to crack open new PS3 firmware that's not even been out for a day. Sony released a new firmware update (version 3.56) last night that it said "adds a security patch" to the console - the firm's first move to shut out hackers since the PS3 protection software was completely circumvented earlier this month. However, within hours of the new update's release, Wii hacker Youness Alaoui, also known as KaKaRoToKs, announced on Twitter that he'd successfully unpacked the firmware and published its signing keys, opening the door for new custom firmware to be created that would mimic the latest update and allow hacked PS3s to regain access to PSN.
The new update from Sony
says "A new PS3 system software update, v3.56, will be released soon. This is a minor update that adds a security patch."
Read the Full Story »
|
More on MAKE »
|
Comments »
|
Read more articles in Gaming
|
Digg this!
Our friend Riley Porter, of Synthetos and TinyG fame, has posted a wonderful little project on Make: Arduino and Make: Projects. It uses an old mouse pad and a piezo sensor to create a drum pad input device. He's even coded up the beginnings of a little game in Processing that counts your beats and records your score. An he's included a little rocketship in the Processing sketch. Hopefully, somebody will run with this and code a game that launches the ship if you reach a certain number of beats in the allotted timeframe.
Simple Arduino Drum Pad and Game

Check out MAKE Volume 25:


MAKE Volume 25: Arduino Revolution
Give your gadgets a brain! Previously out of reach for the do-it-yourselfer, the tiny computers called microcontrollers are now so cheap and easy to use that anyone can make their stuff smart. With a microcontroller, your gadget can sense the environment, talk to the internet or other hardware, and make things happen in the real world by controlling motors, lights, or any electronic device.
Read the Full Story »
|
More on MAKE »
|
Comments »
|
Read more articles in Arduino
|
Digg this!
The first book to cover the Netduino Plus, Cuno Pfister's Getting Started with the Internet of Things, shows you how to create cloud-enabled projects using the Ethernet-equipped Netduino Plus:
The Internet of Things is the new generation of devices that serve as the Internet's interface to the physical world. Today's tiny microcontrollers, sensors, and actuators are powerful, inexpensive, and simple enough to code that anyone with basic programming skills can create a variety of fun, useful, and even profitable systems -- such as devices that detect and extinguish fires or automatically water plants when the soil becomes too dry. This hands-on introductory guide will quickly show you how it's done.


You'll learn how to program embedded devices using the .NET Micro Framework and the Netduino Plus board, and then connect these devices to the Internet using Pachube, a cloud platform for sharing real-time sensor data. Getting Started with the Internet of Things briefly introduces the tools and then walks you though several techniques for using them, using a series of C# examples.
Even though this book is still in progress, you can read it now through our Rough Cuts edition, which lets you read the manuscript as it's being written, either online or via PDF. Available at Safari Books Online.
Getting Started with the Internet of Things: Rough Cuts Version
In the Maker Shed:

The Netduino Plus is an open source electronics platform using the .NET Micro Framework. The board features a 32-bit microcontroller, a rich development environment, as well as Ethernet, TCP/IP, and Micro SD card support.
Read the Full Story »
|
More on MAKE »
|
Comments »
|
Read more articles in Electronics
|
Digg this!
Christa McAuliffe, weightless

Long before I stumbled into the jobs that I do now, long before I even knew what I wanted out of my life, I wanted to be an astronaut.
Nothing new there, of course — I'm going to hazard a guess that most makers at one point or another dreamed of exploration, pushing the frontiers of humankind out into the farthest reaches of what we could imagine.  I had been brought up with stories from my dad (a mathematician) about where he was when Neil Armstrong, Michael Collins, and Buzz Aldrin first landed Apollo 11 on the moon. He was fascinated by the mathematics involved, the engineering feats required to launch a rocket from Earth and hit a target 238,000 miles away with no room for error. I remember him gesturing wildly at the dinner table as he recounted his story, working in a gas station when the news came through, and cheers went up out on the street.
Twenty-five years ago today, my teachers gathered myself and my classmates in a room at Park Avenue Elementary School and wheeled in a decrepit TV with an old coat hanger as an antenna (back when you could get television for "free"). This was an extremely rare occurrence, so we were already excited beyond belief ("TV during the day!  HOORAY!!"). The teachers fussed and tuned, and finally, grainily, the image of the shuttle on the pad appeared. It was like a small current of electricity was running through the room. We squirmed in our seats, the teachers beamed, and we listened to the countdown. Before we knew it, the shuttle was off.
In retrospect, I now understand why my teachers in elementary school were so excited about the Challenger launch — Payload Specialist 2, Christa McAuliffe, a social studies teacher from New Hampshire. She was to be "the first teacher in space," but more than that, she seemed to resonate with all of us — no matter what your position in life. She showed it was possible to be a part of something truly epic, that the stars were within the reach of all of us.
But something was wrong. We didn't understand exactly what, but I can remember the look on a teacher's face as she uncrossed her arms and leaned closer to the TV from where she was standing, her jaw set. I remember somebody gasping or making an exclamation of some sort, and then a teacher rushing forward and quickly turned off the set. Silence fell. And then I started to cry without knowing exactly why. And I wasn't alone.
These memories lay dormant in my mind, divorced (or so I thought) from the emotion of the child that I was. But I happened to be in a hotel room on Feb. 1, 2003, getting ready for a conference about ... I can't even remember at this point. The TV was on, and I was watching the news absently when it was reported that the Columbia broke apart over Texas, killing all seven astronauts. It all came rushing back, and I sat down on the bed and wept. Even now I get choked up writing this.
Like the Kennedy assassination of a generation before, the people of my age all seem to remember where they were when the Challenger exploded. I can still see it clearly in my mind's eye, watching it on the screen, the curiosity of seeing the two white tails of debris, like a fork of lightning in a clear sky. I don't really remember the rest of that day, but when I got home from school and my dad got home from work, he gave me a big hug.  Maybe he knew I needed it, or maybe he needed it himself.  I'll never forget that day.
I'll leave you with a quote I have up on my desk of one of the heroes of the space program, Gene Kranz, the NASA Flight Director. It was a speech he made to his team after the Apollo 1 caught fire. I come back to this time and again whenever I need a little inspiration, and a reminder that the way to greatness is paved with mistakes:
Spaceflight will never tolerate carelessness, incapacity, and neglect. Somewhere, somehow, we screwed up. It could have been in design, build, or test. Whatever it was, we should have caught it. We were too gung ho about the schedule and we locked out all of the problems we saw each day in our work. Every element of the program was in trouble and so were we. The simulators were not working, Mission Control was behind in virtually every area, and the flight and test procedures changed daily. Nothing we did had any shelf life. Not one of us stood up and said, 'Dammit, stop!' I don't know what Thompson's committee will find as the cause, but I know what I find. We are the cause! We were not ready! We did not do our job. We were rolling the dice, hoping that things would come together by launch day, when in our hearts we knew it would take a miracle. We were pushing the schedule and betting that the Cape would slip before we did.


From this day forward, Flight Control will be known by two words: 'Tough' and 'Competent.' Tough means we are forever accountable for what we do or what we fail to do. We will never again compromise our responsibilities. Every time we walk into Mission Control we will know what we stand for. Competent means we will never take anything for granted. We will never be found short in our knowledge and in our skills. Mission Control will be perfect. When you leave this meeting today you will go to your office and the first thing you will do there is to write 'Tough and Competent' on your blackboards. It will never be erased. Each day when you enter the room these words will remind you of the price paid by Grissom, White, and Chaffee. These words are the price of admission to the ranks of Mission Control.
So to the men and women willing to put it all on the line to reach the stars, we salute you. You make our dreams manifest, and embody what is best in the complex interplay of the human spirit — the desire to create, to explore, and to inspire, even in the face of death.

Read the Full Story »
|
More on MAKE »
|
Comments »
|
Read more articles in Makers
|
Digg this!
We have actually covered the work of British hubcap sculptor Ptolemy Elrington a couple times before (see below), but I couldn't resist posting again when I saw this viperfish sculpture, which appears among others in a gallery at The Telegraph.
My thought for the day? Viperfish are awesome. That is all.
More:
Read the Full Story »
|
More on MAKE »
|
Comments »
|
Read more articles in Arts
|
Digg this!
ANCR sundials, cast from recycled aluminum, use your exact latitude and longitude to plot the dial's hour lines.
Our dials are calibrated using the laws of astronomy to calibrate the hour markers on the face of your dial. The gnomen (triangle piece on top) must also be precision machined to give you precise time keeping.
[Thanks, Mike!]
Read the Full Story »
|
More on MAKE »
|
Comments »
|
Read more articles in Modern Mechanix
|
Digg this!
Gamelatron and other projects by MAKE friends such as Ranjit Bhatnagar and Gaylen Hamilton are filling the old St. Cecilia convent in Greenpoint Brooklyn with sound, visual, and multi-media art this weekend:
Rabid Hands is pleased to present Sequence of Waves, the collective's inaugural sound, visual and multi-media art exhibition. The exhibition is open to the public for one day only, on Saturday, January 29th at St. Cecilia's Gallery in Greenpoint, Brooklyn, and will include scheduled performances. Formerly a convent and school, St. Cecilia's Gallery is now a hub for rotating art exhibitions and film screenings, effectively bringing life back into the three-story building.

Recognizing the potential for discovery and experimentation in the St. Cecilia building, Rabid Hands has gathered over 40 artists to transform this space during their two-week residency. Given the narrow hallways and cordoned off rooms, the architecture of the building does not inherently lend itself to one large, continuous visual space, nor does it necessarily encourage group investigation. Instead of approaching the architecture as an obstacle, artists will use sound as the organizing and uniting principle. Embracing complete freedom, Rabid Hands encourages all participating artists to look beyond the confines of their personal forms and methods and merge their dialogue with the broader group. While individual works can be seen, what will emerge, more importantly, is the story of how these artists can influence the outcome of each other's work by way of true collaboration.

Works will vary from: a "red carpet" of bubble wrap weaving through the convent's hallways; an amalgamation of the exhibition's microphone cords ascending a three-story tall sculpture made of found materials in the central stairwell, poised for sonic and aerial performance; a robotically controlled symphony of recordings filling the convent's chapel with sound, as well as many other collaborative projects.

Participating artists include: Adriana Atema, Ranjit Bhatnagar, Alex Drewchin, Terence Caulkins, Skye Chamberlain, Nick Chatfield-Taylor, Ryan Chin, G. Lucas Crane, Jesse Cronan, Vanessa Cronan, Alex Drewchin, Jan Drojarski, Serra Victoria Bothwell Fels, Jessica Findley, Lillian Gerson, Kendall Glover, Jesse Gold, George Graham, Doktor Greg, James Haddrill, Gaylen Hamilton, Maya Hayuk, Travis Iurato, Elijah Kast, Victoria Keddie, Jesse Kreuzer, Taylor Kuffner, Roberto Lange, Steven Ma, Lili Maya, Zelijko McMullen, Steven Milton, Rob Minervini, Caleb Mitchell, Ben Mortimer, Kelly Nicholson, Ryan O'Connor, Brian Osborne, Mike O'Toole, Brandon Perry, Zac Poff, Nandan Rao, Allen Riley, John Roach, James Rouvelle, Amanda Salane, Isabella Scott, Tod Seelie, Ben Simon, Phillip Stearns, Martyna Szcz, Heidi Tullmann, Emily Willis, Ben Wolf, Nick Yulman, Tyler Zwiep.
Rabid Hands presents
Sequence of Waves
Saturday, January 29th 2011
2pm to 9pm
St. Cecelia's Convent
21 Monitor Street, Greenpoint, Brooklyn
$Free, but accepting donations.
sequenceofwaves.com
Read the Full Story »
|
More on MAKE »
|
Comments »
|
Read more articles in Events
|
Digg this!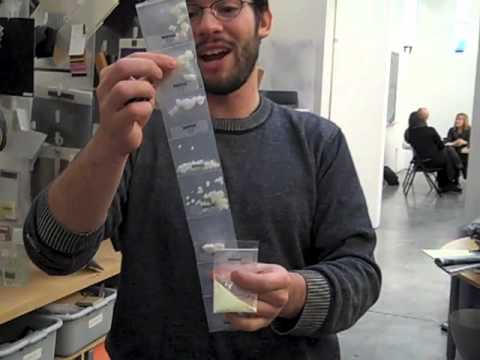 Neat video of California College for the Arts New Materials Resource Center! [via Core77]
Read the Full Story »
|
More on MAKE »
|
Comments »
|
Read more articles in Arts
|
Digg this!
Laboriously captured by photographer Chris Kotsiopoulos on December 30-31, 2010, from the ruins of the ancient Temple of Poseidon at Sounion, Greece. Technical details at Earth Science Picture of the Day, and a more personal perspective at Chris's Greek Sky Forum. [via Gizmodo]
More:
Read the Full Story »
|
More on MAKE »
|
Comments »
|
Read more articles in Photography
|
Digg this!

Software, meet hardware. The Netduino Mini from the Maker Shed is an open source electronics platform using the .NET Micro Framework. The board features a 32-bit microcontroller and a rich development environment, making it a perfect solution for engineers and hobbyists alike.


Features
1.2" x 0.6" - tiny "DIP microchip" form factor with edge pins (Pb-free)

Designed for breadboard use, production industrial/commercial applications, and robots/UAVs/etc.

Same microcontroller as a standard Netduino - but smaller and with a bit more RAM available

BASIC Stamp 2 pin-compatible - can be used with most BASIC Stamp 2 boards and kits.

Can be programmed via RS232 like BASIC Stamp 2 or via 3.3V USB-TTL cable like Arduino Nano

Can be powered via 9V battery, DC power leads, some USB-TTL cables, etc.

Industrial temperature rated (-40 C to 85 C); RoHS compliant; Pb-free
Read the Full Story »
|
More on MAKE »
|
Comments »
|
Read more articles in Open source hardware
|
Digg this!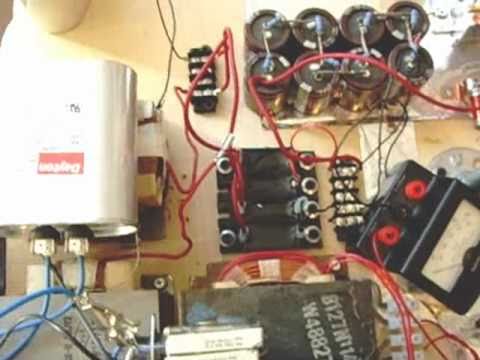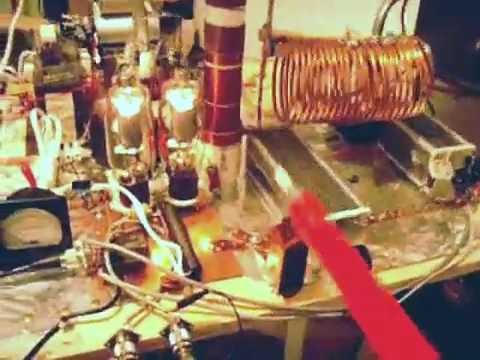 Bob of Albuquerque built these cool transmitters out of junked parts, including sweet vacuum tubes. [Thanks, Harold!]
Read the Full Story »
|
More on MAKE »
|
Comments »
|
Read more articles in Electronics
|
Digg this!
My pal Alan Dove has thoughtfully suggested that these guys might've done better to build themselves a trebuchet. I quite agree. [Thanks, Alan!]
More:
Read the Full Story »
|
More on MAKE »
|
Comments »
|
Read more articles in Made On Earth
|
Digg this!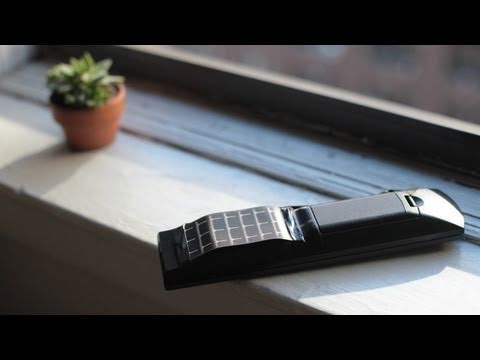 With the Solar TV Remote project from MAKE Volume 25, you'll never have to replace your remote control's batteries again. Instead, just leave it in the sun to charge up! This project is fairly easy and you may already have most of the tools and supplies you'll need. It might also make you feel slightly less guilty about being a couch potato!
Download a PDF of the Solar TV Remote project from MAKE Volume 25 and head over to the Maker Shed to check out the SunMod kit, which includes a 4.8V flexible solar cell with soldered metal connectors and double-sided tape.
Subscribe to the MAKE Podcast in iTunes, download the m4v video directly, or watch it on YouTube and Vimeo.
In the Maker Shed:
Hack any AA or AAA powered device to make it solar powered. Included: a flexible solar cell 4.8V with soldered metal connectors, mailable packaging and double -sided tape. Fun hack. Easy way to break into solar projects.
Read the Full Story »
|
More on MAKE »
|
Comments »
|
Read more articles in MAKE Podcast
|
Digg this!

Master puzzle maker Oskar van Deventer has created the monster truck of rubiks cubes. With 289 squares to a face, this behemoth should keep the speed cubing folks busy for a while. [Thanks, Duann!]
When Oskar heard of the world records being set for twisty puzzles, like the 7x7x7, 9x9x9 and 11x11x11 by Panagiotis Verdes from Greece, he wanted to try his hand at setting a new record himself. With sponsorship from his close friend Claus Wenicker, Oskar set about designing and testing a number of prototypes, and his third attempt was printed successfully with Shapeways. Sorting and dyeing all 1539 pieces took Oskar 10 hours of work, followed by 5 hours of assembling. The result is an oversized (140 millimeter, 5.5 inches) and fully functioning "Over The Top" 17x17x17 puzzle.
Read the Full Story »
|
More on MAKE »
|
Comments »
|
Read more articles in Gaming
|
Digg this!
Without further delay, here are the winners of the Make: Electronics book drawing:
>> NikonErik
>> EvilGenius121
>> driph
>> xrazorwirex
>> Idlewood
Congrats. All of you: email me your mailing address.
We're thrilled by the response we got to the giveaway, 166 comments! And not only did people ask great questions, other readers pitched in and answered a bunch of them. We'll be compiling the best of this content in the next day or so, but if you want to see it in its conversational form, it's here. Just to give you a tasre of the exchange, here's Matt Silvia asking about Ohm's Law:
I get the relationship between voltage, current, and resistance, but I don't know how to do anything more interesting with it than light up a bulb or make a motor spin. Even then, I'm not confident I won't set fire to anything, and while I'm not afraid to tinker (and have actually fixed some electronic via basic troubleshooting), complex circuits make me feel like I'm missing out on the secret handshake. I guess I know how a capacitor works... I just don't know why you would want one.
And here's reader HowTutorial's response:
There is a bit of a secret handshake. Electronics is a vast field that can appear quite overwhelming. But Ohm's law is part of the secret, so you're off to a great start. Furthermore, much circuit design is individual circuits chained together. Think of it this way, tweak your circuit empirically, and how it all works together becomes easier to see.


So how do you know if you are going to start a fire or not? Ohm's law says the voltage equals the current multiplied by the resistance. So with any two of these, you can calculate the third. Power equals current times voltage. By lowering resistance, for the same voltage, you have increased the current. So you have increased the power. Put a wire with very little resistance across a battery, then the wire and battery will get hot. The wire might melt. (try a 9 volt battery on steel wool) But if the battery gets too hot, it might pop, exposing you to the nasty chemicals inside or worse. So be careful when playing with fire.

For your next question, there are many uses for a capacitor. A capacitor is made up of two conductive parts that are not touching. If you put a voltage across a capacitor, positive and negative charge will build up on it's two sides, with charge on one side attracted to the opposite charge on the other side. If you remove the external voltage, the capacitor will still have the charge you gave it. That charge across a capacitor creates a voltage of its own. The voltage is the same as that external voltage that we just removed. So a capacitor stores voltage. If you put a resistor across the capacitor the charge will flow through the resistor to the opposite charge on the other side of the capacitor. The larger the capacitor, the more charge you can bleed off this way before you run out of charge, and thus reduce the voltage to zero.

Using Ohm's law, we can calculate the initial current through the resistor. That current through the resistor creates a voltage across it equal to what the capacitor holds. That voltage holds back more charge from flowing. So the resistor limits the speed of the capacitor discharging. The smaller the resistor, the faster the charge discharges. Another law to know is the RC time constant. The resistance multiplied by the capacitance equals the time it takes for the voltage to drop 63%. It will take the same amount of time to drop the next 63%, and so on. This also works going the other way, and charging a capacitor through a resistor. It will take one RC time constant to charge 63%.

So a capacitor tries to maintain its voltage. The larger the capacitance, the larger the time constant, and the slower the change in voltage. So one use of a capacitor is to reduce fluctuations in the voltage in part of a circuit. So you can use a capacitor to quiet the noise on a power supply. The noise is the fluctuations you don't want. Similarly, if you put capacitors across the power pins of IC's, you can create more stable power for all your chips.

In the Maker Shed:


Make: Electronics
Want to learn the fundamentals of electronics in a fun and experiential way? Start working on some excellent projects as soon as you crack open this unique, hands-on book. Build the circuits first, then learn the theory behind them! With Make: Electronics, you'll learn all of the basic components and important principles through a series of "learn by discovery" experiments. And you don't need to know a thing about electricity to get started.
Read the Full Story »
|
More on MAKE »
|
Comments »
|
Read more articles in Contest
|
Digg this!
More Recent Articles