---
We're going to be dropping into maintenance mode for about 15-30 minutes, Saturday night at ~11:30pm PST. A new version of WordPress dropped a few days ago and we want to update, as well as take care of some legacy data that's missing from our pre-2008 posts. We should be back up and running, and (somehow) EVEN SHINIER, in two shakes of an Ethernet cable.
The Arduino microcontroller has sure been getting a lot of lovin' around here recently. First we released MAKE Volume 25, featuring tutorials and projects centered on this popular open source platform, then we did our first episode of our new streaming web show and tell, Make: Live, on Arduino, and then editor-at-large, Phillip Torrone launched his new bi-weekly editorial column with the piece "Why The Arduino Won." This article has been making the rounds of the blogosphere and sparking a lot of great conversation.
And finally, you can access all of the above, and lots more, via our new Make: Arduino landing page. There you'll also find features, tutorial videos and projects, resources, our Ardunio blog feed, a buyer's guide, and original projects, such as an Arduino-driven drum pad made out of a mouse pad. Look for a new project next week!
Thanks to our friends at element14 for helping us get this page rolling.
They're every where, they're cheap – they can be dangerously "fun". Things to do with disposable cameras!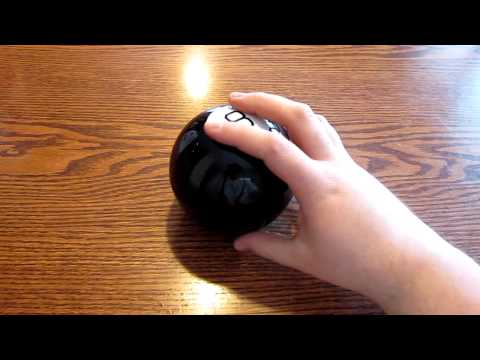 Booby-trapped Magic 8 Ball, turn it over and FLASH!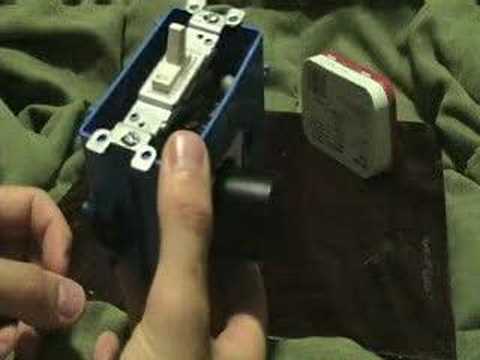 Here's a simple, but powerful, coil gun made from the flash circuit of a disposable camera, a large cap, a coil of magnet wire and an ink pen shaft (and a few other parts).
Homemade Strobe Photography. Take high speed photos! Before you take apart a single-use camera, you need to know that there is a large electrolytic capacitor inside the camera. See the instructions in MAKE 04, pages 109 and 110, for how to disassemble the camera. Above, the set up and a balloon being popped!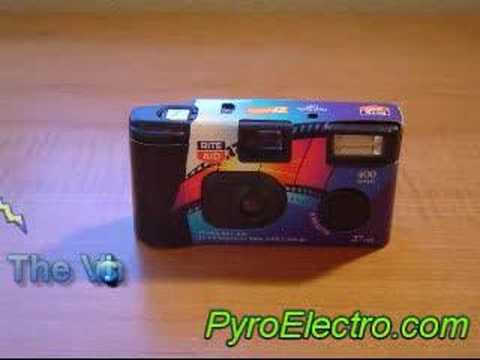 Stunning camera! Chris at Pyroelectro made this highly detailed tutorial on how to modify a single use camera to shock its user when they try to take a picture. Dirty trick, so please be careful.

Plarchie is an 8-meter squid knitted from plastic shopping bags.

We asked another woodworking maker we admire, Ben Light, of B.Light Design, to come share some of his expertise with us. He wrote this wonderful introduction to lathes. Thanks, Ben. -Gareth
The Lathe
The lathe is often an overlooked and under appreciated piece of hardware. I find this hard to believe, because it can produce work unlike any other tool. Wooden bowls, furniture, lamps, tool handles — basically anything round. For those thinking about getting into woodworking, the lathe is a great place to start. It's relatively safe, compact, and turning (the process of using the lathe) can be incredibly satisfying.

Typically, there are two types of wood turners, those that only use the lathe when it is absolutely necessary and the fanatics. I am proud to say that I am one of the latter. Amazingly, a project can go from rough log to show room ready in just a few hours. Useless wood scraps can be turned into beautiful things. The lathe is a perfect tool for both artists and craftsmen. Fluid in-the-moment pieces can be created as well as precision pieces based on detailed blueprints. I am completely addicted to this wonderful device.

The Basics
The lathe dates back to ancient Egypt, it's the original power tool. But unlike a drill or table saw, the lathe spins the work piece while the tool stays stationary. The basic components are the bed (the base everything sits on), the head stock (the motorized end that spins the work piece), the tail stock (the supporting end), and the tool rest (where you rest your chisels). A work piece is mounted to the headstock, the motor spins it, and chisels are used to remove material and shape the piece. It is impossible to explain proper turning technique in just a paragraph or two. I suggest picking up some how-to books and watching video demonstrations (YouTube has some great ones). Better yet, get a skilled turner to show you the ropes.

Faceplates, Drive Centers, and Chucks
If a work piece is properly secured to the headstock, the lathe can be one of the safest power tools in the wood shop. Typically this is accomplished using faceplates, drive centers, and chucks. A faceplate is a flat disk that attaches to the work piece via screws, a drive center uses a spike to "grab" the wood, and a chuck compresses on to the piece, similar to a drill. All three do the same basic job, attach the wood to the lathe.

Chisels
There are numerous types of chisels used for turning. Gouges are used to rough out a piece, scrapers for finer details, and parting tools for trimming. Like all things lathe related, there are many options, and these are just a few of the chisels available.
Turning chisels are specifically designed for the lathe and should not be used as typical wood working chisels, and vice versa. You can get a starter set of chisels for cheap, but you get what you pay for. If you catch the turning bug, I highly recommend investing is some quality chisels.
The universal rule of chisels applies here: keep them sharp. Sharper chisels equal better results. Lathe chisels dull quickly from use, a bench grinder is usually kept close for repetitive sharpening.

Finishing A Piece
Another reason to love the lathe — finishing is a cinch. When you are done shaping with the chisels, remove the tool rest and pick up some sandpaper. The lathe works as a power sander. For the best sanding results, use the fastest motor speed possible. You should never use anything rougher than 220 grit paper when sanding on the lathe.
Applying finishes (oils, stains, wax) is just as easy. With the lathe off, wipe on the finish, wipe off the excess, turn on the lathe, and buff the piece to a high gloss. The lathe is also a power buffer.

Safety
Eye protection should be worn at all times while turning. In fact, I recommend a full face shield. Wood chips and shavings can fly all over the place. A dust mask or respirator is a good idea as well, the lathe can create a lot of dust.
Motor speed is also a key to safety. When beginning a new piece always start at the slowest possible motor speed. As the piece become more round, speed can be increased.

I've barely scratched the surface of what the lathe can do. There are multiple attachments/jigs (store bought or hand built) that add new dimensions to wood turning and numerous techniques you can try. There is so much more to this under appreciated piece of machinery than just wooden bowls and table legs.
I hope you give this versatile tool a chance and get yourself a lathe. But be warned, once you start you'll never turn back (sorry).
---
Bio:
Ben Light
is a New York based designer and maker who has way too many turned lamps in his apartment. Ben may love his lathe just a little too much.
Veteran Hack a Day writer Caleb Kraft has written a thoughtful response to Phil's yesterday editorial Why the Arduino Won and Why It's Here to Stay (which also got a nice mention on the official Arduino Blog).
Caleb's piece is worth reading in its entirety, but the short version—which you'll appreciate if you've ever had a skilled hacker flame you for using an Arduino when a much simpler circuit could've done the job—is that those who have the skill-set to do without the Arduino should stop poking fun at those who don't, and help educate them instead. Especially if they want to see more folks moving from the Arduino community into their own. Hear, hear!
The Global Village Construction Set (GVCS) won our Green Project Contest at the beginning of 2011, garnering the most votes of all the eco-friendly projects submitted. Marcin Jakubowski founded Open Source Ecology, a network of farmers, engineers, and supporter, whose main project is GVCS, "an open source, low-cost, high performance technological platform that allows for the easy, DIY fabrication of the 50 different Industrial Machines that it takes to build a sustainable civilization with modern comforts." GVCS is like a life-sized Lego set, and each of the machines uses interchangeable parts, motors, and power units. A few of their machines have been featured on the pages of MAKE. Jakubowski (pictured above at right alongside Lawrence Kincheloe and the open source plasma cutter) is immensely busy, to say the least, but he took the time to answer a few questions for us and give us further insight into OSE's massive undertaking.
1. Tell us about Open Source Ecology. How was it started?
Open Source Ecology (OSE) was started to contribute to a global commons of open source information — with a particular focus on the tools of production. I started OSE in my last year of my PhD program, as a response informed by what I perceived to be a general societal lack of true collaboration and openness, which I saw even in academia. I noticed that even academia was turning into branches of proprietary corporate research and development, as opposed to the original mission of culturing open knowledge toward the benefit of everybody.
2. How do you find others to collaborate with? Can anyone get involved?
We publish video and other documentation on our blog. Anyone can get involved. We are currently reorganizing and putting up a new website. Our focus is to facilitate meaningful involvement from a large group of global collaborators — and we are reorganizing with this central mission in mind.
3. How did you conduct your research to pinpoint the industrial machines included in the GVCS?
We took each of the basic services required for a community infrastructure, and selected the best tool to meet that need. We evaluated these tools by the Product Selection Metric to quantify the importance of our selections.
4. What is your prototyping process? And what are the challenges of making machines that have interchangeable parts, motors, and power units?
The prototyping process follows all the steps from conceptual design to CAD to fabrication to testing, while considering all the desirable properties, known as OSE Specifications. For a more detailed description, you can see our 30-step development template.
The main challenge in this process is interface design. The challenge is how one interfaces, or fits together and connects the wide array of disparate modules and interchangeable parts. While mainstream industrial design focuses on dedicated functional parts, we need to design the additional element of interchangeability for interoperability. This is not a trivial issue, yet it is critical for designing a more human-friendly, lower cost, multifunctional technology set. In Lego blocks one simply snaps two blocks together to connect them. With real mechanical hardware, this is not as easy, as the heavy weight, different power levels, and different geometries need to be considered. We have demonstrated that interchangeability is indeed feasible with life-sized mechanical hardware.
5. How many machines in total do you hope to prototype? How many are already done?
We've identified 50 of the most important machines that allow modern life to exist –- the tools we use every day — everything from a tractor to a bread oven to a circuit maker. We have so far built 8 prototypes and we have one full product release; the Compressed Earth Brick press. Our goal is ambitious: to finish the 50 tools within 2 years and a $2M budget. We are currently reorganizing to meet this goal, and we are optimistic about the development. I have recently been selected as a TED Fellow, and we expect this to put us to the world stage. We got featured in Grist Magazine and Gizmodo recently, and our momentum and team is building.
If you are interested in joining the development team, we are looking for subject matter experts and organizational development assistance. Our greatest current challenge is not interest in the project, but absorbing new participants. We are working to address this issue. We are also developing our nonprofit funding component, where we think that a significant portion of funding for the rest of the Construction Set will come from foundations and individual donors. Contact us at opensourceecology@gmail.com if you can help.
6. Are the machines being currently used anywhere?
Our machines are being used and tested at Factor e Farm. You can see videos on our blog from last season, starting with this blog post and moving backwards. Moreover, we have sold 3 sets of the Tractor-Soil Pulverizer-Earth Brick Press package, which we will produce in our forthcoming production run in April. These will be our first examples of people using the equipment outside of Factor e Farm. These users' applications include a startup CEB construction business and an organic farm.
7. Tell us about OSE Tour USA.
This is our lecture tour throughout the USA. I have been invited to a number of speaking opportunities to raise awareness and support for the project. If you are interested in hosting a lecture and if you can cover travel and an honorarium, then we are open to invitations.
Great work on an amazing mission, Marcin and the OSE crew! Once again, folks, if you want to get involved and help out, check out the wiki, the blog, this great little video of GVCS described in 2 minutes, and contact OSE at opensourceecology@gmail.com.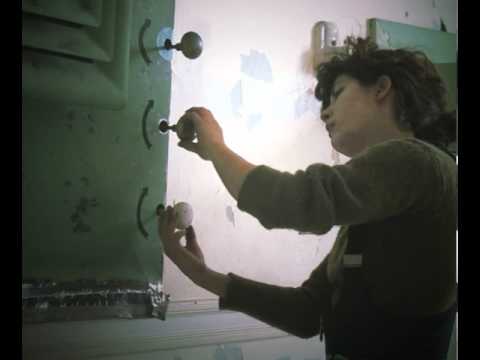 The HVAC Music Box is a sound sculpture that uses the idea of an HVAC unit as a resonator to circulate the sound of music boxes that are activated by viewers. The composition in the music box is an original piece that is on a continuous loop that is only advanced by turning the knobs. This is a manual kinetic sculpture. The piece was made for a site specific group show called Sequence of Waves that was installed at the St. Cecilia Convent in Greenpoint, NY for one day only.
[Thanks, Jennifer!]
Anybody else heard of this Google thing? I thought it was just a really big number, but apparently it's also the name of some kind of search website, or something. Anyway, looks like they occasionally riff on their own logo to mark certain events, and today they've got a cool one for Thomas Edison's birthday. Michael Cavna has written a little puff piece at The Washington Post, and I thought this line was worth repeating:
[N]ote to Google: What we really want to see on July 10 is a doodled birthday tribute to the mad and mighty Nikola Tesla, whose electrical developments arguably hold even greater common currency today.
I concur: Yay for Edison's inventive spirit, work ethic, and triumph over disability! Boo for his
thunder-stealing
,
cruelty to animals
, and Homer-Simpson-esque shameless self-promotion! And yay
Tesla
, for his undisputed genius, humility, and kindness to pigeons! And yay
Google
, whatever the hell it is! [Thanks, Lish!]

The New Edison-Style Cup Phonograph Kit from the Maker Shed uses the same principles Thomas Edison used to make his original recordings. The Gakken version replaces Edison's waxed pipe and stylus with a plastic cup and a needle, but the end results are the same. MAKE is proud to be the exclusive distributor in North America for these brilliant kits, part of Gakken's Sophisticated Science Kit for Adults series.
Hint, Hint – Follow the Maker Shed on Twitter, or Subscribe to our Deal of The Day RSS feed to keep up to date on the latest deal!