---
A nice summation of the hackerspace scene courtesy of the folks at Hamilton, Ontario's think|haus.

Make: Projects contributor Josh Burroughs has posted an excellent handsaw restoration how-to. Why bother to take the time to restore an old, rusty saw? Josh explains:
Modern saws found at the big box home centers usually have induction hardened teeth that can't be sharpened – they are meant to be thrown away when dull. They also have thick heavy blades, blocky plastic handles and teeth that seem to be engineered to do a bad job at both rip and cross cuts. They are really designed and marketed towards users who won't bother to learn how to saw properly and can't be bothered to maintain their tools.

Vintage saws from the turn of the last century are literally the tools that built the U.S. These are tools that were made for skilled craftsmen to use and care for. They are fully user serviceable and with the right set of files can be easily converted or tweaked to any use you have for them. With a little patience and practice to learn proper sawing technique, using a quality handsaw can actually be much faster than setting up a power saw for many types of cuts, not to mention safer, cleaner, and quieter.
Restore a Vintage Handsaw for Everyday Use (Make: Projects)
More:
See our entire Woodworking Skill Set

We saw a small sample of "tapecraft" artist Matthew Buckley's work in yesterday's Flickr pool round-up. You can see more of Matthew's stuff in his Flickr set. Shown here are two views and a plan of Matthew's entry in Scotch's Off The Roll Tape Sculpture Contest, which John Baichtal blogged about back in November. Entries are now closed, but the gallery of entrants is open for viewing, and for voting until the end of the month. Good luck, Matthew!

By George Hart for the Museum of Mathematics
Maybe you've always wanted to build your own geodesic dome home, but consider that too large of a project. You can build up your skills on a smaller scale by constructing a chicken coop. Anthony Liekens built this lovely one-meter geodesic dome so his chickens can lay in style.

The construction uses two shapes of pine triangles, which are screwed together on the inside with steel plumber's strapping, then caulked in all of the joints. The pentagons are each made of five isosceles triangles and connect to each other via equilateral triangles.

Anthony's step-by-step instructions are here. I like how it is elevated on five posts, in consonance with the five-fold symmetry about its center.
More:
See all of George Hart's Math Monday columns

Di Mainston and Tim Murray-Browne made Serendiptichord, a wearable soundscape interface:
The Serendiptichord is a wearable musical instrument that entices the user to explore a soundscape through touch and movement. Referencing the architectural silhouette of a musical instrument and the soft fabrication of fashion and upholstery, it is designed to entice the wearer to investigate its surface through touch, physical manipulation and expressive movement. Although this acoustic device can be mastered alone, it also holds subtle openings for group interaction.
via [Fashioning Technology]

Adam Meyer from Tellart wrote in with what has to be the coolest Valentine Day's project I've ever seen:
In celebration of Valentine's Day, Tellart is launching the Love Song Machine, a musical instrument controlled (by you) through the internet. Visitors to the website can select a song or compose their own, and press play to send the song to the instrument in our Providence office.

The bells are played by a series of solenoids, which are controlled by an Arduino micro-controller. The notes that you submit are processed on our web servers and then sent to the Arduino, while we load up live video and audio so that you can watch your song play. If there are users ahead of you in line, the queuing system will let you know how long you've got before you can watch your song.

The bell machine will only be available for a limited time, so start composing!
Tellart's Love Song Machine
(If you're in Providence this Wednesday, you can catch Tellart at this week's Providence Geek Dinner. Details here.)

OK, so, it's not really that hard to learn to read a resistor without a special tool, but ever since I saw the free downloadable nuclear bomb effects computer I have had a soft spot for these circular slide rules. And this one from Rob Ives might make a cool gift for a young maker to get him or her painlessly over the hump. [Thanks, Rob!]


The Pixel Qi screen from the Maker Shed is a revolutionary plug-and-play LCD display technology for your netbook. This one-of-a-kind 10.1-inch display offers two modes, an easy-to-read multimedia color mode, or a crisp low power e-reader mode. The e-reader mode has 3 times the resolution of the fully saturated color mode, allowing for a high resolution reading experience without sacrifice to super color fidelity for graphics. Upgrade your current display for incredible battery life, and the ability to use your netbook outside in full sunlight. Check out the product page for more information on compatibility, and links to more resources.
Hint, Hint – Follow the Maker Shed on Twitter, or Subscribe to our Deal of The Day RSS feed to keep up to date on the latest deal!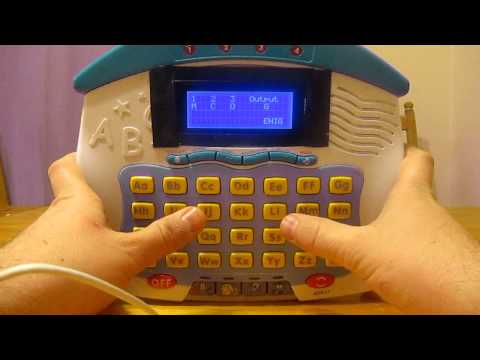 I was in a thrift store recently and saw a game with a screen and a keyboard and I thought, that would make a good Enigma machine (I've always wanted one, but I know my wife would kill me if I bought a real one $$$). In this instructable I'll show how I gutted an kids game and used an Arduino to hook up to the keypad and speaker. The code's not too bad (so far). This version is a simple three rotor Enigma machine. You can switch the rotors around and change the letters for the rotors. Future plans are to all for more rotors, allow changing out the reflector, allow for spinning the ring around a rotor, and a plug board implementation. This Enigma machine will be able to encode and decode messages to and from the real, old Enigma machines used during Wold War II.