---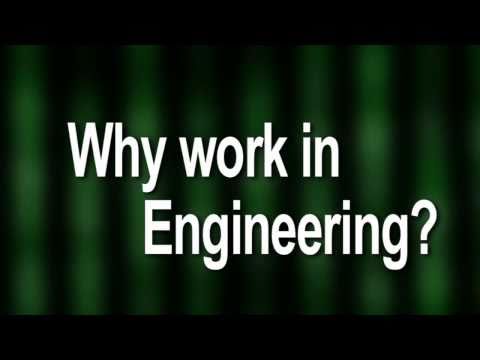 Engineering your Career – video interviews at Microchip via Jeri.

Actually these HEX chairs from designer Hugh Hayden made the rounds back in 2009, but they're just now coming across my radar via this round-up of tennis ball furniture that recently tripped one of my Google auto-alerts. There are plenty of unusual chairs in the world, and though I like these better than many, I'm more interested in Hayden's process for joining the tennis balls together.
He has done pretty well selling them, I think, so it's perhaps understandable that Hayden hasn't published an Instructable giving away all his secrets just yet. This quote, from Sarah Thurmond's article on Hayden from TENNIS.com, however, gives a strong hit:
The collection, introduced in May, includes pieces made entirely out of tennis balls that are bound together with non-stretchy polyester cord. They're constructed using a hexagonal grid configuration, which is where the name HEX comes from.
Between that and some time spent staring at the photos, I'm betting the individual tennis balls are pierced, close packed against a form, and sewn together with internal cordage. The title picture is from this post over at Inhabit, which also includes an "action" shot of the chair under a person's weight.
More:
Tennis Ball Chair

For the sake of humanity, Kinect hackers, please exercise caution! [via Dangerous Prototypes]

Etsy's got a gorgeous profile video out in their Handmade Portraits series about Adam Cramer of Liberty Vintage Motorcycles:
I met Adam Cramer five or six years ago, when I was living in South Philadelphia. My film career was just getting started and I was spending a lot of time in a local coffee shop called Gleaner's Café. It was the neighborhood hangout, and while the coffee was good, it was really the local color that drew me to the place. Adam was a regular with an iced-coffee always in hand, and from our very first meeting, he made an unforgettable impression.

It wasn't until I started rebuilding vintage bikes myself that I learned that Adam, coincidentally, did it for a living. With our shared interest — his much further honed than my own — it wasn't long before I started imagining a short film about him. I feel incredibly honored to have had this chance.

I'm slightly conflicted about this concept from Korean designer Sungho Lee: Intuitively, I love it! Super cool! How clever! I want to make a bunch of my own—as I imagine Mr. Lee did—by cutting up some paper clips, clipping the leads on a bunch of LEDs, and soldering the one to the other.
And yet, their only use, as far as I can tell, is clipping across a coin cell to make a little improvised LED light. Maybe add a magnet for a classic "throwie." And, rationally speaking, surely that single use does not justify the extra manufacturing effort of paper-clip-shaped leads. But that doesn't mean I don't want some. More pics at designboom. [via nerdstink]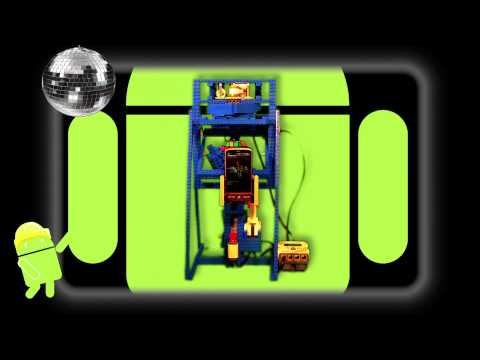 Cubes are so passé.
The Megaminx is a dodecahedron with 12 faces, each with 5 edges. Each face can be rotated in a similar way to the well-known Rubik's Cube puzzle.

The robot itself is built out of LEGO using a Mindstorms NXT kit for driving the mechanics. An HTC Desire smartphone running a custom Android app is the brain of the solver. The app uses the phone's camera to capture images of each face of the Megaminx which it then processes to determine the colors of the scrambled puzzle. After working out the solution, the app transmits the moves to the NXT controller via bluetooth to instruct it to solve the Magaminx.

The most challenging parts of the mechanical design were creating pentagonal shaped rings and modifying the tilting mechanism to cope with the obtuse angles between edges and faces using LEGO bricks that more naturally form shapes with right angles.
[Via Tinkernology]

Here's a method for applying a high-gain optical projection surface made from common, inexpensive materials—specifically, flat white interior latex paint and glass sandblasting media. This project began as a series of experiments to produce a DIY "screen paint" by directly mixing these two ingredients, which didn't actually work, but did lead to the serendipitous discovery of this process.
More:

Download a PDF of The Invisible Ink Printer project instructions here. Thanks to Mike Golembewski for the original article in MAKE Volume 16.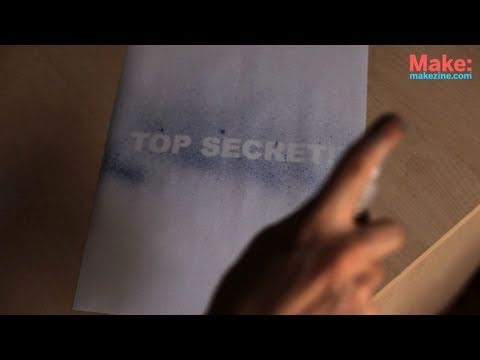 Make: Online readers who are secret agents—or secret agent wannabes—will love this project, which comes to us from MAKE Volume 16. By replacing the ink in a color inkjet cartridge with concentrated lemon juice, you can print with invisible ink. The secret message is revealed by spraying or wiping the paper with iodine tincture. Here's how it works: the reaction between the starch in the paper and the iodine turns the paper purple, however, ascorbic acid (also known as vitamin C) in the lemon juice acts as a reducing agent that breaks up the iodine complex before it reacts with the starch. If you don't have iodine handy, you can also reveal the message by heating up the paper with a hot iron.
However you do it, you'll be fairly sure that your super top secret dispatches are a bit safer from interception.
Subscribe to the MAKE Podcast in iTunes, download the m4v video directly, or watch it on YouTube and Vimeo.
Download a PDF of the project instructions from MAKE Volume 16.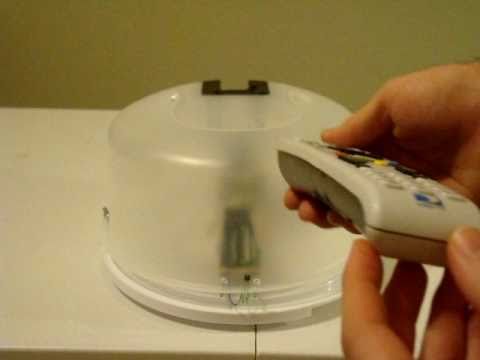 What do you get when you cram a PIC microcontroller, servo, IR receiver, and a sawed-off Airsoft into a cake dome? Why, a "Tupperware Turret Airsoft Gun", of course. If you've got a need for a non-lethal remote sentry device for your home or office, consider this serviceable deterrent how-to from Chris at PyroElectro. [Thanks, Chris!]