---
While most folks are gazing longingly toward summertime, some of us snow junkies are holding onto the last glimpses of winter on the mountaintops. In California, Mammoth ski area is always the last bastion of snow terrain (they close in July), and this year they boast a maker-y feature to check out: the Mammoth Art Park with giant sculptures, paintings, rails, and boxes you can snowboard and ski on. They combined 8270 pounds of steel, 206 feet of rail, 1880 square feet of plywood, and the work of 44 artists to create a terrain park with tons of eye candy. Can't wait to check it out!

Google Starts Science Fair, Pitching Products to Students @ NYTimes.com…
Google is synonymous with "search engine," and now, for students, it wants to be synonymous with "science." The company is getting into the science fair business with its first Google Science Fair, a global competition for teenagers that spans sciences as diverse as computer engineering, space exploration and medical technology. The event does not have the name recognition and deep roots of the science fairs from companies like Intel or Siemens, but for most children, Google is the most familiar company of the three. With the science fair, Google aims to play an even bigger role in their lives by encouraging young scientists to experiment — and to use Google products while they're at it.
What do you think makers? If Microsoft was doing this and was promoting MS products would it be a problem?

There are a lot of old, broken down bikes out there — we have at least one in our garage. It's a good bike. It's a little beaten and bruised, a little rusty, but a quick strip-down, a few fresh coats of paint, some lubrication, new tires, maybe a new seat, and it'd be back and beautiful. A project like this is very manageable in scope and complexity, even for a bike newbie. And you'll gain a more intimate knowledge of your bike, and you'll ride with the pride of knowing you revitalized something that would have likely ended up in the trash.
This type of bike refresh is the exact process that Jake Spurlock put this svelte little "fixie" through. What's a fixie? Jake explains:
A fixie is a bike that has a fixed hub. What this means is that with every turn of the wheel, there is a turn of the pedals. This also means that there is no coasting, as the hub of the wheel is locked in place.
He bought the bike for $35, a new seat and stem for $20, $12.50 for some used pedals, and then some paint, some time, and lots of lovin' Now it's time for some custom emblems. Jake's brother has a vinyl cutter. May we suggest something suitably "Makey?" Jake is actually about to come on-board as our new Web Producer guy, moving from Utah. As much as we like his new bike, we hope he's not riding it to Sebastopol.
More:


Last year, Brookelynn Morris did a project on CRAFT on repainting a bike. You can see the MAKE post here, and you can grab a PDF of the project instructions here [3.3MB PDF]. BTW: That's our multi-talented Sales Associate Project Manager, Sheena Stevens, piloting the revamped "Space Cruiser."

NASA's Amazing Space project has a monthly Tactile Astronomy feature that provides public-domain files for printing "feelable" versions of Hubble's deep space photographs on special printers:
Tactile Astronomy supports our efforts to bring the wonders of the universe to everyone, regardless of their visual ability. This new section of Amazing Space includes "Images of the Month" — monthly postings of the latest Hubble images designed to be downloaded and printed on a thermal paper expansion machine, thus allowing the visually impaired to feel what they cannot see.
[Thanks, Rachel!]

Jack Talbert designed this Portotrash unit, which lets you clip a plastic bag to your table to use as a convenient trash bag. It looks like it could come in handy, especially when doing messy tasks such as clipping wire leads. He's pre-selling them for $20 a piece in order to raise enough money to make a batch of them. [via core77]

i3 Detroit, Metro Detroit's premiere community hackerspace, will be recognizing its one year anniversary at its Ferndale location with a public celebration and ceremony on April 9th, 2011.

The 8,000 square-foot workshop has provided an ideal location for hosting classes and events for the community. Events held in the last year include introductions to welding, metal-casting, air brush, soldering, painting and even how to make home-brew soda.

The new location has also allowed its members to work on larger-scale projects using more advanced equipment. The space now boasts a growing wood and machine shop, a fabrication lab with access to laser and vinyl cutters, a chemistry lab, a bicycle repair area, an electronics room and a craft room, as well as other areas that encourage collaboration and creativity.

The event will be open to the public and will include tool and project demonstrations. It will be held on Saturday April 9th beginning at 6pm at the i3 Detroit hackerspace. Closely-supervised children are welcome.
Congrats, guys!


Carrie Fritsche made the (free) pattern from scratch and knit up this giant TARDIS blanket as a gift for her sister. [via CRAFT]
More: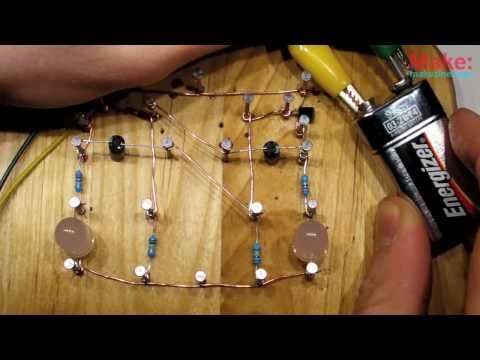 I just used a hammer & nails to build a circuit – and I liked it!
Yes, I could rattle off a list of reasons to use more popular prototyping solutions, but none of them are as satisfyingly straightforward as nailing components to a piece of wood. Unfortunately, incorporating ICs into the build would likely be … well, tedious. Using the so-called "dead bug" approach would require soldering an individual breakout lead to each pin – do-able, but less than desirable.
In any case, this highly visible 'classic breadboarding' technique seems a great way to introduce newcomers to schematics and circuit construction – just be sure to keep any mechanical components free of crumbs.
Subscribe to the MAKE Podcast in iTunes, download the m4v video directly, or watch it on YouTube and Vimeo.


I'm not crafty—like, at all—when it comes to sewing and fiber arts, but the pun and the photo were pretty much irresistible. From Aldo Cavini Benedetti. [via Dude Craft]

Toronto makers, there are just a few days left to get your project in.
A Maker Faire is a place for Makers to come together to compare notes, see what others are doing, and to spark ideas for new projects and expanded collaboration. It facilitates the exchange of information throughout a community whose members in many cases work alone or in semi-isolated groups.

Mini Maker Faire Toronto will facilitate this exchange by including commercial and non-commercial Makers, independent designers, hackerspaces, workshops, demos and speakers. It will open up the community and their projects to outsiders, and encourage discourse between visitors and participants, not just between the Makers themselves. The event will be equal parts entertainment and education for the varied cross-section of visitors that will be in attendance. The majority of our booths will be interactive, and visitors will have opportunities to take home a part of the experience when they participate in the workshops on offer.
The faire will be held on May 7-8 at the Evergreen Brick Works.