---
California filmmaker Michael Evans likes to capture the beauty of workflow, what a craftsperson looks like when he or she is deep "in the zone" of their process. This video features the smooth moves of Sean Walling, owner of Soulcraft, a custom steel bicycle frame shop in Petaluma, CA. It documents Sean in the workshop as he fabricates a frame, from steel stock to finished bike.
FROM STEEL: The Making of a Soulcraft
More:
Check out all of our bike coverage


The winner of the best comment out of the 240+ comments on "Which Comic Book Character Is The Greatest Maker Of All Time?" is Martin Hohenberg. Martin, email me pt @ this site to get your prize! SUPERMAN – THE BLACK RING. Here's what Martin had to say (He thinks Gearloose should have been in the list and also the winner, it's hard to disagree with this)…
Gearloose is not a duck – the beak form is more chicken-like.
He's shown to actually engineer stuff – other than, for example, Batman, who for the most part only tells others that he had invented the gizmo of the day.
Like most of us, Gearloose is basically a pacifist, not an aggressive war-mongering super-rich guy who seems to have to prove himself. Gearloose's engineering is to build cool stuff, not to beat someone up.
Gearloose was – for many of us – the original idea-giver of becoming makers, much more do than e.g. Luthor or Stark.

Not only should Gearloose be in the list, he should've won.
Please take a moment to read all the wonderful comments, a fantastic discussion. And if you're a parent of friend of a maker, the comics mentioned would make great gifts to inspire and spark, er stark, the imagination of that special person! And don't forget, the conversation is still rocking. Add your thought!

---
---
---
Andrew D. Carson of Glendale, Wisconsin, whose 2008 recycled recumbent build came in 3rd in yesterday's roundup of most-trafficked recumbent bike posts, contacted us and asked that we post a more modern picture of his Mach 2 frame. Looks great, A.D.!
The recycled recumbent designs, which are built from standard frame parts scavenged from scrap bikes, are freely available as PDF plans on Andrew's site. He also sells complete bikes of his own manufacture.
[Thanks, Andrew!]

The BSA, in association with NASA, has a released a new merit badge for robotics, featuring one of the Mars rovers on the patch.
When people think of the Boy Scouts of America (BSA), they envision activities like camping, knot-tying, and canoeing, but soon, they'll need to add robot-building to that list. Scouts in 2011, through the introduction of the Robotics merit badge, now have the opportunity to design, build, and demonstrate a robot of their own creation.

The Robotics merit badge is part of the BSA's new curriculum emphasis on STEM: science, technology, engineering, and math. The BSA focus on STEM takes a fun, adventurous approach to helping Scouts develop critical skills that are relevant and needed in today's competitive world. The new merit badge is one of 31 STEM-related merit badges that Scouts can earn.

There are over 200 comments on "Which Comic Book Character Is The Greatest Maker Of All Time?"
As I said on the post, I'm going to award a prize to the best comment. The prize is Superman: The Black Ring by Paul Cornell & Pete Woods HARDCOVER! Be funny, be smart, be creative, and it's yours! I'll do a post later today celebrating the best comment on this historic thread.
Head over there and have your say!

Jon Chandler has written a fantastic getting-started article on selecting an AC-to-DC power supply for your home electronics project over at Digital DIY. It covers the very basic details of voltage and current selection, and goes on to clearly and succinctly explain what "linear," "regulated," and "switching" power supplies are, and, most importantly IMHO, gives a bunch of practical tips on how to identify the various species of wall warts, in the wild, and determine if they are suitable for your own application. [via Hack a Day]

Please enter all required fields

Correct invalid entries

Got some strange screws that need unscrewing? Want to get in there and modify some gear the manufacturer didn't trust you to open? Check out the 54 Piece Bit Driver Kit from the Maker Shed. The kit includes a magnetized driver with metal shaft, swivel top, and rubberized grip, a 60 mm extension, a 130 mm flexible extension, and 54 bits. Problem solved!
Features:

Slot sizes 1, 1.3, 1.5, 2, 2.5, 3, 3.5, 4 mm
Philips sizes #000, #00, #0, #1 (x2), #2
Spanner sizes 2, 2.2, 2.6, 3 mm
Torx sizes T3, T4 (x2), T5, T6 (x2), T7, T8, T9, T10, T15, T20
Hex sizes 0.7, 0.9, 1.3, 1.5, 2, 2.5, 3, 3.5, 4, 4.5, 5, 6 mm
Posidrive sizes #0, #1, #2
Star sizes 2, 3 mm
Square sizes #0, #1, #2
Triangle size 3 mm
Tri-wing sizes #0, #1
Drop size 1 mm

Ytai from Tel Aviv wrote in with a cool new board he developed:
I'm very excited to announce the launch of a new product I've been working on for the past months! IOIO (pronounced: yo-yo) is a product which lets you connect electronic circuits to an Android device and control them from an Android application. It is comprised of a small (2.7×1.2″ = 7x3cm) PCB that connects to an Android device with a USB cable and a software library (Java .jar file) that you use in your Android app which handles all communications with the board.

No firmware programming is required – only Android application authoring with a very simple API for controlling the pins on the board. No modification of the Android device is required – you avoid the complication of modification and the voiding of warranty.
The board will be available from Sparkfun.

This project is derived from LifeHacker alum Jason Fitzpatrick's improvised clean/dirty dishes indicator, which uses the same CD + suction cup idea.
When I tried Jason's trick for myself, however, I found that, while the hole in an optical disc does fit nicely over the hub of a hardware-store suction cup, all the cups I could find had this molded-in groove to accommodate a wire hook. This groove prevents the CD from fitting snugly around the hub, and allows it to spin too freely. If you only have two states you want to indicate (e.g. clean or dirty dishes), it's really not a problem. But if you want better resolution, the fit needs to be snug so the dial can't "drift."
So I've added a bit of craft foam that fits down in the groove and secures the CD in place, and doubles as a pointer. This design adds just enough friction: The CD is easy enough to turn, but not so easy that it won't stay where you put it.
I've included a printable version of the label I made for my own "returning at" sign, which can accurately indicate 96 separate states (any 15 minute interval in the 24 hours of a day), but the design could easily be adapted to other purposes.
More: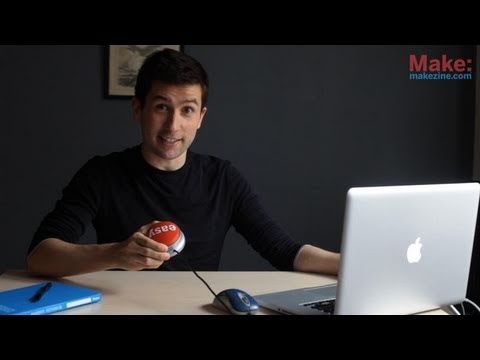 After a quick search of the posts I've written for MAKE, it's clear that I overuse the word "awesome." It's not news to me, but I had no idea how bad my problem was. In fact, I think you could say that I abuse the word. In order to cut down on my usage of "awesome" and to help me find suitable replacements, I made The AWESOME Button. It's a plug-and-play USB device that will type a random synonym for the word "awesome" when the button is pressed. The beauty of it is that it works on any computer with a USB port in any application.
Subscribe to the MAKE Podcast in iTunes, download the m4v video directly, or watch it on YouTube and Vimeo.
How is it made? At the core of The AWESOME Button is the Teensy USB, a really sweet* microcontroller that has the ability to act like a USB mouse or keyboard right out of the box. Not only that, but if you're most comfortable writing code for the Arduino, you can load your Arduino sketches onto it directly once you install Teensy Loader and Teensyduino on your system. But don't let that discourage you, they're both a snap to install.
Of course, I'm not totally serious about this particular application, but I wanted to show how you can make your own custom USB human interface device. If you're a gamer, you could make a controller exactly to your own specifications. Or perhaps you could hack an Etch A Sketch to control your mouse pointer. I think I want to mod an NES controller so that it works as a Flickr browser. There are many different tremendous* ways you could use this. Leave your terrific* ideas in the comments!
* Yes, these words were actually generated at random by The AWESOME Button. For the curious, here's the full list of words programmed into it, comment below if you think I've missed any: brilliant, cool, crack, dope, excellent, exceptional, fabulous, fantastic, fine, first-rate, fly, fresh, incredible, keen, laudable, marvelous, neat, nifty, rad, super, superb, sweet, terrific, tremendous, wicked, wonderful, and worthy.