---
Haberlandt acts as a biotechnological vending machine by growing and maintaining an algae in a super optimized and continuous production state.

Haberlandt is designed to sustain any suspension culture, currently consisting on Spirulina algae (Arthrospira Platensis). Biological conditions are maintained troughout the system via a processor. Inputs are measured and sent to the processor and an output is executed generating a negative feedback that allows for constant conditions and thus for the survival and reproduction of the algae. Thus turning this system into a cybernetical organism.

Haberlandt produces, stores and delivers in the same place, reducing the environmental impact by localizing all the logistics involved in a traditional vending in situ. By spherificating the dose it avoids the use of any packaging, since it is a self-containing format where the package is the actual product to be consumed.
[Thanks, Amanda]

For our bike theme and Skill Builder series this month, we've asked mountain bike racer Chris Nodder to help us out. Chris is the author of Bike Boo Boos, a book (and website) about fixing bikes when you're on the trail and need to fix your ride on the fly. Here he describes how to fix a broken chain. — Gareth
Chain Breaking and Joining
By Chris Nodder
If your chain breaks on the trail, it can normally be fixed very easily with a chain tool. The tool is designed to push out the rivets that hold the chain together. Good chain tools are designed to stop pushing just before the rivet leaves the chain completely, thus making it easy to push the rivet back through when you re-join the chain.
Common type of bike chain tool
Using a Chain Tool
Find the break in the chain (pretty obvious) or the twisted or stiff link (shift to the smallest front and rear cogs, then run the chain backwards. Watch the lower pulley on the rear derailleur – when the pulley "skips," you've found your bad link).
Before you even use the chain tool, if you have a stiff link, just grab the edges of the chain on either side of the stiff link, place your thumbs on the plates of the stiff link, and bend the chain from side to side. That should be sufficient to loosen the tight rivet.
To remove a twisted or broken link and rejoin the chain:
Place the chain on the normal cradle of the chain tool with the rivet closest to the bad link lined up with the chain tool pin.
Use the chain tool to push this rivet through so that it is almost popping out of the opposite plate.
Now, you should be able to remove the bad link by removing the chain from the tool and twisting it to separate the chain at this location.
Do the same on the other side of the bad link, being careful to end up with an inside and an outside piece of chain to join together.
Now, pop the inside piece that you are left with into the outside piece making sure that the roller is in place and that the rivet lines up with the hole. Use the chain tool to push the rivet back through.
As soon as the rivet has emerged through the outside plate as much as the neighboring rivets, stop and move the chain onto the tight link cradle part of the tool to finish tightening the rivet through. This way, the outside plate is free to move, so the link doesn't end up tight.
The same procedure obviously works for shortening a chain.
Tips:
If you have the time to think about it, push the pins out towards the drive side of the bike when splitting the chain, as this makes them simpler to work on when re-joining them.
Bring the two pieces to be joined to the bottom of the loop (between the rear derailleur and the bottom of the chain rings) as the rear derailleur then allows you to take up slack as needed.
Check you threaded the chain through everything it needs to be threaded through (front and rear derailleurs, rear frame triangle) before joining it again.
Some chains (notably Shimano HG) require a special rivet to replace the one you remove with the chain tool. You can use the existing one, but it won't be very strong, so it's only good as a temporary repair.
If you are using a "magic link" (SRAM PowerLink or similar), leave two inside links free when you break the chain. The magic link replaces an outer link.
More: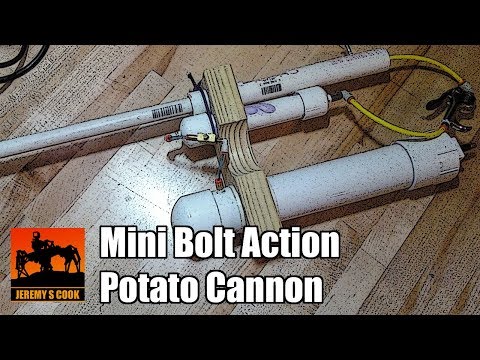 Jeremy Cook advances the potato cannon arms race from muzzle- to breech-loading eras with this .602 caliber pneumatic spud gun prototype that fires from a high-pressure gas reservoir instead of via the familiar fuel-ignition system. He writes:
The actual sliding bolt mechanism was made from a piece of Delrin, which is a type of plastic with a very high resistance to abrasion and fairly low friction. It was also what was available to me at the time. There is a hole down the middle of it which allows air to pass through when fired. One end is tapped for 1/4 inch NPT to allow a 1/4 inch air fitting to be screwed in. The other end is cut just smaller than the inside diameter of the 1/2 inch pipe that it will be putting air into. To keep air from escaping when fired, a slot is cut for an o-ring to provide for a tight seal. Additionally, a 1/4 – 20 hole is tapped through one side to screw the [operating handle] into.
Jeremy is rigorously documenting the build on his blog. [via Hack a Day]

By George Hart for the Museum of Mathematics
Continuing last week's theme of mathematical coffee tables, here is one designed by Michael Serra, inspired by the work of Piet Hein.
The base consists of six pieces from a set of Hein's SOMA puzzle, so the remaining two pieces are available as end tables. The glass top is a superellipse, a shape which Hein used for many design purposes, because it interpolates between a circle and a square.
More:
See all of George Hart's Math Monday columns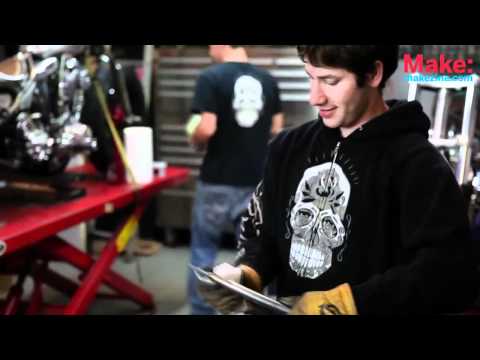 Since the first moment Satya Kraus saw a motorcycle as a child, he has been obsessed. He turned that obsession into Kraus Motor Co. and now builds intricate handmade machines in his workshop under the California redwoods.
Kraus Motor Co. will be at Maker Faire Bay Area, May 21 & 22, where you can meet him, run your hands along the fenders, and marvel at the complexity of his powerful bikes.
Subscribe to the MAKE Podcast in iTunes, download the m4v video directly, or watch it on YouTube and Vimeo.


In this Etsy How-Tuesday video, learn to perform the ABC quick check on your bike and get it ready and safe for spring with some tips for your tires, brakes, chain, stem, and handlebars:

There's something so universally awesome about "the basics." Biology 101. Julia Child's Mastering the Art of French Cooking. A beginner's yoga class. If you can break any task down to its fundamentals, suddenly, doing it is actually imaginable. This week, we learned that the ABC's of tuning your bike are no different. We caught up with Brooklyn's own Susan Lindell at Dumbo's Recycle-A-Bicycle; there, multi-tool in hand, she showed us the five things you need to do to get your bike ready to ride.

BREAKING NEWS: Sony's War on Hackers, Tinkerers and Innovators "Settlement in George Hotz Case"
Sony Computer Entertainment America ("SCEA") and George Hotz ("Hotz") today announced the settlement of the lawsuit filed by SCEA against Hotz in federal court in San Francisco, California. The parties reached an agreement in principle on March 31, 2011. As part of the settlement, Hotz consented to a permanent injunction.

Both parties expressed satisfaction that litigation had been quickly resolved. "Sony is glad to put this litigation behind us," said Riley Russell, General Counsel for SCEA. "Our motivation for bringing this litigation was to protect our intellectual property and our consumers. We believe this settlement and the permanent injunction achieve this goal."

"It was never my intention to cause any users trouble or to make piracy easier," said Hotz, "I'm happy to have the litigation behind me." Hotz was not involved in the recent attacks on Sony's internet services and websites.

In the action, SCEA accused Hotz of violating federal law by posting online information about the security system in the PlayStation 3 videogame console and software that SCEA claimed could be used to circumvent the security system in the console and allow the playing of pirated videogames. Hotz denies any wrongdoing on his part. Hotz's motion to dismiss for lack of personal jurisdiction was still pending before the federal court in San Francisco but a preliminary injunction was issued requiring Hotz to take down the postings challenged by SCEA.

"We want our consumers to be able to enjoy our devices and products in a safe and fun environment and we want to protect the hard work of the talented engineers, artists, musicians and game designers who make PlayStation games and support the PlayStation Network," added Russell. "We appreciate Mr. Hotz's willingness to address the legal issues involved in this case and work with us to quickly bring this matter to an early resolution."
I'm glad to see this come to an end. I think Sony knew they would 1) lose if they continued on their reckless path and 2) Sony would continue to ruin their chances of inspiring innovators to work with their products, forever.
Is this an ideal end-result? No, of course not. George cannot hack or mod or even talk about the SONY settlement. But he's out of court, not in jail, not owing millions, admitted no-wrongdoing and he's free to work on anything that's not SONY.
When you win against creepy large companies like SONY, this is what it looks like – it's gross and unsatisfying, but it is winning.
So what's next?
Sony, will you and George do a talk at Maker Faire talking about the ways you *do* want people to use your SDKs and create amazing experiences (like the Kinect world currently enjoys?). Drop us a line – here's your chance to completely turn it all around. We'll root for you.
See our previous article – "Sony's War on Makers, Hackers, and Innovators" where we suggested that we collectively encourage Sony to drop this suit.
Imagine going back in time and convincing Sony to work with, not against, their users. Where would they be now? Sony had decades of innovation and created an industry. What happens next is up to Sony but it's also up to us. The Aibo community was able to get Sony to reconsider their actions, perhaps the maker world can as well. Here is the press contact page for all of Sony. Please consider sending a polite email asking them to drop the lawsuit against GeoHot and the community of makers, hackers, and innovators. I'll also be sending a physical copy of this article to the CEO of Sony.
Did all your emails, tweets and efforts help drop the case against a maker? I think so.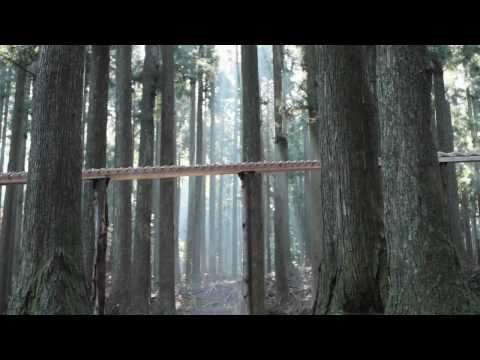 This remarkably beautiful video, uploaded to YouTube one day before the Tōhoku earthquake and tsunami, turns out to be an ad for Sharp's SH-08C handset. It is, nonetheless, something you shouldn't miss: in a tranquil forest, a single wooden ball rolls down a stepped wooden ramp, continuously, for two minutes. At each step, it falls and strikes a wooden bar tuned to play a single note of the 10th movement of Bach's Herz und Mund und Tat und Leben, BWV 147, commonly known by its English title, Jesu, Joy of Man's Desiring. Wait 'till you see how they handle the sustained notes. [Thanks, Rachel!]
More:
Top 10: Rube Goldberg Machines


Mitch Alman, Jeff "Mightyohm" Keyzer, and Andie Nordgren, just released their "Soldering is Easy" comic book. It's part of a book they are working on that will be published later this year. You can download the comic in PDF format from the Mighty Ohm website.
The comic (and lots more cool stuff!) will be included in a book that Mitch and I are writing about How to Make Cool Things with Microcontrollers (For People Who Know Nothing). It will be published by No Starch Press later this year.
Don't forget to come to Maker Faire in California and learn to solder with Mitch Altman in the Maker Shed. We have a brand new learn to solder pin that we know you are going to love!