---
We're hosting an imromptu webcast for the NASA Make Challenge next Tuesday! Dale Dougherty hosts:
The NASA Make Challenge is an invitation for makers to participate in the exploration of space and give students an opportunity to build an experimental kit that can be flown on a future space flight. These experiments will be based on the CubeSat modules. To help makers think about building kits for space flight, we'll bring together some experts who have developed and used the Cubesat program.
Makers in Space: Developing Experiments for the NASA Make Challenge
Wednesday April 19th, 11am PT/2pm ET
Watch at makezine.com/space or on UStream
Please join us in the UStream chat to interact live with the show.
More:

Here at headquarters, we're cranking on producing the next issue of MAKE, Volume 27, themed Robots! What better way to celebrate than to host a fun, simple robot contest? We liked the open-endedness of our Volume 26 Karts and Wheels Contest (must have wheels and carry a person), and the cool, creative entries we got as a result (Bike Buh Que, anyone?). Robots can have so much character, so we decided to make the ruling criteria of this contest most entertaining. Let your robot's character shine! Why did folks adore Wall-E? His personality, of course. And since robot personalities come through best in action, submitting a video of your new friend is mandatory.
The rules are simple:
1. Come up with an entertaining, original robot with tons of character.
2. Document your build step-by-step with clear instructions, photos, and a video of the robot in action, then share it on Make: Projects.
3. Send an email to robots@makeprojects.com with a link to your Make: Projects entry when you're done. Easy!
The editors of MAKE will then pick the best project, polish it up, and publish it in MAKE Volume 27. Entries will be judged on the quality of the documentation as well as the entertainment value of the robot. The deadline for entries is 11:59 PDT on May 13, 2011.
All entries will be judged by the editorial staff of MAKE based on the following judging criteria: (a) Entertainment Value: 50%; (b) Quality of Written Documentation: 25%; and (c) Quality of Documentation Photography/Video: 25%. The entry with the highest total score among all judging criteria will be the chosen as the Grand Prize Winner.
The winning entry will be published in MAKE Volume 27. The 3 runners-up will be featured on Makezine.com and mentioned in MAKE Volume 27.
Wondering what our definition of "robot" is? Our Makezine editor-in-chief Gareth Branwyn, when working on his Absolute Beginner's Guide to Building Robots book, surveyed about 20 experts in the field, and came up with a solid definition:
A machine that senses its world in some way, processes the information from those sensors in some way, and then actuates a response in some way.
Caveat: our executive editor Paul Spinrad pointed out that this definition works as long as "senses its world" isn't limited to merely sensing whether the world flipped its on/off switch, though switch "sensing" (e.g. bump-switch navigation) is fair game.
Questions? Post them in the comments below. Good luck, and most importantly, have fun!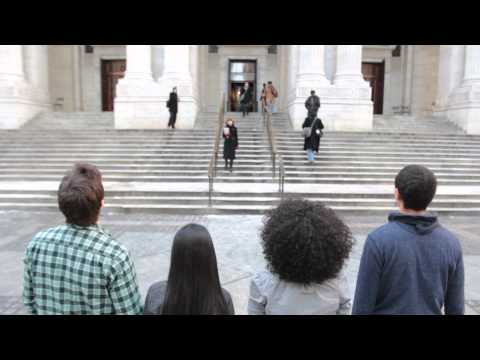 Find the Future Game at the New York Public Library, excellent glimpse of the "Future of Libraries"…
Find the Future at NYPL is an augmented reality game by Jane McGonigal that celebrates the 100th birthday of the New York Public Library's landmark Stephen A. Schwarzman building. Find The Future at NYPL brings visitors to the Library together with players around the world to tap into the creative power of the Library's collections. It is first game in the world in which winning the game means writing a book together – a collection of 100 ways to make history and change the future, inspired by 100 of the most intriguing works of the past.

Our comrades in the Maker Shed have given us one of their awesome Projects Pack for Arduino V2 kits to give away in the Make: Arduino area! The giveaway will run through Wed midnight (4/20), ending at 11:59m PDT. We'll be giving a lucky winner one of these kits, worth over $100!
To be eligible, go to the Make: Arduino giveaway page, see the giveaway question, and leave your answer in the comments. That's all there is to it.
The Maker Shed Arduino Giveaway
More:
Make: Arduino landing page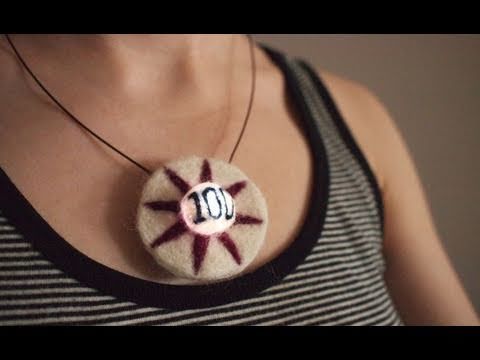 Learn needle felting basics from Moxie and make this pinball bumper necklace in this episode of the CRAFT Video. Build up 3D forms using tiny pokes and wool roving. You can even embed an LED to make your pinball bumper light up. Caught the bug? Check out Moxie's book, I Felt Awesome.
Subscribe to the CRAFT Podcast in iTunes, download the m4v video directly, or watch it on YouTube.
More:


This transmitter design is commonly credited to Japanese multimedia artist Tetsuo Kogawa. It takes audio input through a 1/4″ phono jack and, constructed as shown, without the optional antenna connections, will broadcast an FM radio signal about 30 feet.
This is the standard model of Mr. Kogawa's simplest FM transmitter, which is slightly more complex than his most basic design in that it includes a trim capacitor to adjust the transmitting frequency. It can be powered by a 9V battery and uses a hand-turned copper coil.
More:


Lish @ CRAFT writes:
My crafty Michigan pal Veronica Knight crocheted her very own viking costume, complete with epic beard, for Halloween last year and will be using it as her entry into this weekend's Motor City Beard and Moustache Championships. Enjoy this achievement in crochet work with me, won't you?

Mark is a programmer who hates writing regular expressions. So he wrote a kind of visual regular expression generator that starts with the string to be searched, identifies recognizable patterns in it, and lets you select those you want. Then it outputs a working (albeit probably inelegant) regular expression to get the job done. The commentariat over at txt2re.com is somewhat predictably divided between grateful regex amateurs and annoyed experts. [via Boing Boing]


The Pendulum Challenge Kit from the Maker Shed includes everything you need to build the project featured in MAKE, Volume 26. At the heart of the system is a pre-programmed PIC micro controller that runs the internal state machine which processes the game's switch inputs and drives the LED outputs. This kit is easy to solder together, and is perfect for a beginner electronics enthusiast.

Open Source Ecology is a network of farmers, engineers, and supporters that for the last two years has been creating the Global Village Construction Set, an open source, low-cost, high performance technological platform that allows for the easy, DIY fabrication of the 50 different Industrial Machines that it takes to build a sustainable civilization with modern comforts. The GVCS lowers the barriers to entry into farming, building, and manufacturing and can be seen as a life-size lego-like set of modular tools that can create entire economies, whether in rural Missouri, where the project was founded, in urban redevelopment, or in the developing world.
[Thanks, Daniel!]
More: