---
Don't miss Tuesday's live webcast where Dale Dougherty and YOU ask questions of the experts around the NASA Make: Challenge!
The NASA Make Challenge is an invitation for makers to participate in the exploration of space and give students an opportunity to build an experimental kit that can be flown on a future space flight. These experiments will be based on the CubeSat modules. To help makers think about building kits for space flight, we'll bring together some experts who have developed and used the Cubesat program.
Featuring the lovely and talented:
Kris Kimel – Kentucky Science and Technology Corporation
Kris Kimel is President and a founder of the Kentucky Science and Technology Corporation (KSTC), a non-profit company with an international reputation for designing and implementing a range of innovative initiatives. Over the 24 year life of KSTC dozens of projects have been funded by diverse supporters involving corporations, private foundations, state and federal governments. KSTC funds important R&D and technology commercialization projects at Kentucky universities. It also designed and manages the Kentucky Enterprise Fund (KEF)…an early-stage venture fund which currently holds over 60 equity positions in innovation-driven Kentucky companies.

Kimel is the founder and leader behind the vision and implementation of Kentucky Space LLC, a new nonprofit enterprise focused on R&D, education and entrepreneurial space solutions.

He is also the founder of the international IdeaFestival® (IF)…a world-class event that attracts leading and highly diverse thinkers from across the nation and around the globe to explore and celebrate innovation, imagination and game-changing ideas.
James Kuhl – Teachers in Space Program
James Kuhl is an an Astronaut Trainee in the Teachers in Space program. He's an earth science teacher, and a member of the NASA Network of Educator Astronaut Teachers. He'll be joining us to talk about how suborbital flight experiments are used in the classroom.
So bring your questions about making your own kits for space flights and participate live in the chatroom.
Makers in Space: Developing Experiments for the NASA Make Challenge
Tuesday April 19th, 11am PT/2pm ET
Watch at makezine.com/space (here!) or on UStream
Please join us in the UStream chat to interact live with the show.

Here's another response to George Hart's challenge to build a snub dodecahedron out of paperclips. A few weeks ago, we showed you Charlotte DeKoning's build, using twist-tie wires at the junctions. This morning, we got this beauty sent to us, built by Christopher Edwards. He soldered his junctions together. Nice job, Christopher!
More:

Remember MakerBeam, the T-slot variant that began as a Kickstarter project?
MakerBeam is a Mini-T open-source building system. Mini-T is a miniature version of T-slot (a technology that is widely used for industrial automation, robotics and machine enclosures.) Not only is it small enough to work as a model building system, but it's also precise and strong enough to build real machines and robots. It consists of square 10mm extruded aluminum beams, various connectors and the hardware necessary to build just about anything.

This stuff is very cool, and there is absolutely no end to what can be done with it. Motor mounts can bolt directly to the beams and with the use of our small angle brackets, you can mount servos as well. Because MakerBeam is open-source, you're encouraged to develop and build your own pieces to interlink using the Mini-T standard, even further expanding the possibilities.
Well, the startup has finally begun to ship product, with a set available from Sparkfun. For $130 you get fifty beams in lengths ranging from 4 to 30cm, along with brackets and bolts.

You may remember Quinn Dunki's LED Heart Pendant project that she did last month, inspired by Charles Platt's Make: Electronics book. Quinn has struck again, this time creating a device that attaches to her dishwasher to tell her what state the contents are in. She writes:
I'm absentminded in general, but especially when it comes to the dishwasher. I can never remember whether the dishes are clean, whether the machine needs to be run, or emptied, or whatever. I needed a solution to this problem. My first thought was to hang a flippable sign on the door that said "clean" on one side, and "dirty" on the other. Simple, logical, functional. My second thought was, "What?!? That's dangerously under-engineered. I can make something much more ridiculous than that."

This contraption is the result.
Sounds like fun to us! You can access the project via the Make: Project widget below, or directly, on this link. To find out more about Quinn, her site is called BlondiHacks.
A million thanks to Quinn for loading this project onto MAKE, and for doing such fun work. We can wait to see what shenanigans to get up to next!
More:
Beating Heart LED Pendant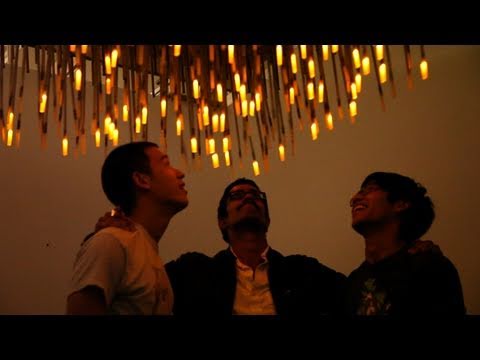 Jimmy Chion, Jason Chua, and Kiran Malladi are the creators of Lightchimes, a beautiful lamp made from 169 hanging LED pendants. The circuit is simple, but the results are complex. This project is about interaction- without interference from a participant, the lights would never shine. Similarly, without collaborative interaction, this project would never have become a reality.
Lightchimes will be at Maker Faire Bay Area, May 21 & 22, where you can experience the mesmerizing twinkling firsthand.
Subscribe to the MAKE Podcast in iTunes, download the mp4 video directly, or watch it on YouTube and Vimeo.



Check out Stephen Hobley's 'duino-driven Laser Harp on Make: Projects.
It's an Arduino-flavored Monday here at makezine.com. Our Arduino Projects Pack giveaway is ongoing, and today's Deal of The Day bundles a 1-year subscription to MAKE with instantly-downloadable PDF versions of two of our most popular Arduino titles: Getting Started with Arduino and the newly-released Arduino Cookbook. Check 'em out, with tons of other cool 'duino content, over on our Arduino Super Page.

I built an elevated platform so I could try working at a standing desk. It's 11.5 inches high,
and I built it from .75″ x .75″ sticks and .5″ plywood. I added lots of triangular bracing and then sat on it to make sure it could hold my 27″ iMac without collapsing. I just started using it this morning so I can't say how much I like it yet.

I'm standing on a gardener's kneeling pad, which is probably too spongy. I might switch to a yoga mat.

This is a prototype. I am going to use this one for a week, take notes, and make another prototype. (First note for Prototype 2 – a nook under the plywood to hold the external drives and USB hub.)
Here's Donald Rumsfeld at his most charming (which is about as charming as a monitor lizard) defending his standing desk and explaining to the CNN host that Thomas Jefferson had one and that naval officers use them. Go Rummy!

By George Hart for the Museum of Mathematics
Tim Chartier at Davidson College has discovered that if you make things out of candy there's no lack of volunteers to help you clean up. He takes images and transforms them mathematically into arrays of candy pieces. Here you can see President Obama, as rounded to the set of m&m color values. Mathematically, the algorithm picks the available color which is closest in red-green-blue-space to the average of the pixels it replaces.
Tim's program has controls that allow the user to change the image, the candy, and the resolution. Since Easter is coming up, you may find a use for this recipe to make another U.S. president, this time from 400 peeps:
As Tim notes on his blog, "The best part is taking it apart!"
More:
See all of George Hart's Math Monday columns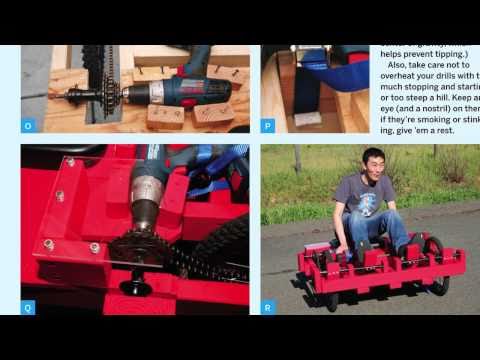 Roll Into Spring with MAKE Volume 26: "Karts and Wheels"
Garage go-kart building is a time-honored hobby for do-it-yourselfers, and we've got plans and articles to help you build wheeled wonders that'll have you and the kids racing around the neighborhood in DIY style. Build a longboard skateboard by bending plywood. Propel a go-kart with a pair of battery-powered drills. Put a mini gasoline engine on a bicycle. And construct an amazing wind-powered cart that can outrun a tailwind. Plus you'll learn how to build the winning vehicle from our online Karts and Wheels contest — a full-custom adult Soapbox Derby racer!
In addition to karts, you'll find plenty of other projects that only MAKE could give you:
A flaming tube that keeps time to music and makes sounds waves visible – in fire
An easy, fun synthesizer and loop station for making electronic music
Two bio-sensing projects: a lie detector and a controller driven by your brain waves
All these projects and much, much more await you in MAKE Volume 26!


On newsstands now! >> Buy or Subscribe
Subscribe to the MAKE Podcast in iTunes, download the m4v video directly, or watch it on YouTube and Vimeo.