---
I love these sites where people challenge themselves to do a project every day for a month, or a year, or whatever. I think that, being under this kind of pressure, with lots to produce, frees you up, in a weird way, to get really creative, to think outside the box.
Here, University of Applied Arts (Vienna, Austria) students Magdalena Akantisz and Lisa Schultz are doing 30 upcycling projects in 30 days in pursuit of their upcycling diplomas. Their goal is to show people lots of fun, cool, creative things you can make from recycled materials and they want to inspire others to do the same. In fact, they're looking for guest contributors and hope to make this site expand to 365 things every 365 days.
More:
B-Roll — The Show: "365 Days, 1 Room"

PlayStation Network and Qriocity completely compromised…
…an unauthorized person has obtained the following information that you provided: name, address (city, state, zip), country, email address, birthdate, PlayStation Network/Qriocity password and login, and handle/PSN online ID. It is also possible that your profile data, including purchase history and billing address (city, state, zip), and your PlayStation Network/Qriocity password security answers may have been obtained. If you have authorized a sub-account for your dependent, the same data with respect to your dependent may have been obtained. While there is no evidence at this time that credit card data was taken, we cannot rule out the possibility. If you have provided your credit card data through PlayStation Network or Qriocity, out of an abundance of caution we are advising you that your credit card number (excluding security code) and expiration date may have been obtained.
While Sony was devoting its resources to harassing makers, tinkerers and innovators their network was completely compromised, and if you used it – all of your info is likely compromised. 75 million users, incredible. I'm pretty sure this is the largest ID theft in history.

Should patented, patent-pending, or copyrighted projects NOT be in MAKE? This is the question that has been raised around Mikal Hart's Reverse Geocache Puzzlebox project from MAKE Volume 25. It's a clever project. Where geocaching is a game of high-tech hide and seek game, with players using GPS to find a hidden "cache" of trinkets, Hart's Reverse Geocache Puzzlebox is a box that will only open in one place on Earth. Mikal made the first one as a wedding present for a friend (the guy who'd turned him onto Arduino). We thought it was a cool project and published it in the magazine. The controversy comes from the fact that Mikal copyrighted trademarked the name "Reverse Geocache" and his technology is patent pending. Some folks took exception to locked down technology being covered in MAKE (although Mikal does encourage and help people make the boxes for personal, non-commercial use). The following letter we received, from reader Bryan Hanks, expresses this negative reaction. A conversation broke out on our internal email list. Some of these comments are reproduced below and express various thoughts on the issue.
What is your take on this? What do you think MAKE's editorial position should be?
Bryan Hanks writes:
I'm writing to express my disappointment at the decision to include the "Reverse Geocache Puzzlebox" in a recent MAKE.

As a long-time subscriber (since Volume 6!), I've always enjoyed the high-quality articles and projects I've found within MAKE's pages. Doing the work you all do is truly commendable. Working in the print media industry myself, I understand the pressures to get the latest issue out the door on time while retaining a high level of quality.

That being said, I would hope that you would consider some basic guidelines for projects featured in MAKE's pages, namely refusing to publish PATENTED, COPYRIGHTED projects, such as the "Reverse Geocache
Puzzlebox." How are we supposed to build on this? How are we supposed to expand on it? Locking down ideas is antithetical to the maker spirit.

All the best to the author, Mr. Hart, and a notice: I've coined the term "Inverse Geocache" and will clean-room build a better mousetrap.

To whit:

"Inverse Geocache" by Bryan Hanks is licensed under a Creative Commons
Attribution-ShareAlike 3.0 Unported License.

I would also like to purchase a special gift for whichever editor approved this article (I'm serious!). Please send me his/her name and mailing address. Here is what I'm going to send, as a reminder:

Thank you, and happy making.
Mark Frauenfelder responds:
He raises an interesting point. I've been getting more and more questions from makers who want to patent some of their creations for commercial reasons. In one way, this shows that makers are getting more serious and powerful. On the other, it does suck that others can't improve on this project.

But the idea of reverse geocache itself can't be patented, it's just the software used here that's protected, so people *can* improve on the idea in general.
Phillip Torrone chimes in:
At first glance, it doesn't matter. Anyone can inspect and improve upon a patented or copyrighted project or product for their own personal use. You just can't sell it or call it "reverse geocache," and you need to credit the maker.

This is from the maker's site:

Reverse Geocache™ is a trademark of Mikal Hart.
These instructions and the sample source code and licensed under the terms of the Creative Commons "Attribution Non-Commercial Share Alike" license, version 3.0, which grants the limited right to use or modify it NON-COMMERCIALLY, so long as appropriate credit is given and derivative works are licensed under the identical terms. See here for license details. The Reverse Geocache Puzzle and some of the technologies described here are patent pending.

So, you cannot sell your own version called "reverse geocache," and who knows what patents are pending, but this shouldn't stop anyone from building their own and sharing improvements.

The maker (Mikal) is using the open source, commercial-use allowed, Arduino. It's unclear what (and if) he's actually patenting, but if someone is really worried about patents, there's always this:

For "amusement, to satisfy idle curiosity, or for strictly philosophical inquiry."

Has there been a single case of someone getting sued because they improved upon a copyrighted or trademarked project in MAKE? The answer: "No."
Paul Spinrad adds:
Mikal really isn't being too protective here. Making one for your own use is totally OK, and modifying the plain-vanilla version of his software, which he's distributing open source, is also OK. He wants people to make these boxes for themselves and their loved ones, and wants to help them, but what he doesn't want is for people to make them to sell for profit — basically just like a noncommercial share with credit CC license. I actually think he struck a great balance!

The other thing he wants is to trademark the phrase "Reverse Geocache." I'm less sympathetic to this, but also think it's a pretty trivial issue. Yes, if some manufacturer wants to license his patent, they'll need a protected name for the product, so I guess he's planning ahead. But it's just a name, and I don't think it's catchier than "Inverse Geocache," or whatever else.
So, tell us what YOU think.

What's this? Women are riding bikes now? When did that happen? What's next, the demise of the hoop skirt?
Becky is poking me in the ribs, now. Apparently, she claims, women have been riding bikes since the 1880s. Huh. I have been out of the loop.
Now she's poking me harder and pointing out that lots of men, these days, like to sew, crochet, and do other sissy craft stuff. (She didn't say "sissy," actually.) Apparently, CRAFT readership is up among male readers, too. Geez, is nothing sacred?
OK, that hurt, Becky. I think I'm going to have a bruise. Yes, yes, I'll tell them. Becky says that lots of women read MAKE, too, and this whole notion I have that MAKE is for boys and CRAFT is for girls is archaic and stupid and just plain wrong. Typical!
Becky says I should stop typing, now, if I value my job.
So, ummmmm…..yeah! Enjoy the round-up!
#10
How-To: Bike Handlebar Planter
---
#9
---
#8
Craft Video: Lilypad Arduino Blinking Bike Patch
---
#7
---
#6
---
#5
Sew A Drawstring Bike Seat Cover
---
#4
Go Slip-On With Bike Tube Shoelaces
---
#3
How-To: Crochet Bike Seat Cover
---
#2
---
#1
Did I miss a good one? Let me know, below!

---
Metalab Celebrates its Fifth Anniversary
Congratulations to Metalab of Vienna, Austria on their fifth anniversary. They're in the middle of a week-long mini convention with demos of pinhole photograhy, LED throwies, screen printing, 3D printing, lockpicking, gilding, and lots more.
---
3taps/Creative Commons Hackathon in San Francisco
Meet fellow designers and developers. See how your peers are wrangling data into something that looks fantastic, feels intuitive and is super-useful. Use your skills to create great apps and visualizations from an open data set that includes Indeed, Etsy, Craigslist, Ebay, Zillow and others. Show your stuff to investors looking to seed data-related projects – they'll be coming to see team presentations on the final day of the hack.
The hackathon will be held April 29th and 30th at i/o ventures at 780 Valencia St., San Francisco, CA.
---
New Makerspace in Seattle
We are proud to be celebrating the opening of our new community art/maker space "ALT Space" and you are cordially invited to join us! We will have snacks & drinks & music for you and plenty of art on display.

Saturday, May 14th.
Central District Artwalk & ALTSpace open day: noon-7pm.
ALTSpace Opening Party: 7pm – 11pm.
2318 E Cherry St, Seattle, WA 98122

ALTSpace is an open workshop stocked with tools and supplies for making things out of wood, fabric, metal, and electronics. We offer monthly memberships as well as single-day passes; it is a place to share tools, make art, and share skills and information.
---
Springfield Make Club Grand Opening
We're doing a promotional photo scavenger hunt for the grand opening of our hackerspace, which runs from tomorrow through the opening on May 6th. We've decided to open up participation to locations everywhere so that people at other hackerspaces can take pictures of themselves doing silly things at local landmarks in THEIR hometowns
---
Google is Making Hackerspaces for Employees
Via Adafruit, Google wants to return to its startup roots by encouraging employees to tinker in hackerspaces:
Amid all the free food and other goodies that come with a job at Google Inc., there's one benefit a lot of employees don't even know about: a cluster of high-tech workshops that have become a tinkerer's paradise.

Workers escape from their computer screens and office chairs to weld, drill and saw on expensive machinery they won't find at Home Depot.

Besides building contraptions with a clear business purpose, Google employees use the shops for fun: They create elaborate holiday decorations, build cabinets for their homes and sometimes dream big like the engineers working on a pedal-powered airplane with a 100-foot wingspan.

The "Google Workshops" are the handiwork of Larry Page, who co-founded Google with Sergey Brin in a rented garage. Page authorized the workshops' opening in 2007 to try to reconnect the company with its roots.

Google, which has kept the workshops under wraps until Tuesday, gave The Associated Press an exclusive tour shortly after Page reclaimed his original job as CEO on April 4.
The workshops offer a peek into ways Page may try to make the Internet giant work with the verve and creativity of a garage-bound entrepreneur. Page believes the 13-year-old company needs to return to thinking and acting like a feisty startup as it faces competition from younger Internet stars such as Facebook, Twitter and Groupon.

"There is a feeling here at Google that all good things start in a garage," said Greg Butterfield, an engineering lab manager who oversees the workshops. "Larry wanted to create the same kind of environment he and Sergey had when they started Google — a sort of a playground or sandbox for pursuing their ideas."
---
Are you a hackerspace member with an event you'd like to publicize? Send it to johnb@makezine.com or tweet me at @johnbaichtal and I'll post it. Also feel free to subscribe to my hackerspaces Twitter list. Hackerspace Happenings will run weekly Tuesdays, and the next one will come out May 3rd.

O'Reilly has an awesome ebook and video offer today ONLY, featuring O'Reilly's Arduino titles, including MAKE's own Getting Started with Arduino, Getting Started with Processing, and our brand spankin' new Make: Arduino Bots and Gadgets (which you'll be hearing a lot more about soon). Everything is 50% off!
The DotD also includes an awesome Maker Shed deal on Arduino-related products. Order the Getting Started with Ardiuno Kit, the MakerShield, or several other Shed goodies, and get free shipping.
Below is a capture of the page, some of the offerings, and the savings.
More:
For the latest Arduino news, tutorials, projects, and more, get thee to our Make: Arduino page.

Ryan Kothe's animated short, "Worn Out," shows objects seemingly disintegrating before your eyes. I thought I spied some telltale Dremel marks in some of the shots, but I can't be sure. How do you think this short was made? Post your theories in the comments. [via Core77]


Our Galvanic Skin Response Kit (aka Truth Meter Kit) includes everything you need to build the Truth Meter circuit featured in Make Volume 26. See what happens when someone asks you questions or when you laugh or get surprised. Everyone responds a little differently. Try it on your friends, acquaintances, or adversaries. It's a great way to get to know someone! We even included extra resistors so you can calibrate the circuit and experiment with different sensitivities.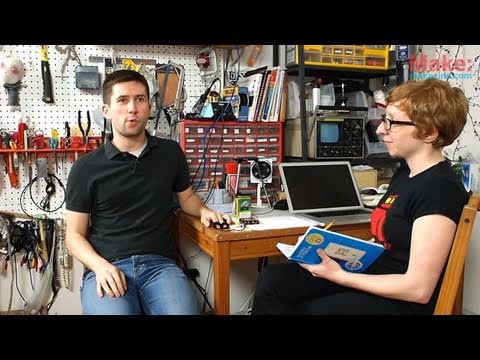 Becky and Matt built the Truth Meter from MAKE Volume 26 and had some fun testing it out.
There is an excellent The Truth Meter build in Make: Projects too!

That also happens to look totally rad!
The Synkie is a modular open source analog video processor, developed by Michael Egger, Flo Kaufmann and Max Egger.

Like the venerable modular Moog synthesizer it lets you toy around with the signal using patch cables – but this time not producing sound but images. It is an instrument for video, a playground, a platform to explore new ways to transform a video signal.

Synkie's main goal is playability not image quality, even though we try to design each module as best as we can. But patching is done with 2mm laboratory cables – not shielded 75Ohm BNC cables as one would normally use for video. No, you can even use any blank wire and tinker around with the signal in real time on the sk90-breadboard module…

The laboratory plugs can be stacked, so you can easily divide the signal into multiple paths, feeding multiple modules at once and change the configuration on the fly. The resulting image can get quite messy down the road, but that's part of the fun, or maybe even the main goal…