---
Sony suffers second data breach with theft of 25m more user details @ Technology | guardian.co.uk…
The crisis at Sony deepened on Tuesday as it admitted that an extra 25 million customers who played games on its Sony Online Entertainment (SOE) PC games network have had their personal details stolen – and that they were taken before the theft of 77 million peoples' details on the PlayStation Network (PSN).

The electronics giant said the names, addresses, emails, birth dates, phone numbers and other information from PC games customers were stolen from its servers as well as an "outdated database" from 2007 which contained details of around 23,400 people outside the US. That includes 10,700 direct debit records for customers in Austria, Germany, the Netherlands and Spain, Sony said.

The dataset was stolen on 16 and 17 April, before the PSN break-in, which occurred from 17 to 19 April. Sony said that it had not previously thought that the data was copied by the hackers who broke into its systems.

…Sony declined to testify in person in front of a US congressional hearing, but agreed to respond to questions on how consumer private data is protected by businesses in a letter on Tuesday, said a spokesman for Mary Bono Mack, a Republican Congresswoman from California, who is leading the hearing.
A few people in the comments of our previous posts regarding Sony's woes were mistakenly "convinced" the problems Sony is having had something to do with "makers" who wanted to run linux on their PlayStations (Sony sold this as a feature and then took it away later) – but it's pretty obvious that Sony's problems have nothing to do with this.

---
NYC Resistor Interactive Show on May 7th
NYCR will be hosting our super duper Interactive Show. The theme this year is ANYTHING INTERACTIVE. That's right, ANYTHING… INTERACTIVE. That includes people, peoples! Music? Yeah, we got it. Blinking lights? hello? c'mon, you know we got that covered! Stabby things? Why do you think we have an 18+ policy?

So come and be creative, come and grab a drink, come and meet the Resistors. Screw it, it's a Saturday night and we like to have an excuse for a blow out kind of party so just come! $10 tickets in advance, $15 tickets at the door.
---
Great Global Hackerspace Challenge Begins to Wrap Up
Very soon the 28 (or so) hackerspaces participating in the Great Global Hackerspace Challenge will be reduced to a handful of finalists. The above video, by folks at Vienna, Austria's Metalab hackerspace, demonstrates their project. Good luck to all participants, and we look forward to seeing the results!
---
Reno (NV) Makerspace Gearing Up
The Reno Makerspace is a community workshop that is in the ORGANIZING stages of organization. The planning has been happening for the last couple months and we're ready to get incorporated and find a warehouse to make things in.

The community workshop will be a place for the community to build, learn and teach machining, manufacturing, DIY electronics, woodworking, metalsmithing, robotics, programming, art and more.

Interested in being a part of something awesome? Want to make stuff? Just want to find out more? Attend the next organizational meeting:

Wednesday, May 4
6:30pm – 9:00pm
The Reno Collective
522 Lander Street, Reno NV
Reno Makerspace on Facebook
---
Maker Faire Info Meeting & Signup @ i3 Detroit
Detroit Maker Faire may be 88 days away but the call to makers ends in less than 30. It's time to dust off that keyboard and post your entry.

At our next member meeting on Tuesday (5/3 @ 7:30 pm) we will have a representative from the Maker Faire Team to give us some background on this year's event and to help with any questions you might have on signing up.

i3 Detroit already has a number of projects in the works both group and individual. We will have details on those at the event as well.
---
Solid State Startups & Algorithms for Fun Classes at Hacker Dojo
A couple of fun-sounding classes are being held tonight at Hacker Dojo in Mountain View, CA: Solid State Startups and Algorithms for Fun.
---
Help NESIT Build an Alarm System
NESIT (New England Society of Information and Technology) in Meriden, CT, is organizing a Pledgie campaign to help finance an alarm system for the space.
As many of you know NESIT was recently burglarized resulting in many items belonging to NESIT and members being stolen. To help prevent this from ever happening again we would like to raise funds to purchase the most advanced state of the art alarm system we can afford. Your donation will directly support this cause and any funds collected will go toward this goal.
---
Are you a hackerspace member with an event you'd like to publicize? Send it to johnb@makezine.com or tweet me at @johnbaichtal and I'll post it. Also feel free to subscribe to my hackerspaces Twitter list. Hackerspace Happenings will run weekly Tuesdays, and the next one will come out May 10th.

A small serving of genius from Instructables user Supernewby. [via CRAFT]
More:

The folks at element14 are giving away TEN one-year subs to MAKE in a giveaway on our Make: Arduino page. To be eligible leave a comment on the giveaway page (as per the instructions given there. That's it!
The eligible commenting period will last until this Friday (5/6) at 11:59pm PDT. The winners will be announced on Monday (5/9) in the AM (don't forget to check back on the contest page to see if you won!).
The element14 MAKE Magazine Giveaway
More: The Make: Arduino page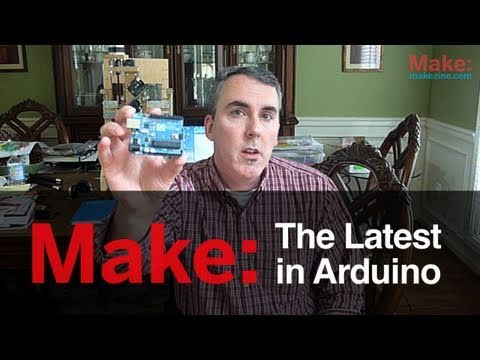 Welcome to the newest video series from makezine.com, The Latest in Arduino.  This series will cover information related to the Arduino, including book reviews, interviews with makers using the Arduino (and -duino clones) for special projects, new Arduino-related products, and more – every other week.  Many episodes will also feature a hands-on activity performed by host James Floyd Kelly.
Mentioned in the first episode:
Check out our Arduino page, a super-hub of projects, resources, and tutorials.
Subscribe to the MAKE Podcast in iTunes, download the m4v video directly, or watch it on YouTube and Vimeo.


I have roughly one zillion screwdrivers at my disposal. I've got a few sets of general purpose screwdrivers, many small jewelers and electronics screwdrivers, and even some nice ones attached to Swiss Army knives and Leatherman multi-tools. But the one I use most for servicing small electronics when I've wandered away from my workshop is my Technician's Pocket Screwdriver ($3.99 from CountyComm).
The technician's screwdriver clips to my pants pocket like a pen — it's slightly smaller than a Sharpie. I truly appreciate the end caps that protect me from an accidental leg stabbing. The caps have side holes in them so I can see which tip is which. Each bit is double-ended, giving me a #0 and #00 Philips choice at one end and a 1/8″ and 1/16″ slotted bit choice at the other.
The barrel and caps are made of a soft-ish, durable composite plastic. Pull out a bit, flip it around, and push it back into place. It makes a nice click as it goes in. The bits are high-quality hardened steel ("S2 Tool Steel", according to the description), but the plastic barrel (and size) mean that this isn't a tool for high-torque action. That isn't what I need it for. I need it for dealing with tiny little screws that are keeping me out of an enclosure, for tuning small pot switches, or for tightening down screw terminals on an Arduino project.
The technician's screwdriver is perfect for all those things. Especially if I keep it clipped inside my pocket, at the ready for those in-the-field repairs I wasn't expecting to make. Honestly, having a #00 Philips screwdriver on hand when I need one beats the heck out of trying to make due with the smallest slotted screwdriver on my multi-tool; it fits better and I can twirl it with precision like a "real" screwdriver.
I'm not sure who manufactures them (it only says "Pat." on the side) but I got mine from CountyComm, in black. They also sell an O.D. green model for losing in the woods, and a snazzy orange one that I secretly covet.
When I'm at my workbench I usually reach for my fancy Wiha screwdrivers, but the one that gets used the most when I'm up and about is my excellent Technician's Pocket Screwdriver.
More:
See our entire Toolbox category here.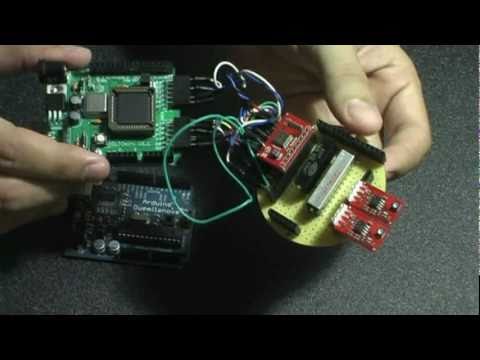 Eric Rogers of Hawaii built this ranger to warn him — via FM radio — when he was about to bump into another car when backing into a tight parking space.
The Park Ranger is an ultrasonic-ranging prototype, based upon the Arduino and the Amani64 CPLD Shield, designed to assist drivers who are backing into tight areas. The ranger uses ultrasonic pings to measure distance to the object behind and indicates this distance by sending audible tones to your FM radio. Optional panel-mount LEDs offer visual aid for calibration as well as warning drivers behind you.

The intention of this project is to demonstrate the Amani64′s ability to serve as a rapid-prototyping tool for applications typically covered by proprietary modules. While a commercial ultrasonic-ranging module could be used in this project, the Amani64 is used in instead to tailor the system to our exact needs. The user can drop in blocks of IP, whether open-source or their own, to create a custom application over which they have full control and ownership. A CPLD-based prototyping board is useful for any application that requires logical circuits, whether they be parallel or sequential, that space, cost, and vendor-delivery times are a concern.
More:

If the ccTLD is correct, this remarkable CrazyFlie micro-quadcopter project originates from—or is at least hosted on a server in—the South Pacific island nation of Niue. The video reports a 20 gram weight, a 4.5 min flight time using the battery on the underside of the board, and a 12×12 cm footprint. [via adafruit]
More:

I wonder if Bill Gates' lawyers would send out a cease and desist letter if someone made a Windows Phone case with his likeness embedded in Carbonite. Unfortunately that's what happened to designer Greg Koenig for his rendition of Steve Jobs in the classic Star Wars material. [via LaughingSquid]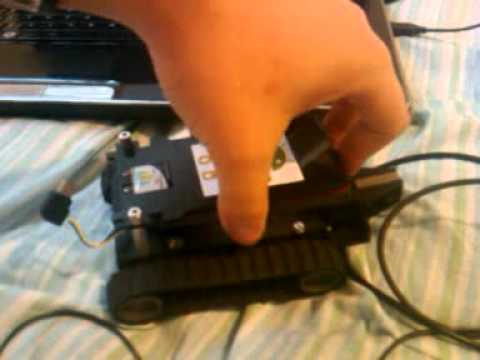 M.K. Borri wanted to use his Android phone as a general interface for his Propeller projects, but didn't want to spend too much in the process. That's when he came up with this low-cost Android to Propeller Bridge. [via HackerNews]