---
Is this the world's first Robot Film Festival? I think so! The deadline to submit a film is June 5th. So if you have a robot and a video camera, now is your robot's chance to walk (or roll) down the red carpet in New York City!
Please submit your outstanding, dazzling, hilarious or thought-provoking short film. Just one requirement: Please feature a robot as one of the main characters as or framing devices of the narrative. Films should be one to eight minutes long. The Robot Film Festival was founded by roboticist Heather Knight of Marilyn Monrobot to inject a sense of playfulness into traditional science and engineering and explore new frontiers for robotics before the technology is even possible.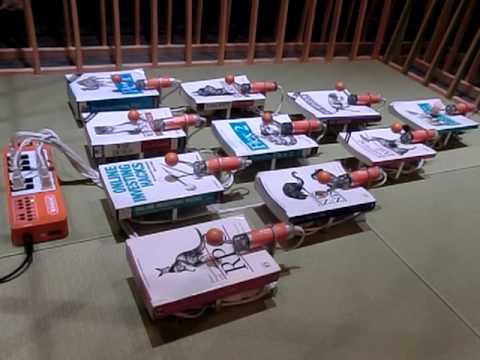 We've always prided ourselves on the resonant quality of O'Reilly titles amongst our readers, but we didn't mean literally. This Japanese maker found that they generated the best sound when building a book xylophone. Apparently Japanese paper is too moist and returns more of a thud. But O'Reilly books are just right. And the varied book sizes (and uniform cover designs) came in handy too.
Musical instruments made of books [In machine-translated Manglish]

Few droids in this world are as recognizable as R2-D2, and thanks to the R2 Builders Clubs, impeccably reproduced R2 droids have been seen zooming around Maker Faire Bay Area for the past three years. They are responsible for countless smiles at the Faire, and this year they are coming back with their droids. We recently chatted with group member Chris James (third from the right in the group shot above) to get insight into the group, what skills are needed to build an R2, and what motivates them to participate in Maker Faire Bay Area, taking place this year on May 21 and 22 at the San Mateo Fairgrounds.
1. Tell us about The R2 Builders Club.
The R2 Builders Club was founded in April 1999 by Dave Everett of Sydney, Australia. The club began with only a few enthusiasts pooling their resources and sharing ideas to create plans for building their own life-sized R2-D2 droids. It has grown considerably since then, and now has members all over the world. When I first started, there was me and my friend Gerard in the Bay Area who were into this. Now, there's close to a dozen builders in the Bay Area, including Don Bies, former ILM model maker and Episode II & III Droid Wrangler. While we do meet throughout the year in person, a lot of the help and support happens online.
2. What are you planning for this year's Maker Faire Bay Area?
I've been working primarily on a new control system based on Arduino. I'm also trying to get another droid together for the Faire. A couple of other relatively new members are also working to get their droids ready for the Faire. We're also planning on hosting another panel/talk, so watch the schedule for that. It's a good way to get an introduction to the group and ask questions.
3. This will be the fourth Maker Faire you've participated in. Give us some insight into your perspective over the years and why you continue to come back.
I like Maker Faire because of the energy, enthusiasm, and creativity. I always learn something new and appreciate the ingenuity of the other makers. The core principle of Maker Faire, of people sharing and being part of that, is what makes me return every year. And it's an opportunity to reconnect and renew friendships with other makers I've met over the years.
4. Tell us about yourself. How did you get started making things and who are your inspirations?
I've always been a maker. Growing up, I struggled in school. I loved math and science, but had to work really hard at it. One teacher reassured my mom that I'd find my niche, probably at making stuff with my hands. She was right. I have always loved design and drawing, metal shop, wood shop, etc., and then I discovered computers and programming. Both of those core skills, being able to make and build stuff, combined with programming, have been instrumental in building R2-D2.
My high school teacher in Wales, Des Evans, taught the shop classes and gave me the confidence to be the builder I am today. My wife continues to be my inspiration and sounding board.
5. Is your project strictly a hobby or a business? Does it relate to your day job?
Building an R2-D2 is strictly a hobby for me. Many people ask if I have a mechanical engineering background, or what background is needed to build an R2-D2. I'm actually a software engineer. Some of the analytical skills as a software engineer help me in building R2-D2, as does my programming background. However, as a general rule, all that is needed is a willingness to learn; builders come from diverse backgrounds. We have a common love of Star Wars and, in particular, R2-D2. In our local group, there's a music teacher, a philosophy professor, a car mechanic, and laser expert, to name but a few. What's great about the group as a whole is our camaraderie, and how we pool resources and help each other. Through building R2-D2, I have made friends all over the world who I talk to all the time.
6. What new idea (in or outside of your field) has excited you most recently?
Not so much a new idea, but I'm excited to see the renewal in the DIY spirit that Maker Faire embodies. Some of it may be due to the economy, but I hope it continues to grow as people rethink some of the "advances" and realize that some of the lifestyle choices we make are detrimental to the Earth — reinventing, reusing, and doing it yourself is the way to go.
7. What is your motto?
I have many mottos, not all repeatable or applicable here, but my personal favorite is "Live simply so that others may simply live."
8. What advice would you give to the young makers out there just getting started?
Follow your passion, don't be afraid to be different, do what you enjoy, and don't be afraid to fail.
Thanks so much Chris! Looking forward to seeing you and the R2 droids at the Faire! For all the information you need, including how to get tickets in advance, check out the Maker Faire website.

TomTom sold user data to police, motorists then targeted with speed traps…
Following reports that TomTom had sold traffic data collected from GPS device users to police who then used it to determine locations for speed traps, the company has issued a statement and video in an effort to appease angry customers.

In the video, TomTom CEO Harold Goodijn stresses that the tracking of its devices is voluntary and that customers can choose not to allow it. He also says the data is provided anonymously, and is valuable information the company uses to improve the guidance of its devices, by identifying problem areas and routing customers around them.
Is anyone surprised by this? You have to admit, this is really clever. Get GPS data and just send out some cars to wait where everyone is speeding. When data is collected about any of us, it will be sold to the highest bidder, we are the ultimate renewable resource. Some will argue speeding is bad and this is a good use, but if most customers knew this ahead of time, would they allow this data to be used? My guess is no. TomTom has since said they'll make sure the data is not going to be used like this again.
From our (e)mailing addresses, our clicks, to our networks of friends — we are product. I'm sure there were pages of legalese in the terms of conditions you needed to tap to operate your GPS, but no one reads those. I think we're going to see some type of "bill of rights" for our data pretty soon, but only if we want it. Today my iPhone has an update so it doesn't store my locations for the last year.
Post up your thoughts about this in the comments!


May is a celebration of food-making here on MAKE, everything from growing it, to preparing it, to hacking the tools and techniques you use in make it. And we won't forget about the unparalleled joys of snarfing it down.
Food preparing is a type of making that many of us tend to overlook when thinking about the maker parts of us. Why is this? Most of us prepare food, at least to some extent, and it has all of the components of the making experience: project planning, parts gathering, assembly, troubleshooting, and the satisfaction that comes from the completion of a successful project (in this case, dinner!). We hope that, by the end of the month, you'll have a newfound appreciation for growing, preparing, and hacking food as a noble and enjoyable form of making.
We have a lot of great stuff lined up for you this month. Jeff Potter, author of the best-selling Cooking for Geeks will be joining us, and we'll have a giveaway of his wonderful tome. We'll also be profiling some of the food makers who will be presenting/serving at this month's Maker Faire Bay Area, and we'll be cornering some of the food makers at the Faire and getting them to spill the beans on some of their tips and techniques. Our Skill Builder series continues this month and will cover basics on food growing, cooking, kitchen tool gathering, brewing, cheese-making, and more. And we'll be doing round-ups of the many food posts, articles, and projects we've included in the magazine, on Make: Projects, and here on the website over the years. It promises to be a mouth-watering month.
As always, we'd love to hear some of what you'd like to see/hope to learn this month. Please let us know in the comments below.

Appeared in the comments on this post, which features a heavily stylized shell-casing set for sale by Etsy seller OldeWorldCC. Unless I miss my guesses, the queens are .50 BMG rounds, the kings .50 BMG casings, the rooks 40mm grenade casings, the bishops 7.62mm rounds, the knights taped 7.62mm casings, and the pawns 5.56mm casings. And it looks like the bases are water-bottle caps. [via Boing Boing]
More:
Hardware Chess Sets

Babycastle's hacked video games at Signal to Noise #1 – photo by Wendy Moger Bross
Signal to Noise returns to the Museum of the Moving Image in Queens, NYC, this Saturday, May 7, with many installations converting electricity into visual and aural stimulation. You'll encounter hacked Gameboy 8-bit bands (Bubblyfish), augmented reality game shows (The World Series of 'Tubing), and Daniel Iglesia's Oscilloscope 3D – one of my favorite projects from the first World Maker Faire last year in NYC.
The World Series of 'Tubing issues iPads and laser pointers for an evening-long augmented reality game show, featuring Peter Berkman (Anamanaguchi), Paddy Johnson (Art Fag City), Ryder Ripps (dump.fm), and Ellie Rountree (Rocketboom). Bruce McClure overwhelms the senses with live multi-projector spectacles, and Matt Wellins and Sarah Halpern time warp Ektachrome. The So So Glos dazzle with updated indie pop punk and Shark? blasts unquestionably catchy lo-fi melodies, while Holly Danger braves the visuals. Bubblyfish wields her Gameboys and The Shortsleeves bring the synth, with No Carrier on the eyecandy. Marius Watz simulates magnetic forces, and Dan Iglesia oscillates in an extra dimension. Back by popular demand, DJ $mall ¢hange holds down the dance floor, and if we still can't amuse you, AutomaticDJ knows your face and plays your favorite songs.


Brad Lyuster of Louisville's LVL1 hackerspace wrote an excellent guide to etching your own PCBs.
A few months ago, the spoiled electrical engineer that I am, I never would have considered making my own PCBs. Any project worth taking off the breadboard was worth sending to China to get made "right."

Of course, there isn't always time and money to send something to China. Today's installment is the Sumo-bot board I'm trying to put together for the Hive13 sumobot competition. Unfortunately, it doesn't look like poor Snoopy bot will make it to the ring, but the board making process itself is worth talking about.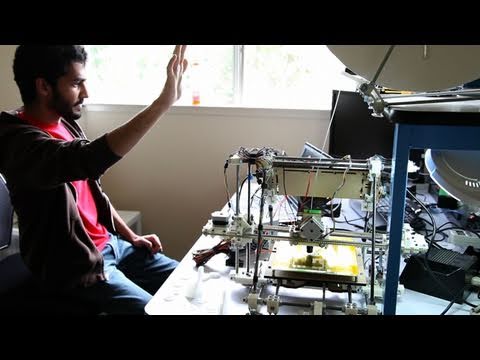 Nirav Patel is literally making things with a wave of his hand. Harnessing a hacked Kinect, he has written a program for "Gestural 3D Printing". He calls the project "inane and irrelevant" but it is actually a perfect, shining example of creative ingenuity!
Nirav, his Kinect, and his RepRap will be at Maker Faire Bay Area, May 21 & 22. There you can meet him and see his amazing programs in action.
Subscribe to the MAKE Podcast in iTunes, download the m4v video directly, or watch it on YouTube and Vimeo.


Brooklyn artist Daniel Bejar made a copy of the key to his apartment (hopefully not his current one, because of stuff like this). Then he made a copy of the copy. And then he repeated the process, by my count, 67 times. At which point the copy was an uncut blank. Kind of like I Am Sitting In a Room, but with keys. He calls it Visual Topography of a Generation Gap. [via Boing Boing]
More: