---
I've always enjoyed the mental exercise of planning a piece of plywood furniture to maximize efficient use of the material in the sheet stock, so I tend to appreciate good ones when they pop up, every now and again. Here's a nice example, a 32-inch-tall staircase, with four one-foot steps, from Instructables user Pilgrim55.
More: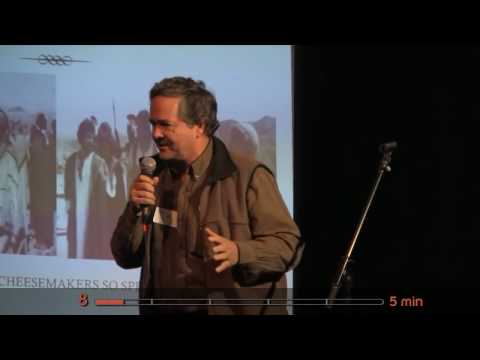 We first published MAKE's Grand Fromage Dale Dougherty's, Ignite talk on cheese in the fall of 2009. But in light of our food theme this month, I thought we should reprise it. For those of you unfamiliar with Ignite, each speaker is given five minutes and 20 slides that auto-advance every 15 seconds. At Ignite Sebastopol II, Dale managed to talk about the origins of cheese, the role of cheese (and other meat-byproducts) in the domestication of animals and the growth of civilization, how cheese is made. And he ran through two recipes for cheese, and offered some of his homemade cheese to the audience.
Above is some of Dale's homemade cheese. He writes: "I made a double batch of goat cheese – starting with 4 quarts of goat milk. The morning light was coming in as I set them to dry on the rack."
More:
Keep up with all of the Skill Builder series

Paul Myoda, known in part for having helped create the Ground Zero installation Tribute in Light, has built a series of Arduino-based interactive sculptures, which will be shown at Miami's Dorsch Gallery through June 4th. [Thanks, Brook]
Check out the Make: Arduino page for more awesome projects!

If you attended the 1st annual World Maker Faire last September in New York City, you probably saw a gold and silver, armor-clad, tool-dispensing superhero figure running around. His name is Doctor Adventure and he's one of a growing number of costumed identities calling the NY metro region home. I'd seen the Doc at various functions around town in the year proceeding the Faire — on Coney Island's boardwalk, at warehouse parties, during street festivals and performances, even at a pop-up rooftop marching band happening! But I hadn't learned of his story, or his "identity," until much more recently.
I visited the Doc's secret lair last month. Housed in a 3,000 square foot disused automotive garage in the depths of New Jersey, this hideout contains all the necessary tools for fashioning "wearable gadgetry, custom prosthetic, orthotic devices, and party armor," the tagline for his company the New Flesh Workshop (NFW). The workshop contains a spray booth, a projectile-testing firing range, a homemade pipe stand, a 48″ x 60″ commercial pizza oven for vulcanizing certain materials, and a cheap bench grinder modified into a more-expensive orthopedic router – like a lathe in reverse the tool spins, while the workpiece is moved against the axis in order to make custom curves for his prostheses. Oh and lastly – and I kid you not – the workshop contains a superhero closet! A monstrous cabinet containing capes, helmets, chest-plates, and gadgets of both novel and modified origin.
As the Vitruvian Man modified logo (above) would suggest, the NFW is Man, Enhanced: a multi-tool for a right arm amplifies every human's physical potential. If the opposable thumb was one of humankind's greater evolutionary enhancements, contributing to the development of modern tools, just imagine what we could do with those tools embedded on and in us!
Indeed, every instance where I've encountered Doctor Adventure in the concrete jungles of NYC, he's sporting a different outfit, modified prostheses and sporting gadgets for unique applications – as if testing each accoutrement for different audiences and contexts. One of my favorite enhancements of his are his earlets, approximately 12mm plugs, one a speaker and the other a compass, "so I can have a soundtrack and know where I'm going" he says – we've all emerged from the subways here not knowing which way is north while listening to a beat, but the Doc's solution to that scenario is quite uncommon.
It's not all fun and games. There's some serious science in the works, and some serious help too! The NFW is staffed by a small legion of dedicated makers of various disciplines, including an electromyographer, a disenfranchised Columbia University graduate bio-technician, programmers who speak code "better than English," and even an apprentice working in the field of bioinformatics. They're slowly finding each other in the wild, and combining forces. And there's a sense of collective disillusionment with industries that train artisans to simply become technicians, practitioners of a trade who then fail to "inject some humanity" into their prostheses, their art.
And they have some clients too, including Army amputee veterans who want modified or customized leg prostheses or arm gauntlets containing tools needed on a day-to-day basis. To think of it in another light, if you lost your leg in war and really miss that tattoo you once had, why not emblazon your carbon fiber prosthetic with a new image, or modify your drop foot prosthetic to contain tools to substitute any perceived handicap.
To some of us it might be obvious to endlessly modify our outfits, vehicles, and physical attributes, but to see it around town in a very real context is both fascinating and inspiring!

An example of an arm guard, with overlapping scales similar to many classes of reptiles or insects (I should have mentioned there is a collection of large insects in the NFW, for study and inspiration). Could you imagine a world where when we say the word "fashion" we do not think of fine fabrics and high-end designers but rather hot-rodded outfits, ballistic Kevlar fabrics and electronics embedded into everything from your eyeglasses to your helmet?
I can imagine!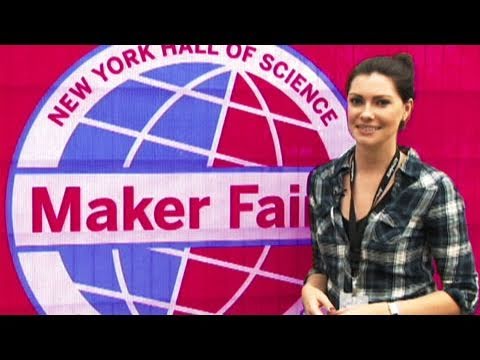 The only snag to this story is that each device and prosthetic is custom-made. There are no kits available, and very few extensible components to start with, so time itself is a most-valuable resource. The Doctor himself got started after taking university classes and working in various labs, eventually putting his studies on hold so he could focus his time on his craft and submit some patents. So while each component is unique and there's no factory line for production, the Doc considers his approach one of the "last surviving high-tech hand skills." That in itself is something to draw inspiration from, which he also reckons is a founding "tradition" of American maker culture. For inspiration himself he looks to people like Dean Kamen, the inventor of the Segway, but instead of riding our devices, he wants them wearable and embedded, with our bodies becoming our art and vice versa.

Our pals at iFixit have scored a pretty sweet scoop with this photo-exposé of the guts of an official FBI bumper-beeper.
We partnered with Wired to bring you a peek inside an FBI car-tracking device. The device is similar to the one Yasir Afifi found underneath his car. If you're curious where this one came from, Wired has posted a writeup about Karen Thomas, the woman who found this tracker under her car. They've also posted a video of Kyle doing the teardown.

The device comprises of a GPS unit for receiving the car's position, an RF transmitter for relaying your location to the interested authority (aka the FBI), and a set of sweet D-cell batteries that power the whole enchilada. But we didn't stop there, of course. Read on to find out exactly what components make this secretive device tick.
[Thanks, Kyle!]

By George Hart for the Museum of Mathematics
The Dutch graphic artist M.C. Escher has inspired many people to create mathematical artwork.  This elegant cut-and-fold paper model of Escher's famous lithograph, Relativity, is a virtuoso homage to Escher's genius.
Bryan Peele designed this construction, which is cut from a single sheet of 8.5 by 11 inch paper and cleverly locks together without glue or tape.
The full scale version of his template, to print, cut, and fold your own paper copy, is available here. Note that Escher's original design really is constructible in 3D. It is not a perspective trick or optical illusion, and so has also been realized in Lego and other materials.
More:
See all of George Hart's Math Monday columns

From Parsons Design and Technology in NYC:
An exhibition of interactive installations, mobile and web-based platforms, games, product designs, and time-based media will be on view in Kellen Gallery through May 23 and explore the uses of analog and digital media. Alongside the exhibition, students and design practitioners will lead a series of panel discussions and presentations covering topics such as dynamic narratives, learning systems, public interventions, and more.
Parsons Presents MFA Design and Technology Thesis Show
May 7-23, 2011
Sheila C. Johnson Design Center
Parsons The New School for Design
66 Fifth Avenue, New York, NY
Gallery on view Saturday, May 7th to Monday, May 23rd
Symposium Saturday, May 14th to Sunday, May 15th, 2011
Screenings Saturday, May 14th from 8:00 to 10:00pm and Sunday, May 15th from 6:00 to 8:00pm.

I think it's safe to describe Ryan Palser as a "replica video game prop master" at this point. Those of you who enjoyed his fantastic Fallout 3 replica weapons last summer will probably also enjoy his exquisitely crafted Portal turret replica, as well as his beautifully-shot and numerous build photos.
P.S. I am particularly impressed by the eye.
P.P.S. Thanks to Ryan and everybody else who took the time to point out to me that this is, in fact, the turret from the first Portal game. Apparently the design is markedly different in the second game, which, as I said, I haven't played yet. [Thanks, Ryan!]


The Memsic 2125 from the Maker shed is a low cost, dual-axis thermal accelerometer capable of measuring tilt, acceleration, rotation, and vibration with a range of ±3 g. For integration into existing applications, the Memsic 2125 is electrically compatible with many other accelerometers, and it works great with the Arduino. Hint – Today might be a good day to start following the Maker Shed on Twitter or subscribe to our Deal of the Day RSS feed.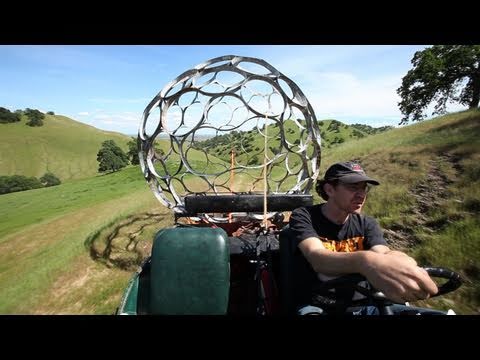 Maurice Connolly built a 300 lb steel sculpture and dropped it off a cliff. He pitted his art against gravity, just to see what would happen. The piece is a massive sphere called Ganymede- constructed from recycled wine barrel hoops and hundreds and hundreds of bolts. Once Maurice mastered the material and perfected the form, he turned his curiosity towards force, motion, and the nature of unpredictability.
Maurice's freshly distorted sphere will be at Maker Faire Bay Area, May 21 & 22. You can meet him and ask about tensile strength, conical strips of steel, and what it feels like to drop your art off a cliff.
Subscribe to the MAKE Podcast in iTunes, download the m4v video directly, or watch it on YouTube and Vimeo.
More: