---

Samuel Seide, who built this excellent cocktail arcade machine, has a new project, an Arduino-powered mini Skee Ball machine.

Former Make: Labs intern Matthew Dalton and his friend Jake Rogers do this cute geek webcomic called R&D. Today's strip is on Maker Faire Bay Area, and Russel, the event's perennial robo-giraffe. Other maker creations, other tech fads, other robots, have come and gone, but 'ol Russel just keeps rolling along. And usually arrives with upgrades. We're all getting older, slower, grayer. Russel gets smarter and now sports a new powder-coat.

"follower" wrote in with yet another cool project for the Android Open Accessory SDK. This time, you don't even need to do any Android programming; your Arduino Sketch tells follower's Android app what to do and what to display on the screen:
Handbag makes it possible to create Arduino-based accessories for Android devices without creating an Android app. You both define the Android application user interface and implement the behaviour in your Arduino sketch.

Here's an example of how you would (currently) create an interface with a label, some space and a single button:

configureWidget(UI_WIDGET_LABEL, ID_NONE, "Example Handbag Android Accessory");
configureWidget(UI_WIDGET_LABEL, ID_NONE, "");
configureWidget(UI_WIDGET_BUTTON, ID_B1, "Toggle Digital Pin 4");
Handbag: the Android Arduino Accessorizer
If you're going to be at the O'Reilly Open Source Convention in July, be sure to check out follower's Get Started with the Arduino – A Hands-On Introductory Workshop.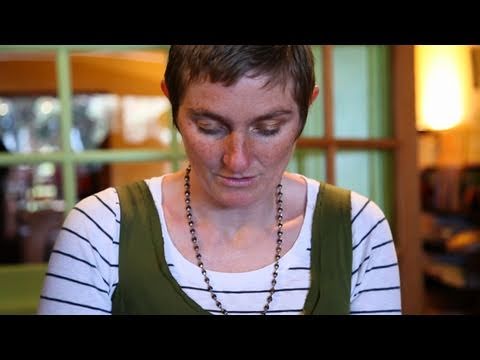 Jordan Champagne, owner of Happy Girl Kitchen, is a preservationist. She cherishes reclaimed wood, she only plays records in her shop, and she has a giant Velvet Elvis in her office. But her real skills are in preserving food. The things that she puts into jars are real, whole foods, that are often truly living.
See Happy Girl Kitchen, and make your own jar of living Sauerkraut to take home, at the Homegrown Village, Maker Faire Bay Area, May 21 & 22.
Subscribe to the MAKE Podcast in iTunes, download the m4v video directly, or watch it on YouTube and Vimeo.
More:


The New York Times has produced an entertaining recap vid of last month's Autonomous Vehicle Competition, hosted by our pals at SparkFun. It's narrated by WIRED's Chris Anderson, who is also the founder and chairman of DIY Drones. The contest embraces three classes of autonomous outdoor vehicles—roughly, wheeled, winged, and with rotors. [Thanks, Daniel!]

By George Hart for the Museum of Mathematics
Stained glass can be used to make many mathematical forms. One very beautiful shape is the polar zonohedron. Hans Schepker made this three-foot diameter example from hundreds of pieces of stained glass.
Below, you can see Hans soldering it together while supporting the partially assembled lamp in a hammock. His construction approach is based on 5-by-5 modules which fit into a brass framework.
A view along the axis is quite spectacular. You can see it consists of twenty spirals in each direction. Every spiral strip is geometrically identical, with a slightly different quadrilateral shape required at each position along the spiral. Many construction photos can be seen on Hans's website, here. Be sure to observe how the modules divide it structurally with four-way rotational symmetry, but the color pattern has five-way symmetry, so the colors had to be planned differently on each module.
More:
See all of George Hart's Math Monday columns

Join us Friday evening for the next episode of Make: Live, our streaming show and tell! Ep09 is live from the Maker Faire Bay Area pre-party. We'll be right next to the Colossus sculpture, where makers eat and drink to celebrate the weekend's upcoming events.
Make: Live 09 – Maker Faire Bay Area
Special date: Friday May 20th, 9pm ET/6pm PT
Watch at makezine.com/live or on http://www.ustream.tv/channel/make-live
Please join us in the UStream chat or mark tweets with #makelive to interact live with the show.
We also give away a fabulous prize from Digi-Key to one chat member who can solve our photo challenge.
Subscribe to the MAKE Podcast in iTunes, download the preview video m4v, or watch clips from the show on YouTube.


If you find yourself annoyed at the waste of valuable man-minutes and materiel that went into this effort from Instructables user spookylean, I can only congratulate you on your strong management potential. Me, I just want to zoom it around my desk and make pewpewpew noises.
More:


The Netduino from the MakerShed is an open source electronics platform using the .NET Micro Framework. The board features a 32-bit microcontroller and a rich development environment, making it a perfect solution for engineers and hobbyists alike. The Netduino is pin compatible with  'duino shields including the MakerShield, making it very expandable and user friendly.

My family and I went to the wonderful NASA Jet Propulsion Laboratory (JPL) Open House this weekend. Among the many fascinating sights they shared with the public, this was our favorite. The mobility test platform for the Curiosity Mars rover. With its rocker-bogie passive balance suspension system, this bot does not consider large rocks to be much of an obstacle. At 20″, its wheels are twice the size of those of its predecessors, including the forever-stuck Spirit. Plus, there was a woman from JPL controlling it from an iPhone.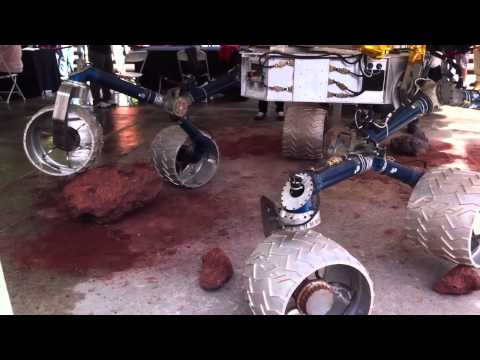 Here's a photo I took of the actual Curiosity rover in the clean room, awaiting its trip to Cape Canaveral for a November 2011 launch to Mars.