---
Alas, we just closed the gates on Maker Faire Bay Area 2011. It was, by all accounts (that I've heard) an inspired success. Happy, huge but well-mannered crowds, hundred of amazing makers, and an embarrassment of things to see, make, test, ride, play with, and eat.
But at the end of each Faire, we always watch people walk away, wondering who did we "reach" this year? Who's going to go back home, pick up a hammer or a soldering iron or a screw gun or whatever and translate their inspiration into next year's impressive Maker Faire exhibits? This might sound like a romanticized notion, but we hear this same story year after year.
This year, we actually want to hear more of these stories. If you came to the Faire and decided to undertake a project as a result, we'd love to hear from you. We'd love to track some projects, from inception and design through to completion, and possible inclusion in next year's Faire. Share your current thoughts now In Comments below) and let us know what your plans are.
And we can't wait to see you next year, or in Detroit or New York.

This week in the MAKE Flickr pool we saw:
Cruisin' from dreamexplorer.
---
painted dolphin 3 from voidfraction.
---
Vintage Philips QB 3.5/750 Tetrode Vacuum Tube from Sascha Grant.
---
Forest park pinhole from Matt Abinante.
---
035 Glass Speakers from Whamodyne.
---
Second Aid Kit from Chica and Jo.
---
Second Aid Kit – Open from Chica and Jo.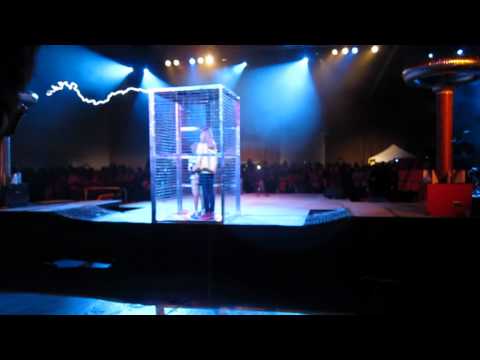 Arc Attack! is back with their unique blend of high voltage and melodic ozone creation with tesla coils.
It appears that there are a couple of kids in the faraday cage. How's that for a memorable childhood experience?

Lucky for those of us left behind, the fine folks at Maker Faire have been tagging their pictures and adding them to the MAKE Flickr pool. I see steam, lights, robots, festive Faire goers and more. If you aren't able to make it to San Mateo this weekend, you can live vicariously through our fellow makers on site.
Are you at this year's Maker Faire with your camera? You can add your photos and short videos to the MAKE Flickr pool and tag them with MakerFaire and show the rest of us just what amazing looks like.


We're excited to be closing in on the final judging and award ceremony for element14′s Great Global Hackerspace Challenge. The finals and ceremony will take place on the Innovation Stage at Maker Faire (5pm). The esteemed judges on the panel are our favorite roller-girl uber-geek goddess Jeri Ellsworth, the Johnny Appleseed of hackerspaces, Mitch Altman, the man with da most case-mod mojo, Ben Heckendorn, tech education powerhouse, Michele Dawson, the mightyOhm hisself, Jeff Keyzer. Oh… and ME!
Here are the three interviews we did last week with the finalists:
GGHC Finalist Profile — Build Brighton
GGHC Finalist Profile — Hackerspace Charlotte
GGHC Finalist Profile – Pumping Station: One
May the nerdiest Hackerspace prevail! (Oh, and we're open to creative bribing, too.)

Makers are already lining up for day two of Maker Faire Bay Area 2011. If it was anything like yesterday, it should really be something to bleat about.
Here are the salient details for those who are coming to the Faire or for those just curious:
Maker Faire website — Lots of up to date information and content about the event. It's your main portal to Faire happenings.
Maker Faire Daily — Our fast-moving feed of Faire sights and sounds, contributed to by staff authors and a few alpha makers.
For the latest in Maker Faire tweets, check out our main Faire Twitter feed, and for an update on Faire traffic, follow our special Faire Traffic channel. And if you tweet about the Faire, please hash them #makerfaire.
For the first time this year, we're offering a commemorative Maker Faire Program, a gorgeous 68-page magazine with information on the Faire, interviews with lots of makers, a little content from our Workshop special issue, all sorts of goodies. We're offering it for sale at the Faire, but we're also making it available as a free download on the Maker Faire website!
The Blipboard Maker Faire App. A custom geo-location, social media app for the Faire.

Today's Headliners: At 11am on the Tesla Stage, Fiesta Hall, Discovery channel's Mike Rowe will be headlining. And at 12 Noon MythBuster's Adam Savage will take to the stage. Then at 2pm, Nolan Bushnell, best known as the founder of Atari and Chuck E. Cheese's Pizza Time Theater, and revered as the "Father of the Video Game Industry," will take the mic. What a line-up!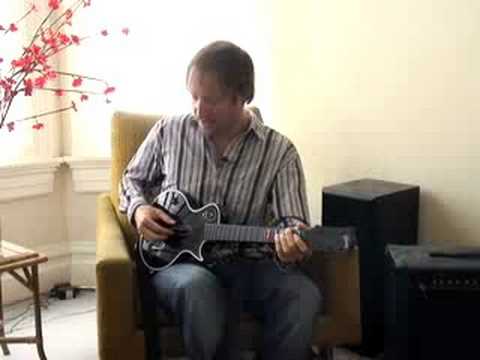 Watching the stream from the MAKE and CRAFT demo stages, I was totally impressed by Owen Grace and the work he's done with Electronic Arts, converting game controller guitars into playable instruments. In a Maker Faire success story, Owen told of how he made his game controllers into instruments as a personal project, got some friends together to form a band, and then caught the ear of the executives at Electronic Arts. They liked his maker project so much that they offered him a job, where now he continues his passion as his profession. Owen and his band are featured on the cover of MAKE Volume 15.
They've created a new game that allows you to play original music on your standard game controller, record it and upload it to YouTube. As you get responses to your song, you gain points in the game. You don't need to modify your controller, as the software he's working on maps the buttons to the sounds of the instrument. You can set it to play notes or chords, and combining buttons give a wide variety of musical options. Owen is exhibiting his projects in the West Lot at this year's Maker Faire.

More Recent Articles