---
Great Global Hackerspace Challenge Winner Crowned

As MAKE online editor and GGHC judge Gareth Branwyn related earlier this week, Hackerspace Charlotte took down the challenge with a very impressive entry, Feltronics, which consists of felt shapes resembling IEEE schematic symbols, but actually function thanks to actual electronic components built into the felt.
---
Local and regional Makers will show off their creations at the third Ann Arbor Mini Maker Faire (http://www.a2makerfaire.com), held 10 am to 5 pm Saturday June 4, 2011. This family-friendly event is free to attend, and is again at the Washtenaw Farm Council Grounds (aka "Saline Fairgrounds") 10 minutes south of Ann Arbor.

The Faire features silkscreening, vortex cannon, robots, amateur radio, sustainable technology, learn to solder, DIY satellite, computerized jukebox, machine vision, giant Simon game, make your own comics, and more, all with an emphasis on "do it yourself".

The mission of the Ann Arbor Mini Maker Faire is to present interesting or unique exhibits, individuals, and demonstrations in DIY science, technology, engineering, and art that excite, motivate, and educate. The emphasis is on cool things, skills, and knowledge. As a shorthand, the exhibits are the kind of thing you'd see in Make Magazine. The Faire is organized by a2geeks, a new Ann Arbor area foundation promoting the informal technology culture, and is organized in cooperation with Maker Faire.
---
Build-Your-Own RepRap Mendel Workshop at PS:One

On June 18, PS:One member Chris Jansen will be holding a build-your-own RepRap Mendel Prusa 3D printer workshop. Workshop cost will be $100 (for materials).

If you don't know what it is, a RepRap is a 3D printer that can print many of its own parts. A REPlicating RApid Prototyper. If you have one RepRap, you can make more RepRaps, and even give them to your friends!

At the workshop, we will receive the parts and support to build the X-Y-Z gantry for a RepRap Prusa — all the plastics, mechanicals, belts, pulleys, MDF build platform, etc. At the end of the day you will have a fully-built XYZ body and build platform that just needs electronics installed and programmed to get up and running.

PLEASE NOTE: To complete the build, you'll need to purchase another $200-$300 worth of electronics and stepper motors and hot ends (price varies depending on the bells and whistles you choose). Please see the wiki page for a listing of electronics not included in this workshop. If you bring your own electronics along with you, assistance may be available to get your electronics installed (no promises).
PS:One membership is not required but you do have to register.
---
HazardFactory Power Tools Drag Racing

HazardFactory of Georgetown (Seattle) Washington will be holding a power tools race at 2pm on June 11th.
The Hazardfactory Power Tool Drag Race is all about taking ordinary power tools & electric appliances and turning them into drag racers. Power Tool Racing has been around as long as power tools themselves, ever since the first time someone ziptied the switch on a beltsander and let it scream across the shop floor. Since then it has grown into a obscure but widespread sport. Races are held all over the world and all kinds of people race, almost anybody can build a racer in a few hours with a few items from a thrift store.
---
Are you a hackerspace member with an event you'd like to publicize? Send it to johnb@makezine.com or tweet me at @johnbaichtal and I'll post it. Also feel free to subscribe to my hackerspaces Twitter list. Hackerspace Happenings will run weekly Tuesdays, and the next one will come out June 7th.

As you may have heard, Google made happy waves recently when they announced the Android Open Accessory Development Kit platform. This allows Arduino-compatible and PIC based boards to "…interact with an Android-powered device in a special 'accessory' mode." Unlike Apple's frustratingly closed iPhone platform, this board (and the associated SDK and Arduino libraries) shows a company embracing the idea of ubiquitous, mobile physical computing as a user-defined extension of their OS. If we want to turn our phones into an army of miniature squeegee-wielding, filth-sensing, automated window-washing robots that Tweet, we should have that right!
I received one of the official ADK kits from Google last weekend. It consists of the ADK USB micro-controller board (a kind of souped-up Arduino Mega2560/USB Host Shield that plugs into an Android device as well as your computer), and the very snazzy Accessory Demo Shield (lights, buttons, relays, servo controllers, temp sensor, light sensor, capacative touch sensor, and analog two-axis joystick), along with a couple of micro servos and a power adapter.
Now it's on me to do some development on the platform. I'm new to Android development, so I've fired up the Eclipse IDE and will start working my way through some Android books and tutorials to see how quickly I can go from zero to working Android app that can read the Arduino sensor data and operate the servos. (After that come the window-washer robots.)
I plan to write about the experience here, and would love to hear your tips and suggestions on Android and ADK resources. I'm already planning to bug our own Brian Jepson (who posted his first hands-on with the board here) for advice!

…astronomers unveiled the most complete 3-D map of the local universe (out to a distance of 380 million light-years) ever created. Taking more than 10 years to complete, the 2MASS Redshift Survey (2MRS) also is notable for extending closer to the Galactic plane than previous surveys – a region that's generally obscured by dust.
---
Print the Universe. MAKE: 03: Cars and Halloween, Page 127. Make gigantic posters with a free web service.

Radio Shack Blog Post: Amy and Lauren Recap Maker Faire
I really enjoyed meeting the Radio Shack folks at Maker Faire Bay Area. They seemed genuinely interested in understanding the needs of makers and trying to stock the types of products that we might want. We're looking forward to working with them in the future. The team that was at the Faire did a few videos and a blog report about their experiences.
More:
Radio Shack Decides It Loves DIYers After All

Most of our readers will probably have at least passing familiarity with thermite, and many, if asked, would probably be able to identify the most common thermite reaction: a mixture of powdered aluminum and iron oxide which, properly ignited, produces extremely high temperatures and a stream of molten iron that can be used, for example, to weld steel.
In fact, this well-known process is only one of a very large number of possible reactions between metal powders and metal oxides, all of which are rightly called "thermite." Because aluminum is cheap, readily available, and has a very high oxidation potential, it is commonly used as the reducing agent in these processes, and any thermite process using aluminum as the metal reactant can be described as an aluminothermic reaction.
UCLA chemist Jeffrey Schwartz, whose traditional thermite demonstrations I very much enjoyed at BAMF last week, has compiled what, he quite plausibly claims, is the world's largest online gallery of thermite reaction videos at his fascinating site Amazing Rust.com. By my count, Jeffrey has there documented, with pictures or video or both, more than 40 different aluminothermic thermite events, smelting eleven different metal oxides including vanadium, cobalt, and titanium. [Thanks, Jeffrey!]
More:

How-To: Make Pyrophoric Iron

If You Missed Maker Faire, or Forgot to Pick Up Some Gifts…
First, we are ever-so-proud of our 14,000 square foot Maker Shed pop-up store, which featured dozens of our favorite authors and makers showing off their latest projects and wares. With the help of Mitch Altman, Jimmie Rodgers and their band of hackerspace volunteers, we taught over 3,100 people to solder for the very first time; each one taking home one of our brand new 2011 flashing LED merit badges . And when the dust had settled, Popular Mechanics selected us as one of their favorite cool attractions at the entire Maker Faire.
But lest you think we're simply teasing you… in keeping with the spirit of Maker Faire, we want to spread the opportunity as far as possible. And so we decided to take the best, newest, and most popular kits and tools featured in Maker Shed's Maker Faire store and make them available to everyone in our biggest sale of the year through Midnight, May 31st.
Every purchase of $10 or more will get the new 2011 Learn To Solder merit badge pin with flashing LED. Purchase at least $75 and we'll also throw in a Makers Notebook and a 60-page commemorative Maker Faire program; and when your order tops $130 you'll get FREE Shipping.* Hurry, this offer ends at Midnight (PST) May 31st!

*Pin, notebook, and program guide will be added automatically upon shipping to qualifying orders placed through 5/31/11. To get free shipping on your order, just add at least $130 of products to your cart, enter SHIP-MAY in the Coupon Code box in your shopping cart, and pick 'Free Shipping' as the shipping type. Free shipping is only available in the U.S. For our international customers, we can't offer free shipping, but we can offer you a shipping discount. Just enter Coupon Code MAY-INTL to save $10 on your order of $130 or more. Offers expire 12 midnight 31-May 2011.

There are two positions available at SVA in NYC: a systems administrator in the MFA Interaction Design and Visible Futures lab, and another for managing servers and the woodshop. It's a unique opportunity to work with talented students in a high-tech lab managing physical computing equipment and digital making machines like laser cutters and 3D printers, too. Download this PDF from SVA for more info.


This tool has been extremely helpful in mapping the wiring in my new home. It is the size and shape of a pen, and could not be simpler to use: Touch the plastic tip to a cable, switch, receptacle, or fixture where an AC potential in the range of 90 to 1000 volts is present, and the LED lights up.

It is "non-contact" in the sense that no electrical contact is made between the tester and the circuit, which is faster and safer than a traditional two-lead multimeter or circuit tester.

The tool includes a battery test button to verify that it is working in the negative test case, which is an essential safety feature if you're actually going to fiddle with the wires. This model features an "always on" design, which is both more convenient, because you don't have to fiddle with a power switch, and (arguably) safer because it eliminates the possibility of false negatives due to absentmindedly forgetting to turn it on (or accidentally turning it off) before taking a reading.

Advertising boasts of "special low power circuitry to sustain battery life." I have only owned mine for a couple of weeks, so I can't vouch for the battery life, but I note that it came packaged with two energizer AAA cells already installed, implying that Fluke is confident of battery performance over the unknown months or years the packaged tool might sit on a shelf or in a warehouse before purchase by the end user. The batteries are replaced by unscrewing the barrel at the tip.

The Fluke 2AC has performed flawlessly for me. The only "con" I can identify is the price. There are several of these non-contact voltage testers on the market, and comparing their prices among Prime-eligible Amazon items indicates that, as of this writing, the 2AC is on the high end of the distribution at $24.95, with the low-end tester coming it at $7.99. Personally, I don't mind paying that premium for the Fluke name, but I imagine if you're working carefully and paying attention (as you should be anytime you're messing with building wiring) a less expensive model will probably serve your purpose just as well.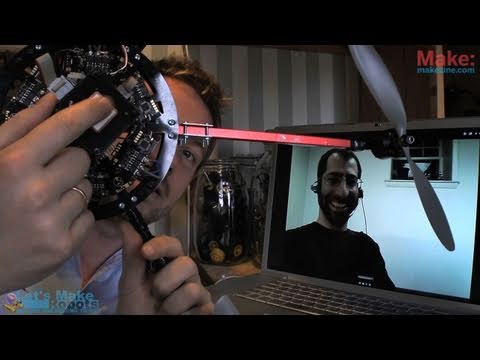 In this weeks edition of The Latest in Hobby Robotics, Frits and Andrew are looking at an interesting collaborative attempt for hobbyists to get together across the globe to build the most advanced amateur humanoid robot, followed by some inspiration to show you how easy it has become to work with GPS!
Links related to the show:
Subscribe to the MAKE Podcast in iTunes, download the m4v video directly, or watch it on YouTube and Vimeo.
Check out all the episodes of The Latest in Hobby Robotics.



Want to build your own robots, turn your ideas into prototypes, control devices with a computer, or make your own cell phone applications? It's a snap with the book Make: Arduino Bots and Gadgets and the Arduino open source electronic prototyping platform. Get started with six fun projects and achieve impressive results quickly. You'll quickly gain the know-how and experience you need to create your own Arduino powered inventions.