---
News From The Future: Dolphins Soldiers
…the Navy sent some real marine mammals into action off the Pacific. Four bottle-nosed dolphins trained to find underwater mines demonstrated their abilities during Operation Trident Fury, a joint U.S.-Canadian military exercise held earlier this month off the coast of Vancouver, British Columbia. The dolphins are part of the Navy's little-known Marine Mammal Program, which has trained sea lions, dolphins, and, yes, seals to find mines and enemy divers and was used successfully during the Iraq War.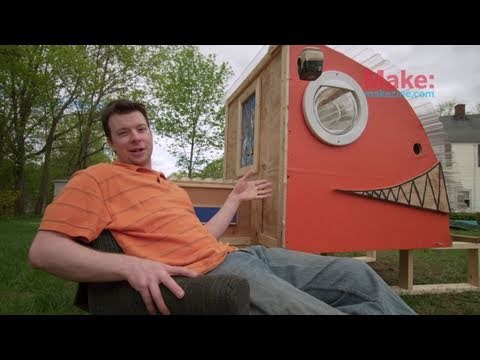 "Tiny Yellow House" host Derek "Deek" Diedricksen gives MAKE a look at his brand new, multifaceted micro-structure/sleeper-cabin, "The GottaGiddaWay"- a homeless prototype built for $100.00.
Subscribe to the MAKE Podcast in iTunes, download the m4v video directly, or watch it on YouTube and Vimeo.

Also, for a related-style/approach project- take a video tour of Deek's one-day treehouse "The U.B. 30″- which he built as a gift for his brother Dustin's 30th b-day. More info at Relaxshacks.com.
Check out all the episodes of Tiny Yellow House for MAKE.


Michael Shiloh with some old-school breadboarding
Working with EL wire
REALLY old-school breadboarding
I love the concept behind the Bay Area Workshop Weekend event — take the inspiration and enthusiasm generated from Maker Faire Bay Area and present a series of workshops the follow weekend so that folks can learn what they saw at the Faire. Nearly 100 people did just that, on May 28 and 29. They participated in some 15 workshops at Tech Liminal, Hacker Dojo, The Crucible, Noisebridge, and other spaces around SF. Event organizer J.D. Zamfirescu tells us that the most popular draws were Sewing with Electronics, Sequence your own DNA, Distillation Basics, Learn to Solder, and Electroluminescent (EL) wire. Here are some pics from the weekend. There are few more after the jump and on their website.
Mitch Altman points out some distillation basics

We're sure they meant to be wearing safety glasses!

A commenter on my recent dried orange peel box post pointed us at this truly outstanding phototutorial from Bushcraft USA forum member Eric Methven. Eric dshows off his classic leatherworking skills and equipment in a series of three detailed posts, featuring more than 50 photographs carefully documenting each step of his process for making these lovely canteens, from raw leather side to finished product. [Thanks, Tim Harris!]
More: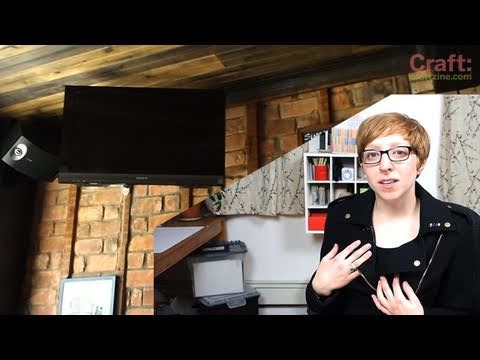 Whenever I bring my TV-B-Gone out to restaurants, I look suspicious pointing it around. So I embedded the device into a jacket and turned it into a wearable TV silencer. For the switch, I sewed paths of conductive thread that become bridged by the metal zipper pull when it passes by. At the restaurant or bar, all I have to do is unzip my jacket to turn off the TV(s).
Subscribe to the CRAFT Podcast in iTunes, download the m4v video directly, or watch it on YouTube. Music by i am jen.
For this project you need:
Super TV-B-Gone Kit (available from Maker Shed)
jacket with metal zipper pull
sewing needle and regular thread
seam ripper (or very small scissors)
tailor's chalk
soldering iron/solder
pliers
wire strippers
wire snips
insulated wire (stranded)
heat shrink tubing
Check out the complete a complete step-by-step tutorial for the previous version of this project, the TV-B-Gone Hoodie, over on Make: Projects.
More:


Reed Ghazala's breakout desk turns the iPad into a serious music tool.
So many cool experimental music apps on the iPad! But what a lousy interface. Dealing with dongles to get audio into and out of the thing is a pain.

This desk allows all jacks to be mounted on the aluminum case for easy access. Plus, jacks are upgraded from dongly 1/8″ mini to standard 1/4″.

The feel is nice, the whole thing is lightweight and back-packable.

With the iPad at a comfortable playing angle and held stationary by the desk, and with the superior audio ins and outs, it becomes a much more serious and friendly music tool.
[Via GetLoFi]
More: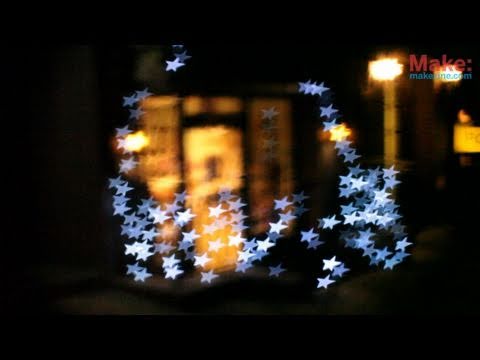 "Bokeh" comes from the Japanese word for "blur" or "haze." It's used to describe the quality of the out of focus areas of a photograph. If you've ever read a photography forum, you'll know that the word is often used to describe how a particular lens handles out of focus points of light. You can even hear bokeh being classified as silky, Hollywood-style, or cream cheese-like (honestly!).
When a point of light in a photograph is out of focus, it turns into a shape defined by the lens's aperture. We can create a second, smaller, aperture to attach to the front of our lens in order to customize that shape. The result is a charming effect in the background of your photographs, as long as there points of light such as streetlights, candles, or Christmas lights in frame. In MAKE Volume 26 and on Make: Projects, Sindri Diego walks you through the process of making photographs with this neat effect.
If you need a little inspiration, there's no shortage of great ideas out there for how to use this in your photography. And if you try out this project, post your best photographs to the MAKE Flickr pool.
Subscribe to the MAKE Podcast in iTunes, download the m4v video directly, or watch it on YouTube and Vimeo.


June has such great overhead lighting, don't you think? We do. So we decided to designate June as Photography and Video month here at MAKE. It's a perfect time to get outside, get some fresh air, and work on your soul-capturing skills.
Over the years, we've published tons of tutorials, tips, tools, and projects related to all aspects of analog and digital imaging. We'll be featuring those throughout the month, along with some great new content.
One focus is going to be on the tools and techniques you need to document your projects. This is an increasing interest of ours — how can we empower all makers to be better project documenters and lower the barriers to sharing these projects with others.
As always, we'd love to hear what you'd like to see covered under this theme. What shortcomings do you have around photo/video-making and around project documentation? Do you have photo and video tips to share with other makers? And, especially, do you have any tips to impart on photo-documenting ones DIY endeavors? Please post up in the comments.
Editor's Note: We've also decided to stay with the Food theme a little longer. We have more great material for the theme and will be running that over the next week or so. Stay tuned…

MAKE pal Aaron Ristau makes and sells these lovely wireless mice given the deluxe retro-robo-junk-art treatment. At $180 apiece, they're a bit rich for my blood, but have inspired me to maybe try reskinning a peripheral or two of my own.
More: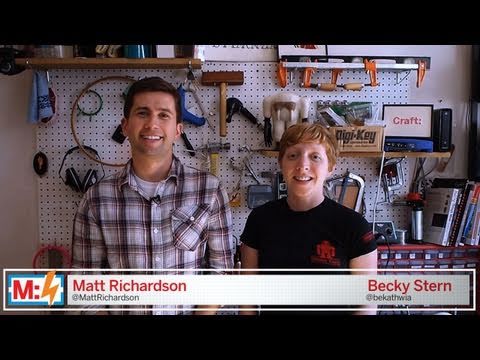 Join us Friday evening for the next episode of Make: Live, our streaming show and tell! Ep10 is our first ever Hackerspace Roadshow. Take a virtual road trip with us to five hackerspaces in five cities across the US to see their communities and projects.
Make: Live 10 – Hackerspace Roadshow
Wednesday June 8th, 9pm ET/6pm PT
Watch at makezine.com/live or on http://www.ustream.tv/channel/make-live
Please join us in the UStream chat or mark tweets with #makelive to interact live with the show.
We also give away a fabulous prize from Digi-Key to one chat member who can solve our photo challenge.
Subscribe to the MAKE Podcast in iTunes, download the preview video m4v, or watch clips from the show on YouTube.