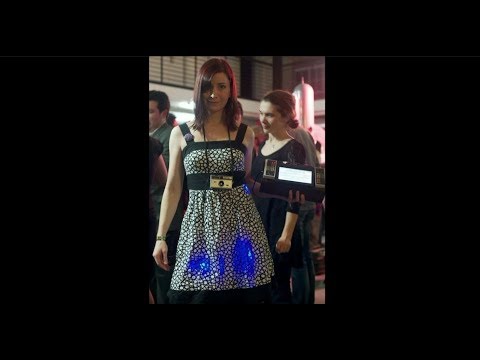 I love how Jeri Ellsworth almost always shows up at events with an impressive hack, from the infamous NES Purse, to the "Brain Bulb" she wore at Maker Faire Bay Area, to this glorious geek sartorial, the Barbot LED Dress. She wore this to the BarBot 2011 event at this year's RoboGames. Underneath the dress is a string of delay chain LEDs triggered by a PIR (Passive Infrared Sensor) motion sensor detecting people around her and flashing patterns in the dress in response. The sensor and circuitry (and power) are housed in the vintage camera case around her neck. So cool.
Looking at this makes me imagine a future world of super-bright celebrity makers at award ceremonies. Instead of "Who made your outfit?," the question would be "How did you make your outfit?," and they'd all be as awesome as this. A nerd can dream. Hmm… maybe that should be an aspect of The Makey Awards ceremony which will be happening at World Maker Faire.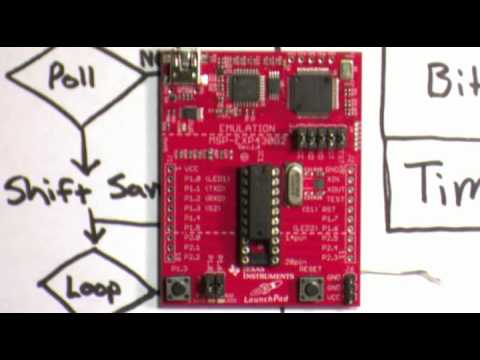 Here, in an earlier element14 video, Jeri explains how to create a simple PIR circuit for motion-triggered applications.
More:

Never mind "special." Dad doesn't want something "special" for Father's Day: He wants something awesome. Something that he can use. And if you made it yourself, it will remind him how unexpectedly competent his kid turned out to be every time he looks at it. Turns out MAKE has something of a line in awesome useful stuff you can build yourself. Stick with me.
Giftable Make: Projects
Make: Projects is chock-a-block with stuff you can make that Dad will love. Here are a few personal faves in approximate order of increasing difficulty:
---
---
---
---
---
---
---
Kits from Maker SHED
Some commercial kits are more about the experience of building, while others are more about the finished product. The Maker SHED has kits from both ends of the spectrum (and all parts in between), but here I've cherry-picked a few from the "finished product" side of things, again arranged from easiest to most difficult, IMHO. You'll have a great time building these, yourself, and will be proud to give them away.
New version! Works with the new iPhone 4 and more! Build your own MintyBoost: a small and simple (but very powerful and very MAKE-like) USB charger for your iPod or other MP3 player, your camera, cellphone, and any other gadget you can plug into a USB port to charge. Mint tin not included. See here for a list of compatible devices.
---
Featured in MAKE Volume 19, and Make: Projects, the Mini Fume Extractor Parts Bundle gives you most of what you need to complete the project. Please note: You will need a few screws to complete the project, but we bet you already have those parts in your workshop.
---
Somewhere at the junction of modern open-source hardware and early 80's Russia lives a beautiful new DIY kit called the Ice Tube Clock. The centerpiece of this old-meets-new clock is a Russian-made, 9-digit, vacuum florescent display (VFD). These types of displays were typically used in electronics form from the late 60's through the mid 1980's. Remember those bright green VCR and boom-box displays? Yep, those were most likely a type of VFD.
Included in the kit is everything you need to build a complete VFD clock. The power source, case, VFD tube, and all the electrical components are ready to be soldered together right out of the box. They even include the coin-cell battery for the battery backup system. The kit features an alarm, with a snooze function, and adjustable brightness, which makes it perfect for your nightstand.
---
The Bulbdial Clock kit works like an indoor sundial, but with three shadows of different length. You tell the time just like you do on a normal clock, by reading the positions of the hour, minute, and second hands.
This clock kit comes complete with three custom circuit boards, 72 ultrabright LEDs, pre-programmed ATmega168 microcontroller with Arduino bootloader, tactile button switches, aluminum standoffs, 20 ppm quartz crystal, custom clock face, gnomon spike, universal-input plug-in power supply, stainless mounting hardware, plus the resistors, capacitors and other little parts needed to build the Bulbdial clock. We even included a laser-cut acrylic case!
---
Build your own retro, Vacuum Tube Amp Kit for your iPod or portable music player. This is a classic DIY project in a great-looking, high-quality kit — just look at this beautiful baby! (Bonus science fun: You can also experiment with sound by inserting normal straws of different lengths (not included) in the rear of the speakers.) Easy to build — instructions are in Japanese but feature highly detailed assembly pictures (sorry, no English translation at this time). MAKE is proud to be the exclusive distributor in North America for these brilliant kits from Gakken.
---
Our musical instrument kits come with detailed instructions and craftsman-quality components: solid basswood bodies, maple necks, fretted rosewood fingerboards, and more. The truly difficult work is already done for you, but there's plenty left undone and lots of opportunities for customization and craftsmanship of your own.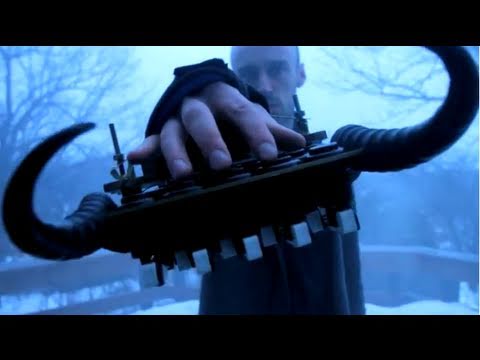 Patrick Flanagan of Minneapolis, MN, wrote in with his excellent robot 'percussion ensemble'.
[I serve] as the token human in cyborg percussion ensemble Jazari, which fuses African rhythms, algorithmic composition, computer music, and electro-mechanics into beat-driven steamfunk. Besides percussion music, Jazari is influenced by funk, house, drum n bass, jazz, academic computer music, and spectral composition. Equally influential is the technology itself. Much of what I do in Jazari arises from explorations of what is possible and idiomatic with the machines and software that I've created.

The idea for a musical controller made of springbok horns and arcade buttons grew out of a desire to overcome some of the limitations of the Wiimote while preserving its gestural sensing capabilities. A Wiimote, which is what I used prior to building the springbok device, monopolizes three fingers just to hold the controller. I imagined that a gestural controller that allows all five digits to float over an array of buttons would allow for more buttons and greater virtuosity. After some experimentation, I came up with a cross between a monome, a Wiimote, and horns. So why horns? Why not horns?