---
Nothing says love like quality time spent making together. This year for Fathers Day, why not find a cool project that you and your Dad can make together? Here are 10 project ideas for kids 10 and under. Next week, we'll have another roundup for kids over 10.
Our own editor-in-chief Mark Frauenfelder came up with this fun and simple Vibrobot to make with his daughter using the motor on her broken plastic fan.

Combine LED throwies with some crafty skills and a hot glue gun to make your own LED Jellies.

Make conductive and insulating play-dough, then shape creatures with light-up eyes!

Mason jar terrariums can be made big or small, leave plenty of room for creative expression, and who doesn't want to stick their hands in dirt?

Take the terrarium concept to the next level and get a lasting science experiment going with the Tabletop Biosphere.

Blend up old junk mail, build a simple rig with Dad's help, and make custom paper for pops with Papermaking 101.

Fold up an arsenal of Origami Flying Disks and have a contest to see who can throw them the furthest.

Keep your materials list short and household-accessible with the awesome Mousetrap-Powered Car:

Show your love for Pops with a loud, festive POP!

And speaking of pops, since we all know making makes you hungry, have some tasty fun with Chocolate Banana Pops.

These are just a short sampling of project ideas you can do with your Dad on Father's Day. For more ideas, check out Make: Projects, where hundreds of projects are waiting for you. The most important thing is to spend quality time together. Show your love!

It is my great pleasure to kick off the first ever MAKE Magazine Industry Maker Award season with a nomination that will probably raise a few eyebrows. We nominate Microsoft Corporation, for their gestural and natural-language video game controller, the Kinect, in the "Most Hackable Gadget" category.
In many ways, Microsoft as a company, and Kinect in particular, represent the absolute antithesis of "hacker friendly." Opening a Kinect sensor, you encounter tamper-resistant fasteners, glues instead of screws, proprietary connectors, and several other manufacturer no-nos specifically listed in The Maker's Bill of Rights. But with its relatively low cost and extremely impressive capabilities, the sheer potential of Kinect to facilitate creative hacks in robotics, performance, gaming, interface design–or any of a dozen other fields that readily come to mind–is hard to overstate, a fact amply demonstrated by the amazing body of work already produced by the Kinect-hacking community in the few months since its release.
But there is, in the Kinect story, one very specific decision by Microsoft that we feel cinches the nomination. First released on November 4, 2010, a bounty on the first working open-source Kinect driver was claimed by Hector Martin on November 10. Microsoft rattled its saber, publicly threatening software countermeasures and legal action to protect against "the modification of its products." After a period of controversy during which the EFF weighed in, Microsoft representatives reversed the company's previous position in a public radio interview on November 21:
FLATOW: So you have no problem… with the people using the open-source drivers then?

Ms. LOFTIS (Microsoft): As an experienced creator, I'm very excited to see that people are so inspired that it was less than a week after the Kinect came out before they had started creating and thinking about what they could do.

FLATOW: So no one is going to get in trouble?

Mr. KIPMAN (Microsoft): Nope. Absolutely not.

Ms. LOFTIS (Microsoft): No.

FLATOW: You heard it right from the mouth of Microsoft.
And for that, Microsoft, we salute you. Keep it up.

The Lemelson-MIT Program's fifth annual EurekaFest is taking place Thursday, June 16 through Saturday, June 18 in Boston, MA. This three day event will bring together innovators of all ages, including 14 teams of high school-age inventors. The aim is to inspire the next generation of leaders in sustainable technology. High school inventors will showcase their prototypes, including:
Pike Central High School InvenTeam (Petersburg, Ind.): Lightweight, portable emergency shelter to be used after natural disasters to house displaced people; includes a water purification system and renewable energy power source for an LED light
West High School InvenTeam (Salt Lake City, Utah): Autonomous, solar-powered robot to locate unexploded weaponry
Berlin High School InvenTeam (Cherry Plain, NY): Alert device for hearing-impaired athletes
Omaha North High School Magnet InvenTeam (Omaha, Nebr.): Sustainable cooking system for developing countries; this fuel-efficient cooking system is designed for use in Madagascar to help prevent deforestation and wildlife habitat destruction
We'll try and get some more coverage of these teen teams here on MAKE. Stay tuned…
Visit www.eurekafest2011.org for more details and a full schedule.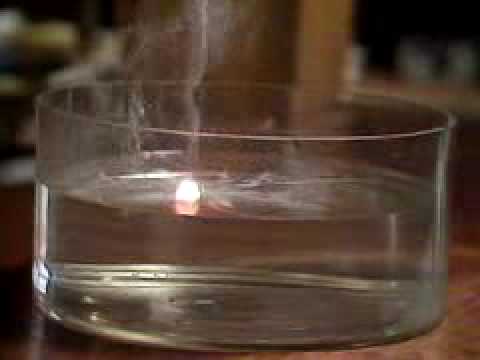 If I understand the annotations on this, YouTuber ironnica's only posted video, correctly, the footage was produced by a New Jersey educational media company in 1991, and the delightfully British narration more recently by somebody associated with the UK's Open University. In any case, it is a perfectly concise, interesting, and entertaining demonstration of the increasing reactivities of the group I metals lithium, sodium, potassium, rubidium, and cesium. Francium, the heaviest and theoretically most reactive of the alkali metals, is not included because its highly unstable nucleus does not persist long enough to allow for the accumulation of weighable quantities of the bulk element. [via Geekosystem]

Extremities is a short skateboard video that shows skater Aryeh Kraus with 6 tiny go pro cameras attached to his body and 3 more cameras filming from afar. One of the cameras is below the skate deck! You get to watch all of the skating from several perspectives simultaneously. It was filmed on a rare rainy day in LA.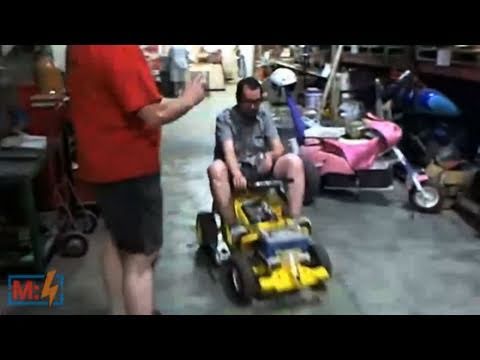 Make: Live episode 10 is our first Hackerspace Roadshow! Thanks to our guests from Twin Cities Maker, Milwaukee Makerspace, i3Detroit, and Noisebridge. Catch up on video and notes from the show here.
Subscribe to the MAKE Podcast in iTunes, download Make: Live episode 10 in its entirety (m4v or Vimeo). Also check out the chat room transcript!
---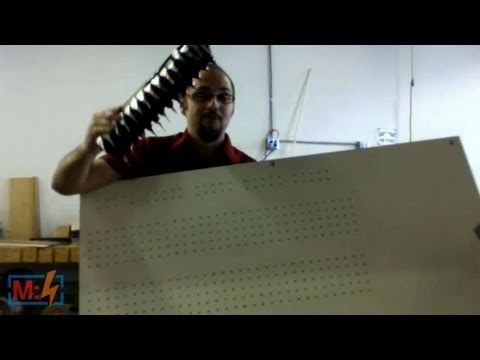 ---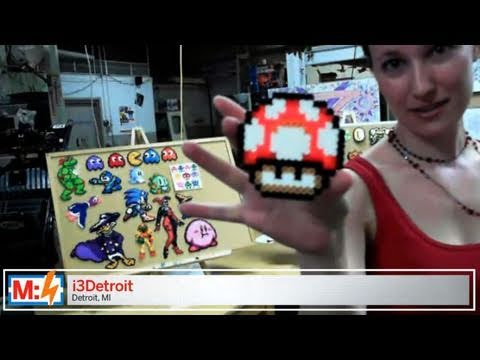 ---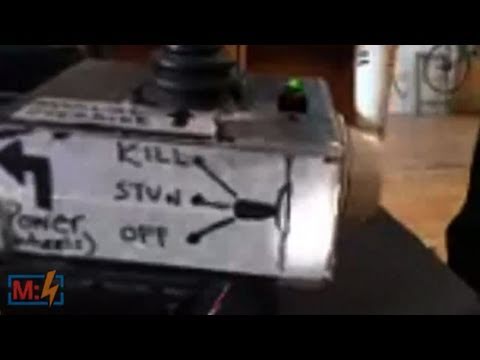 More show notes:
Want to show us your project? Upload a video or photos and send a link to live@makezine.com. We'd love to hear from more hackerspaces, too!
Next show:
Make: Live 11: Photo and Video
Wednesday June 22nd, 9pm ET/6pm PT
Watch at makezine.com/live or on UStream
Please join us in the UStream chat or mark tweets with #makelive to interact live with the show.


Kudos to Bre Pettis and the MakerBot team for doing such a great job on the Colbert Report last night. It was like a 5-minute infomercial for the MakerBot. Who would watch this and NOT want one? Also my friend, DC artist (and current MakerBot Artist-in-Residence) Jonathan Monaghan, helped with scanning Stephen's head and made the eagle Stephen that's shown. Way to go, Jonathan!
Bre Pettis on the Colbert Report
In the Maker Shed:


MakerBot Thing-O-Matic 3D Printer Kit
The MakerBot Thing-O-Matic 3D printer is a breakthrough in 3D printing technology. It prints thing after thing, it's completely automated! Want to print 100 butterflies? Easy. Want to print an entire chess set? No problem. Buy it, assemble it, and enjoy being the first on your block to live in the cutting-edge personal manufacturing future of tomorrow! Includes the new StepStruder™ MK6 Upgrade, and a FREE copy of MAKE Volume 21, featuring Bre Pettis and MakerBot Industries.

We sold out of the Netduino Plus at Maker Faire and just got them back in the Maker Shed. The Netduino Plus is an open source electronics platform using the .NET Micro Framework. The board features a 32-bit microcontroller and a rich development environment, making it a perfect solution for engineers and hobbyists alike. The Netduino Plus also features an on board MicroSD slot and RJ-45 jack for Ethernet connectivity. Now available in the Ultimate Microcontroller Pack as well.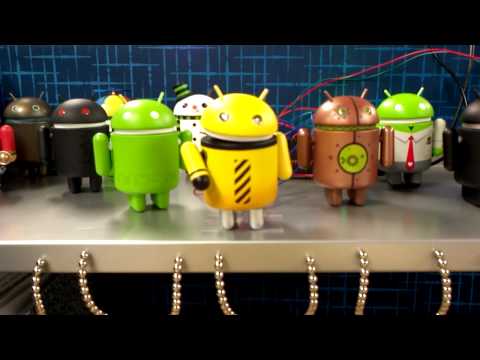 I'm crazy about this demo of direct servo control using an Android tablet and the Arduino-based ADK. Youtuber chrisjrelliot says "Build instructions are in progress and the code will be open-sourced shortly." This is just the sort of thing that has me excited about Android ADK development.