---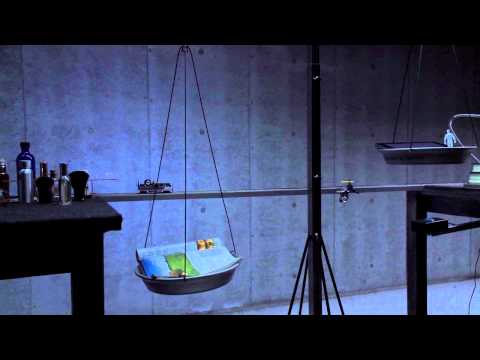 Above is Sony's teaser video for their giant-looking tablets. Sony, the company that sues makers, hackers and innovators (which are usually associated with actually building Rube Goldberg Machines) thinks a video like this will drive demand. I don't think it will. This caught my eye for two reasons. 1) Sony wants to be clever and show a cool thing like a Rube Goldberg Machine, but Sony has historically shown they're completely against that type of thinking and playfulness. And 2) Really? Another Rube Goldberg Machine video? It's been done over and over by phone companies and car companies, stop it already. I know ad agencies love to pitch this ideas but you don't need to do them.
And a tablet? Ask Samsung and RIM how their "tablet" sales are doing. Besides, we all know it's going to have some weird proprietary memory stick duo pro plus SD extreme card UMD thing right?
Any way – Here are a bunch of other Rube Goldberg Machine videos and links.

Seattle Food Geek Scott Heimendinger (author of the DIY Sous Vide article from MAKE 25) wrote up a nice comparison of the very inexpensive $4.20 Ziploc Vacuum System vs. the $150 FoodSaver for cooking sous vide. Spoiler alert: They compare favorably, Scott recommends Ziploc highly, and I'm going to be buying the Ziploc pump and bags for my upcoming DIY sous vide rig.
Even if you managed to find an inexpensive solution for cooking sous vide at home, it used to be the case that you were still on the hook for a vacuum sealer, and the $150 FoodSaver was the de facto appliance for the job. Sure, for short cooking times, you can immerse a zip-top bag in water and force out most of the air, but that strategy doesn't let you safely cook-then-chill foods for reheating later. Furthermore, as the small amount of remaining air expands in non-vacuumed bags, they tend to float to the surface and cook unevenly. However, Ziploc recently introduced a line of vacuum seal bags that use an inexpensive hand pump and achieve nearly the same results as that pricey FoodSaver.
Ziploc Vacuum Bags vs. FoodSaver for Sous Vide at Home

Our friends Lenore and Windell created an attachment to engrave glass, stone, and ceramic with an Eggbot.
The engraving tip itself is a small single-point industrial diamond, mounted on a thin steel shaft, in a fixture that holds it where the pen would normally be. That fixture consists of a 3/8-16 nylon thumb screw, drilled out to fit the steel shaft, and a matching 3/8-16 hex nut that locks it in place.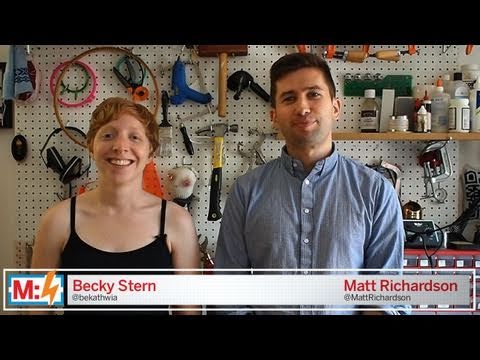 Join us Wednesday evening for the next episode of Make: Live, our streaming show and tell! Ep11 is all about photography and video. We'll be giving you a behind-the-scenes look at how we put together Make: Live and Matt Griffin from MakerBot will show us how they make their timelapse movies of 3D printers doing their thing, as well as some other cool camera hacks.
Make: Live 11 – Photo and Video
Wednesday June 22nd, 9pm ET/6pm PT
Watch at makezine.com/live or on http://www.ustream.tv/channel/make-live
Please join us in the UStream chat or mark tweets with #makelive to interact live with the show.
We also give away a fabulous prize from Digi-Key to one chat member who can solve our photo challenge.
Subscribe to the MAKE Podcast in iTunes, download the preview video m4v, or watch clips from the show on YouTube.


Rachel spotted this cool tutorial from Grathio labs. Illumination is provided by an LED strip, switched on or off by a whisker switch that detects the position of the cover. Mechanically dimmable by the simple act of opening or closing the cover at a wider or narrower angle. [via CRAFT]

Things You CAN'T Do With The Microsoft Kinect SDK: You can't start a business, make money, sell services or consulting, it's all non-commercial and in my opinion, a dead-end for most/all developers.
Can I use the SDK Beta to build applications that are used in-house in running my business, so long as I do not share them with my customers?
No. Under the terms of the license for this SDK Beta, you cannot deploy applications created with the SDK Beta for use in your business operations. Even if no fee is charged or received in connection with such use, such use in a business is still a commercial use and is not permitted under the SDK Beta license.

I saw the clever use of the Kinect sensor with a PC in a department store window. Can I create an application to use as a showpiece for customers who visit my store?
You may publicly display applications you create with the SDK Beta so long as it otherwise complies with the terms of the SDK Beta license agreement, including its restrictions on commercial use. Under the terms of the SDK Beta license, you cannot receive payment in connection with your application, use your application for advertising, use your application to solicit donations, or use your application in your internal business operations. Also, because this is a free, public beta, and it is broadly available, Microsoft is not necessarily aware of all uses that licensees are making of the the SDK Beta. Accordingly, you should not assume that any particular use you see is allowed under the SDK Beta license.
It's cool that after 6 months of the open source community making amazing things Microsoft wants to join this party, but you're coming to our house and the house rules were built on open source licensing – which means commercial use is allowed.
It's unclear if someone would even be allowed to show their cool projects with the Microsoft SDK online and have ads on their pages, that too could be considered commercial use.
At least Microsoft can't just look at your projects and do anything they want with them. Oh wait… Read this:
d.    License to Modifications. If you make modifications to the Sample Code and make those modifications public in source code, text, or any other descriptive (non-binary) format, you give to Microsoft, without charge, the right to use, share, and commercialize those modifications in any way and for any purpose.
Why would anyone want to use the Microsoft SDK when the open source drivers are out there and you can build a business and company around them? AND use them with non-Windows system (yah, that's part of the license too, you cannot: "(4) use it with a platform other than a Windows platform.").
Microsoft would not even be doing a SDK if the open source community didn't completely dominate all the "wow, Kinect is amazing" headlines from the open source / hack projects for the last 6 months.


Solder:Time is a new arrival in the Maker Shed. It was extremely popular at Maker Faire Bay Area for obvious reasons; It's really cool! The watch comes in kit form and includes a laser cut acrylic enclosure and wrist strap. The bright red LED display is driven by a pic16 using a Dallas DS1337+ RTC chip for accurate time keeping. The time is displayed on demand for increased battery life but can be jumpered for always on use. This watch is a great conversation starter and a perfect way to show off your geek cred! (Unfortunately, we only have a limited supply on hand but please sign up to be e-mailed when we get more.)

Inspired by a Festo robot, NXT fan DiMastero built this robotic arm with a variety of Mindstorms servos, touch sensors, and even a pneumatic actuator. Also, good call on the Daft Punk. [Via Tinkernology]
More:

Out of the pages of the most recent issue of MAKE: California artist Chris Burden built a Hot Wheels track of epic proportions.
Burden's kinetic sculpture Metropolis II is a mesmerizing cityscape where 1,100 toy cars blaze down 18 lanes of freeways in endless loops. The work took Burden, his chief engineer Zak Cook, and ten assistants four years to build in his Topanga Canyon studio.
Pick up your copy of MAKE Volume 26 up in the Maker Shed. Available in PDF as well!

Fans of Patrick McGoohan's classic BBC spy series The Prisoner will recognize this gimmick from Episode 15, "The Girl Who Was Death." It's a pint glass with words etched on the bottom (in authentic "Village" font) that appear line-by-line as the liquid is imbibed. My version is the closest reproduction of the original I could achieve.
I have an old friend who is a rabid fan of the show, and I made her a set of four of these as a gift for her most recent birthday. The stencil art is attached to the project as a PDF, and is available in other popular vector formats from Thingiverse.
More