---
Phil Levchenko shot this tutorial showing how to turn an ATX power supply into a DPS.
Small tutorial on Computer ATX Power Supplies. How to use them, how to connect them in series, in parallel. What is 12V rails? Is it possible to connect 12V rails together? ATX connector wiring explained. What is difference between old computer power supplies and new ones? And finally how to make Lab Bench Power Supply from Computer ATX Power Supply.


[Video Link] MAKE reader George LIem shared this video of Stan Buddenbohm launching his glider for a record-breaking 1:52 minute flight. Learn more about glider enthusiasts at the National Free Flight Society website.

We have covered Alan's Biocca's fantastic clearinghouse site antennalaunchers.com before, and Brookfield, CT, resident Andrew Stoev's basic launcher design appears to be a slightly up-gunned version of Alan's CSV19 pneumatic antenna launcher. Andrew describes his basic modifications of Alan's design:
Slightly larger compressed air tank – my launcher is using 10 inch length of the 4″ diameter pipe for the tank vs. Alan's 8 inches. The reducing coupler I am using as part of the tank gives a little extra volume too.
Longer barrel – 18.5 inches vs. Alan's 16 inch barrel – I had lengthen the barrel a bit in order to account for the larger pressure vessel and have enough clearance for the Zip Reel.
More reliable and safer pressure vessel – instead of drilling a hole for 1″ pipe and epoxy gluing the pipe for the high pressure outlet in a 4″ end cap, I am using a 4″ to 2″ reducing coupler and and 2″ to 1″ reducing bushing as part of my pressure vessel. Another advantage is that I don't have to drill precision large diameter hole – unfortunately I don't have a lathe.
More reliable and safe coupling between the barrel and the high-pressure pipe – I am using 2.5″ to 2″ reducing coupler and 2″ to 1.25″ inch reducing bushing. It is much easier to assemble the launcher that way! Alan's design yields for drilling a 2.5″ end cap and epoxying the 1.25″ inlet (actually, a 90 degree elbow) in the hole
I made the spacer between the pressure tank and the barrel out of two pieces PVC, sliced from 4″ pipe scrap. I adjusted the curvature of each piece to follow the outside diameter of the corresponding pipe and glued the pieces back-to-back.
It's a beautiful build, but my favorite feature is the quick-release mount he added for his Android device. Using a free app called GeoCam, his phone, when so mounted, becomes an augmented-reality aiming scope that provides GPS location, compass orientation, and (probably most usefully for this purpose) phone inclination data. [via Hack a Day]

By George Hart for the Museum of Mathematics


If you knit, here's a stuffed, dodecahedral thing—I don't know quite what to call it—a toy, a pillow, a mathematical model? The shape is based on twelve 5-sided units like a dodecahedron. But they bump out, so the form is more like a small stellated dodecahedron. This was designed by Norah Gaughan, who provides instructions in this Berroco pattern.

If you prefer to crochet, here's another variation by Betsy Myles, also for Berroco.
More:
See all of George Hart's Math Monday columns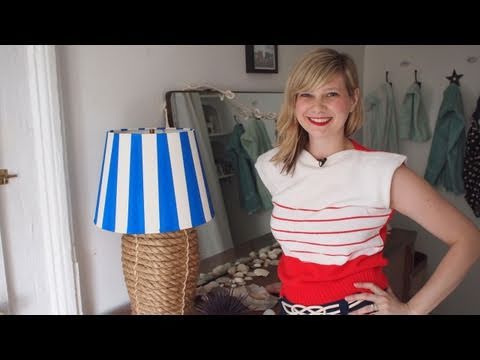 Meg Allan Cole shows you how to restyle an old lamp with a little nautical flair. Paint the shade with stripes and wrap the base with boat rope in the latest beachy installment of the CRAFT Video. There's even a full step-by-step over on Make: Projects.

Sad news, Bob Pease died yesterday -
Bob Pease (Robert A. Pease) was an analog integrated circuit design expert and technical author. He has designed several very successful integrated circuits, many of them in continuous production for multiple decades. These include the LM331 voltage to frequency converter,and the LM337 adjustable voltage regulator.

Pease obtained a Bachelors of Science in Electrical Engineering (BSEE) degree from MIT in 1961. He started work in the early 1960s at George A. Philbrick Researches (GAP-R). GAP-R pioneered the first reasonable-cost, mass-produced op amp: the K2-W. At GAP-R, Pease developed many high-performance op amps, built with discrete solid-state components.

In 1976 Pease moved to National Semiconductor as a designer and applications engineer, advancing to staff scientist until his departure in 2009. During his tenure there, he began writing a continuing popular monthly column entitled "Pease Porridge" in Electronic Design Magazine about his experiences in the world of electronic design and application.
He was the author of eight books, including Troubleshooting Analog Circuits, and holds 21 patents.

His other interests included hiking and biking in remote places, and working on his old Volkswagen Beetle, to which he often referred in his columns.

Bob was killed in a car crash, while not wearing a seat belt, on 19 June 2011 after attending the memorial service of Jim Williams (analog designer), another renowned staff scientist working at Linear Technology.
His show Analog by Design inspired us to create "Ask an Engineer" that I do every week with Ladyada.

I am totally 100% serious right now. Really. [Thanks, Rory Box!]


The Motion-Sensitive Camera Trap Parts Kit from the Maker Shed allows you add new abilities to your IR remote ready digital camera. Use the motion sensitive mode to take stunning wildlife shots or catch a bad guy. Then flip a switch to take time lapse photos at the interval of your choice using the intervalometer function. Using inspiration from Tom Igoe's article in MAKE Volume 22, this kit uses an Arduino (not included) to automate your photography. Currently, the Arduino library only works for Nikon cameras with IR functionality. If you create a library for other brands or hack it to use the remote trigger port of your camera, please let us know in the comments! Check out the Make: Projects page for more information.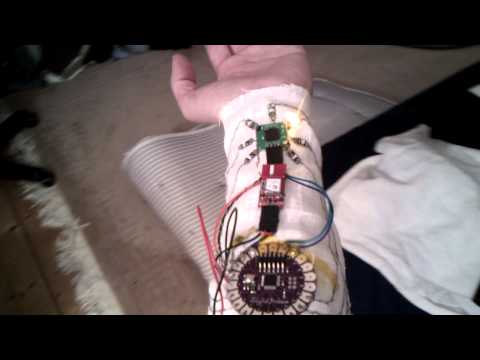 The find home detector is a device to show me the way home by indicating the direction with a light. It uses a LilyPad, GPS, compass and some LEDs. Using the GPS to get a position and then calculate the direction to the location of my home. The compass is then used to get my heading so it is possible to indicate the direction I should travel.

Photographing a spherical reflector and post-processing the image to produce a one-shot panorama is not a new idea; what's really cool about Ryan Burnside's recent project is how cheap and accessible he's made the process. Besides the obligatory digital camera and computer, Ryan's method requires just two essentially free tools: 1) a mirrored Xmas ball, and 2) the GIMP open-source image manipulation program:
Photograph the Xmas ball.
Crop the image to a square circumscribing the ball.
Run GIMP's "Polar Coordinates" filter.
Scale the aspect ratio as needed.
The exact scaling of the aspect ratio is a matter of some ongoing debate in the comment thread on Ryan's blog. It occurs to me, also, that a lens-distortion correction step might be useful in this case as well. In any case, once you get a post-processing protocol established, automating it using Script-Fu, Gimp's native macro language, should be straightforward. [via Hack a Day]