---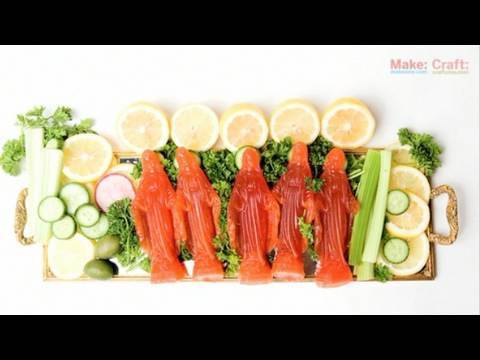 If you're in NYC this weekend don't miss the 2011 Jell-O Mold Competition! Check out our video from last year.
Help take Jell-O on a big adventure—out of the kitchen and into the world at large!—as a crack panel of judges including Allan Chochinov of Core77, Emily Elsen of Four & Twenty Blackbirds pie shop, creative consultant and curator Josee Lepage of Bondtoo, and Keith Ozar of MakerBot Industries, and host Anney Fresh of Space Kittys announce the winners of the third annual Jell-O Mold Competition on Saturday June 25, 2011 at 8pm.

Guests will also have the opportunity to vote for People's Choice. Kelso beer and Jell-O shots will be served, along with the Jell-O creations. Doors open at 6pm. Music by DJ Allied Mastercomputer till 10pm.
JELL-O'S BIG ADVENTURE
Saturday June 25, 2011 From 6-10PM
$8 cover, students under the age of 16 enter for free.
Gowanus Studio Space
166 7th Street Brooklyn, NY 11215

Here at headquarters, we just wrapped up the newest issue of MAKE, Volume 27, the Robot issue. Look for it on newsstands on July 26th. While we were working on the issue, we were curious to see what kinds of bots our community members were making and thought it would be fun to host a little contest. The premise of the contest was simple: we were looking for bots with lots of character. To enter, folks contributed their build photos and text into Make: Projects, along with a video of the bot in action. Entries were judged by the editorial staff of MAKE based on the following criteria: (a) Entertainment Value: 50%; (b) Quality of Written Documentation: 25%; and (c) Quality of Documentation Photography/Video: 25%. We got some great entries, and ran images and links to the winners in MAKE Volume 27. It was a tough call, but we tallied up one Top Bot and 3 runners up. And the winners are…
TOP BOT: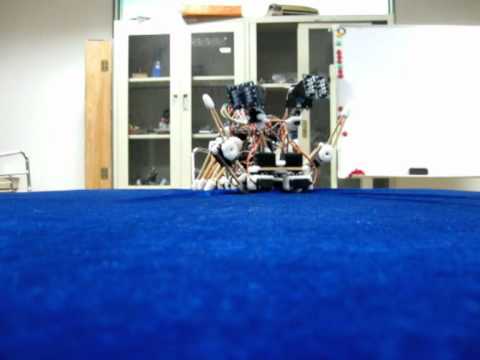 Chopsticks the Spider Robot by Russell Cameron won us over with his big eyes, the way he walks, his awesome legs made of chopsticks and polymorph plastic, and Russell's fabulous project documentation and videos.
RUNNERS UP:


We loved Robobrrd by RobotGrrl, with its nature-inspired design, colorful appearance, eraser lashes, and RobotGrrl's great project documentation, complete with hand-drawn sketches.

Belvedere the Butler Robot by Andy Wolff was by far the most utilitarian bot, with his ability to deliver food, play music, dance, and tell jokes. Who doesn't need a butler bot?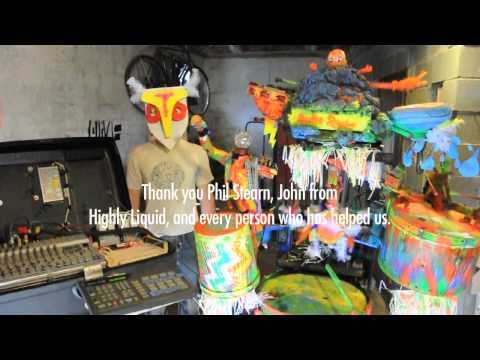 And lastly, the Robot Drummer by Tim Laursen was certainly entertaining (and bizarre). We're not sure we've ever seen that many colors incorporated into a bot before.
Thanks to everyone who entered! We loved seeing what you make.

Pete Prodoehl's panoramic head is made out of scrap wood and L-brackets Pete had lying around. The bottom photo, showing Milwaukee Makerspace, is an example of a photo Pete took with it.

The ever-industrious Craig Smith sent us a message with some photos of a jig he built to hold his belt sander in place for hands-free sanding. He writes:
I love my hand held belt sander, I use it all the time. But occasionally I need a stationary belt sander to sand small items, or to slide material on a table into the belt, to keep a perfect 90 degree angle. So I made a quick rig that tightly holds the belt sander on a tabletop. The lag screws are in pre-drilled holes that are precisely positioned so the sander, when pushed down within them, is snug & secure. If I need two hands on my material, the sander does have a locking trigger. For years I used this rig before I realized that the motor fan draws air in on the other side to cool it and blow dust into the bag. (oops) So I recently added vent holes and an air channel to the underside, so the sander has proper air flow.
More:
Here's a link at all of Craig Smith's projects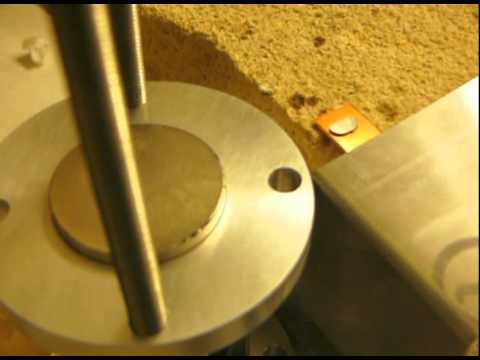 This video is short, and really pretty boring if you don't know what's going on. Shown is a chunk of new alloy (Ni45Co5Mn40Sn10) that undergoes a phase change, at about 125C, from a nonmagnetic material to one that is strongly magnetic. If you bias the system with an additional, permanent magnet, heating the system past the transition temperature produces an electric current in a nearby coil, thereby converting heat to electricity. The alloy was produced by Vijay Srivastava, Yintao Song, Kanwal Bhatti, and R. D. James at the University of Minnesota and recently published in Advanced Energy Materials. [via adafruit]

RadioShack is looking to better understand the needs of makers/DIY hobbyists. As part of that effort, they've asked if we would run a brief survey here on MAKE. They'd like to hear from you. It's a brief survey, which will take about five minutes of your time, and as an incentive, we'll be be giving away a $150 Maker Shed Gift Certificate, at random, to one respondent.
Update: The survey is now closed. Thanks so much to all those who chimed in. We'll announce soon who gets the $150 Maker Shed credit. But DO feel free to continue the discussion about RS. I know they're reading our comments, so it's a great way to communicate your thoughts to them, your frustrations, and especially, your desires for what RadioShack could be.


In this weeks episode of The Latest in Hobby Robotics, Andrew and Frits are looking at some cool designs for home made robots.
Here are links related to the show:
Subscribe to the MAKE Podcast in iTunes, download the m4v video directly, or watch it on YouTube or Vimeo.
Check out all the episodes of The Latest in Hobby Robotics.


Want to mix a bit of physical computing into your Google Voice Search? Breakfast NY has built an open source, Arduino-compatible dev board to do just that.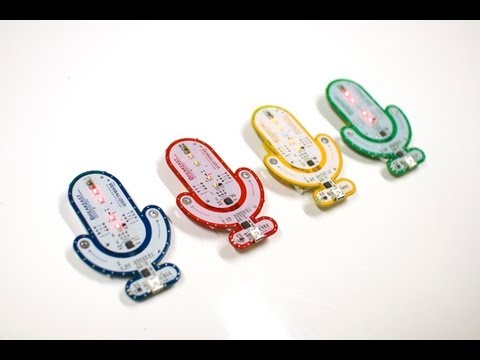 With Google announcing the launch of Voice Search for desktop, we couldn't help thinking that there was even more fun to be had with talking to a computer. So, we went ahead and built an open source dev board to inspire people to build their own useful and wacky contraptions to take Voice Search to another level.

To show off the plethora of things that can be created with the Verbalizer, we invited some electronics newbies out to our first ever Make 'n Break workshop to share some toys we built with the Verbalizer, as well as to let them have a play.
WANT ONE?!?
We're giving a limited number of these bad boys away to people that are going to make some magic with them. Fill out the form below if you're interested. We'll drop a note to all of the lucky winners by July 1st.

Make: Live episode 11 is all about photography and video. We take you on a behind-the-scenes tour and show how we put together Make: Live.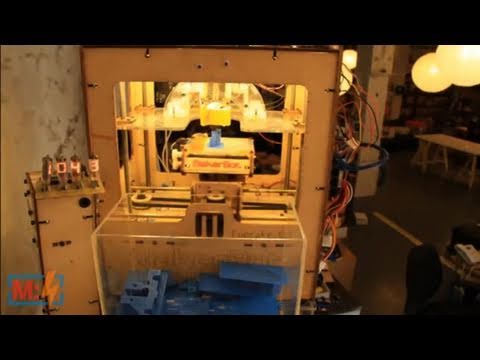 Matt Griffin from MakerBot shows us how they make timelapse movies of 3D printers doing their thing. Catch up on video and notes from the show here.
Subscribe to the MAKE Podcast in iTunes, download Make: Live episode 11 in its entirety (m4v or Vimeo). Also check out the chat room transcript!

Show notes:
Some time lapse tips and tricks from Matt Griffin:
You need something that is fixed or moves slowly to "gel" the time lapse
Be careful of auto-exposure and auto-focus, as these kill illusion.
Sell realism by simulating camera moves — s-curves and ease in/ease out help give the viewer a cinematic handling feel while direct lines feel kinda mechanical (security cameras)
Typically folks add music after the time lapse — but if you pick music you like, you can make adjustments to the time lapse to connect it to (or work against) the music.
Shoot a big enough image to give you room for reframing — but make sure the resolution for a tighter shot looks good enough for your needs.
Many time lapse/stop motion/intervalometer type tools can be hacked to be queued by something other than time. If you are recording something that changes over time, you can create a tool to trigger the shots that are interesting (motion sensing, tracking, sound sensing etc.)
Once you are done shooting, it is like you have a strip of film. You can use any number of batch file renaming or image processing tools to change parts or all of your sequence well before encoding it as video.
you can "thin" out your time lapse to have only images doing what you want, and then use a batch file renaming tool to create a new consecutively numbered sequence of images.
Want to show us your project? Upload a video or photos and send a link to live@makezine.com.
Next show:
Make: Live 12: Robots
Wednesday July 13th, 9pm ET/6pm PT
Watch at makezine.com/live or on UStream
Please join us in the UStream chat or mark tweets with #makelive to interact live with the show.


This robot was designed, manufactured and programmed for a design competition (as part of the curriculum) held amongst first year Mechanical Engineering students at Delft university of Technology.

The goal was to create a robot that could perform a delivery as quickly as possible, while also keeping as much as possible of the delivery on board.

Our design didn't win an award for fast delivery or keeping most water on board, but we did win the Delft Science Centre award because our design has the most potential for actual usage. Out of 50 teams competing, we built the only robot that could steer and navigate its route autonomously.

50 teams with 8 members each took part in the competition, resulting in a wide variety of designs. There weren't many strict guidelines, except for some dimension limits. One major constraint was that forward motion could only be done with a supplied cordless power drill.

Designing and manufacturing was done in approximately five months. All of the components were carefully designed in SolidWorks (A 3D CAD tool) and we manufactured each part later on.
Love the details on this. Cooly, the drink tray tilts forward to allow the robot to accelerate without spilling drinks. Also, the keen eye can see a Lego Mindstorms compass sensor mounted on the back. [Via The NXT Step]