---
Every time I see some great mechanical, hydraulic, or electromechanical contraption left by the side of the curb for trash, I think about all of the great raw materials inside that I could use. Ed Sobey's new book,
Unscrewed
, gives sage advice regarding how to mine the gold in them thar heaps of broken appliances.
For example, I have three ink-jet printers cluttering my basement that I no longer have a use for. According to Sobey's book, there's all sorts of good stuff inside –- motors, gears, pulleys, and so forth. Of course that much I already knew. The useful thing about Unscrewed is the advice it provides regarding liberating them for reuse.
Once the part is out, it's up to you as to what to do with it. According to Sobey:
An old flatbed scanner can be used to build a desk lamp; a DustBuster impeller can be converted to quickly prep a charcoal grill; and the gears, rollers, and stepper motor found in an ink-jet printer can become a robot. The pump from a motorized bubble gun can be refitted to work as a fountain or a pump to irrigate your indoor plants.
Of course, just about anything could go into a kinetic sculpture (the last resort for using something cool that just doesn't have any practical use). Unscrewed is about taking old stuff, reducing it to raw materials, and recycling it into new projects. The wheel of mechanical life turns round n' round.

What better way to wind down our Photo and Video Month on MAKE than with a roundup of 10 photography hack projects you can embark on this weekend. Check out our photography archive for the full month's coverage and then some. All 10 of the projects listed below are available in their entirety over on our projects wiki, Make: Projects. Below you'll find embedded mini versions of each project, but click on the project of your choice to see the robust build with full-sized images.
Pictured above is an image taken with the super simple bokeh cardstock lens attachment project, contributed by Sindri Diego, which shapes the blurred lights in a picture's background. On the project page, also check out Matt Richardson's bokeh video.
Another easy project that yields impressive results is the Stroboscope by Nicole Catrett and Walter Kitundu, which first appeared in MAKE Volume 24. Make a mechanical strobe with a toy motor and construction paper, pair it with a digital SLR camera, and snap awesome photos of moving objects.
The Invisible Strobe Flash project by Jerry Reed, originally in MAKE Volume 20, shows you how to filter your flash through five layers of "limo black" window tint film to illuminate the field of a sensitive video camera from 10 feet or more, resulting in great nighttime shots!
The 2-Mile Camera Remote by Tom Rodgers (from MAKE Volume 15) teaches you how to use a handheld radio as a remote control for your camera, enabling you to make long shots accessible.
For another shift in perspective, check out William Gurstelle's Pole-Mounted Aerial Photography Rig from MAKE Volume 16, and snap birds-eye pics.
Moving from the big picture to minute details is the DIY Macro Photography hack contributed by Ethan Perrin. Ethan discovered that if he lined up his SLR prime lens backwards onto his digital point and shoot, he got amazingly detailed results.
For more microscopic imaging, Tom Zimmerman's Lensless Microscope project from MAKE Volume 14 teaches you how to hack a webcam to create lensless microscopic images.
Next, use an ordinary flatbed scanner coupled with a homemade large-format camera to build Mike Golembewski's Simple Scanner Camera from MAKE Volume 14. If you like your results and want to mod your scanner and dedicate it to camera use, you can get higher image quality with the Deluxe Scanner Camera.
And we'll wrap up with two super simple hacks. The first is the Easy Lens Converter contributed by Edward Piper, who had purchased a lens from a secondhand store and hacked it to fit his Canon DSLR with a couple of old lens caps.
Last is Ben Wendt's Remote-Controlled Camera Mount from MAKE Volume 20. Ben asks, "What do you get when you combine a chunky remote control toy car with a lightweight camcorder? You get a street-level action cam that captures video on the move!"

Another day, another awesome project email from Craig Smith. Craig wrote in to share with us some details about the faux molten lava effect he achieved on his recent Mustafarian Panning Droid he showed off at the Celebration IV Star Wars convention. He writes:
A lot of people who saw my lava panning droid at Celebration IV asked me how I did the molten lava cauldron. It was made with a big light reflector for the bottom. Various large diameter PVC pipes were used for the rings, outer wall, inner wall, and small pipe segments in the four notch-outs. Everything was countersunk screwed together and filled over with putty and then painted. The lava was a yellow piece of plexiglass bought from a sign company. After the circle was cut, a heat gun was used to soften areas, and with gloved hands, I pushed a chunk of concrete into it to form 3D effects. Glued in place, the plexi was then spray painted black on the high points, red along that, and the yellow was left in the low areas. Illuminated with a cool fluorescent light from underneath, it gives a very realistic glow effect.
More:
See all of Craig Smith's projects covered on MAKE

When you think of fire art, you likely think of art on the desert playa or the Flaming Lotus Girls at Maker Faire. Here's some fire art worthy of a gallery setting (think of that call to the insurance company). These pieces were presented as part of the 2011 Combustion Art Competition Awards, held at a recent meeting of the Combustion Institute. Photos and text from NewScientist:

Image: Nelson Akafuah and Kozo Saito
Super Fire Whirl
Earning Nelson Akafuah and Kozo Saito of the University of Kentucky in Lexington joint third place, this fire whirl was created by igniting benzene, a simple petrochemical, then mirroring and rotating the resultant image to produce a distinctive "S" shape.

Image: Sandra Olson
Flaming Star
Combining three separate images, all taken as part of her research into spacecraft fire safety, aerospace engineer Sandra Olson of NASA's Glenn Research Center in Cleveland, Ohio, won with her star-shaped rendition of flames burning in microgravity. The blue areas are produced when visible light is released from the chemical reaction in a process known as chemiluminescence. The white, yellow and orange colors occur as soot burns in the flame.
See a few other pieces at NewScientist.

Project White Star, those intrepid souls trying to fly a weather balloon across the Atlantic, built an excellent helical antenna to be featured as part of their next payload. (The one pictured above is not their final antenna, but one of the experimental ones.)
After the scrub on the launch pad for flight attempt A, we went back to the books, to try and figure out what we could do to improve our odds the next time around. One of our biggest setbacks was the inability make an antenna suitable for our use: We needed an antenna tuned for 149 MHz, not needing a ground plane, weighing as little as possible.

After 4 tries, and some expensive test equipment, the end result was a Quadrifilar Helix antenna weighing only 80 grams!
For the metrically challenged, that's the same weight as five empty soda cans!
Our ground test antenna was a 5/8ths wave whip antenna, which works well, but unfortunately needs a ground plane. Tests with both a quarter-wave dipole and a J-pole antenna were lackluster. Documentation from our satellite service provider implied that a quadrifilar helix antenna would provide the best coverage at all. While these antennas are pretty, their design and construction was voodoo magic at first.

Thanks to some design documentation here: http://jcoppens.com/ant/qfh/index.en.php and some help from the balloon community, we had some baselines for creating such an antenna. We still went through *quite* a few revisions. We went through 3 revisions that didn't work, and one which works pretty darn well!

Rob's recent post over at Boing Boing drew my attention to computer scientist Ren Ng's startup, Lytro, which is developing a digital camera technology that requires no moving parts to focus an image at any depth of field, even infinite. It's called "light field" photography, and, besides eliminating failure-prone moving parts from cameras, it will let you refocus your pictures however you want, as many times as you want, any time after they've been captured. I don't claim to completely understand the process, but here are what seem like the important facts:
Instead of one big lens, "light field" cameras have lots of little "micro-lenses"—one for each pixel.
Besides pixel color and intensity (which are recorded by conventional cameras) "light field" cameras also capture the direction of the incoming light for each pixel.
Knowing the vector path of the light that makes each pixel allows for a sort of "reverse ray-tracing" routine that can virtually refocus the image at the software level.
Fascinating stuff. There's more info at The Economist, and at Lytro, including an interactive photo gallery that shows off the refocusing trick.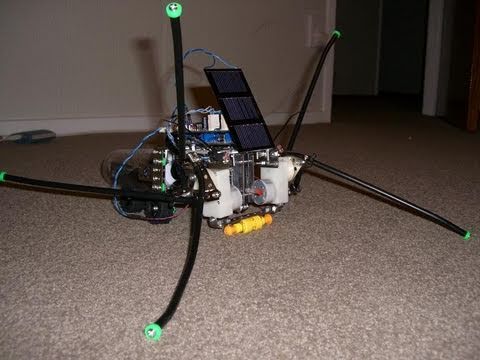 In this weeks edition of The Latest in Hobby Robotics, Frits and Andrew are looking at an interesting home made project: An environmental homemade robot, with some interesting moves, plus it's own oxygen, hydrogen tank hooked up to a fuel cell.
Finally there is a tip from OddBot on how to use the reset button on Arduinos as a function on your projects.
Here are links of interest, related to the show:
Mr Lobster (TeleFox Whegs example)
Using a Hybrid Wheels and Legs
Tip: Use your Arduino EEPROM to create a button function
Subscribe to the MAKE Podcast in iTunes, download the m4v video directly, or watch it on YouTube or Vimeo.
Check out all the episodes of The Latest in Hobby Robotics.


I love this photograph of the old wooden ball-return system on the antique pool table that Scott and Alex Mueller sent us.
It was made by August Jungblut in San Francisco before the earthquake (1890-1906). It was made for a family who lived in Pacific Heights. In the early 1920′s, the woman of the house gave it to her sister who lived in my grandma's neighborhood (Inglewood Terrace). It was gifted to my dad in '65. The pool table resided in my grandma's basement until 1990 when my dad moved it to his house in Sonoma County. From 1994 until just a few days ago, the table had been in pieces in a storage unit. My dad drove his motor home from Santa Rosa to Spokane with the pool table in the back.

One of the cooler features of the table is the ball return: it was a newer feature at the time and no nails are used. All of those runs are perfectly angled to just slide in and stay in place by their own weight.
The Muellers, who run a B&B and artist's retreat near Spokane called Moosicorn Ranch, are in the process of restoring and recovering the table. Check their Flickr set for progress shots.

Do you like electronic music? Ever want to build your own sound generator? The Atari Punk Console Kit from the Maker Shed is just what you need. By manipulating the two knobs you can unleash amazing sounds from the 556 timer IC. The original circuit was developed by Forrest M. Mims III. It was named the Atari Punk Console by Kaustic Machines, due to the similarity of the sounds it makes to an Atari 2600. An enclosure is not included but I'm sure you would want to make your own anyway. It does fit perfectly in a mint tin if you are looking for inspiration!