---
Lew Frauenfelder had dreamed of owning a classic Whizzer motorbike since he was a young maker. Now retired, when he came across a link to bikemotorkits.com, he decided it was time to realize his dream and build a knockoff. Lew shares his build tale with us in MAKE Volume 26, the Karts and Wheels issue. We decided to build one too at Make: Labs, and are fortunate enough to have Phat Tyre Vintage Bicycles right around the corner. Owner Steve Cook lent us this sweet ride built with 1950s and 60s parts. Check out this video shot by Keith Thompson featuring the bike in action, along with explanation from Steve and MAKE engineering intern Brian Melani, then head over to the article page, where we've shared the entire text of Lew's article.
And in case you're wondering, another awesome creation of Lew's is our editor-in-chief of MAKE magazine, Mark Frauenfelder. Thanks Lew!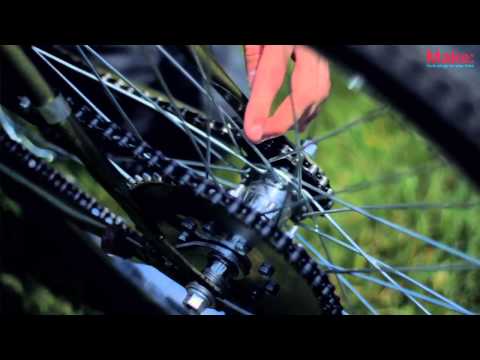 Photograph at top shot by Garry McLeod.
---
From the Pages of MAKE:
MAKE Volume 26: Karts & Wheels
Garage go-kart building is a time-honored tradition for DIYers, In this issue of MAKE, we'll show you how to build wheeled wonders that'll have you and the kids racing around the neighborhood in epic DIY style. Build a longboard skateboard by bending plywood and build a crazy go-kart driven by a pair of battery-powered drills. Put a mini gasoline engine on a bicycle. And construct an amazing wind-powered cart that can outrun a tailwind. Plus you'll learn how to build the winning vehicle from our online Karts and Wheels contest! In addition to karts, you'll find plenty of other projects that only MAKE can offer!


In response to our Robotics theme, several parents have written me to ask about entry-level robotics projects for little kids, and what's the appropriate age of entry. Of course, the latter part of that is hard to answer. It depends very much on the child. The obvious entry point is the Lego Mindstorms building system. But in thinking about other product lines or building sets that can scale well with age and growing technical sophistication, Hexbug came to mind.
Hexbug is a line of inexpensive bugbots created by Innovation First, the company that makes the kits for the FIRST Robotics competitions. Hexbugs are basically commercialized versions of the Bristlebot and various BEAM robotic designs. The coolest thing about them is that they scale well for kids, from as young as four all the way up. Do a search on Hexbugs on YouTube and you'll find tons of vids of kids building complex mazes, out of things like toilet paper tubes and Legos, to create a sort of robo-critter's answer to a hamster habitrail (using the Hexbug Nanos). From there, you can easily move up to adding LED lights to your Hexbugs. And waterproofing them and turning them into swimmers. Industrious bug-hackers have added light-triggered switches, to make the Nanos scatter like roaches when exposed to light.
And then there are the more ambitious priojects, like giving Hexbugs real brains. Here's a project to retrofit a Hexbug Original with a Microchip PIC controller. Pretty cool to end up with a miniature, programmable, six-legged walkerbot for $35 total. The project instructions also do a decent job of documenting a Hexbug's innards.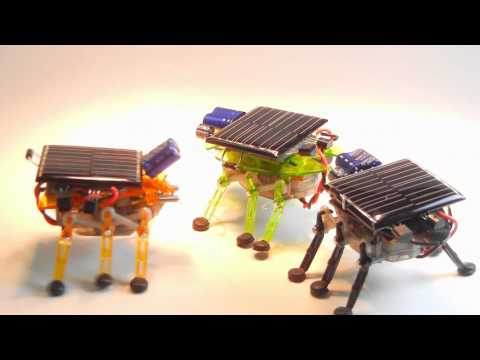 And here's a project to turn a Hexbug Original into an autonomous, solar-powered bugbot.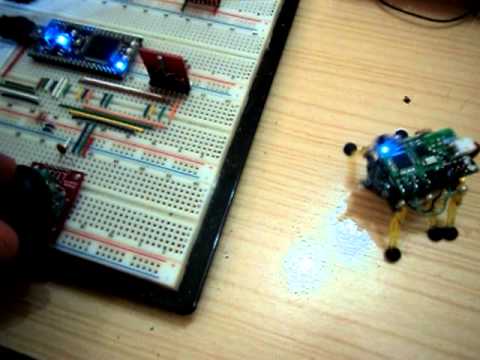 Here's a brained Hexbug that can be controlled wirelessly via an mbed MCU, an ATmega328, and a Nordic nRF24L01p 2.4 GHz transceiver chip.
For many more Hexbug projects, from the simple to the advanced, do a Google or YouTube search on "Hexbug hacks."
Note: In honor of MAKE Volume 27, our robot issue, we'll continue to run our robotics theme here on the site for the month of August. And say tuned for the launch of our series on metalworking.
More:
Robot Skill Builder series
Robotics section of Make: Projects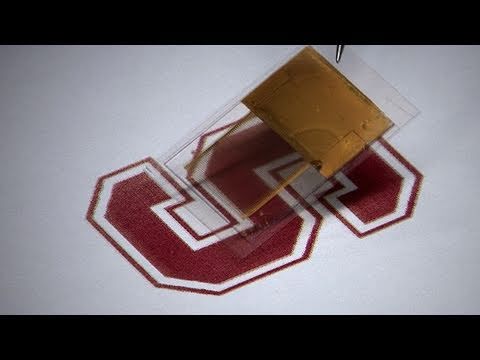 News From The Future: Transparent Batteries…
Stanford researchers have invented a transparent lithium-ion battery that is also highly flexible. It is comparable in cost to regular batteries on the market today, with great potential for applications in consumer electronics.

Transparent devices have recently attracted substantial attention. Various applications have been demonstrated, including displays, touch screens, and solar cells; however, transparent batteries, a key component in fully integrated transparent devices, have not yet been reported. As battery electrode materials are not transpar- ent and have to be thick enough to store energy, the traditional approach of using thin films for transparent devices is not suitable. Here we demonstrate a grid-structured electrode to solve this dilemma, which is fabricated by a microfluidics-assisted method. The feature dimension in the electrode is below the resolution limit of human eyes, and, thus, the electrode appears transparent. More- over, by aligning multiple electrodes together, the amount of en- ergy stored increases readily without sacrificing the transparency. This results in a battery with energy density of 10 Wh∕L at a trans- parency of 60%. The device is also flexible, further broadening their potential applications. The transparent device configuration also allows in situ Raman study of fundamental electrochemical reactions in batteries.
Related:
For Collectors, Clear Is the New Black.
iFixit clear iPhone backing.

Make: KC has issued a call for makers for their upcoming Riverfest 2011 Mini Maker Faire to be held August 19-21 in Parkville, MO.
This year's theme is Art, Innovation, & Fanciful Machines designed to encourage a Steampunk presence. We hope to see Art Cars this year along with Trebuchets and Catapults. We are even looking forward to bringing out an Archimedies Death Ray once used by local Space Pirates. We expect more of the fun stuff from last year like Robots, Rockets, Electronic Contraptions, DIY Science, along with more Maker Art and Crafts.

What we are looking for

Steampunk & Costumes

Art Cars

Robotics, CNC

Green Tech (energy production/monitoring, electric vehicles, etc)

DIY Science

Participatory activities (e.g., participatory activities such as silk screening or learn to solder, "Make and Takes")

Student projects

Radio

Rocketry/ballooning

Unusual tools, machines, techniques

Whimsical technical creations

Fixing and/or taking things apart

Craft related activities

Eli Moss wrote in to let us know about his tree-filled bike frame with laser-cut decals.
With all the tiny turns and lines, it took a good twenty or thirty minutes to cut out. And that doesn't include the time it took to painstakingly peel it off the backing and stick it to the frame without destroying it or snarling it into a ball of adhesive disappointment.
More:

While I might be slightly squeamish about staying in Austrian Andreas Strauss's open-to-the-public, semi-outdoor, pay-what-you-want dasparkhotel, I love the idea of using drain pipe sections as small outdoor structures. I have no idea if it's really all that cost-effective. My guess is that the pipe itself is pretty cheap, but getting it where you want it to be is not. But high cool points.


Give your project some beat with the Seeed Music Shield from the Maker Shed. The Seeed Music Shield is an Arduino compatible music player / recorder that is also Ipod / Iphone compatible. It is based on VS1053b chip so can play variety of music formats stored on MicroSD card.
Features:

Standard interface for Arduino board
Multi-format "MP3″ media player that uses a single VS1053b
2 control-push buttons and 1 knob switch
Plays music from micro SD cards Decodes:MP3,WMA,WAV,MIDI,Ogg Vorbis,FLAC (with software plugin )
I2S interface for external DAC
Headphone / Line Out for playback
Line In for recording in OGG format
Ipod / Iphone Dock Connector
Excellent sound quality: over 90 dB dynamic range for playback
RoHS Complied

George Hadley of West Lafayette, IN, has been building the most lovely RepRap Mendel using 3D-printed parts. You can view his voluminous Flickr set or read his blog for more details.

This IRONBUDS kickstarter from New Hampshirite Thomas Young is already funded, but it looks like you can still jump on board if you want a set for yourself. I like the idea of modularity to increase repairability, and with the exception of the TRS-jacked earbuds themselves, it looks like all the components could be replaced with off-the-shelf stuff. More details at the newly-funded venture's newly-created website. [via Hack a Day]


Chris from The New Hobbyist created this nice 3D printed USB peripheral which lets him easily vote on Reddit stories. Based on The Awesome Button project, Chris's button sends USB keyboard commands from a Teensy USB to the Reddit Enhancement Suite, a browser extension for Redditors. If you want to make your own, Chris has not only written detailed instructions, he also uploaded his enclosure design to Thingiverse. Nice work, Chris!
More: