---
Looking for some fun microcontrolled bot builds to get started on this weekend? Here are five project ideas with full build instructions on Make: Projects, from the simple One-Hour CoasterBot to the more complex but super cool Yellow Drum Machine shown above.
1. Last year on Makezine, we ran a cool CoasterBot build project and contest. CoasterBots are mini robot development platforms, made using CD/DVD media as the main body components, and Matt Mets shared a super simple one with us using an Ardweeny microcontroller. Check out Matt's One-Hour CoasterBot.
2. My Robot, Makey was created by former Make: Labs engineering intern Kris Magri for MAKE Volume 19, as an accessible autonomous robot that can be programmed to follow objects around and avoid obstacles. Makey has become iconic here at MAKE, and there are a few running around the Lab.
3. These next two bot builds are from the current issue of MAKE, Volume 27, the Robots issue. First up, with its infectious grooves, is the funky little free-range drumbot that roams, finds surfaces to makes beats on, and even samples itself: the Yellow Drum Machine (YDM) from Let's Make Robots' Frits Lyneborg. Frits also does the Latest in Hobby Robotics column here on Makezine. Check out Frits' column, then check out this video of the YDM action and prepare to fall in love.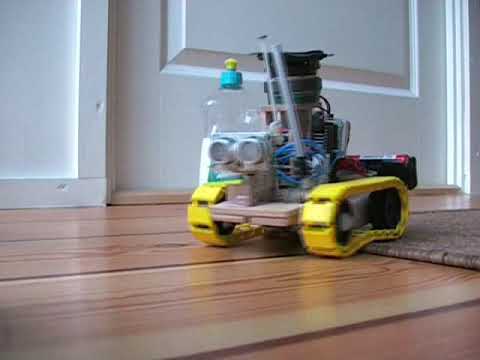 4. The second bot build from MAKE Volume 27 is Spazzi the Solenoid-Powered Dancebot by Marek Michalowski of BeatBots. The Italian word "spazzi" is a reference to sweeping, which is suggestive of the arrangement/movement of the antennae/eyebrows atop Spazzi's head as he boogies down to your beats. Check out these moves!
5. And last but certainly not least is the winner of our Volume 27 Robot contest, Russell Cameron's Chopsticks the Spider Robot. Chopsticks' legs are made of bamboo chopsticks and polymorph plastic and he has an Arduino brain. Watching him play peekaboo will make you smile.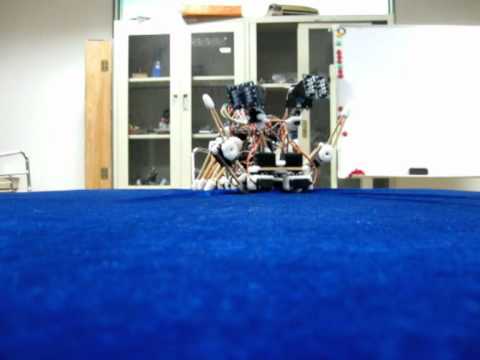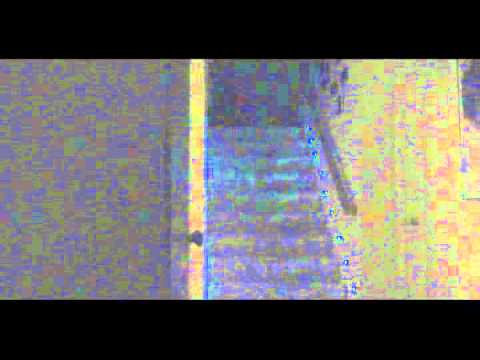 My friend, and HacDC cohort, Erica Kane, put together this wonderful set of automated LED stair lights together after seeing this post on MAKE. It is programmable to any user-defined light intervals and sequences. She has a post that provides the basic details of the build, with links to the Eagle files for the circuit, the Processing code, etc. She used the Arduino Mini Pro as the controller and the M5451 as the LED driver. Nice job, Erica!
Related:
Custom LED Spiral Staircase Lighting


I love Sebastian Bergne's Lego Greenhouse…
The Lego Greenhouse is a functioning greenhouse built entirely from Lego; the walls, the floors, even the earth is Lego. The plants and vegetables growing inside are however, entirely real.
[Via MocoLoco]

In response to our nomination of Tamiya for the Makey Awards, Chip Rosenblum wrote in with this story of how he turned the Tamiya Solar Car kit into a train engine. -Gareth
I was taken by your Tamiya nomination for The Makeys, as I had a ball making something quite different from one of their kits. I was driving to a hobby shop (no surprise there!) at lunch one day. When I pulled into the parking lot of the strip mall, I saw what looked to be an electric bug making large and speedy circles on the asphalt.
The staff of the hobby shop and some onlookers were outside, smiling from ear to ear, watching this thing go. I asked what it was and was told it was a Tamiya solar car kit. The front wheels could be set at an angle so it would traverse whatever diameter one would like, and the solar panel generated sufficient energy to run the motor and gearing.
As I shopped in the store, I couldn't get my mind away from the possibility that this kit could me turned to be a train. Long tunnels or a wooded track were not going to be a good place to try this out, but a sunny track would be delightful.
My first task was to ask the attendant if I could open the box to check the wheelbase and axle length. Pulling out my trusty tape measure, I found that, yes, this could be assembled without the automobile wheels and could have railroad wheels pressed on (after a short encounter with a drill press (with the correct back-to-back spacing for G gauge track).
I purchased the kit and headed home, and into the great unknown of how I was going to create a solar-powered railroad locomotive.
When I unboxed it, I noticed that the essence of the structure was a long plastic T-beam, running fore to aft, that supported all of the other parts. They had also provided the engineering of the solar panel and a compatible motor. I had to re-route the wires and insert an on-off switch between the panel and the motor, but that was all the adjustments that wre needed there.
I obviously had no need of the car body, so I took a look first at axle diameters. It was then time to rummage through my parts box to come up with some railroad wheels that had been taken off other train cars. I drilled them out for a snug press fit to the front axle, and gauged them. I left the screw holding the front axle loose so that it could turn from straight to curved sections. I also added the decorative bead and brass compression fitting to the axle outboard of the wheel on each side to both "decorate" that part and compensate for the fact that the gauge of the railroad wheels was less than the original width of the footprint of the car tires. If I had this part to do over, I would have made a small 4-wheel pilot truck that would have rotated more freely. When running the solar engine as it is now, it does not like to turn on short radii.
The next problem was the geartrain. When I first spied this speedy little thing in the parking lot, it was apparent that a reduction in gear ratios was necessary. When I looked at the motor/gear/rear wheel assembly, the tires were placed over the large gears with the "flange" forming what could pass for a hubcap and the cast in gear teeth facing inward. The gear train from the motor was on a separate shaft. I pulled off all of the gears, including the drive wheels. Removing the rubber tires and reversing the drive wheel gears resulted in an acceptable facsimile of a flanged railroad wheel. I added the brass swimming pool clothes check tag as prototypical adornment… By re-arranging the gears on the motor shaft I was able to have the smallest gear drive the wheel, slowing down the train and increasing torque. The other gears were left on the shaft with a clock gear added just for appearance. The difference in diameter between the rear geared drive wheel and the front railroad wheels accounts for the "raked" look of implied speed, even standing still!
I then took it out to the track for a first attempted run. Amazingly, run it did, and so I could proceed to "decorate" the little beast in appropriate and highly prototypical fashion!
My next decision was how I wanted to build the chassis that would form the structure of the train. I had some brass rail and other brass parts around, so I decided to start with that. I cut the rail and soldered it together to form the sides, back, and crossmembers. The front section is two large brass bracelet pieces from a garage sale. I was able to attach this to the plastic T-beam so that I had a stable platform for the final (and yet to be determined) additions to complete the image.
I had some cutoffs of exotic woods and inlays left from other projects, and so decided to create the "deck" and "cab" areas using those materials. At this point I had a "finished" model, but to my eyes it very much needed to be overdone. So back to the parts area I went for some high caliber parts and pieces shopping.
First I found some brass bracelet chain, gold-plated electronics whatevers with needle tips, and some shaped brass washers that the opposite ends of the electronic pieces fit in. I laid out the spacing and created the chain railings at the back by gluing down the washers, needle tips and then cutting and gluing the bracelet chain on top. In the front the bottom of the needle tips fit into the bracelet link holes, making both the decision of where they should go and the assembly of this part easier.
Other unidentified flying brass parts and clock gears made up the leading decoration of the solar panel, the imitation tanks, the drivers seat, the Johnson bar, the whistle, and with the addition of a number dial from an old adding machine the whatsit's on the deck.
Next came the driver and his dog, or the dog and his pet driver, I'm never sure which. But something just seemed incomplete. Then it struck me, mostly because I was attending a dollhouse and miniature show with my wife Gail. The fencing. I brought it home, cut and bent it into shape, spray painted it, and then glued it into position. Now it seemed to have enough "stuff" to satisfy me, and looked just like the prototype! It runs well and brings smiles to all on a sunny day.

Want to make a Floating Glow Display from a small, simple battery clip? Find out how in our second installment of Weekend Projects, using a CR2032 Battery Holder exclusive to RadioShack (you can find it in stock at most stores).
To me, the exciting part of this project is that no two signs will be alike. Each one of you weekend makers will fabricate something completely different. They will either say something different, use a different LED or frame design, or I'm hoping, someone out there is adventurous enough and decides to make a graphical, illustrated sign (maker icon signs anyone?). Regardless of outcome, this is a fast and beginner-level project with impressive results. It'll take longer to assemble the tools than it will be to finish your sign. Just don't forget to print your design in reverse, so when you etch it onto the back of the plastic, it will render correctly from the front. And if you come up with any other tips, tricks, or mods, be sure to let us know!
Sign up for the Weekend Projects Newsletter below to access the projects before anybody else does, get tips, see other makers' builds, and more. And please email us your project build notes, images, stories, and your own mods. You may end up in a future newsletter!
Sign Up for the "Weekend Projects" Newsletter
Please enter all required fields

Correct invalid entries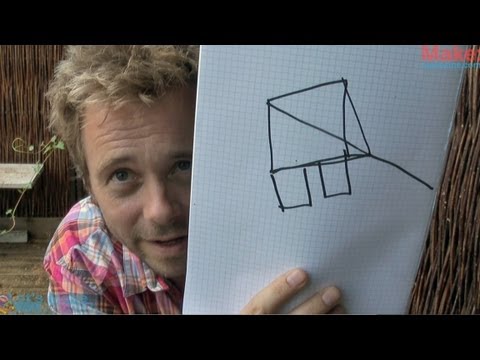 Do you know how to make a robot, and could you come up with 100 inspiring ideas for cool robot projects?
In this weeks episode of The Latest in Hobby Robotics, Frits is taking up the challenge, starting out with the basics of robot building, and quickly moving on to something as cool as inventing a robot kite!
How to make a Yellow Drum Machine
Subscribe to the MAKE Podcast in iTunes, download the m4v video directly, or watch it on YouTube or Vimeo.
Check out all the episodes of The Latest in Hobby Robotics.


Just discovered this fascinating little geometrical recreation at the 2011 Bridges Math Art Conference galleries. The idea is simple, and the field still fairly unexplored, from what I can tell. What interesting 3D shapes can be made by zipping up the edges of a planar shape using a single zipper?
A bit of Googling brought me to the homepage of Macarthur fellow Erik D. Demaine, whose work in origami and other geometrical fields we have featured here many times before. You can click on his name at the bottom of this post to see our aggregated past coverage of Erik's work.
Erik's page has lots of videos showing the unfolding and folding processes, and reveals a useful trick for researchers: To find out if a shape has a zipper unfolding, just make a 3D paper model and then cut along the edges with a knife—if you can completely flatten the shape with one continuous, non-backtracking cut, the path represents a zipper unfolding of that shape.
Besides making interesting intellectual problems, zipper unfoldings have many cool potential crafty applications as purses, bags, pillows, etc. With sufficiently rigid or reinforced fabric and the right shape, one might even make a zip-up chair, stool, table, or other furniture this way.


Tired of all those LCD TVs everywhere? Want a break from advertisements while you're trying to eat? Want to zap screens from across the street? The Super TV-B-Gone kit, from the Maker Shed, is what you need! This ultra-high-power, open source kit version of the popular TV-B-Gone is fun to make and even more fun to use. This version can be used in both "North American/Asia" as well as "Europe/UK" areas (basically, the whole world)! This kit comes unassembled with all necessary parts. Tools and batteries are not included. This is a very simple kit and great for people who have never soldered anything before.
Features
Power: 2 AA batteries (not included)
Output: 2 narrow-beam and 2 wide-beam IR LEDs
Number of TV power codes: 230 total, 115 each for American/Asian and European! You can select which zone you want during kit assembly.
This covers pretty much every TV of the following brands, including the latest flat-screens and plasma TVs
Make: Disclaimer "Please use your TV-B-Gone for good and not evil (unless it's funny and even then we don't necessarily condone it)"

The Rhode Island Mini Maker Faire is taking place on September 10, 2011 (1 week before World Maker Faire NY), in downtown Providence RI. We'll be holding it in partnership with WaterFire, which is a city-wide sculpture combining fire and water that brings tens of thousands of people to downtown. Our Call for Makers is open, and we're looking for Makers to join us on September 10:

All builders, inventors, innovators, hackers, tinkerers, gadgeteers, designers, artists, fabricators, welders, craftspeople, fabric technologists, bricolaurs, engineers, scientists, garden wizards, and more: Come show off your creations!
[The first two photos are by johngineer, CC]

Motorola's high-end Atrix 4G Android smartphone swept the awards at CES 2011, where it was introduced, taking home media awards from CrunchGear, IGN, Laptop Magazine, Maximum PC, MSN, Notebooks.com, Popular Mechanics, and Popular Science, as well as CNET's prestigious Best of CES 2011 in the "Smartphones" category. At the time it was introduced, the Atrix was the most powerful smartphone on the market.
On top of all that, when our pals over at iFixIt got their hands on it, they ended up giving it one of only two "9 out of 10″ repairability scores they've ever awarded. Their teardown of the Atrix cites its user-serviceable battery, illustrated disassembly instructions printed inside the case, use of standard fasteners, minimal cable connections, and the absence of warranty stickers and glued joints. Notably, they applaud the designers' decision to make the LCD display and its glass cover separately replaceable, a feature which anyone who has ever had to perform the common cracked-glass repair will certainly appreciate.
Congratulations to Motorola, and welcome to the running for the 2011 Makeys!
More:
If you have a suggestion for a company to be nominated for "Most Repair Friendly," or one of the other three 2011 Makey awards, please send an e-mail to makeys@makezine.com or just leave a comment, below.