Are you a hackerspace member with an event you'd like to publicize? Send it to johnb@makezine.com or tweet me at @johnbaichtal and I'll post it. Also feel free to subscribe to my hackerspaces Twitter list. Hackerspace Happenings run weekly(ish) Tuesdays, and the next one will come out August 13th.
---
DIY Geiger-Mueller Counter Workshop at Tokyo Hackerspace
Tokyo Hackerspace is holding a class on building your own Geiger counter:
The 2nd-in-a-row class will be held at THS house, as usual on August 22nd, 19:30-22:30.

The kit consist of 3 parts: motherboard (Freakduino), daugtherboard (NetRAD shield) and radiation sensor (SBM-20 GM tube). If you have any of these, you can use yours, but we'll have to make sure they are similar enough.
Once assembled, tuned and tested you just connect it to a DHCP-enabled LAN connected to the Internet and it will upload data to Pachube data aggregation service.
Fees are ¥500 for members and ¥1,500 for nonmembers, plus you can buy any of the three components if you don't have them already.
---
Women's Night at the Hack Factory in Minneapolis, MN
Female Hack Factory denizens and visitors are invited to show up for Open Hack on the 30th of August, with meetups planned for the last Tuesday of every month. Doors at 6, festivities begin at 7. If you'd like to participate, just show up or tweet @bones_n_stones.

---
From Tinkering to Commercialization
Louisville, KY's LVL1 is co-sponsoring a talk on commercializing maker projects:
LVL1, KSTC, the Louisville Metro Inventors Council and Enterprise Corp are joining forces like a techno-entrepreneurial Justice League to teach makers how to make money, and maybe make Louisville more awesome in the process. From Tinkering to Commercialization – A "How To" Guide is a workshop set up for hardware hackers and inventors that teaches the ins and outs of bootstrapping and commercializing your designs for fun and profit.

Attendees will be introduced to the basics of how to take one's projects from the garage to commercialization. Speakers will include Tendai Charasika of GLI's EnterpriseCorp, Alex Frommeyer of Louisville Metro Inventors Council, and Ben Jennings of the Kentucky Science & Technology Corporation (KSTC). This will be a presentation and Q&A, with an emphasis on prototype manufacturing.
---
DIY Boombox Class at OmniCorp Detroit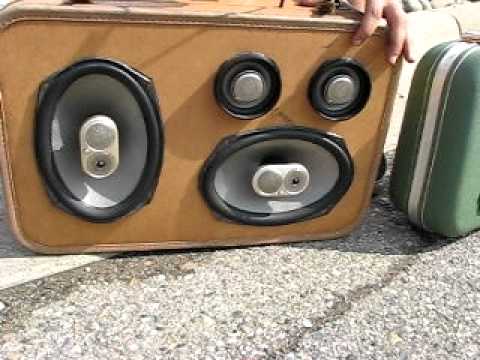 Have a suitcase and/or briefcase and like sound? Interested in making things? Come out to OmniCorpDetroit for our Case of Bass class and make your suitcase into a boombox! Speaker kits are available for $60 and include everything you need for your own case (i.e. suitcase not included). This is a two day class!!! Dates are August 11th and August 18th. Please note that the class is $20 if you buy a kit OR have your own amp, speakers, batteries. Also please note that this class DOES NOT include the case. You must bring your own case!
---
Silent Auction at Site3 coLab
Saturday, August 20th, Toronto, ON's Site3 will be holding a silent auction:
Once again the maker community of Site 3 is coming together for a fantastic event. We are having an auction!

Show, party and silent auction starting at 7pm. Doors will be open during the afternoon for anyone who would like to preview the works on offer. There will be an option for a 'buy it now' bid during the day for anyone determined to acquire any items they can't resist. Come for the art and other offerings from the Makers of Site 3. Stay for the party!

If you already know Site 3 then you know you shouldn't miss this. If you aren't familiar with us yet then here's the perfect chance to see what the space is all about. Come on out!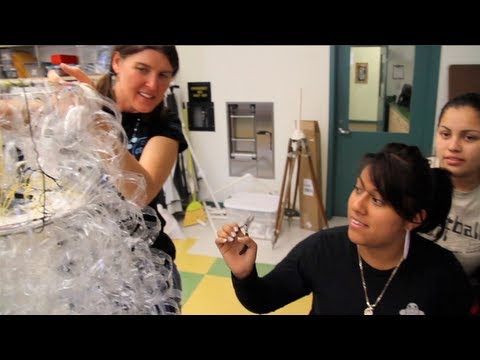 This piece, produced for us by Micro-Documentaries, in partnership with the STEMposium, features our Make: Education Director, Michelle "Binka" Hlubinka, and introduces us to a class of Young Makers at Lighthouse Community Charter School, in Oakland, CA.
Here's where you can find out more about our Young Makers program.

Was Googling for interesting stuff made with PVC pipe today and happened upon this impressive theme cake from Craig T. Fifer of Alexandria, Virginia:
The Orbiter is made from brownie covered in fondant; the orange External Tank is made from PVC pipe and holds ice cream; the white Solid Rocket Boosters are made from PVC pipe and hold chocolate syrup and caramel sauce, respectively; and the brownie base is topped with whipped cream steam with color mist and sprinkles.
More pictures at Craig's personal site.
More:
Space Shuttle Birthday Cake

I want to make a Soma Cube (a kind of puzzle, which you can read about here) for my kids (and myself).
But I'm having a hard time making accurate wooden cubes from 1-inch x 1-inch wood sticks. I tried using a miter saw but there is too much error. I know it is possible to buy inexpensive wood cubes, but I am interested in finding out how people can make them at home, especially with hand tools.

This March, Tokyo Hackerspace was hooking Geiger counters up to the Internet to get accurate radiation readings and stream the data for all to see. Since then, they haven't been resting on their laurels, teaming up with Safecast and developing a NetRad shield that fits on the Freakduino wireless microcontroller board. THS member Akiba gave us an update:
We joined up with Safecast (RDTN at the time) and since then, almost all the core members of Safecast Japan are now Tokyo Hackerspace members. The office is also inside Tokyo Hackerspace. We started up a joint project with Keio University to create a radiation sensor network across Japan. The goal is 300 nodes by the end of the year and 1000 nodes by next year. The NetRAD boards were modified to accommodate this and we added WiFi so that it would make deployment and cabling easier. All the data is open and since then, Yahoo Japan started publishing their radiation map using our feeds.

We also are using special versions of our Geiger counters mounted on cars to geotag Geiger data and create maps.

O'Reilly Radar contributing editor James Turner has a great round-up of essential maker tools in the current issue of IEEE Spectrum:
What are the tools every hands-on projecteer needs? To answer that question, we went right to DIYers themselves, specifically the exhibitors at last fall's World Maker Faire NY event.

One tool everyone agreed on is a Multimeter. It's surprising how much information you can glean from a simple resistance reading or by checking out the voltage drop across a series of LEDs…
DIY Essentials: Does your do-it-yourself workbench have everything you need?
(Great timing on James' article! World Maker Faire New York 2011 is one month away!)