---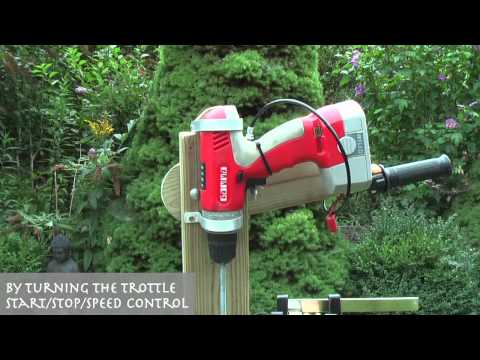 Berto Aussems of Maastricht, the Netherlands, built a trolling motor powered by a drill.
Anyone with a cordless drill can make this trolling motor, just from wood. This is a fun project; making it, in a couple of hours, and to navigate on still waters. OK, you have to buy a propellor, a square drillhead, a strip aluminium, a trottle handle, a threated rod, screws and a plank of impregnated wood. This video speaks for itself; all is visible. The project is Open-Source Hardware. Now, make one for yourself and one for your best friend. Enjoy!


The concept of interactive "smart cubes" has been around for awhile, but the introduction of Sifteo brings the concept to full market realization. The basic idea is to have a set of wirelessly-connected blocks that have embedded MCUs and full-color LCD screens that change image and function in relation to the other blocks around them. The cool thing about Sifteo is that it uses your computer (connected via a USB wifi dongle) to handle most of the smarts and the audio. One of the fun things about this product is the Creativity Kit it ships with, which lets you design your own puzzle and word games (and more in the future), and the forthcoming Software Developer's Kit, which will open up app development for the platform. It's probably too early to tell if this tech is a gadget gimmick or something with deeper, long-standing utility. Right now, the (pre-order) price is a wee high, at $150 for the basic kit, and $45 for each additional cube, but one would assume that will come down.
Here's some of what David Pogue has to say in his NYTimes column:
The breakthrough idea, dreamed up by a pair of M.I.T. students, has three parts. First, the cubes communicate with one another wirelessly; they know when they're next to one another, and which side is against which side. (They don't have to be touching; they can just be close.)

Second, they have very sensitive tilt sensors. Third, the top screen is clickable.

These three simple ideas, in combination, permit a huge range of games. In one, you guide a cartoon critter along a path by tipping his cube so that he slides onto the next one. In another, you unscramble words by sliding the tiles into the right order on the table. In another, you can click a screen to advance to the next game level.
David also did a silly little video to explain the basics of Sifteo. You can also find out more about the company's thinking behind the product and its possible applications via their blog. They've shown their system, as it was being developed, at several Maker Faires.


We're excited to announce "Zero to Maker," a new column here on MAKE. Over the coming month-plus, David Lang, something of a reluctant maker, is going to be immersing himself in maker culture and learning as many DIY skills as he can, through a generous arrangement with our pals at TechShop. He'll be regularly chronicling his efforts, what he's learning, who he's meeting, and what hurdles he's clearing (um… or not). Should be a fun ride to follow along on. Please help me in welcoming David Lang -Gareth
I didn't know what I was getting myself into when I agreed to join a friend on a day-long excursion to Maker Faire one sunny May Saturday in 2009. I'd heard nothing but good things about the event, and was genuinely excited to see what all the fuss was about. The train ride from San Francisco to San Mateo, full of interested and excited faces, young and old, from nuclear families to theme-outfitted groups, made me even more intrigued. When we got to the San Mateo station, nearly everyone on the train flooded onto the platform. We followed the crowd to the colorful gates of the fairground.
As soon as we walked in, I knew I was going to be part of something special. I was a little overwhelmed by the newness of it all, but totally fascinated by the sights and sounds around me. As we wandered around from booth to booth, I quickly came to a realization: I'd found my people! I was blown away by the pervasive attitude of the Faire. Not only was everyone incredibly nice and welcoming, but they were working on such completely different and fascinating projects. It was clear that each exhibitor was truly passionate about what they were doing. By the end of the day, after soaking up most of the exhibits and sitting in on a few presentations, I knew I wanted to be a part of all this. I was particularly inspired by a presentation on DIY biohacking by Eri Gentry and hearing about how she got involved without a traditional biology background. So, I approached her to learn more. She invited me to join their Meetup group and has been introducing me to other makers ever since.
Fast forward a year and a half, and that first day at Maker Faire sticks out as a turning point in my life. I made a number of great friends that day, but I also made a decision: I want to be a maker! I want to feel the passion and satisfaction that comes from creating and building something myself.
Since that day, I've attended numerous MAKE meetups, and have been hanging around with makers I admire. It's been a great experience (and a lot of fun). I've learned about projects I never could have imagined prior to Maker Faire. Through the community, I met Eric Stackpole, a maker who's building an open-source underwater ROV, and I have been helping him organize his passion into a growing online community, OpenROV.com. My involvement started to come full circle as I was able to help organize OpenROV's Maker Faire Bay Area booth this year. The entire experience has only reinforced my initial hunch that I've found "my people."
However, there is one major, underlying problem: I don't really know how to make anything! I wouldn't even classify myself as beginner. Whatever the level is before beginner, that's were I am. Newbie, maybe? When eager onlookers visited our OpenROV booth with technical questions about the project, I stared with a blank face and had to quickly grab Eric to explain. The basis of the problem is that I don't know where to start. Being surrounded by such passionate people and groups, as inspiring as it is, has made me intimidated to ask questions. I have a sense of fear about getting started; that I'm too uncreative, uncoordinated, and un-knowledgeable. However, my growing ambition to create has spurred me to re-commit to my decision to join the maker community and to face my fear head on (and, if need be, to look as foolish as necessary in the process).
I'm not aiming for total mastery, as that would be too ambitious at this point. My goal is to simply become a decent beginning maker. I made a similar commitment to learning Spanish four years ago. I have since learned enough vocabulary and understand the general structure of the language so that I can communicate clearly with a native speaker, as well as figure out any word or phrase I don't know. I call this the "Enough to be Dangerous" Level — the point at which you know what questions to ask and where you can find the answers.
Over the next month (and beyond) I plan to chronicle my journey of going from Zero to Maker in this column here on MAKE. By rolling up my sleeves and getting my hands dirty, talking with other makers about how they got started, and my willingness to ask "stupid" questions, I hope to learn enough to be dangerous, to take an idea from inception to reality. Based on my conversations with other newbies, I don't think I'm alone in wanting to conquer my fears and delve deeper into this community and craft. I sincerely hope you'll join me on the journey and I welcome any advice.
What do you think? Are you in a similar boat — anxious to get going, but not sure where to start? Do you have any ideas or suggestions for me on my journey? Please share in the comments.
[Top image from TechShop, for the Metalworking class webpage.]

I think it was in one of the WWI-era Boy Mechanic books that I found a DIY project opening with the direction to "pick up a few sticks of dynamite at the hardware store." I can think of a lot of projects I would like to undertake—and many more than I would like to write—that would start out in the same way, today.
Sadly, the world has moved on past the age of ubiquitous over-the-counter high explosives. But you can relive some of the magic that once was with this lovely scanned copy of DuPont's 1910 sales pamphlet Farming With Dynamite, hosted at Autodesk founder John Walker's site. Highlights from its dozen pages include the use of dynamite for stump clearance, cellar excavation, and plowing. I was disappointed to see, however, that veterinary, educational, and medical applications were apparently left for a subsequent volume. [via Boing Boing]

If you haven't yet signed up for our Weekend Projects Newsletter, then you're missing out on some seriously fun, beginner-friendly electronics projects. We've already built a Floating Glow Display, and hacked together a USB Webcam Microscope – both in just a few hours over a weekend. For our next project, we'll be examining the guts of a mono speaker battery-powered toy and modding it into a circuit-bent musical performance device. This project will instruct you on how to add a volume knob and audio output jack to your toy of choice. We'll be using a keyboard toy in our example, but the rules apply to most mono speaker toys. So, if you want to get the scoop ahead of time, along with additional tips and other project goodies, sign up for the newsletter.
Sign Up for the "Weekend Projects" Newsletter
Please enter all required fields

Correct invalid entries

More:
See all of the RadioShack Weekend Projects posts (to date)

Jeff Highsmith, who works for REI, built this wonderful servomechanical arcade game (called Peak 97) as part of "a series of automatons and robotic effigies of my coworkers."
A small humanoid climber (based on the classic bi-core walker BEAM 'bot) is hung on each of two steeply sloped, carpeted inclines. A two-knob controller on each face is used to actuate arm- and leg-servos to twist the figure's body back and forth, making it climb. The game wend hen one of the two climbers makes electrical contact with the aluminum "snowcap" at the top of the slope. LCD readouts count down the starting bell and report the winners name and time. And the jaunty 8-bit era gametune played during the race is spot-on.
Jeff has published a build guide to Make: Projects, and some additional pics are available in his Flickr set. [Thanks, Jeff!]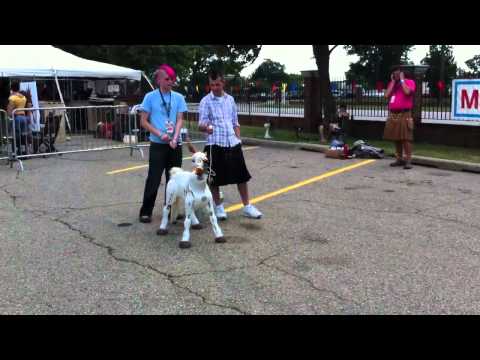 Buttercup the FirePony is an excellent project created by members of Louisville, KY's hackerspace LVL1 and shown off at Maker Faire Detroit. [Via Hacked Gadgets, thanks Alan!]

I'm trying to follow the latest developments in the patent wars going on with Apple-Google-Microsoft-Motorola-etc. It's a bit like watching the old Godzilla movies, giant enemies battling it out, go Mothra!
But here's something that caught my eye via DF..
"The confidential [Android] source code improperly provided to Dr. Stevenson is highly proprietary source code that Google does not even share with its partners, such as Motorola," Google said.
One of the great things about Android is that's is generally considered (and actually is) more open than it's biggest rival, Apple's iOS. Recently Google announced they're using Arduino for their Accessory development kit. Google even says they made Android open source so "no industry player can restrict or control the innovations of any other".
So how would it be possible to share "confidential source code" if Android is open source, and why wouldn't Google want to share open source code with their best partners (Motorola)…?
From the Android site:
Android is an open-source software stack for mobile devices, and a corresponding open-source project led by Google. We created Android in response to our own experiences launching mobile apps. We wanted to make sure that there was no central point of failure, so that no industry player can restrict or control the innovations of any other. That's why we created Android, and made its source code open.
A previous article in BusinessWeek talks about the "it's open!" and then how it's "not exactly!" history…
Playtime is over in Android Land. Over the last couple of months Google has reached out to the major carriers and device makers backing its mobile operating system with a message: There will be no more willy-nilly tweaks to the software. No more partnerships formed outside of Google's purview. From now on, companies hoping to receive early access to Google's most up-to-date software will need approval of their plans. And they will seek that approval from Andy Rubin, the head of Google's Android group.

….

When Android hit the scene in 2008, Google had a tantalizing pitch: Android was "open source." That is, Google would do the hard work of developing the code, and hardware and software makers were free to use the system at no charge. Carriers and device makers relished the idea of not paying royalties. Android became the people's mobile software, a free zone that contrasted with the closed worlds of the iPhone (AAPL) and BlackBerry (RIMM). HTC, Motorola (MMI), and Acer could avoid spending billions developing their own operating systems and customize Android with unique services. Carriers got a raft of slick new devices to sell. Consumers enjoyed more choice. And Google's search-advertising business could tap the vast mobile phone market.

Android's share of the smartphone market surged from 9 percent in 2009 to an industry-leading 31 percent worldwide. "I don't think we've seen anything like Android in terms of gaining share," says Bill Gurley, general partner at the venture capital firm Benchmark Capital.

…

Facebook, for example, has been working to fashion its own variant of Android for smartphones. Executives at the social network are unhappy that Google gets to review Facebook's tweaks to Android, say two people who weren't comfortable being named talking about the business. Google has also tried to hold up the release of Verizon Android devices that make use of Microsoft's rival Bing search engine, according to two people familiar with the discussions.
I know a lot of makers and people in the OS/OSHW communities who specifically buy Android because it's open. I feel Google might be doing a bit of a bait and switch – flood the market with "free and open" to attract partners (check!) – get the market share (check!) and then not stick to the openness promised. I hope this isn't what's going on.
To be super clear – google should be celebrated for going open, I think the maker world certainly does. At this point maybe google could just map out what's actually open source and what's not. I'm sure 99% of it is, but it would be good for devs and partners to know what isn't or what might not be one day.
Post in the comments with your thoughts.


Need a fun, kid safe summer project? The Getting Started with Compressed Air Rockets Kit from the Maker Shed is perfect for young makers! Just a few pumps of a bicycle pump (not included) will send homemade rockets blasting 200-300 feet into the air! Perfect for families, summer camps, neighborhoods, or just for fun. High quality parts are built to last for years and thousands of launches. The rockets are reusable, clean, and can be legally launched on a small field in a big city. As projects go, this kit gives you the maximum bang for your buck! Just add a bicycle pump and tape and you'll be ready to blast off! (Hint: Today might be a good day to subscribe to the Deal of the Day RSS or to start following us on Twitter!)

Interesting item from John Rogers and co-workers at the University of Illinois Urbana-Champaign, as reported in AAAS ScienceNow:
The new technology is the product of advances in several areas. One is in the active circuit components—transistors, diodes, and other inherently stiff semiconductors—which Rogers's group has flattened and shrunk to the size of the tiniest bumps and wrinkles on the skin. Another is in the material on which these components are arranged: a sheet of rubbery "elastomer" that mimics the mass, thickness, and elasticity of the skin. Like an extra-clingy plastic wrap, the elastomer sticks to the skin naturally, using only the weak, short-range, attractive forces that always exist between neighboring molecules for adhesion. It can stay attached for over 24 hours almost anywhere on the body.
The full paper is behind Science's paywall, but it looks like the circuit is applied to a sheet of BASF's Ecoflex biodegradable polymer film which, like a common temporary tattoo, is backed with glue. The circuit is applied with water which dissolves the glue and leaves the polymer-bound circuit closely bonded to the skin. [Thanks, Alan Dove!]
Update:Though the paper requires subscription, the supporting information (including some telling fabrication procedures) is freely available. The circuit itself is produced by more-or-less conventional photolithography (with some novel geometry to maximize flexibility), then transfer-printed onto the glue-backed Ecoflex I mentioned above.