---
News From The Future – Glowing Glucose Sensor… via Element-14.
Researchers at the Institute of Industrial Science at the University of Tokyo have published initial trial results of a novel fluorescent fiber sensor for long-term in vivo continuous glucose monitoring. According to the study, which was published online earlier this month in the Proceedings of the National Academy of Sciences, the sensor aims to overcome current limitations with existing enzyme-based implanted glucose sensors which are currently limited by poor accuracy, stability and are oxygen dependent.
Long-term in vivo glucose monitoring using fluorescent hydrogel fibers & PDF.
In addition to implantable RFID and digital tattoos, this is a functional body hack / mod I think we'll see people attempt once it's more accessible.

East Bay Mini Maker Faire Call for Makers is open now through September 1, 2011.  Makers, hackers, tinkerers, crafters, performers, workshop leaders, and artists of all ages from the eastern San Francisco Bay Area should get their application in now to participate in this 2nd annual East Bay Mini Maker Faire on Sunday, October 16th.
To get an impression of the scale and quality of a community-based, "mini" Maker Faire, check out this new video documenting the 2010 East Bay Mini Maker Faire. You'd think an unseasonable rainstorm would daunt even a Maker Faire, but ha! Almost 3,000 people turned out — a third of whom bought tickets at the door — suited up to play and make in the rain.
Music by Toychestra, Daniel Popsicle, Hungry Hungry Ghost, Tin Can Banjo Project, and Slimm Buick. Cameos include Tim O'Reilly teaching how to make jam, writer Michael Chabon and Howtoons' Nick Dragotta teaching a "How to Make a Super Hero" workshop, along with Paul's Rides, Cyclecide, Rock Paper Scissors, Ace Monster Toys, Maker Shed, the Poetry Store and more.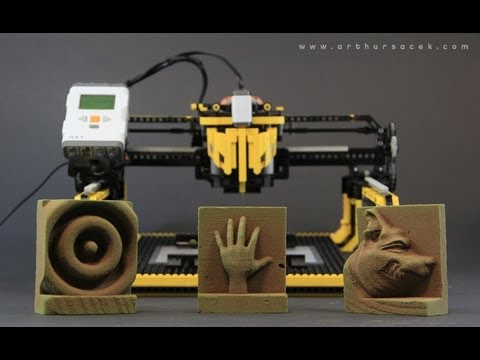 OK, almost entirely: The actual cutting is done by a metal drill bit. Everything else, however, is Lego system elements. It looks like the machine uses a "raster" type subtractive process, covering the surface of a florist's foam block in a close-packed grid of holes, each of which is drilled to an appropriate depth to form the final surface contours. It doesn't look like it works at all, until maker Arthur Sacek turns on the hair drier to blow away the chaff. Then the magic happens. [via The Brothers Brick]

Noisebridge founder and TV-B-Gone inventor Mitch Altman was interviewed at CCC Camp. Just four years ago, Mitch and other American nerds traveled to CCC Camp via Hackers on a Plane and learned about Europe's second-wave hackerspaces, and vowed to bring that energy back to the U.S. The resulting wave of hundreds of hackerspaces has swept the world. [Via Adafruit]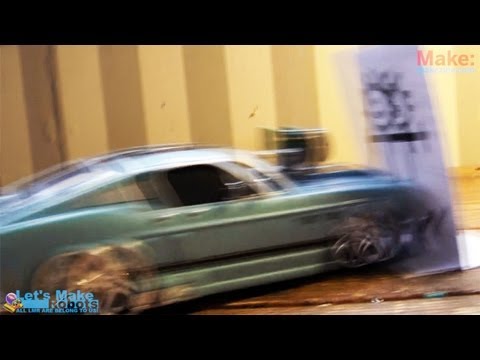 Kids and cheap RC cars is a bad mix. In reality kids cannot control these things. They end up slamming the car into things, and keep pressing "forward", even when the poor vehicle is facing a wall.
With the purpose of preparing you for some nifty programming tricks in the next episode of The Latest in Hobby Robotics, in this episode I'll you how to make a cheap RC car automatically stop before it hits an object.
Here are links related to this weeks episode:
Subscribe to the MAKE Podcast in iTunes, download the m4v video directly, or watch it on YouTube or Vimeo.
Check out all the episodes of The Latest in Hobby Robotics.


For me, one of the pleasant side-effects to circuit bending with mono-speaker toys is the ability to leave the original speaker embedded in the device, while still having the option to amplify the device when you're ready to rock out on stage or for an art installation. This means I can always hear the toy when I want to, without needing a full PA or powered speaker setup. But when I want audio amplification that's also not a problem, just plug in your preferred audio jack (I'm a 1/4″ fan myself) and your low-voltage battery-powered toy is now a stadium-rocking instrument! This basic bending diagram shows how to wire up such a toy with a potentiometer and output jack, and was taken from Add Volume, Jack, part of our Weekend Projects series brought to you by RadioShack.
So bust out the soldering iron, find an old toy at a local thrift store, pick up some components from the Shack, and wire that puppy up! Don't forget to send us pictures of your mods, especially since no two bent toys will be the same. And if at all possible send us some sample audio files, because I'd love to hear what you make this weekend.
Sign up below for the Weekend Projects Newsletter to access the projects before anybody else does, get tips, see other makers' builds, and more.
Sign Up for the "Weekend Projects" Newsletter
Please enter all required fields

Correct invalid entries

More:
See all of the RadioShack Weekend Projects posts (to date)

I have seen a lot of steampunk rayguns come and go, over the years, but not any that I can remember liking as much as this set of matched-but-not-identical "dueling pistols" from Canadian artist Jeff de Boer. [Thanks, Billy Baque!]
More:


Ever since the release of the Redpark Cable for iOS and Brian Jepson's blog post, this bundle has been scarce. We just received a shipment of parts so the Redpark Breakout Pack for Arduino and iOS is currently back in the Maker Shed! For those that missed it, this cable along with the included P4 RS232 adapter lets you talk to microcontrollers and sensors with your iOS powered device without jailbreaking! The bundle includes all the hardware (except your i-device and Arduino) to follow along with Brian's Project.

Connect an iPhone, iPad, or iPod touch to Arduino with the Redpark Serial Cable

Ben Grosser's painting machine is an open source CNC that he adapted to create paintings.
This machine uses artificial intelligence to paint its own body of work and to make its own decisions. While doing so, it listens to its environment and considers what it hears as input into the painting process. In the absence of someone or something else making sound in its presence, the machine, like many artists, listens to itself.

Astounding needlework by space wonk Jen Scheer, aka @flyingjenny, now up for auction on eBay. [via Boing Boing]
More: