---
My colleague Collin Cunningham has an iPad app called Circuit Sidekick which consists of several tools for assisting electronics aficionados with their work.
Let's start with the Resistor Values function, pictured above. It helps you determine the value of a resistor by selecting the color bands you see on the actual resistor. The image also demonstrates how Circuit Sidekick looks in portrait mode… I like it much better landscape.
The second tool is the Capacitor Values function, which helps you interpret the sometimes cryptic markings on the component. You can also get a sense of the landscape view of the app in this pic; I like it because you can see the menu at all times rather than having to hit a drop-down menu.
The next two functions help you determine the overall capacitance or resistance of a group of capacitors or resistors. It essentially plays the role of a calculator, letting you type each separate resistor or capacitor's value and find the total number.
By contrast, the LED Resistor Calculator offers a more clear value since, in essence, it helps you design an actual electronic assembly. You choose the number of LEDs and voltage/current, and the tool tells you how much resistance you need to provide to protect the circuit.
The sixth tool on Circuit Sidekick is an Ohm's Law calculator. You enter two of voltage, amperage, and resistance and the app fills in the third. Like other aspects of the app, Circuit Sidekick shows you the formula and tells you how it arrives at the answer, which will surely help people learn the stuff on their own. The last two tools are a binary/decimal/hex/octal/ascii number converter and a PDF reader that manages component datasheets.
Circuit Sidekick costs $2.99, a great value if you're a beginning electronics hobbyist or simply want a 'tronics-focused app for helping you with your computations. It's a well-designed and slick app with the potential to save time and keep the magic smoke inside your components.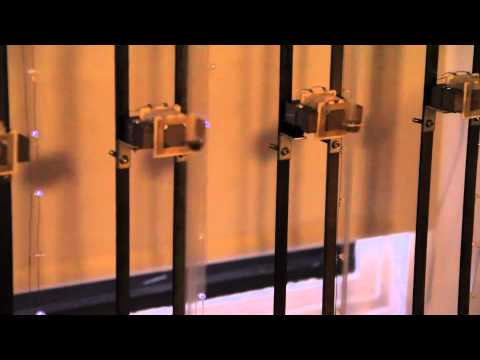 ITP students Michell Cardona and Nelson Ramon Ramirez created several different oscillating wind generators before settling on something that works the best. Similar to the Humdinger in function, their Linear Wind Electricity Catcher works by fluttering a magnet in close proximity to a transformer, which translates kinetic energy to electrical energy after being rectified.

They've documented their process extensively and will be showing their creations at World Maker Faire in New York City on September 17th and 18th.
More:


Last year when we did the Make: Robot Build, where readers were challenged to make a CoasterBot using dead DVD media (aka "coasters") as the main bot building material, we were amazed at the ingenuity and resourcefulness of many of the entries. Folks didn't just use regular CD/DVD media, they used mini-CDs, the base and cover of DVD spindles, they cut, heated, and reformed DVDs, used DVDs as wheels — all sorts of fun and novel applications. Here, bot-builder and Flickr member "Solomons3″ used DVDs as the drive wheels, and mini-CDs as a single idler wheel. He also used CD jewel boxes as the main body components and used the hinging on the top jewel box to create an openable access door.
We've moved much of the content from our CoasterBot build into Make: Projects and have also fleshed out the Robotics section. Check it out!
More:
See out Robot Skill Builder Series
---
From the Pages of MAKE
MAKE Volume 27, Robots!
The robots have returned! MAKE Volume 27 features a special package with robotics projects for every age and skill level. They play music; they outwit your pets; they learn from their mistakes! In addition, we'll show you how to build a special aquarium to keep jellyfish, create pre-Edison incandescent lighting, spy via the internet, and make a go-anywhere digital message board! All this and much, much more, in MAKE Volume 27.
On newsstands July 26! Buy or Subscribe

In September of last year, Matt Mets blogged about Visual 6502, an in-browser simulation of the landmark MOS 6502 microprocessor, produced by San Francisco hacker Greg James and Montreal brothers Barry and Bryan Silverman.
Recently, the July/August issue of the American Institute for Archaeology's Archaeology featured an interesting article about the story behind Visual 6502. It provides a concise overview of the 6502′s historical significance, and then goes on to cast the team's reverse-engineering project in terms of "digital archaeology," emphasizing the "excavation" metaphor: Like physical archaeologists, James and the brothers Silverman "dig" into the chip package, itself, to recover lost knowledge of our history.
Back in 1974, the original schematic for the 6502 was sketched out by hand on a drafting board. (In contrast, today's design methodology has hundreds of engineers working on hundreds of computers creating archived digital files of their work when collaborating on today's microprocessors.) The creator of the 6502's schematic doesn't know where that document is today, and very little information on how the chip was created survives. Further, in the more than 35 years since its design, the understanding of how this remarkable chip performed its functions was lost.
[Thanks, Michelle!]

@ Dangerous Prototypes Ian has a fantastic article "Editorial: Our friend Microchip and open source"…
It's great that Microchip invested in the Arduino open source IDE. Unfortunately the contributions seem to stop with support for their product. Parts of chipKIT toolchain are still closed-source, and Microchip isn't contributing open source drivers for the highly-advertised USB and Ethernet features of the chipKIT Mega.

We buttressed this editorial by saying we're huge fans of Microchip stuff. It's their time-honored right to deal in closed source software – most companies do! With the chipKIT, however, Microchip wants to tap the Arduino buzz. They want promote products using the work of an open source community, but they're not participating in the spirit of that community. It's not illegal, it's being a bad neighbor.

We urge Microchip to give something significant back to the community they're tapping. Open source drivers for the chipKIT shield would be a great first step.
I have a much larger article on this topic coming out later, but I wanted to say I think it's great to see Microchip coming in to the open-source hardware world and I'm really looking forward to them addressing some of the issues Ian outlined. Disclosure, I'm fairly certain Micrchip has sponsored MAKE in the past, present and future – at this time Maker Shed does not sell the chipKit(TM) Uno32(TM).
Previous
Why the Arduino Won and Why It's Here to Stay.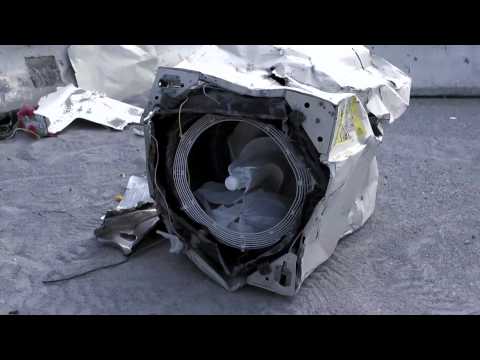 The Systematic Annihilation of Helpless Objects via Robot is an arena full of machines that spew fire and destroy home appliances and other detritus that would normally be relegated to the trash. Justin Gray's creations are built from and inspired by vintage machinery. They pump their metal muscles for the crowd in this video from Maker Faire Bay Area 2011.
Subscribe to the MAKE Podcast in iTunes, download the m4v video directly, or watch it on YouTube and Vimeo.
Check out more videos from Maker Faire Bay Area 2011.
More: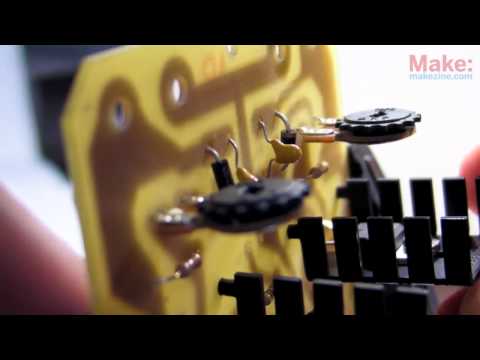 The requisite starting point for anything electronic – you won't get much blinking, buzzing, or processing done without a power supply. Get familiarized with some important power supply basics and join me while I assemble an adjustable dual linear regulated supply kit.
Subscribe to the MAKE Podcast in iTunes, download the m4v video directly, or watch it on YouTube and Vimeo.


Had your eye on something (or several things) in the Maker Shed lately? Now's your chance! For the first time ever, the Maker Shed is offering free USA shipping on all orders over $5! Just add your items to the cart, use the coupon code SHIPIT and select the free shipping option. This is the opportunity you've been waiting for to get an Arduino, TV-B-Gone, Saga Guitar Kit, Jameco Grab Bag, or anything else we carry. You should hurry, this offer expires August 31st 2011 at 11:59PM Pacific time.