---
---
Everybody makes mistakes, and we're no exception. After each issue has gone to print, we usually find out we've made a mistake or two and post our errata on the magazine volume page and in the Letters section of the subsequent issue as "MAKE: Ammends." For our current volume, we just got perhaps the best errata in 27 volumes:
We incorrectly labeled Roy Doty's Eureka comic strip "Phffft!" The correct title is "Zippp!" We apologize to Roy, and to fans of onomatopoeia everywhere.
Roy Doty's Eureka comic frames have appeared sprinkled throughout the Toolbox section of each issue since Volume 25. Before then, Roy had illustrated the Aha! Puzzle This column for 19 volumes of MAKE (05 thru 23). We absolutely love Roy's illustrations, and hope to see many more of his works. He has been an illustrator since 1946. No newcomer to the DIY scene, his "Wordless Workshop" ran as a syndicated series for 50 years.
From the Pages of MAKE
MAKE Volume 27, Robots!
The robots have returned! MAKE Volume 27 features a special package with robotics projects for every age and skill level. They play music; they outwit your pets; they learn from their mistakes! In addition, we'll show you how to build a special aquarium to keep jellyfish, create pre-Edison incandescent lighting, spy via the internet, and make a go-anywhere digital message board! All this and much, much more, in MAKE Volume 27.
On newsstands July 26! Buy or Subscribe

Eric Rochow at GardenFork liked Deek's plywood boat so much he had to make his own. Learn to use a chalk line and see lots of build details for his custom spin on this one-sheet wonder.
More: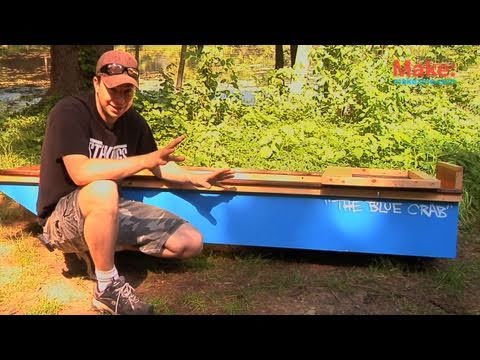 "The Blue Crab" One-Sheet Plywood Boat – Tiny Yellow House

To match the Adafruit iCufflinks:
The iNecklace is a gorgeously machined aluminum pendant with a subtle pulsating LED. Perfect for the playa or with Prada. Made for women who celebrate art, science, engineering and great design. Proudly made in North America (Canada and USA).

iNecklace completely open source. The source code, circuit board files, schematics and CAD files are posted on GitHub. Mod & Hack away!
And to celebrate metalworking month on MAKE, here are some of my favorite metal jewelry pieces. Read on for the roundup.


Here's something I didn't know about. Radio geeks and hobby audio enthusiasts use PCB copper cladding material to fabricate handsome project chassis. The main method of assembly is soldering. In this PDF tutorial from QRP Builder, a small chassis for a radio transceiver is built, cut from a 24″ X 36″ piece of Grade G-10/FR4 Copper-Clad Garolite sheet, clad both sides, 1/16″ thick (from McMaster Carr). There are some really good tips in this article about building such project boxes and making sure the results are sturdy and handsome.
Fabricating a chassis from clad PCB board material [PDF, 1.6MB]

BBC News – New body 'liquefaction' unit unveiled in Florida funeral home via BB.
The unit by Resomation Ltd is billed as a green alternative to cremation and works by dissolving the body in heated alkaline water.

The facility has been installed at the Anderson-McQueen funeral home in St Petersburg, and will be used for the first time in the coming weeks. It is hoped other units will follow in the US, Canada and Europe.

The makers claim the process produces a third less greenhouse gas than cremation, uses a seventh of the energy, and allows for the complete separation of dental amalgam for safe disposal.

Mercury from amalgam vaporised in crematoria is blamed for up to 16% of UK airborne mercury emissions, and many UK crematoria are currently fitting mercury filtration systems to meet reduced emission targets.
The 7 billionth person is about to be born on this planet, we don't live forever – what will the "greener" exit strategies be?

Over the next month-plus, David Lang, something of a reluctant maker, is immersing himself in maker culture and learning as many DIY skills as he can, through a generous arrangement with our pals at TechShop. He'll be regularly chronicling his efforts in this column — what he's learning, who he's meeting, and what hurdles he's clearing (um… or not). –Gareth
"So do you think it's possible?," I asked with a slightly concerned (but curiously hopeful) look on my face.
"Well, not really," replied Zack, "But I do think we're going to give it a good shot and you're definitely going to learn a lot. Here's how we can think about it…"
So began my conversation with Zack Johnson, my designated "Dream Coach" at TechShop. With the preface that I was complete beginner, I explained the goals for the OpenROV project to him, along with dropping the bomb that we hoped to have it ready before World Maker Faire in NYC on September 17th. Zack's background was in electrical engineering, but like all the Dream Coach's at TechShop, he was handy with just about every tool in the shop. If he didn't know how to do something, he knew exactly who (at TechShop) would. Up until now, OpenROV had been the brainchild of my friend, Eric Stackpole, but his mechanical engineering wizardry could only get us so far. In addition, my lack of technical-anything was not contributing to the project in the least. To cross the gap to a working prototype, we needed some outside perspective and I needed some basic education. Zack understood both of those challenges, and together, we mapped out a plan.
During that first meeting, I gave him an overview of the project goals and some of the technical issues (as best as I understand them) as well as what I thought I needed to learn. His guidance was exactly what I needed. Zack didn't just tell me what needed to be done, he told me why, and assured the learning process would be just as rewarding as the end product. We broke the action items into two categories: Classes and Workflow – classes that I would need to get up to speed, and workflow for attempting to have a prototype of OpenROV working by Maker Faire. The class schedule included Laser Cutting, Electronics, CNC (I didn't even know what that was), Autodesk software, Arduino, Silicone Moldmaking, and a few others. He also suggested I take a welding class in case we decided to use any metal framing. As excited as I was about the classes, the workflow plan really helped to instill some much-needed confidence. Even though Zack hadn't had the chance to talk to Eric, his methodical thought process of how to tackle the challenge was helpful for me to hear. I once heard from a lawyer that the main goal of law school was to get you to think like a lawyer. I suspect a similar truism for engineers based on the way Zack explained the process of trying to solve the problem with little prior information.
Even though I didn't understand much of the details Zack was referring to, I knew enough that his plan differed slightly from Eric's strategy. I decided that setting up a meeting with the three of us was in everyone's best interest.
We found a convenient time to meet a week later. I set the tone by making introductions and noting that they both had slightly different ways of looking at the issues. After that, I just sat back and watched as the discussion quickly elevated to engineering jargon that was over my head. However, I was still able to follow along and make sense of the meeting through the alternating chorus of "Oh, yeah, that's a good idea. I think that will work better than what I had in mind" and all of its derivatives. I also served the valuable role of stopping them periodically to put things in laymen's terms, which proved to be a helpful thought exercise. All in all, the meeting was very productive. So much so, in fact, that all three of us were very positive that the OpenROV 2.0 prototype we needed could be finished just before the Faire.
Next on Zero to Maker: Crash Course: Laser Cutter
More:
Follow David's Zero to Maker journey

In 2008, an eternity ago in the hackerspace world, Bre Pettis, Astera Schneeweisz, and Jens Ohlig solicited entries from hackers around the world to create a book about hackerspaces. They've finally put it out!
This book documents where the hackerspace movement was in December of 2008. In that way it's a bit of a time capsule. It's not an exhaustive book, but we hope there are enough stories in here to show that all your excuses for not starting up a hackerspace are invalid. Each group faced down their own dragons to bring their hackerspace into existence including floods, rats, and drama. If they can do it, so can you.
In addition to profiles of hackerspaces there is Bre's history of the CCC from the NYC Resistor blog, Club-Mate recipes, and coverage of the now-legendary Design Patterns speech Ohlig and collaborator Lars Weiler gave at CCCamp '07.
It's super cool! If you're at all interested in the history of the hackerspace scene, check it out.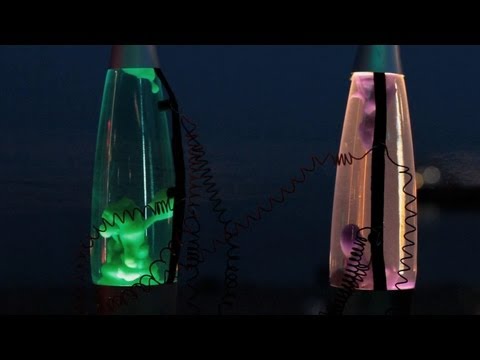 Attention UK makers! First in a series of shorts from Larchmont Films promoting Brighton's first Mini Maker Faire to be held at the Brighton Dome on 3rd September (this Saturday), featured here is Brighton programmer Jason Hotchkiss demonstrating how to make music from lava lamps. Jason and the Mini Maker Faire team are passionate about sculpting or creating something unusual from the everyday.
Subscribe to the MAKE Podcast in iTunes, download the m4v video directly, or watch it on YouTube and Vimeo.
Check out more videos from Maker Faire.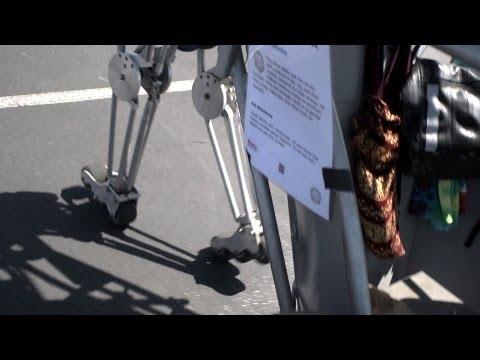 Machinist Bob Schneeveis along with Grant Grundler made the Solar Electric Robot Chariot. Powered by the Sun, the chariot is pulled by an anatomic machine that walks on wheels to lengthen its stride. Machined almost completely out of metal, the mechanics of this art car are shown at Maker Faire Bay Area 2011.
Subscribe to the MAKE Podcast in iTunes, download the m4v video directly, or watch it on YouTube and Vimeo.
Check out more videos from Maker Faire Bay Area 2011.
More:


Lately I've taken to finding morals in some of the stuff I post. Last time it was radically limiting your options to inspire more creative thinking. Today, I think, the lesson of this simple-but-striking assemblage is about paying close attention to your starting material. What features does it already have, when you walk up on it, that you can exploit? [via CRAFT]