---
The countdown to our second Maker Faire New York is in full swing, with less than five days until showtime! The Faire is taking place this upcoming weekend, September 17 and 18, at the New York Hall of Science in Queens. This is the first in a series of interviews intended to give you an inside look at some of the amazing makers who will be there. Today we chat with Suzi Winson of New York's own Circus Warehouse.
1. Tell us about Circus Warehouse. How did it get started and what is its mission?
Circus Warehouse is the sole professional training center for aspiring circus professionals in New York City. It's a high-powered environment, filled with circus luminaries who teach and also train there. We have a pro program with about 30 students, and lots of classes and workout space for serious practitioners of circus arts.
2. How did you hear about Maker Faire and why did you decide to participate? How will Circus Warehouse be represented at the Faire?
We had performed at the Great Hall this summer in conjunction with NYSCI's "Circus! Science Under the Big Top" exhibit. I grew up in Queens, went to the 1964-5 World's Fair, and used to play in Flushing Meadow Park with my grandfather, a self-stylized naturalist. Maker Faire is the "alternative World's Fair" in a sense. It's what the World's Fair could look like today, with the same spirit of creativity, a nod to the generation who grew up cutting and pasting their way to happiness! The Warehouse will be putting up a 25-foot outdoor rig and will be performing aerial acts throughout the weekend, by professional program students and a few friends of the Warehouse who train with us every day.
3. What is Nouveau Cirque?
Nouveau Cirque (New Circus) is what contemporary circus has morphed into over the years. It's narrative-driven and involves newer forms of circus arts such as aerial silks, and omits some old forms such as animal acts. The need for Nouveau Cirque came about as conservatory-trained performers came of age in the last two decades or so, producing well-rounded performers with a range of new circus skills. (Les 7 Doigts' show "Traces," currently in NY, is a good example of what this sort of training produces.) Classical circus is largely made up of generations of circus families, where traditions and training are passed down. At Circus Warehouse, we are a blend of classical and contemporary circus as both genres exist today. We have instructors who are 7th generation performers and some who were trained at modern circus schools.
4. Tell us about yourself. What is your role at Circus Warehouse? How did you get started and who are your inspirations?
I am the director of the school. But primarily, I am a dancer. My entire life has been informed by the discipline of having been a classically trained ballet dancer. I have also performed as an aerialist, clown, have sung on Broadway, run a few businesses and a small press literary magazine, and have worn a few other exotic hats.
Somewhere along the line I realized that I loved teaching more than anything and got a little carried away and wound up hooking up with a brainy aerialist (Michelle Arvin) and a record-breaking flying trapeze artist (Gino Farfan), and with some magic and mirrors and a huge amount of hard work we made a school. My students inspire me every day.
5. What new idea has inspired you most recently?
I am working on a project called Aerial Text Experiments, which is for a worldwide movement called 100K Poets for Change. Poetic happenings all over the world on Sept 24th. I thought, as long as we're initiating change, why not change poetry readings? So the talented Warehouse crowd and a pile of amazing artist friends are staging an aerial poetry reading, with movement and text and a few other items to be determined. I like the idea that I have no clue how this will go. I just want to change the formula of "reader-at-the-podium+captive-audience=poetry reading." Why not change the dimension?
6. What is your motto?
Movement without meaning is a complete waste of time. Don't exercise — do something interesting with your body. You'll still look great, but you'll also find your soul.
7. What advice would you give to the young folks interested in circus arts?
Practice. Practice. And, did I mention PRACTICE? And get authentic training.
8. What do you love most about NYC?
Everything is possible here. It's the most exciting city in the world.

Photography Credits: Top image by Igor Bass. Middle and bottom images by Laura Sage.
Thanks so much, Suzi! We'll certainly be looking forward to Circus Warehouse performances at the Faire!
For all the information you need to attend, head over to the Maker Faire New York site.

Attention New Yorkers, Makers, Engineers, Kids, Game Lovers, Techies, Luddites, and Robots…we're running the Deconstruction during the 2011 NYC World Maker Faire.

Are you planning to attend the Maker Faire? If not, you should…and you should also take part in The Deconstruction.

What is the Deconstruction? It's a building competition where we ask folks to create new things out of old things, then document to show the world how they did it. All we provide is a topic, and a few constraints.

The goal is to build a physical project out of re-used and found material (and be resourceful as possible). Material can be found at the Maker Faire, on the mean streets of NYC, or re-purposed from existing projects. You can build your project on-site using existing resources, or elsewhere.

At the end of the time limit (Sunday afternoon) participants will meet to show what they've made, talk about how they did it, and demonstrate how it works. Projects will then be judged by the participants (you can't vote for yourself), and the general public.

Yes, and there will be prizes…but in the Deconstruction, prizes don't get announced until after the competition. However, the winning team will be given the distinct honor of curating the secret topic for the next Maker Faire Deconstruction.

News From The Future: Mushroom Death Suit… Artist and inventor Jae Rhim Lee -
I thought I could train a toxin-cleaning edible mushroom to eat my body. These mushrooms, which usually grow on wood and decaying material in the forest, can be trained to grow on pretty much any organic material and break it down. So I started collecting my hair, nails and skin so I could pick the best mushrooms to become Infinity Mushrooms, to recognize and eat my body after I die.

I love clockwork things. (I've built a couple of clocks myself) and so I am seriously impressed by the work of Chris Raynerd over at the raynerd.co.uk site. He's only 28 and has already managed to equip himself with some excellent machining skills. Working in brass and steel, he's replicated Webster Engines, and produced some rather nifty metal puzzles.
…and he's currently working on Doctor Woodwards Gearless Clock.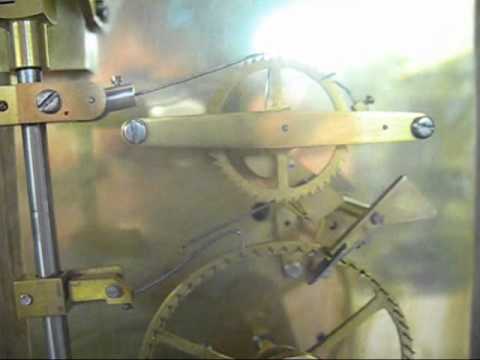 While you're there, check out his milling/CNC rotary axis conversion . This is something I've been working on myself.
…*and* he lives close to my brother in Manchester, England (+10 cred right there).

Cool find by my old pal Billy Baque:
As a guidebook for the NASA Photography Training Program, it not only describes the operation of the Hasselblad 500 EL/M cameras used on the U. S. Space Shuttle but is also a concise manual on photography to assist astronauts in creating the best possible space photographs.
As Billy says, "[i]t makes working on the shuttle seem less glamorous and a lot more like hard, hard work." The PDF is hosted by Hasselblad itself.

The Open Hardware Summit is this Thursday, Sept 15th, before World Maker Faire. And it's also being held at the New York Hall of Science. Makers and businesses pushing for open source hardware, open BOM costs, and even open supply chain information for consumer devices, are convening for a day of lectures and learning, friend-making, and business card trading.
This is a fantastic boon for attendees of World Maker Faire because many of OHS's presenters will be doing double-duty and presenting at the Faire as well.  Here are some highlights from the Faire schedule:
Open Source Hardware Revolution — Saturday at 4:30 p.m., Main Stage
Alicia Gibb & Ayah Bdeir, Open Source Hardware Summit founders and co-chairs, give a conference recap and outline of this movement in major flux, covering significant milestones reached in just the last year. They will explain why open hardware is sure to take the world by storm, and change the way the electronics industry functions forever.
Open Source Hardware Projects about the Nuclear Accident in Japan – Saturday at 2:30 p.m., Make: Live stage
Shigeru Kobayashi, is a teacher of interaction design and prototyping at Institute of Advanced Media Arts and Sciences [IAMAS] in Ogaki, Japan.   Shigeru has designed open hardware such as Gainer and Arduino Fio (with SparkFun) and has written books on physical computing and prototyping. His talk will cover some great examples of open hardware reaction to the lack of information after the nuclear accident in Japan.  Citizen science!
Add Twitter Feeds to any TV! — Saturday at 2:30 p.m., Main Stage
Bunnie Huang might be best known for his 2003 book Hacking the Xbox: An Introduction to Reverse Engineering. Bunnie is now the Hardware Lead at Chumby.  Bunnie will demonstrate a new open hardware platform for makers who are interested bringing together the Internet and TV.
Open Innovation Can Solve Real World Problems — Sunday at 4:30 p.m., Main Stage
GROUND Lab is a complete R&D and prototyping company located in Queens, New York, that focuses on creating innovative sustainable solutions for social, environmental and humanitarian challenges.  Co-founders Justin Downs and Benedetta Piantella will introduce some of their past and current projects, and share lessons learned and challenges encountered in building a business focused on open source platforms to be deployed in many countries such as Kenya, Tanzania, and the United States.
Bre Pettis of MakerBot Industries, Eric Wilheim of Instructables, and Massimo Banzi of The Arduino Project are also speaking.  For the complete lineup, check the Presentation Schedule at makerfaire.com.
Also note that attendees of the OSH get a free one-day pass to the Faire in their goodie bags!

By George Hart for the Museum of Mathematics
A few weeks ago this column showed an assortment of small geometric structures made from beads by Horibe Kazunori. Well, anything which is cool at hold-in-your-hand size becomes extra cool when scaled up to gigantic size. This beautiful form is based on a dodecahedron with blobs coming out of each vertex. I don't imagine this was easy to make, but if you want to try one, observe how the cycles with five or seven beads are in places with positive or negative curvature, respectively.
More:
See all of George Hart's Math Monday columns


While riding New York City's L Train, I spotted this tattoo on an anonymous Williamsburg-bound hipster. I only had a few moments to chat with him as my stop was coming up, but he claims it is a full schematic for a guitar amplifier circuit. It heartens me to think that a piece of engineering ephemera has elevated itself to hipster tattoo art, but another part of me is dismayed. After further inquiry, it turns out the tattoo owner is a musician and actually has no clue what any of those strange symbols mean on his arm.
The first night I met my wife, I noticed the schematic symbol for A/C on her wrist and thought she might be a keeper (especially after finding "soldering" listed under her hobbies on MySpace and realizing that she could cogently explain the difference between alternating and direct current).
Have schematic tattoos become the hip ink du jour? Are they indelible reminders for the rebuilding of a post-apocalyptic society, or just another tattoo fad like tribal markings or cryptic characters in foreign languages?
More:
Are you attending the 2nd annual World Maker Faire this weekend in Queens, NY? If not, reconsider! You won't regret it. If you are coming, now there's even more incentive to enjoy your trip to the NY Hall of Science. As part of RadioShack's The Great Create campaign, we're challenging all MAKE readers out there to complete any of our Weekend Projects and to bring your completed project (or any derivative mod thereof) to the Faire. In return, you'll win a FREE Maker's Notebook ($20 value, pictured above), courtesy of the Maker Shed, as well as some additional schwag (think swanky apparel!). To show of your warez, stop by the MAKE magazine booth inside of the Maker Shed and talk to anyone inside the booth to claim your prize.
If you can't make it out to World Maker Faire, never fear! The first 20 online readers who send us an email with info, photos, or video of a completed Weekend Project will also receive a FREE Maker's Notebook! Feel free to send us a little story about your experiences and we'll feature you here and in our Weekend Projects Newsletter.
We'll have another project launching this week, so sign up below for the Newsletter to get the scoop on new projects as soon as they launch. And we look forward to seeing you – and your projects! – at World Maker Faire!
Sign up below for the Weekend Projects Newsletter to access the projects before anybody else does, get tips, see other makers' builds, and more.
Sign Up for the "Weekend Projects" Newsletter
Please enter all required fields

Correct invalid entries

More:
See all of the RadioShack Weekend Projects posts (to date)

Avatar's special effects innovator Glenn Derry hacks together blockbuster filmmaking tools. Go inside his workshop and get a tour of the virtual camera in this special video. Learn more about Glenn Derry and homebrew virtual camera in MAKE 27. Video by Corinne Leigh.
Subscribe to the MAKE Magazine Extras Podcast in iTunes, download the m4v video directly, or watch it on YouTube or Vimeo.
From the Pages of MAKE
MAKE Volume 27, Robots!
The robots have returned! MAKE Volume 27 features a special package with robotics projects for every age and skill level. They play music; they outwit your pets; they learn from their mistakes! In addition, we'll show you how to build a special aquarium to keep jellyfish, create pre-Edison incandescent lighting, spy via the internet, and make a go-anywhere digital message board! All this and much, much more, in MAKE Volume 27.
On newsstands now! Buy or Subscribe