---
T minus three days until our second Maker Faire New York begins, taking place this weekend, September 17 and 18 at The New York Hall of Science in Queens. We continue with our interview series, giving you a chance to sit down and chat with some of the amazing makers who will be there. Today we speak with Patti Robinson of the Time Warp Souvenir project. Patti was at the 1964 Worlds Fair and has a wonderful collection of photos she snapped then. She'll be at Maker Faire all weekend with her son, Robinson Deckert, photographing folks at the Faire, and making side-by-side mashups of images from 64 and 2011.
1. Tell us about your Time Warp Souvenir project. What inspired you to embark on it?
When I was at World Maker Faire 2010 childhood memories of the 64 Fair flashed in my brain throughout the weekend. In spite of the 40+ years in between, both events are strikingly similar and completely different at the same time — it's that contradiction that inspires me.
2. Have you done similar projects in the past?
I took thousands of photos of street art and artists on the Lower East Side in the early 80s. My son photographed some of the same sites in 2008, including the Keith Haring mural on Bowery being repainted for what would have been Keith Haring's 50th birthday. That project is very special to me.
3. How did you hear about Maker Faire and why did you decide to participate?
I've wanted to attend Maker Faire in California for years, so when it came to New York at Flushing Meadow I knew I had to be there. Creative people inspiring each other, it's like church.
4. Tell us about yourself. How did you get started making things and who are your inspirations?
I made my first dress when I was 7 and it was totally ugly, but my mom let me wear it to school anyway. My middle school students inspired me this summer to sign up for fashion design at FIT, and I just started classes. Art school and lots of interesting projects in between. For some reason, it started with fashion, and fashion is having another moment for me now. I have no idea why — I'm just going with it.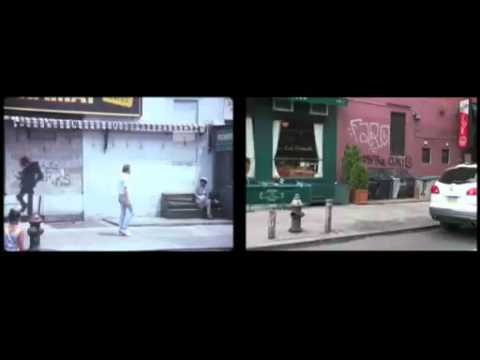 5. What is the NEA's Creative Center and what does it mean to be an artist in residence in health care?
The Creative Center is an organization that trains and places artists in residence in health care settings. (The training was sponsored by the NEA.) It's about inspiring people to be creative and have fun in a situation where there's often not a lot of freedom or fun. I feel that I'm more of a collaborator/instigator/comedian when I'm teaching.
6. What new idea has inspired you most recently?
Researching Creative Commons images of the 1964 World's Fair has inspired me to contribute images to Creative Commons in Flickr. Sharing is good, and we need more of it.
7. What advice would you give to the young makers out there just getting started?
Try collaborating with a few different people. My favorite collaborators are my son and children [who I teach].
My son, Robinson Deckert, just graduated from NYU/Tish for photo. He's my "Downtown" collaborator and we work together on lots of things. He did "Interactive Pixilation" at MF last year and I propped it for him. He'll be photographing MF with me this weekend. We made a stop-motion sci-fi film using stuff from our basement, in our basement. You know it's a great collaboration when you work together for like 1,000 hours in your basement on stop-motion and still get along afterward.
The children are my students/collaborators at camp who are in my recycled fashion design program. I want to adopt them but they already have parents.
8. What's your motto? Favorite tool?
If I know how something is going to turn out, it's not worth doing. I like giving secondhand things a new life.
9. What do you love most about NYC?
I'm a downtown person, but last week uptown gave me a reason to fall in love with NYC all over again: Bergdorf's "Fashion's Night Out" live windows featuring Lady Bunny, Lipsinka, Ronnie Spector (and more) were magic in the streets.
Thanks Patti! We can't wait to see what the mashup images look like. For all the information you need to attend the Faire this weekend, look no further than the Maker Faire website.

Although potentiostats are the foundation of modern electrochemical research, they have seen relatively little application in resource poor settings, such as undergraduate laboratory courses and the developing world. One reason for the low penetration of potentiostats is their cost, as even the least expensive commercially available laboratory potentiostats sell for more than one thousand dollars. An inexpensive electrochemical workstation could thus prove useful in educational labs, and increase access to electrochemistry-based analytical techniques for food, drug and environmental monitoring.

The CheapStat [is] an inexpensive (<$80), open-source (software and hardware), hand-held potentiostat that can be constructed by anyone who is proficient at assembling circuits. This device supports a number of potential waveforms necessary to perform cyclic, square wave, linear sweep and anodic stripping voltammetry. As we demonstrate, it is suitable for a wide range of applications ranging from food- and drug-quality testing to environmental monitoring, rapid DNA detection, and educational exercises. The device's schematics, parts lists, circuit board layout files, sample experiments, and detailed assembly instructions are available in the supporting information and are released under an open hardware license.
[Thanks, Aaron!]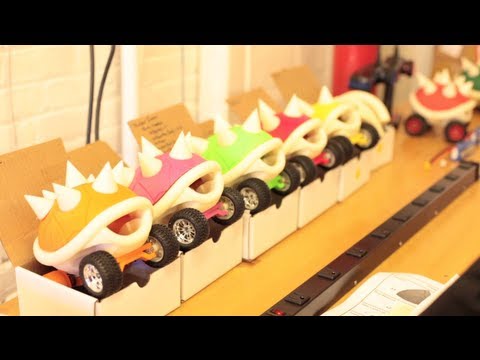 MakerBot shows off the 3D printed turtle shell RC cars they are bringing to World Maker Faire NY this weekend.
There has been quite a bit of excitement over at the Botcave since Thingiverse user Skimbal launched his Turtle Shell Racers project (High and Low Power Edition). His project is both a love note to Mario Kart and Super Mario Bros in general, and probably the coolest MakerBot project we have seen to date: freely downloadable parts and building instructions for modding an RC car into a "Turtle Shell Racer." Not sold in stores, but free to print on your MakerBot. It's like playing Mario Kart in real life!
Subscribe to the Maker Faire Podcast in iTunes, download the m4v video directly, or watch it on YouTube and Vimeo.
Check out more Maker Faire videos.
More:



Hackett is the founder and director of the Madagascar Institute, the Brooklyn "art combine" specializing in large-scale sculptures, guerrilla art events, and carnival rides from hell. He is also an Adjunct Professor at New York University, and a "TV personality." He'll be speaking on the Main Stage at World Maker Faire New York this Saturday at 6pm.
I Am on the Teevee, and So Can You: Basic Cable and Maker Culture
I am Hackett. The deafeningly loud Jet Ponies and chaos of the Chariot Races at last year's Maker Faire were my fault. I currently have my own show of the Science Channel (Stuck with Hackett), and I will be speaking a little bit about my experience, but mostly, about how the cable spectrum is full of opportunities for makers to make some money and get some exposure.
The less glamorous, lower-budget end of the cable spectrum (think: Science Channel, Discovery, History, Spike, and on and on) is a gaping maw of airtime, desperate for content. Much of it is shows that document work, in one way or another: insights into people with interesting professions (Dirty Jobs, Oddities) or people actually doing interesting work, thinking and designing and building something, just for the purpose of documenting it (Monster Garage, MythBusters, Doing DaVinci). Unfortunately, for the networks, most of the people who want to be on television are blandly attractive people who cannot actually do anything other than shouting, being shallow, and occasionally high-fiving each other. Fortunately for makers, the bar has been set low as to what is considered attractive enough for television.

One Project You Are Particularly Proud Of
1: The Madagascar Institute goes Crazy, Broadway Style!!!– a three minute, nineteen second chunk of sterling awesome, a classic movie musical trope made real on the steps of the New York Public Library, years and years before anyone had ever used the term "flash mob", and an inspiration to what later became Improv Everywhere. Also: Our gayest moment ever.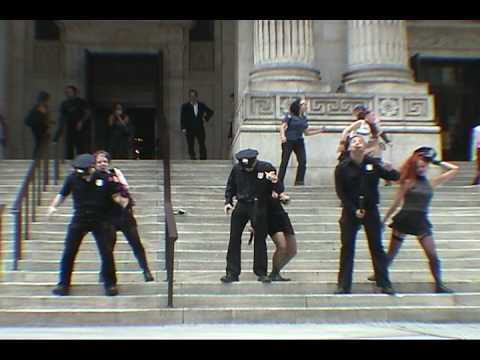 Two Mistakes You've Made in the Past
Just two? My life is like the Whitman Sampler that God would give his mom on Mother's Day — so many choices, so many technically-edible, good-looking, excruciatingly poor-quality mistakes. (Wait- why would God give his mother a big box of fail? Read the Bible, heathen!) With that said, here are a couple:
1: Piss-poor documentation. The Madagascar Institute has done some really extraordinary things, like staging a reenactment of the Hindenburg disaster (two dirigibles, each fifteen feet long, towed by a crowd of hundreds, one of Helium advocates, chanting "He-le-yum! He-le-yum!" , the other, Hydrogen partisans, chanting guess what, converging at Union Square Park. The dirigibles docked, about to usher in a glorious future of gas neutrality and lighter-than-air glory, when a spark, the horror, the humanity, the crashing, the burning, the confused and terrified NYPD, the cheering crowds, the glorious fire.). Sounds awesome, right? Want to see the video? Me too. There is probably some out there, somewhere, but we were too busy doing it to shoot the thing, but I have never seen a second of footage. Even when we do have cameras on a thing, we never get around to the editing and making something that captures the awesome in video form. A couple of years ago, we zip-lined a 350 pound opera singer across the Gowanus Canal as she sang the National Anthem, and all the proof is either grainy or long, uncut YouTube sprawls that are close to unwatchable. Good, solid documentation is something I always neglect, and always kind of assume will take care of itself. It never does, and this is a mistake I make again and again.
2: Testing that confetti gun a second time. I really should have just let it go, but instead: Snow. Blood. Joint Anti-Terrorism Task Force on a first name basis, eight weeks wired, six months patched, sixty-five days on Rikers.

Three Things That Make Your Work Unique
1: The human factor. When it comes to machine art, many, many people do better work than Madagascar. I will never be half as good a machinist as Mark Pauline or Christian Ristow, and whoever is reading this knows better welders than I. Where Madagascar shines is taking the big, dangerous tech, and adding in some sex, violence, some casual disregard for your safety — stuff that makes it a more human-scale experience.
2: The story. All Madagascar creations, be they rides, machines, or performances have a rich and detailed backstory, a fully thought-out narrative that no one ever knows besides those of us who made it. This acts as our bible for the thing. For example, the Jet Ponies had a whole narrative about pony dystopian futures and kids birthday parties that anyone on the crew could refer back to when making an aesthetic decision or change.
3: Adeptness at "turd polishing." Every bug a feature!
Four Tools You Love to Use
1: Plasma cutter. Miller was nice enough to give Madagascar a really nice 3050, for free, and it makes cutting metal of any kind easy and fun. Whenever I need to trim facial hair or my finger nails, I get kind of pissed that they are non-conductive.
2: Power sheet metal shear. An old one, so ancient that any brand name or maker's mark has long worn off. Handheld, the thing goes through thick sheet stainless quicker than a scissor through paper.
3: Bridgeport mill. At least a decade older than I am, and the thing is far tighter and more accurate than I could ever hope to be.
4: Milwaukee Porta-band. It slices and dices anything and everything, but is responsive enough that (amazingly, perhaps uniquely) I have never hurt myself with it.

Five Inspirations
1: New York City. It is hard and brutal and far and away the best place on Earth. That is why I live here, and if you do not keep up and be great, it will kill you and spit you out.
2: Rage. I am angry pretty much all of the time, and that is the font of my creative energy. If I was happy, I would be useless.
3: The hardcore punk scene. When I was growing up, it taught me all I know about DIY. Do not rage against the machine, build a better one.
4: The people I work with. Whenever someone gushes about something I have made, I usually respond "It was a lot of people, working hard." A group of like-minded, smart, creative people working towards a common goal can make anything happen.
5: Learning and interesting problem solving. I love learning new skills, new techniques, new ways to demystify reality and make things happen, and the deep satisfaction of problem solving is my favorite thing in the world.
More:

Over the next month or so, David Lang, something of a reluctant maker, is immersing himself in maker culture and learning as many DIY skills as he can, through a generous arrangement with our pals at TechShop. He's regularly chronicling his efforts in this column — what he's learning, who he's meeting, and what hurdles he's clearing (um… or not). –Gareth

One thing you learn very quickly about the maker community is that it's very diverse. Going to my first Maker Faire, in 2009, was a lot like my first day of high school: there was so much going on and so much to take in that it took awhile to make sense of it all. Just like the stereotypical groups that make up a high school cafeteria, Maker Faire's can be loosely classified by the self-organizing communities that inhabit the fairgrounds. There are the robotics geeks, the steampunks, the DIYbio folks, the Burning Man/installation artists, and many more. Unlike high school, silos are not encouraged – people easily drift between these communities as skill sets and interests overlap and compliment one another. This a world of curious people, and curious people like to learn from other curious people.
So far on my Zero to Maker journey, I've spent a lot of time with the technical aspects of making, with a heavy emphasis on learning the necessary skills to help boost my robotics knowledge. However, this has caused me to overlook one of the most important groups of makers: crafters. The craft area of Maker Faire is always a favorite area of mine, one that I never miss. I'm always inspired by the creativity that the different makers possess, and within crafting, it's a sure-fire way to find an incredibly unique gift. In this column, I wanted to take a closer look at the crafting community and reflect on its relevance to my Zero to Maker process for three main reasons: the low barriers to entry, the pure creativity that it requires, and the incredible infrastructure that supports it.
When I talk about the barriers to entry being low, I mean really low. It's easy to make excuses for not making things when you don't have access to expensive machinery or the specialty tools, or an engineering degree, but those excuses start to fall apart when you see what some of the creative crafters at Maker Faire are doing with little more than paper, scissors, and a glue stick. There's no reason not to get started. To follow up on this declaration, I made arrangements to spend an afternoon over at Teahouse Studio and mold myself from a wanna-be crafter into a full fledged beginner. I met Tiffany Moore, aka Crafty Fanny, around mid-afternoon. She decided that today would be a good day for stamping, and proceeded to teach me everything one could possibly learn about stamps. My first stamp attempts were quite pitiful, but Tiffany gave me some pointers that helped me improve my technique. She taught me that it was much more effective to gently pad the ink on from above instead of just punching the stamp down onto the ink pad (which is how we think of stamping). She showed me how to emboss the ink – applying heat and an additive to raise and gloss the print. By the end of the afternoon, I had filled notebook pages with stamping experiments and had completed two surprisingly beautiful cards, one for my girlfriend and another for a couple whose wedding I was attending that weekend.

Besides reinforced the initial hunch about low barriers to entry, the afternoon also brought about a tremendous amount of unexpected anxiety. The little voice inside my head that steps in to insist that I'm not creative. It's downright uncomfortable, especially when you're surrounded by people who can seemingly create such beauty on demand. Lucky for me, I had Tiffany there to continually help me overcome such creative doubts as well as serve up an endless supply of tactics for hopping over any creative hurdles. Even though I only had two completed cards to show for it, I felt like I'd stared down my creative demons, which is a uniquely satisfying experience in and of itself.
With their combined experience, coupled with the innovative experiments they are running at Teahouse Studios, the three women were able to give me a tremendous amount of insight into what I find to be the most fascinating part of the crafting world: the infrastructure. When I talk about the infrastructure, I'm referring to the wildly efficient tools and opportunities that crafters have to turn their work into a little side money or even a full-blown maker business. In my mind, no other maker group has figured out the business-side of DIY as well as crafting creatives. Of course, the crux of this efficiency is centered around Etsy and the incredible community they've fostered. Believe it or not, I even have my own Etsy store (admittedly, sales are poor). I first began to notice the remarkable effectiveness of Etsy businesses while I was working for ProFounder, helping small businesses raise money from their communities. I was struck by the natural advantage the handmade artisans had in the ever-changing economy. Crafters pour their heart into their work, expect to be paid for it, and they are! Of course, it's not as easy as that, but the important part is that it can be – the tools are there and they're easy to use. I caught up with Kyla Fullenwider and Adam Brown of Etsy, two of the folks working hard to set up for this weekend's Hello Etsy event. They summed up the event beautifully by describing it as bridging the gap – trying to get more micro-enterprises into the community and having a healthy conversation about the needs of those businesses.
If you're not able to attend World Maker Faire this weekend, attending a Hello Etsy event at one of the TechShop locations or tuning into the livestream are your next best bets.
And, I'm sure you know that MAKE has an incredible crafter community through its CRAFT website. This is a great place to start your explorations of the craftier side of making (and check out the Crafts area of Make: Projects, too).
More:
Follow David's Zero to Maker journey

Willow Brugh sent us this memo about the upcoming SpaceCamp goodness at this weekend's Maker Faire. "Hackerspace, the final frontier. These are the voyages of the Space Federation. It's open-ended mission…" -Gareth
School Factory's Space Federation has been hosting SpaceCamp at Maker Faires this year. Our first was at San Mateo, next to the sound and light exhibits, and between the circus and Powerwheel Racing Series in Detroit. Have I mentioned lately how much I adore Maker Faires?
The point of SpaceCamp is to propagate the robustness and awareness of hacker- and makerspaces. Attending spaces are curated into a shared area so space facilitators get to know each other and Faire attendees are exposed to the wide variety of spaces' interests, personalities, and geographies. It's been great fun, and we're looking forward to doing it again in NYC! You can find us all day Saturday and Sunday outside on your Faire map.
Are you with a space but didn't have time to submit to Maker Faire? We have some extra table space, and we'll see if you can fit. Make a case on this Atrium project detailing your needs and assign it to Willow. We'll be gathering Friday the 16th at 20:30 (after set-up and at the tail end of Maker Meetup) to talk about some of these ideas and drink. Watch @schoolfactory to find out where.
On Sunday, we will host a panel discussion on hackerspaces as the schools of the Future. James Carlson will moderate, with Mitch Altman, Willow Brugh, Dale Dougherty, and Jon Santiago as panelists. We'll talk about how collaborative workspaces (like hacker- and makerspaces) can enhance and transform public education. You can see notes from previous panels in this Prezi. Submit your questions as comments on this blog post and James will make sure they get asked.
Our panel at 11 will be followed by further exploration on the mainstage, led by MAKE's Dale Dougherty.

David Pogue is the weekly personal technology columnist for the New York Times, an Emmy award-winning tech correspondent for CBS News, and host of PBS's NOVA series on materials science, "Making Stuff."  He's the piano-playing TED presenter and family guy who brings the story of user experience design and consumer electronic product development to the masses.
Pogue is also one of the world's bestselling how-to authors, with three million books in print(!). Many of those manuals (either in the "For Dummies" series, or in his newer Missing Manuals series), tackle demystifying and optimizing Apple products.
This man really belongs on Broadway, but he's coming to Queens for World Maker Faire on Saturday, and will be doing David Pogue's iPhone Brain Dump on the Main Stage at 4pm.  In this half hour, he'll dazzle you with the coolest apps, share some undocumented tips and tricks, look back at the iPhone's unlikely origins, and look forward to the future of mobile phones and applications.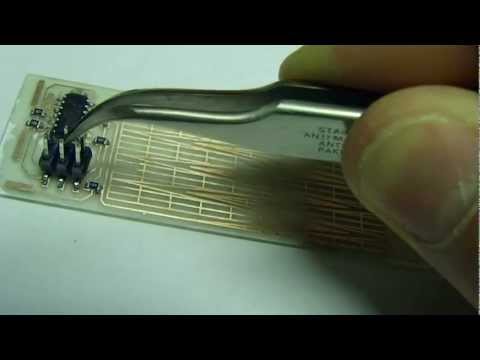 Interesting homebrew process from Charles Lohr, who demonstrates it here with a multicolor-LED-controlling capacitive touch sensor that works from the reverse side of the glass, i.e. you can use it without actually touching the copper. No holes are drilled in the glass, so components have to be SMT.
Cool stuff. Charles has promised a dedicated blog post to follow on the topic, but in the meantime, here's my condensed version of his process:
Apply glass microscope slide to slightly oversize 1-oz copper PCB foil with UV-curing glue. Press out bubbles.
Cure adhesive using appropriate UV source, e.g. EPROM eraser. Dab away uncured glue. Cut away excess foil.
Laser print PCB stencil on toner transfer paper, and apply stencil to copper-glass composite using conventional toner transfer methods. Be cautious when applying pressure, e.g. with an iron, to avoid cracking the glass.
Etch away the unmasked areas as usual.
Gently clean away remaining toner with a scrap of steel wool under running water. Dry the board thoroughly with a paper towel.
Use a toothpick to dab no-clean solder paste onto the pads, and position SMT components as needed using tweezers.
Carefully and evenly heat the board with a heat gun to melt the solder paste and secure the components. Touch up any bad joints with a soldering iron while the board is still hot.
Test the board.
Allow board to cool, then coat copper side with clear polymer overcoat, e.g. polyurethane varnish. This both protects the copper and clarifies the cured UV-adhesive, which has a "frosted" look without it.
I wonder how hard it would be to form the circuit traces without etching at all, e.g. by using a photomask to just cure the UV adhesive in those areas where you want copper, then washing off the uncured glue and mechanically removing the unglued copper, somehow? Could you use gold leaf instead of copper? [via adafruit]


A while back I did some experimentation with stewing plastic bags in canola oil and then pressing them into solid forms. I did this by following a method for molding a self-lubricating replacement bushing on a washing machine. While the results were certainly interesting, they had a side-effect of being impregnated in the oil, leaving grease stains in their path forever.
I devised a new method to do this, detailed in a Make: Projects piece. Using a double-boiler, I was able to heat the plastic bags to a consistent temperature that made them tacky and malleable, while releasing a minimum amount of fumes, then press them into a solid block.
The resulting material can be readily shaped with a hobby knife, jigsaw, or even a laser cutter. With this process, you can use the stock plastic to create kids' blocks, jewelry, replacement parts, etc.
The forging process is certainly not perfected, and could definitely be improved with some additional tools (a hydraulic press, for one, would work wonders). How would you modify this process, and what sort of things would you make if you recycled these bags at the point of use like I did?
More: