---
Tonight's episode of Make: Live played host to the first annual MAKE Magazine Industry Maker Awards, aka The Makeys. Twelve companies were nominated in four categories and MAKE readers voted. The winners were announced tonight, live on the show at World Maker Faire. And those winners are:
Most Hackable Gadget – Microsoft Kinect
Most Repair Friendly – PanaVise
Best Education/Outreach Program – Parallax
Best Product Documentation – The LEGO Group
Jessica Uelmen, receiving the Best Education/Outreach award for Parallax
Congrats to all winners of a magnificent Makey trophy, designed and printed at MakerBot Industries. We hope everyone had fun with this and hope, as these awards grow, that they will help raise awareness amongst mainstream companies of the growing population of consumers who want technology you can open, understand, fix, hack, and mod. May a thousand Makeys bloom!
Special thanks to Sean Ragan who took the lead on this project, MakerBot Artist-in-Residence Jonathan Monaghan for designing the award, Kim Dow for designing the awesome Maker Faire robot, Matt Richardson and Becky Stern for hosting the Makeys on Make: Live, and all of the folks at O'Reilly/MAKE and at MakerBot who helped make these awards happen. And thanks to the nominees and a hardy congrats to all of the winners! Please don't store Makey in a closet or on your bathroom toilet tank. Thank you.


GonKiRin breathes life into the pre-Maker Faire Friday night air.
Maker Faire New York is doing the final flight checks and getting ready for liftoff! Here are a few images taken around NYC as makers gear up for the heaps of awesome that are going to converge in Queens tomorrow.
Bag of embeddable toys for the Make Your Own Soap booth.
Some of the Maker Faire team stopped by a few maker spaces, including Collab, where they visited with engineer Ayah Bdeir, who'll be at the Faire exhibiting her snap-together magnetic circuit boards. Ayah is also one of the organizers of the Open Source Hardware Summit that took place yesterday at New York Hall of Science.
Mitch Altman received a special Hero Makey Award today during Make: Live. It was a special edition, live from the grounds of Maker Faire NY. If you missed it, check the Make: Live page for the archived show, which will be up soon.
Bonus:
- NY's Mayor Bloomberg gave Maker Faire a shout out on his weekly Friday radio show, calling it "a great family event going on this weekend and people should attend." Word.
More info:
- For program guide, schedule of events, and maker info, visit the Maker Info page.
- iPhone app
- Android app
- The core Maker Faire team will be blogging throughout the weekend and beyond on Maker Faire Daily, a blog devoted to Maker Faire. That's where you want to go to get immersed in MFNY as it unfolds.
- That, and the Maker Faire Twitter feed, of course. If you have something to say about MFNY on Twitter, use #makerfaire in your Tweets.

When was the last time you thought about pipe organs? Maker of all trades Matthew Borgatti has turned his childhood fascination with the massive instrument into a mobile, open source, MIDI-controlled version, further proof that if you can dream it, you can make it. Matthew will be bringing his aptly named Anywhere Organ to our second Maker Faire New York, taking place this weekend, September 17 and 18, at the New York Hall of Science in Queens.
1. Tell us about The Anywhere Organ. What inspired you to make it and how long did it take?
A high school friend who went on to be come a renowned church organist informed me that churches are getting rid of their pipe organs en masse and replacing them with PA systems. He also told me that there were folks who went around rescuing these abandoned organs to recycle them, use them for spares to repair other organs, or install them in their own homes. I met up with some of these renegade organ surgeons and found a wealth of miscellaneous pipes and parts all going spare.
I began thinking the biggest shame with pipe organs fading out of the public eye was the fact that so few people ever got to interact with them. They're such big, complex, powerful toys and only a select group of musicians ever get to fiddle with them. I thought if I could create something mobile, where I could turn any space into a pipe organ, and make it MIDI powered, I could create interactive installations to spread the love of this awesome instrument.
It's been about a year, all tolled, designing, building, hunting down parts, and raising funds to get everything into a happy working state. Now that I've laid the groundwork, though, expanding the project will be pretty simple. All the parts are actually driven by some simple tables in CAD. As soon as I get myself more pipes, all I have to do is plug in a few measurements, and the pattern for the organ will be automatically generated.
2. When did you first become interested in pipe organs? What's the main appeal for you?
Just down the street from my childhood home was a monster of a pipe organ brusquely shoved into an average suburban home. I can remember touring it as a Boy Scout, watching the elderly couple who owned the place pull up sections of the floor to reveal wooden organ pipes cut at odd angles to bend around the joists and conduit. I got to sit at the console and play the Imperial March.
It's hard to decide what the most captivating element of an organ is. Organs were some of the first computers, using banks of switches, magnets, and acid jar batteries to do things like play a complete chord at the touch of a button, and then reprogramming that button to do something completely different in the next song. They're one of the first battery-powered objects to go into mass production, and some pipes are still made the old-fashioned way: molten lead spread out into a sheet like screen-printing ink and then rolled into shape.
I've got to say, though, the coolest thing about a pipe organ is that it's an instrument that also happens to be a building. The fact that the acoustics of the building, the form of the organ, and the mechanical components are all so integrally tied together is astounding, especially when you hear the result.
3. What types of places are you hoping to install The Anywhere Organ?
I've got two favorite ideas for installations, though I'm hoping to get it everywhere I possibly can. I'd like to have the instrument completely fill a fire escape for a street concert. I'd also like to find an abandoned building or warehouse with multiple floors and install different voices and pitches of pipes on each floor. I'd like to see the effect of the echoes on each floor resounding with the other voices being played above and below. I think the effect would be chilling.
I've currently got a Kickstarter going on to raise funds for a bigger, better, more enormous version of the Anywhere Organ. Please give it a look at http://kck.st/anywhereorgan.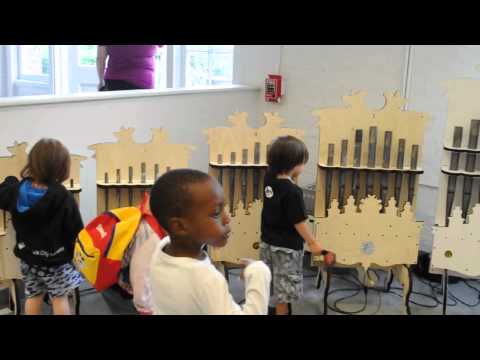 4. How did you hear about Maker Faire and why did you decide to participate?
I attended my first Maker Faire while I worked for Instructables. A friend of mine, Miss Monster, won an all-expenses-paid trip there as the result of a Halloween contest we had, and it ended up being a magical day. The next year I was back, demonstrating CNC machines on behalf of TechShop and making their Tormach sing the Ghostbusters theme. It's been a part of my life for so long I can't recall how I first heard about it.
I decided to participate in the World Maker Faire because of all the times I had a chance to participate in earlier Faires and missed out. I want to give back, to share the stuff I love, and meet awesome folks. Besides, hanging out behind the scenes with passionate, inspired, intensely talented makers is a reward all in itself.
5. Tell us about yourself. How did you get started making things and who are your inspirations?
I tinker. I dabble. I love so many different aspects of the way things get built, manufacturing techniques, material science, the maker movement, different projects and ideas that I'm often driven to distraction. In many ways my skill ADHD ends up being frustrating, especially when explaining to a potential client that the art school education, the animation jobs, the sculptures, and the book credits are part of the story of why I'm a good engineer, not a detraction from it. On the other hand when I get to unleash the fruits of my many dabblings everything becomes sweetness and light. Fixing multifaceted high-stakes projects where I'm pulled in just as the job is careening towards a deadline and they need someone who can handle any emergency that comes up, or working on layered projects where I'm designing something needs to be functional, elegant, strong, inexpensive, and easy to construct all at once is so incredibly rewarding. There's a selection of my work on my site.
Broken toys were my first avenue into making. Any broken toy was an opportunity to explore, to fix, to sort out all the fiddly inner bits that actually made things go. My first real project was shoehorning the guts of a toy train into a tin can with some pulleys for wheels to make a little R2-D2 robot.
I ended up going to school for industrial design, figuring that was the surest path to becoming a professional inventor. After a year of model making and sketching fictional products that would never exist outside of our studios I got completely fed up. What saved me was a job offer from the special effects industry. I'd been sending out portfolios and resumes so promiscuously that one landed on the desk of a SFX shop owner who needed another machinist cranking out robots for Snakes on a Plane. That job soon led to another and it started a cycle where I'd spend my school year in the air dreaming up impossible designs and my summers cranking out high-precision props for films like AVP:II and I Am Legend.
I have too many heroes. Bruce Shapiro and Arthur Ganson leap immediately to mind. Their work has an incredible blend of precision and personality. I'm always entranced when an incredibly controlled mechanical movement can have humanity and expression and tell a story without words. I also adore Ze Frank for making small, simple, clever, infectious ideas.
6. Is the organ strictly a hobby or is it related to your day job?
I'm actually a semi nomadic contractor with a jewelry business on the side. I do a lot of product design, contract mechanical engineering, and every odd push-my-boundaries absurd mystery job that comes along.
I used to work for a place called Instinct Engineering, working on the design behind large interactive sculptures like the Raygun Gothic Rocket. It's where I got a lot of my sensibilities for designing stuff as simply as possible with the certain knowledge that you're half as smart when you put things together as you were when you designed them. If you design something with all kinds of intricate interlocking parts at your cleverest, you're going to feel like an ape with a hammer when it comes time to fit that baby together.
7. What new idea has inspired you most recently?
Hackerspaces. There is a kind of mesh developing between hackerspaces as more and more spring up. While working on the Hackerspace Passports I realized how much potential there is for creating a network of teachers and spaces all trading info and techniques. The low-orbit-ion cannon power of this network could be astounding if focused on specific problems. Yes, essentially I'm proposing that hackers will save the world.
8. What advice would you give to the young makers out there just getting started?
Fail often. It's worse to never start than to utterly brick a project. If you don't give yourself opportunities to learn, you'll simply never learn.
9. What's your motto? Favorite tool?
"Apathy is obsolete. Sincerity is the new irony."
There's this thing called a Rotodrive countersink. It's essentially the very tip of a drill bit with a little offset shaft that kind of makes it look like a lazy letter "Z". You put that in a tool handle that lets it spin freely, and it makes cleaning up any hole drilled in metal an absolute delight. It's a pleasure to use. It leaves a beautiful finish. I don't know why every human simply isn't issued one at birth.
10. What do you love most about NYC?
Variety. I like that I can get the mad whim for tajine or Belgian waffles at 3 a.m., and serendipity will simply deliver me to an all-night Euro-Moroccan takeout joint.
Thanks Matthew! For all the information you need to come check out the Anywhere Organ and meet a few thousand of your newest friends, head on over to the Maker Faire website.

Innovation spaces of the future: research notes on China's shanzhai meeting the Makers @ Institute For The Future Lyn writes -
Over a few months in early 2011, in the course of doing research for an IFTF Tech Horizons Program's study on the future of "open fabrication," I convened what turned out to be a remarkable, free-wheeling conversation among a set of pioneering thinker/makers in China, Singapore, and the U.S. What started out as a set of distinct one-on-one research emails turned into a group discussion on the nature of Chinese manufacturing, global open innovation, and the burgeoning, disruptive potential of the growing connections between (mostly) Western-based hackers and agile Chinese manufacturing networks. As David Li wrote: Shanzhai and Open Source Hardware are twins separated at birth and if we can join them, it will create some very interesting opportunities.

I wrote a piece for our internal report, available to Tech Horizons clients, which focused mainly on 3D printing and design. However, our email conversation ranged well beyond that topic, and I've been meaning to release this great stuff into the wild for some time now. I've cobbled together two readings. Below you can find some of the best quotes taken out of context and lightly organized across some broad categories. You can also download the long, slightly edited, more-or-less chronological version of our conversation, with the permission of all participants. 19 pages of conversation. Hope you enjoy.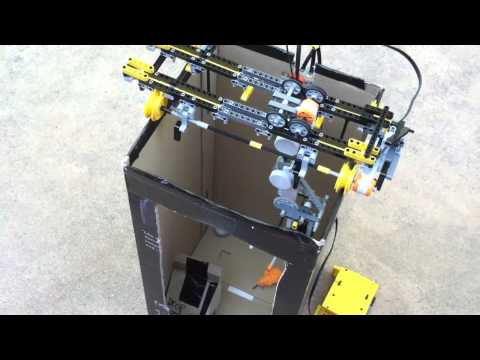 First Lego League team BEBO built this claw game a pre-season project. The joystick has two motors used as rotation sensors, and controls the claw via bluetooth. [Via The NXT Step]

Attending Maker Faire can be like a magical glimpse into the future with all of its ingenuity and intellect, robots, rocket, and gadgets galore. But some makers, like Denny Daniel and his Museum of Interesting Things, are there to bring a window to the past. Denny will be at Maker Faire New York, taking place this weekend, September 17 and 18, at the New York Hall of Science in Queens, presenting incredible artifacts from the past.
1. Tell us about the Museum of Interesting Things. How did it get started and what is its mission?
The Museum of Interesting Things is a traveling museum that can go anywhere with a room or several tables, from schools to festivals. We demonstrate and also let people handle the items. It's a show like a circus — just no elephants! There are eight areas of interest: photography, science, music, literature, medical, math, toys, and household. We aim to get people to realize their iPods and other items didn't pop out of thin air, that they are a product of many inventions and ideas that evolved over years. We want to bring back that attitude of the greatest generation, who loved to tinker and never saw a problem they couldn't solve. I guess you could say that one purpose of The Museum of Interesting Things is to make more "makers"! I suppose the T-shirt would read "TMIT: We Make Makers".
2. How did you hear about Maker Faire and why did you decide to participate? What artifacts from the Museum are you bringing to the Faire?
I got into a random conversation about TMIT with a worker at Home Depot, and he told me about Maker Faire. Not long after, I saw a piece on Maker Faire on a major news channel and I knew it was fate! So I called the Home Depot guy and he gave me the details.
When I learned more about the Faire, I realized it's doing exactly what I think the country needs and what TMIT is trying to do also. Our goal is to teach people to be creative and inventive in a way that's fun, interesting, and playful, while secretly (or maybe not so secretly) everyone is actually getting an education and being inspired at the same time. That's why I joined.
Some of my favorite things from the museum are coming to the show, and I'm also debuting several pieces. There will be over 30 items that people will be allowed to handle. I'm debuting the pigeon parachute, the pigeon harness, the 1904 spy camera shaped like a pocket watch, and the Mutoscope. I'll also bring some of my old faves, the Thomas Edison cylinder phonograph and a portable Columbia cylinder player, as well as several box wooden cameras from the 1800s, stereoscopes, windup tin toys, and much, much more.
3. What are some places you've taken the Museum to? What are your favorite reactions to the artifacts?
We've gone to so many different types of places: public and private schools, the Intrepid Museum, NYU, FIT, the 9th Precinct Police Department, the American Youth Hostel's 75th anniversary. We've even presented to 140 senior citizens at a winery.
Mayor Bloomberg, Councilman Peter Vallone, Jr, Joe Franklin, Joey Ramone's brother Mickey, Cy Curnin of The Fixx, and Mike Peters from The Alarm have all posed and demonstrated several antiques for the website.
I love that people get curious when they start playing with the items, and call their friends over to teach them how to the items work. I also love how they recount their own stories about history and get inspired. For example, after one school show, several 8th graders stopped me in the hallway and started asking me questions and telling how much fun they had. When I asked them what they wanted to be when they grew up, each said an inventor or scientist, except the last one. He said, "Well, I want to be a basketball player." Then, after a moment of thought, he said, "and maybe an inventor too!" I thought, wow, peer pressure in the opposite direction than we're used to!
4. Tell us about yourself. How did you get started making things and who are your inspirations?
My first creative endeavors started around 3 years old, when I began writing songs and later prose. I grew up watching my father design and make shoes, my brother's kamikaze photography style, and the amazing ways my friends souped up their cars.
I was inspired by several teachers in high school and college. One came to my house with a bottle of vodka and the movie Road Warriors and compared it to the fall of Rome (yes, the drinking age was lower then). I was also inspired by several authors like Dickens, Camus, and Socrates, as well as several dear tinkering friends and bosses. My dad has been my greatest inspiration. He designed shoes for major stores like Macy's and Nine West, speaks nine languages, and seems to be able to do anything and not fail!
When I started working, there were several jobs that helped grow this crazy obsession with antiques. I was lucky to be able to learn both modern technology and history, and still have fun. I've done everything from filming at clubs like Limelight and running underground warehouse parties, to working for the Statue of Liberty Ellis Island Foundation.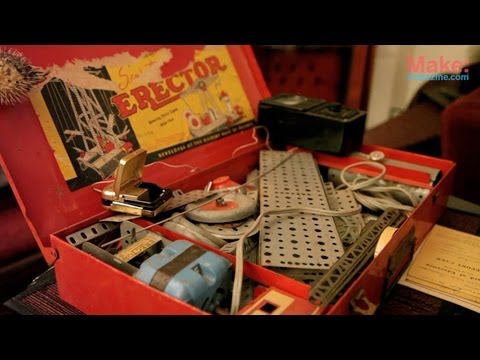 5. What new idea has excited you most recently?
I get inspired by how old ideas evolve into modern inventions that we think are new, but were actually already thought of or invented by people like Leonardo Da Vinci, Ben Franklin, Thomas Jefferson, or Thomas Edison. I also love that people are starting to create their own businesses and inventions, and what used to be weird science is becoming a part of our popular culture — like robot competitions and Maker Faires.
6. What is your motto?
I do not believe in failure. The show must go on. If you stay positive and have hope, you will succeed in anything. That pretty much also explains the success of the Chia pet and the pet rock!
7. What advice would you give to the young makers out there just getting started?
Don't be afraid to demystify the things around you, whether they seem complicated or simple.
8. What do you love most about NYC?
Despite its size and reputation, it can often be like a small town. Everyone will work together to solve a problem or help each other in a time of crisis, or even for something simple like giving directions. It makes me feel like we're one big family, and that's how I like to run my social life and my business endeavors.
Thanks Denny! For folks in the New York area, get all the information you need to attend the Faire and join the fun this weekend at the Maker Faire website.

James from AS220 Labs wrote in to let us know about a fun—and cheap—workshop coming up next week:
Fellow makers of all things noisy, lend me your ears!

This month, we got a special workshop going on at the labs. Traveling circuit bending rock band, CMKT 4 will be stopping by the labs to host a "Build a Contact Microphone" workshop on Thursday, September 22nd. Contact microphones are awesome for noise making and experimenting. Just check out some cool projects here – Get LoFi. You can record sound traveling through any material (metal, wood, your body…starting to get awesome ideas?).

What can you do with a contact mic? Put it into a glass of water in the freezer and record the sound of water freezing or unfreezing. it sounds really cool! Slap it on a banjo or any acoustic instrument and electrify it!

What: How to build a Contact Microphone (by CMKT4)
Where: AS220 Labs, 131 Washington Street, Providence, RI 02903
When: Thursday, September 22nd 7-10PM
Cost: $20 (includes materials for building microphone)
Build a Contact Microphone Workshop

The red carpet is rolled out, the limos are lining up, and the gowns are FABULOUS. The first annual MAKE Magazine Industry Maker Awards, aka the "Makeys," are just hours away! OK, there's no rug, the limos are art cars, and the "gowns" are Maker Faire T-shirts with blinky-light jewelry, but at least the excitement is genuine. Tonight's Make: Live, streaming from World Maker Faire, will feature these special awards that honor mainstream companies that have shown outstanding support for maker/hacker culture. Also on tap: the Sashimi Tabernacle Choir, Brooklyn Aerodrome, Dogzilla, the Polaroid Matrix Flipbook, and other Maker Faire madness. Come join the party!
Make: Live 16 – World Maker Faire
Friday Sept 16th, 2pm PT/5pm ET
Watch at makezine.com/live or on UStream
Please join us in the UStream chat or mark tweets with #makelive to interact live with the show.
We also give away a fabulous prize from Digi-Key to one chat member who can solve our photo challenge.

Ambitious work-in-progress from Brooklyn artist Jonathan Brand:
When finished every part of the 1969 Mustang coupe that i restored and sold to purchase a diamond engagement ring will be recreated out of paper in 1:1 scale. This is a continuation of the diamond series and an earlier show titled "one for another." It is made entirely of archival inkjet prints on paper. The process began with creating a 3D computer replica which is then unfolded flat and printed on an inkjet printer. Each piece is then cut out and glued together to form a 3D replica of the original.
So far, it would appear, he's only finished the motor and one wheel. But even by themselves, those are impressively detailed models. Can't wait to see it when it's done! [via Boing Boing]

By Nick Raymond, Make: Labs Engineering Intern
The Rii Mini i6 2nd 2.4GHz Wireless Keyboard + Universal Remote Control is a nifty gadget that brings organizations and tranquility to your barrage of remotes and controllers. Not only does it work as a universal remote for your TV, cable/satellite box, DVD player, and stereo, but it has a full back-lit QWERTY keyboard and touchpad to boot. You'll be able to enter text into search menus and browse through menu screens like never before, all from the comfort and convenience of this small and handsome-looking controller.
You can also connect the remote to your laptop or computer via the USB dongle. The remote is compatible with Windows XP/Vista/7 as well Mac and Linux. I tested the remote on a Thinkpad laptop running XP. The laptop is connected to a CNC milling machine (look for the full review of the CNC machine in our upcoming special MAKE Ultimate Kit Guide out in November) and runs CNC software to control the machining operations. I simply plugged in the USB dongle and was able to jog the axes and start the software with the remote. This makes setting up the machine much easier, as I often find myself running back and forth between the computer and the machine in order to make small adjustments before machining a part. As a bonus, I can keep the remote in my back pocket when not in use. But you don't have to own a CNC machine just to utilize the versatility of this remote.
As an experiment I plugged the remote into an iMac and ran Adobe Illustrator to test how it would handle a more complex program interface. While a little small, I used the track pad to control the various tools within the software and all of the keyboard shortcuts worked like a charm. When plugging into a USB port on a Mac, the remote will not immediately be identified. A window will pop up and prompt you to "touch the key to the left of the Shift button" but there is no such key. Simply go through the prompt, smash on some buttons until the Mac gives up and says "unable to identify keyboard, please select type of keyboard from list." Click on the ANSI option and off you go.
I also tested the remote with a Sony PS3, and just as advertised, the USB capability works from the start. You can easily navigate the login screen or surf the web, which is great if you use your console as your primary entertainment system. Inside the box you get the remote, small USB dongle, a USB chord, and instructions for programming the remote. The USB cable is used to rechange the lithium-ion battery, and there is a battery light on the remote to indicate when it needs to be charged.
The universal remote is a handy feature, but I foresee unlimited possibilities with the USB keyboard for DIY robotics and home hacking. It has never been easier to wire up a computer and run a simple program to automate the lights or take control of your heating or cooling system, and you could simply use this keyboard for the interface. Or consider how great it would be to control your robot and send commands with the use of a full QWERTY keyboard, or even find a hack to use the touchpad as the directional control. Lots of potential. You can find this online for about $60, well worth the cash in my opinion.