---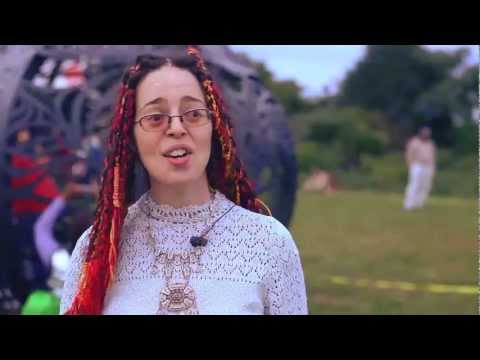 Miss Scorpio of Gemini&Scorpio.com gives us a sneak peak into Sunday's music lineup at World Maker Faire, NYC. Hint: Glockenspiel Hip-Hop.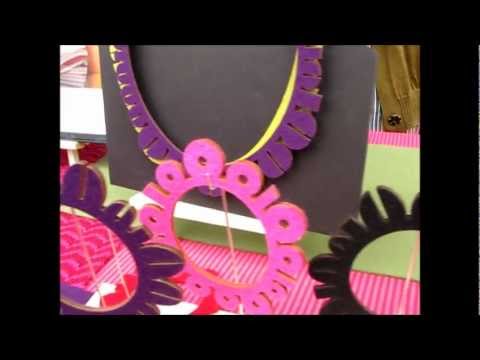 Maria designs necklaces that she then cuts on the laser. She uses an industrial wool felt. The smell as they outgas is a bit like burned hair. Her blog's got information about her jewelry and other creative projects. She's exhibiting at Maker Faire, so come check out her work!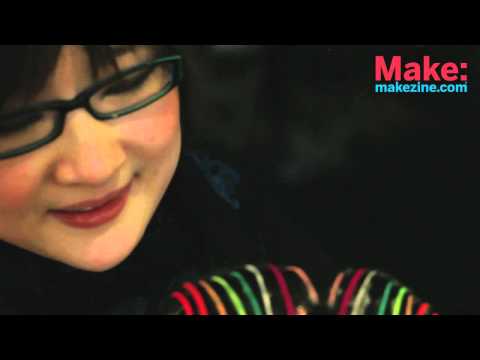 Jordan Jin Stone's Double Rainbow Glasses create a visualization of your aural environment. She used EL wire and an Arduino to create a pulsing rainbows. She's here at World Maker Faire with a strong contingent of MIT students showing their projects.

Today at Maker Faire New York, Massimo Banzi, co-founder of the Arduino project, unveiled several new boards in a main stage presentation, What's Ahead for Arduino. The new boards are on view in the Arduino tent at Maker Faire, and you can read about them on the Arduino blog, too:
Arduino Leonardo, a low cost Arduino board with the Atmega32u4. It has the same shape and connectors as the UNO but it has a simpler circuit. On the software side it has a nifty USB driver able to simulate a mouse , a keyboard, a serial port (with more drivers coming later). As usual for Arduino, everything will be released as open source (Core, Bootloader, Hardware).

Arduino Due [note: developer preview version], a major breakthrough for Arduino because we're launching an Arduino board with a 32bit Cortex-M3 ARM processor on it. We're using the SAM3U processor from ATMEL running at 96MHz with 256Kb of Flash, 50Kb of Sram, 5 SPI buses, 2 I2C interfaces, 5 UARTS, 16 Analog Inputs at 12Bit resolution and much more.

…

Arduino Wifi Shield. It adds Wi-Fi communication capabilities to any Arduino. Instead of using any of the classic WiFi modules on the market we wanted to have something that will provide the maximum level of hackability to the user. The shield is based on a wifi micro module made by H&D Wireless coupled with a powerful AVR32 processor that carries the full TCP-IP stack leaving room to add your own protocols and customisations. We've also worked hard to make sure that you will be able to migrate your code from the Ethernet Shield with minor changes.
What's more, Arduino 1.0 has been finished, too!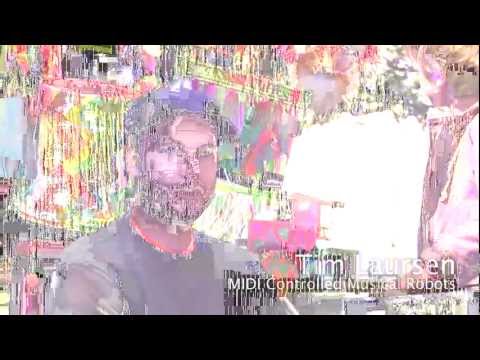 Tim Laursen presents his robot drummers at World Maker Faire New York 2011. The colorfully decorated MIDI-controlled solenoid drummers are activated by a small button panel, and Tim wears his owl drummer backpack to dance to the music.
More: Make: Live Episode 12 – Robots 7/13/11 featuring Tim's robot drummers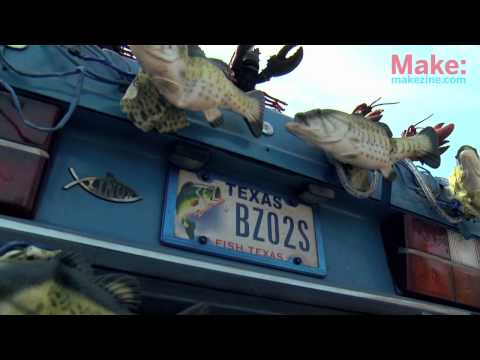 The Sashimi Tabernacle Choir is a Volvo. It is a Volvo covered in singing fish and singing lobsters. This wacky art car is one of many unusual and hilarious wandering art cars at the World Maker Faire, New York. Richard Carter is the designer, and the driver, and will be on hand through Sunday to share his amazing musical creation.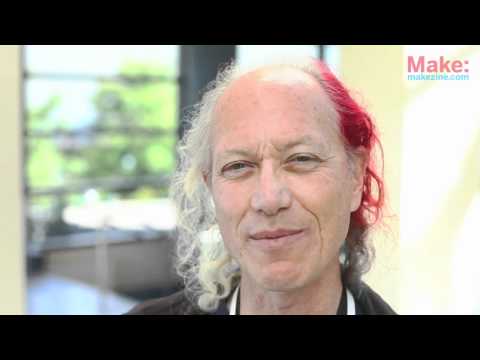 Mitch Altman, recent recipient of the Maker Hero Award, shares talks about his favorite things at World Maker Faire New York. There is still plenty of time to come visit the faire, and see some amazing things. Singing fish, a fire-breathing dragon, and of course the Learn to Solder Booth are on Mitch's top list.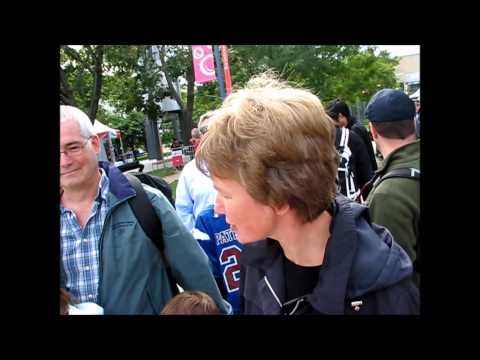 The O'Neil family is really excited about being first in line for World Maker Faire this year. They made the five hour trek from upstate, and are making a weekend of the faire. You can follow the festivities of this year's World Maker Faire at Maker Faire Daily. If you're near New York City, come on down to the New York Hall of Science.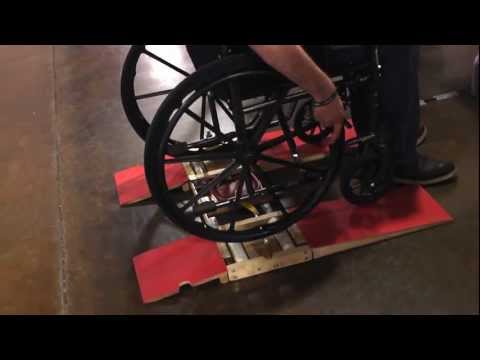 John Schimmel teaches the Assistive Technology class at NYU's ITP program. The RAMPs project allows a wheelchair-bound DJ to roll up to a stationary set of rollers that are connected to rotary encoders attached to an Arduino. The interpreted data is then sent to a Processing sketch and used to blend or scratch audio tracks in real time. This device was created in 2005 for an individual with cerebral palsy who had a talent for rapping and also needed to hone his wheelchair skills.
Subscribe to the Maker Faire Podcast in iTunes, download the m4v
video directly, or watch it on YouTube and Vimeo.
Check out more videos from Maker Faire Bay Area 2011.
More: