---
Back in MAKE Volume 19, digital artist Josh Cardenas shared build instructions for a unique, custom setup he was enlisted to create for renowned turntablists DJ Shadow and Cut Chemist. We just shared the full DIY on Make: Projects. From the intro:
I had the chance to run visuals for a unique DJ act called The Hard Sell, a collaboration of turntablists DJ Shadow and Cut Chemist. The art of spinning and cutting records is usually not visible to dance club audiences. Cut and Shadow wanted to let everyone see, up close and personal, all the action on their 8 simultaneously spinning turntables playing old 45s. But they needed a way to do it unobtrusively. Given the often cramped spaces of the venues they perform in, they couldn't have a crew of sweaty dudes in black clothes wielding cameras in their faces. Also, Cut and Shadow wanted to mix in additional visuals from DVDs, to change and match the moods of the different tracks.

I got involved when Ben Stokes, the show's lead visualist, said to me: "I like robots. I like cameras. I love robot-cameras! You build all kinds of crazy stuff; what can you come up with for this?" I suggested I could probably make some small robotic mounts for the cameras, each with their own pan-and-tilt mechanism driven by hobby servos. They'd be small, light, cheap and effective — my favorite combo!

Here's the multi-camera live setup I devised for the show, and a lower-budget version that you can put together without all the professional equipment.
Here's a visual breakdown of the setup Josh made for the tour:
And here's a video of DJ Shadow and Cut Chemist in action. You can see the rig in the wide shots, and footage from the rig on the screens behind them.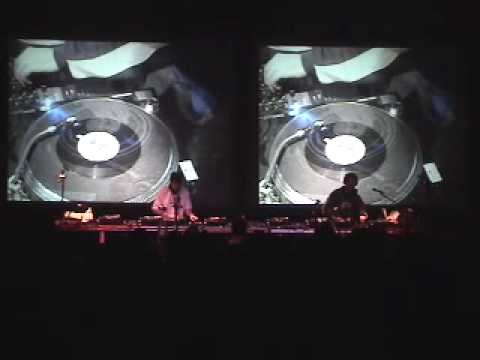 Check out Josh's build on Make: Projects, and start capturing footage like the pros.

As part of our Plastics theme, we've uploaded Charles Platt's excellent ABS Plastic Fantastic Desk Set article from MAKE Volume 10. By the time you're done, you'll have three handsome, handmade desk accessories (a pen/pencil/tool rack, a CD caddy/drawer, and a book/magazine stand) — you'll also have a great introduction to working with ABS. What is "ABS," you ask?
ABS is acrylonitrile butadiene styrene, a plastic that really does have dreamlike qualities. If you've ever picked up a Lego brick, you've handled ABS. Car stereo installers and model railroad buffs sometimes use it, but craftspeople and hobbyists generally have been slow to adopt it. You can saw it, drill it, sand it, whittle it, and drive screws into it, and it never warps, splits, or splinters. Best of all, you can bend it quickly into complex shapes by using a simple gadget that costs around $200.
ABS Plastic Fantastic Desk Set
More:
Plastics month on MAKE

With National Database, India Tries to Reach the Poor @ NYTimes.com…
KALDARI, India — Ankaji Bhai Gangar, a 49-year-old subsistence farmer, stood in line in this remote village until, for the first time in his life, he squinted into the soft glow of a computer screen.

His name, year of birth and address were recorded. A worker guided Mr. Gangar's rough fingers to the glowing green surface of a scanner to record his fingerprints. He peered into an iris scanner shaped like binoculars that captured the unique patterns of his eyes.

With that, Mr. Gangar would be assigned a 12-digit number, the first official proof that he exists. He can use the number, along with a thumbprint, to identify himself anywhere in the country. It will allow him to gain access to welfare benefits, open a bank account or get a cellphone far from his home village, something that is still impossible for many people in India.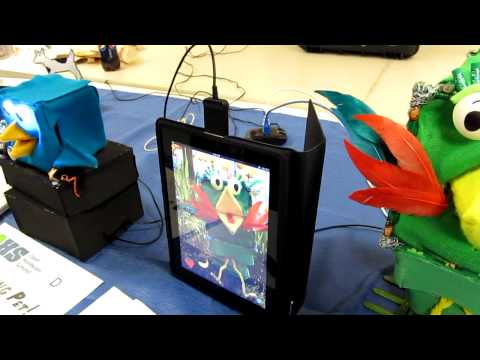 I was psyched to finally get a chance to meet the amazing, the talented RobotGrrl at World Maker Faire. In this video from the Faire, she shows Chris Connors three of the bots she's designed. I especially love that she's already made clever use of the Redpark Cable for connecting Arduino with iOS via an iPad.
More:

Check out the amazingly well-done build and documentation for her RoboBrrd on Make: Projects

Brian Wagner of Louisville, KY's hackerspace LVL1 built this gear clock with the help of a Macetech Chronodot. Wanna build your own? Brian posted an Instructable showing how.

I could not resist this 3D-printed sight gag from Thingiverse user mustachejack, who says it's been on his bike for two months, so far, without breaking. The model includes an integral tube-clamp to be secured with a bolt or a zip-tie.

My buddies over at Open Music Labs have posted an excellent tutorial on how Force Sensitive Resistors (FSRs) work, as well as how to use them effectively in circuits.
More: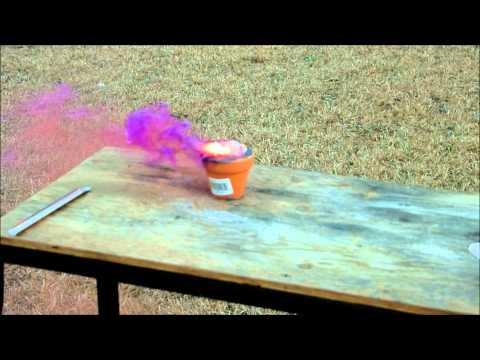 Really wonderful community video collaboration from the chem-hackers of sciencemadness.org, including MAKE pal and guest blogger Hayden Parker. Over about fourteen minutes, we are treated to a bench-side view of two dozen energetic reactions that share an interesting property: reagents that, on mixing, spontaneously burst into flame.
My favorite of the lot is the beautiful, er, "purple haze" produced by the reaction of finely divided aluminum and iodine, which starts at 5:50. A close second is the unusual solid-phase reaction between vitamin c and sodium chlorite—two dry powders that spontaneously burn when stirred or shaken together—which starts at 5:00.


If you were watching Make: Live on Friday you may have caught a glimpse of MakeDo and the robot dog I made for the show.


MakeDo, now available in the Maker Shed, is a unique set of reusable connectors for creating things from the stuff around you. Reuse items like cardboard, plastic and fabric to create structures, costumes, furniture, and decorations. When you are done, just pull your creation apart and reuse the connectors to make something else. Everyone who handles the connectors will find a new use for them. This incredibly versatile and addictive building system is only limited by your imagination! Available in 65 or 170 piece sets. And no, you can't have my robot dog.