---
Travis Chen of L.A. added a Thingamakit synthesizer (formerly sold by Bleep Labs) along with with dual LEDacles, to his Nintendo R.O.B. robot, then sold it on Etsy. [Via Bleep Labs]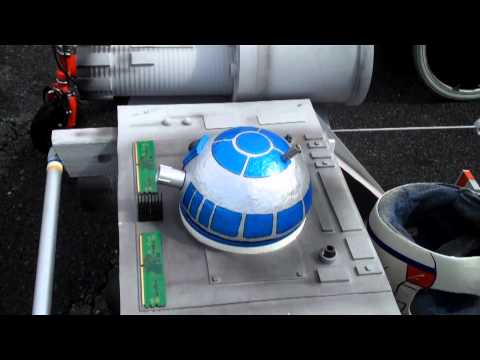 The Force is strong with Instructables user The Papier Boy. Includes freaking-out R2 unit!
The spinning droid was constructed of Styrofoam and painted to look like R2-D2. I used one of my daughter's old toys to create the motion. The toy had a gear on it that spun when a button was pushed. I cut the toy in half (it was too big) and mounted the toy to the underside of the body and glued the droid head onto the gear. To control the spinning I used an old NES controller. I re-routed the toy's switch through the NES controller so when the A or B buttons were pushed the droid would spin for about 15 seconds. For audio, I downloaded some R2-D2 sound effects from a website and used Pinnacle movie studio software to string them all together into a 50 second babbling droid Mp3. I loaded this onto an iPod and connected it to a small portable speaker system that I hid inside the body of the car. This way, each time I started down the hill, I could push the NES controller button and the iPod play button to commence the droid freak-out.
[via Dude Craft]
More:

Fun Bike Unicorn Club – Todd Barricklow , through the Fun Bike Unicorn Club, works metal into unique pedal-powered vehicles. His designs often start from just a sketch, and completed through a process of trial-and-error. He came to Maker Faire Bay Area 2011 to ride his creations.
Subscribe to the Maker Faire Podcast in iTunes, download the m4v video directly, or watch it on YouTube and Vimeo.
Check out more videos from Maker Faire Bay Area 2011.


Mike Doyle's masterwork Lego Victorian on Mud Heap follows up on his similar, if less epic, creations, Three Story Victorian with Tree and Two Story with Basement. This latest work is 5.5′ x 6′ x 3′ and uses well over 100,000 Lego elements, and took 600 hours of build time.
For me, this piece speaks to the inherent unpredictability of those things which we call our foundation. Like a little dollhouse, a seemingly secure home is plucked up and set on a new path. This charming home, lovingly embellished with ornamental fancy was no match for nature. The fancy embellishments serve as a reminder of our earlier focus on the material world, while the aftermath removes us from that focus. The piece offers no answers or necessarily any hope, but rather points to life's fragility.
[Via the Brothers-Brick]

Antoine Pevsner's Portrait of Marcel Duchamp as it appeared, left, shortly after its creation in 1926, and in 2009, right.
Though "plastic" has now largely overcome its The Graduate-era connotation of "necessarily cheap, fake, and ephemeral," it remains the case that plastic objects—especially those manufactured early in the history of plastics technology—present unusual challenges for long-term conservation. As a dabbling ray gun collector, I've poked around in this area a bit, trying to figure out the best way to display my collection under conditions designed to control degradation. Not wanting to spend a bunch of money on a specialist text written and priced for professional conservators, however, I have found that this pamphlet from the National Park Service provides a great overview of the subject, but with plenty of specific detail to satisfy my needs as a hobbyist.

Make: Live episode 17 features 3D modeling and printing and was live from the MakerBot workshop in Brooklyn, NY. Learn about the software and hardware toolchain for realizing your imagination in 3D objects in this archived episode. In the clip above, MakerBot co-founder Bre Pettis talks about exciting developments in their extruder technology and fields 3D printing questions from the audience.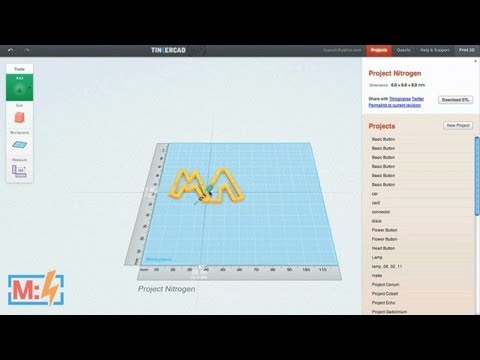 Teacher Liz Arum demonstrates Tinkercad, a browser-based solid modeling tool, and talks 3D in the classroom.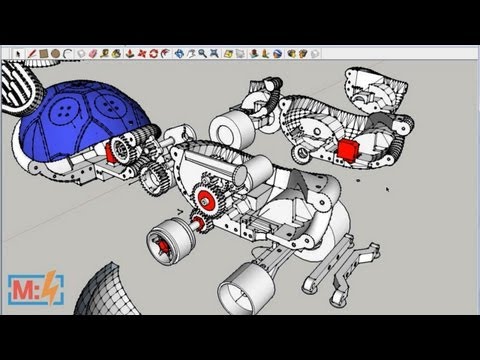 Did you see the turtle shell racers at World Maker Faire NY? Michael Curry aka Skimbal talks design and shows how these rad RC cars work. He's a superstar modeler who prefers the free tool SketchUp over the fancier modeling packages.
Subscribe to the MAKE Podcast in iTunes, watch Make: Live episode 17 in its entirety (or download in m4v format). Also check out the chat room transcript!
Show notes:
On this episode we also premiered the Secret Noodle Truck video from World Maker Faire NY: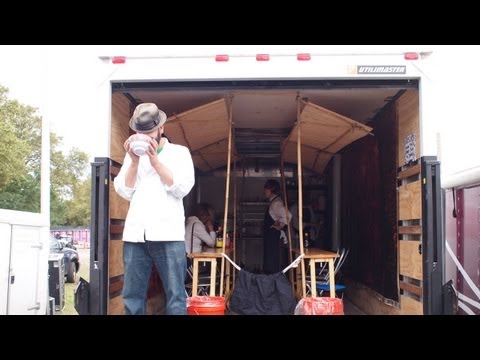 Hidden somewhere on the grounds of World Maker Faire New York is a fully functioning noodle house in the back of a rental truck, run by Mark Krawczuk. The truck usually appears at New York's Lost Horizon Night Market and serves new friends two types of noodle soups.
Want to show us your project? Upload a video or photos and send a link to live@makezine.com.
Next show:
Make: Live 18: Toys & Games
Wednesday October 12th, 9pm ET/6pm PT
Watch at makezine.com/live or on UStream
Please join us in the UStream chat or mark tweets with #makelive to interact live with the show.



Mark Wilson of New Zealand created an Arduino-based emulation of the KENBAK-1, one of the first, if not THE first personal computer, released 40 years ago.
Fully assembled and powered on. The LED indicates that the INPUT register is being displayed, pressing the 8 buttons on the left will toggle the corresponding bits and LEDs. The four contol buttons provide for setting the address, reading/writing memory etc.
Flickr set and source files.

More Recent Articles