---
The Biosensing and Networked Performance workshop at conference at ISEA 2011 in Istanbul helped participants create their own GSR sensor for the iPhone. [Via Arduino]

Gang Used 3D Printers for ATM Skimmers @ Krebs on Security.
An ATM skimmer gang stole more than $400,000 using skimming devices built with the help of high-tech 3D printers, federal prosecutors say…

…Apparently, word is spreading in the cybercrime underworld that 3D printers produce flawless skimmer devices with exacting precision. Last year, i-materialise blogged about receiving a client's order for building a card skimmer. The company said it denied the request when it became clear the ordered product was a fraud device.
As 3D printers become net connected and commercial versions of the 3D printing software get pressure from lawmakers, we actually may see the 3D printing software detect "dangerous" shapes, logos and more. Just like PhotoShop will not allow scans of money. 3D printing service companies may be asked to review what their customers are sending off…

On Saturday night I went to Crash Space, hackerspace in Los Angeles to meet with the members and find out about the projects they've been working on. The event was called "Show and Tell for MAKE," and the idea was to work together to develop articles for the magazine and online, and think about kits for the Maker Shed.
After a delicious vegetarian Indian food dinner, we gathered in Crash Space's front room and, one-by-one, the members presented their projects. Here was the agenda (culled from Mike Outmesguine's blog post):
- Clever Furniture Repair via Michelle
- Dazzling Laser Light Show via Chris
- Internetable Robotic Heartbeat via Theron
- DECO Cosmic Ray Detectors via Levi
- Safecast GPS Geiger Counters via Mike
- Wii Interactive Whiteboard via James
- Arduino iPad Emulation via Russell
- Sparkles the Unicorn via Matt
- Timelapse Video Mount via Matt
- Daryll's Digital Dominos via Mike
- Store Front Music via All
- Physics Defying Waterfall via Naim
I was impressed by the creativity of every project, and I think there's a home for each one in MAKE magazine, online, or in the Maker Shed. It was an incredibly fruitful get together! I'll have more to say about the individual projects in the coming days.
If you are part of a hackerspace and would like to get involved with MAKE in this way, please email me at mark@makezine.com We'd love to work with you!


Did you know we now allow you to attach images to your comments? Please only use your new powers for good. This feature immediately bore fruit, as reader Gloria Kelly commented and loaded an image to this 2007 Weekend Project video about making a messenger bag out of plastic grocery/trash bags. Here are the details (image above) on her bag:
I thought the tutorial was quite clear. In fact, I made a grocery tote bag today. It took me about 4 hrs from start to finish including ferreting about for the bags and re-doing the handles which were a bit short first time round. Now that I know the process, the next one will be a lot quicker. My husband has already put his order in for one ;o) My tote used up 20 supermarket bags and is slightly larger than a supermarket bag. It's not the most stunning bag in the world, but it's serviceable and strong. The fused bag "fabric" resembles the plastic tarps you can get in the $2 shops, but not woven, obviously. I didn't have any stuff-ups fusing the bags. I used the cool end of the wool setting on my iron, since there is no rayon setting, and I used baking paper which I guess is the same as parchment paper, to sandwich the bags between when ironing.

Our own Phil Torrone has a pithy survey of the maker movement recently published in Google's posh advertising and marketing organ Think Quarterly. "On The Make" is written by one of MAKE's ultimate insiders, for outsiders, and is a great resource if, like me, you've ever found yourself struggling for words to concisely summarize exactly what Maker Faire and/or MAKE magazine is fundamentally about. [Thanks, Phil!]

By George Hart for the Museum of Mathematics
Bradford Hansen-Smith has been experimenting with structures made from a great many 10-inch bamboo skewers held together with short pieces of rubber tubing. He calls the technique stickweaving and presents a gallery of interesting examples. Modular units connect to neighboring units with tubing and the entire structure is flexible enough to be collapsed or morphed into various surfaces.
This example can be opened up and spread into a large square array of modules or curved around into a cylinder or into the bowl shape below.
More artistic forms are also possible, so this is something of a sculptural medium.
The basic module above is a 3-dimensional cross of twelve sticks arranged with three sticks along each of the long diagonals of a cube. The sticks are joined with tubing at the corners of the cube, so the joint in the center where all the sticks cross is flexible.
Below is another example made with the same materials but a different construction. The stick length gradually changes in this long flexible chain, resulting in an organic effect.
More:
See all of George Hart's Math Monday columns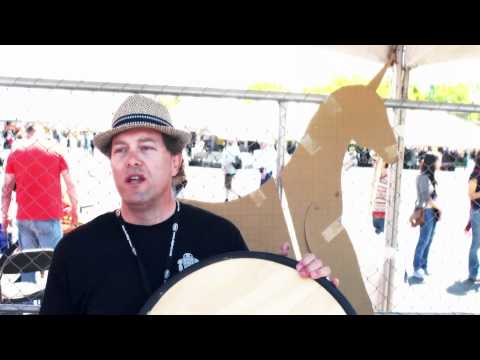 John Guy's Rocking Horse Bike has a single horn and is inspired by Charlie the Unicorn. A galloping motion is created by the assymetrical mounting of the wheels, which John demonstrated at Maker Faire Bay Area 2011. This contraption might just take you all the way to Candy Mountain.
Subscribe to the Maker Faire Podcast in iTunes, download the m4v
video directly, watch it on YouTube, or Vimeo .
Check out more videos from Maker Faire Bay Area 2011.
More: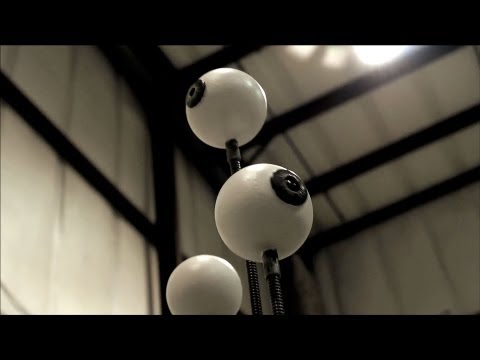 Artist Benjamin Carpenter explores interactions between systems in his mechanical kinetic sculpture "Higher". At Maker Faire Bay Area 2011 he demonstrates the work, consisting of 3 vertically oscillating eyeballs atop springs. The movement is controlled by a single button the user presses which activates the piece's mechanism.
Subscribe to the Maker Faire Podcast in iTunes, download the m4v
video directly, watch it on YouTube, or Vimeo .
Check out more videos from Maker Faire Bay Area 2011.
More: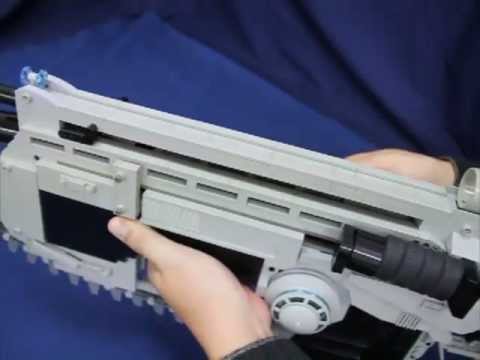 Um. Wow. It's attributed to MOCPages member PLUM B, and here described by The Brothers Brick:
[F]eatures a clip-fed firing mechanism that shoots rubber bands – perfect for taking out the paper Locust horde. If that's not enough, the saw blade on the front of the gun is motorized for slice and dice action.
[via Boing Boing]