---
Instructables user makendo made this fully-functional and generally awesome Rubik's cube chest of drawers.
Rubik's cube is not just the quintessential hand-held puzzle, though: it's also an iconic piece of design, so I co-opted it when making a new chest of drawers for my son's room. This cubic piece of furniture has only one of the three required axes of rotation, so is unsolvable in the conventional sense, but can be arranged in any configuration you like by non-sporting means. The drawers do pose a brain-bending challenge: the first thing you have to solve is detecting that they're there, and all three have hidden locks in different locations.

OLPC San Francisco Community Summit 2011 | OLPC San Francisco… Thanks Michael!
The San Francisco volunteer community for One Laptop per Child project (http://olpcsf.org) is hosting the OLPC San Francisco Community Summit 2011 at the SF State University Downtown Center in San Francisco, on October 21,22 and 23. Registration is now open. Please pass this along to anyone who may be interested. Space is limited! Hear from people who work in the field on complex and complicated problems with education, technology and social outreach. At 2.2+ million laptops in 40+ countries in 35+ languages the project is growing every day addressing children and learning from the city of Birmingham, Alabama to the steppes of Tuva (where's Tuva, you ask? http://olpctuva.wordpress.com/). That's a whole lotta Tux, if you ask me :-)

OLPC SF itself has fourteen projects with deployments in Afghanistan, Armenia, Haiti, Honduras, India, Jamaica, Madagascar, Pakistan, Philippines, Senegal, South Africa, Uganda, Tuva, and San Francisco. We put offline servers running on solar power in remote places to serve Wikipedia, TED videos, Commons music, dictionaries, books, etc. so that we can light a fire in different corners of the world [1] that are not on the Internet as yet [2]. Come and be part of something tremendous! http://olpcsf.org/summit

cheers,
Sameer

A few weeks have passed since the Atlanta Mini Maker Faire 2011 and I've been enjoying some follow-up visits with some of the many makers I met at the event. Time was short during the one-day fair, so I didn't get to visit much with Alliene Bouchard, an Atlanta-based maker. Alliene (pronounced Ollie-yen) impressed me with his brass cast triple-gear kinetic ring — you twist the ring on your finger (one gear) and the two smaller gears mounted on top of the ring spin up. I wanted to see more of his work, so I paid a visit to his workshop to see more of his kinetic projects and visited with him and his lab assistant (and girlfriend), Jamie Sichel.
Alliene earned a B.A. in Fine Art from the University of Georgia, and his project ideas tend to focus on kinetic art and the use of mechanisms in his designs as well as some dabbling in jewelry making. The ring, for example, is just one of many types of jewelry that he designs, casts, and assembles by hand. Alliene showed me the wax masters he uses to create his custom jewelry such as the gear ring, and the fragility of the small pieces made me very nervous to hold. The finished ring, however, was as solid as it could be, and the rotating mechanism built into the ring that spins the gears on top has a strong, industrial feel to it.  Alliene pulled out an assortment of small items that he has designed — a box with a secret mechanical latch, an unfinished pair of lenses for some goggles he's designing, some etched brass art, and a few other curious trinkets that you can see in one of the images here.
One of the larger items that immediately caught my eye in his shop was his Lotus Table. Alliene tells me he spent months just trying to understand its basic functionality and how best to incorporate it into a table. The table is made of layers, and turning one of the middle layers opens the iris and provides small petals that increase the surface area available. The movement is quiet and smooth, and Alliene hopes to scale up the prototype table and offer it for sale to organizations looking for this kind of unique furniture item.
When Alliene mentioned selling the handmade tables for functional use, he directed my attention to his mechanical Zen garden. It's a round tub filled with a very fine sand on a tabletop that spins.  He places various sizes of ball bearings into the sand, turns a switch, and I get to watch as a pattern develops from the marbles movements.
After the smaller Zen garden unit had finished its movement, Alliene put together a larger version on the floor, but one with a twist. This larger version provides a hand-crank control that allows the user to move a ball bearing forward and backwards as the tub spins, allowing for more unique patterns to be drawn in the sand. He's also hoping to turn this into a functional piece of furniture that he hopes to produce and sell for use in lobbies or coffee shops where visitors can press a button to reset the device and spend some quiet time drawing patterns in the sand.
You can view more of Alliene's work by visiting his two websites The Workshop of Alliene Bouchard and Enginivity. You'll find many more photos of his designs as well as some videos of various projects in motion. I asked Alliene to summarize his design methodology, and here's what he said:
Successful design is achieved through effective problem-solving with specified goals. Deciding what those goals are and how best to accomplish them is what defines a person as a designer. The purposes of my projects tend to center around playful interactivity and (hopefully) useful insights and inspiration to be gained when people venture outside of whatever they might be accustomed to. Some of my work has an element of Zen, as I find the balance of conscious challenge and calm focus to be the most productive mechanism for growth. I call it the Zen Spot.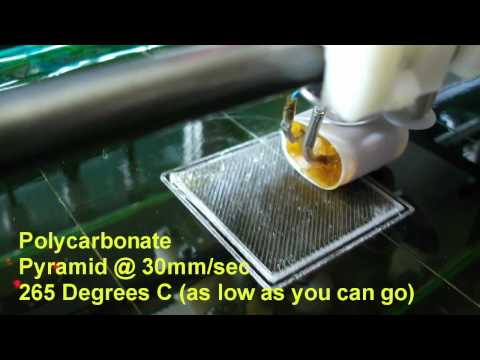 RepRap-style fused deposition molding 3D-printers commonly use long rolled filaments of ABS or PLA as a starting material. ABS, recall, is Acrylonitrile Butadiene Styrene, and is the same petroleum-derived polymer that Lego bricks are made from; PLA is PolyLactic Acid, a more recent material made from natural starches which can biodegrade under favorable conditions.
Rich was curious about printing with polycarbonate (PC), but couldn't find any definitive answers to his questions online. So he bought a roll of 1.6mm PC filament and started experimenting, and his reports are fairly glowing. PC melts hotter than ABS or PLA, is more rigid, and comes out of the printer cloudy, which some have suggested may be caused by absorbed atmospheric moisture. [via Hack a Day]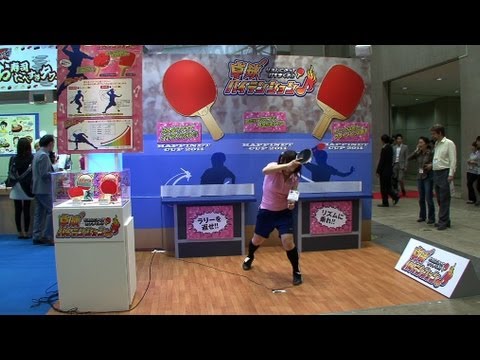 This fun toy, shaped exactly like a Ping Pong paddle, allows the user to play a rousing game against an invisible opponent.
The Self Table Tennis senses how hard you are swinging and plays an appropriate volume sound to match. There are three game styles- easy and hard rally and rhythm mode. I'm still a little unclear (even after watching the video) how you win or lose points but it looks like fun to just swing the racket around and hit invisible balls around.
It looks pretty nifty, but seems more like a technical challenge to me. Could a microcontroller and an accelerometer have any seasoned maker heading in the right direction toward a DIY version of this? [via Craziest Gadgets]
More:
By George Hart for the Museum of Mathematics
There are many ways to calculate an approximation to pi, but rarely is math as delicious as in this idea from Davidson College professor Tim Chartier. Make a quarter circle in a square of graph paper and place chocolate chips on the squares that lie completely inside the circle. If you now count the chips and compute four times the number of chocolate chips divided by the total number of squares, that will be approximately pi. Here, there are 22 chips out of 36 squares, so we calculate 4∙22/36=2.444, which is off by about 0.7 from 3.14, so is not a very close estimate of pi, but we can improve it.
But if you are willing to invest in more chocolate, you will get a better answer. In the 11×11 grid below, you can count 83 chips, giving a somewhat better approximation of 4∙83/121=2.74.
For an even better approximation, you'll want to have a group of helpers. Tim and friends counted 2232 chips in a 54×54 grid, resulting in an approximation of 3.06, which is getting pretty close to pi. The best thing about this chocolate calculation is that it is sure to end with a pi eating event. The full report is here.
More:
See all of George Hart's Math Monday columns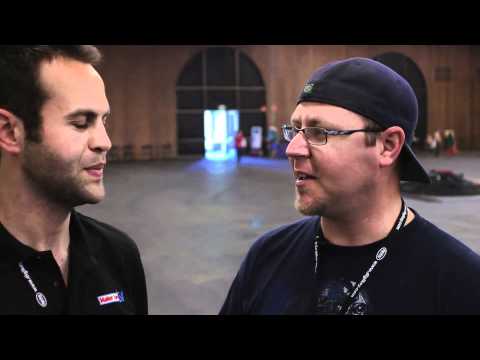 The R2D2 Builder's Club brings one of the world's most beloved fictional robots to life. Steve Simmons and his hobby roboticist club use fabrication, programming, and remote controls to build exact replicas of R2D2. Their R2′s are quirky friends who roamed Maker Faire Bay Area 2011 delighting everyone they encountered.
Subscribe to the Maker Faire Podcast in iTunes, download the m4v
video directly, or watch it on YouTube and Vimeo.
Check out more videos from Maker Faire Bay Area 2011.
More:


This classic Warhammer 40,000-style wargaming model is actually the work of the Games Workshop studio team, and was produced for an example battle in GW's 2007 Apocalypse rulebook. Individual modelers, as far as I can tell, are not credited. There are more pictures on the GW website, and I find them especially interesting because they show the model both before and after painting. [Thanks, Lee!]

Join us Wednesday evening for the next episode of Make: Live, our streaming show and tell! Episode 18 celebrates the release of the new MAKE magazine v28, all about toys and games you can make yourself.
Make: Live 18 – Toys & Games
Wednesday October 12th, 9pm ET/6pm PT
Watch at makezine.com/live or on UStream
Please join us in the UStream chat or mark tweets with #makelive to interact live with the show.
We also give away a fabulous prize from Digi-Key to one chat member who can solve our photo challenge (suggest a prize!). This episode:
Want to show us your project? Upload a video or photos and send a link to live@makezine.com.
---
Episode 18 features the lovely and talented:

David Harris – RFID Teddy Bear
David Harris is a science communication designer and creator of Charlie's Bear, a location-aware teddy that interacts with objects in its environment by playing sounds and music. We'll demonstrate the project in-studio while David calls in from Palo Alto, CA.

Onyx Ashanti – Beatjazz controllers
Onyx Ashanti is a sci-fi-obsessed electronic jazz artist crossed with a futurologist instrument inventor, a virtuoso of wind instruments and improvisation who's determined to create the future of music. See Onyx perform and learn about his wearable, wireless control network for musical performance. Onyx will join us live from Berlin to discuss his beatjazz controllers built with Arduino and XBee.
Subscribe to the Make: Live Podcast in iTunes, download the preview video m4v, or watch clips from the show on YouTube.
More:


Dangerous Prototypes forum participant pppd described his door lock reminder that buzzes to remind him to lock his apartment door. It consists of an ATtiny13 with two reed switches and a buzzer.
I don't know about you guys but I constantly catch myself wondering whether I have locked my apartment door or not. I never actually forgotten to turn the key but I did come back just to make sure a bunch of times. Usually it is when I am in a rush trying to catch a bus knowing the next one won't be soon. Anyway, I wanted to do it for a long time, but I finally got some time this evening and I came up with a simple device that will do the job of remembering for me.
[Via Dangerous Prototypes]