---
I'm a minimalist by nature, which is what attracted me to this "no-case" from My Open PC in the first place. I have often toyed with the idea of designing something similar, myself—just a couple of panels with the bare-minimum cutouts to meet the ATX specification. While, over the long run, I think there are good reasons to keep a PC's guts inside a hard case, in the short term, an open fixture like this has a lot to recommend it, for instance as a test fixture for experimenting with different hardware configurations. I've built every desktop PC I've ever personally owned, and between that activity and the occasional component upgrade I seem to generate a fairly consistent trickle of surplus computer equipment. And every so often that trickle pools up to the point that I can cobble together an extra working PC. That kind of kit-bashing usually requires a lot of experimentation part-swapping, and that's exactly where this kind of open fixture excels.
These are the two biggest parts in the box, the mainboard plate and the back panel.  The DOMA Pro consists of 16 total pieces of this 3/16″ CNC-milled translucent "smoke" black acrylic sheet, a case electronics package, and a box of metal hardware. There's also a small acrylic wrench (which I did not use) for tightening the hexagonal coupling nuts used throughout assembly, a detailed parts list, and a page of instructions with nice clear isometric line drawings.
The metal hardware is very thoughtfully packaged in a six-compartment translucent polypropylene organizer with six separate snapping, hinged lids. A printed label stuck to the backside of the organizer identifies each bit by the name used for it in the instruction sheet, and there are at least one or two extras of each flavor. Such attention to detail seems characteristic of the product and its manufacturer, though they do make a couple of mis-steps, as I'll discuss below.
The case electronics consist of two soft momentary push-button switches for power and reset functions, and one red and one green LED to indicate hard drive activity and system power, respectively, all of which come pre-wired with labelled sockets for your motherboard pins.
The fixture has space to mount one 5.25″ drive (typically an optical drive) and one or two 3.5″ drives slung under the mainboard plate. Assembly begins by screwing small one-size-fits-all acrylic side panels to your drives, which then interlock with the mainboard plate, riding underneath it where the drive side panels double as supports for the front edge of the case.
The drive assemblies are locked in place by a pairs of small cams sliding on hexagonal coupling nuts secured to the mainboard plate. This trick—using cheap hex standoffs as bearing surfaces for moving parts—is one of a couple of examples of clever CNC-panel design the DOMA Pro includes. It's repeated with only slight variation in the locking bar mechanism that secures the top corners of the PCI cards in place—much faster than screws, but more secure than just letting the cards sit loose in the slots.
Assembly to the stage shown here took me a leisurely hour, or thereabouts. I went on to add motherboard, video card, and power supply, and then to do a bunch of drive-swapping in the course of scratching together a Linux box for use with my garage CNC equipment. Then I transferred the working setup to a traditional hard case.
The only significant problem I had with the DOMA Pro, as it came from the manufacturer, was that it was wobblier than I like. Which is to say, wobblier than it had to be. Specifically, the bolted joints at the corners between mainboard and back panels were loose, which lead to a bit of racking along the short horizontal dimension. Without having actually asked the designers about it, I'd guess the sloppy fit at these joints is caused by badly-specified hardware. Whipping out the micrometer shows that the acrylic panels are very close to nominal 3/16″ thickness at 0.185″, while the coupling nuts that pass through them, which I bet are nominally 3/8″ (0.375″) are a bit long at 0.385″. I ended up shimming mine out with bits of tape between the two acrylic panels, and the problem went away.
The other small problem I had was with the female one-pin socket on the end of the positive leg of the system power LED. Specifically, it fell off after a single installation-removal cycle. Easily fixed, of course, but a bit annoying.
Overall, I really like this case both in theory and in practice. And considering its accessible price, it remains a great value in spite of the one or two small problems I had during assembly.

With this post, we welcome R. Mark Adams as a makezine.com contributor. I met Mark when he gave an awesome presentation at Dorkbot DC on creating music from DNA data (he's a computational biologist by day). He's also actively involved in HacDC. When I think of a sort of Platonic ideal of a maker, I think of folks like Mark. He's smart, generous, enthusiastic, resourceful, there's an artist mixed in there with the scientist/engineer, and he's just an all-around great guy. That Platonic ideal extends to his family, too, with a fellow geek wife (who's campaigning to get hackerspaces into libraries) and two awesome daughters who are always in the thick of it. At Dorkbot meetings, when we go around and introduce ourselves and talk about what we make, they're never shy about chiming right in (and complaining about their homework). Please help me in welcoming Mark. -Gareth
At Washington, DC's hackerspace, HacDC, a team led by the enigmatic "Doctor" seeks to develop a simple system for quickly deploying an ad-hoc internet in the event of internet outages. With all of the recent disasters (both natural and human) which have severed access to the net when it is most needed, groups all over the world have been developing solutions which allow alternate internets to be brought up quickly and effectively. HacDC's "Project Byzantium" team (named after the fault tolerance based on the Byzantine Generals problem) is working hard on implementing a mesh network which requires minimal effort to configure and which any wireless-enabled device can make use of, whether or not it is running mesh networking software. The goal is something that a smart high school freshman could get going with hardware from the local mall. Participation is welcome – a good place to get started is the project wiki. The Doctor himself will be demonstrating the system at ContactCon in October.
Here's hoping that the next step is for hackerspaces everywhere to start experimenting with this and other related technologies, prove that it works, and share it with local communities and beyond – a robust internet is your friend!
More:

14-year-old Australian maker Lochie Ferrier bought an Airwick automatic air freshener and after its overpriced scent cartridge died, it sat around until Lochie realized it has a big ole PIR on the front. He hooked up an Arduino and proto shield and set it to play the Mario theme when the PIR detects movement.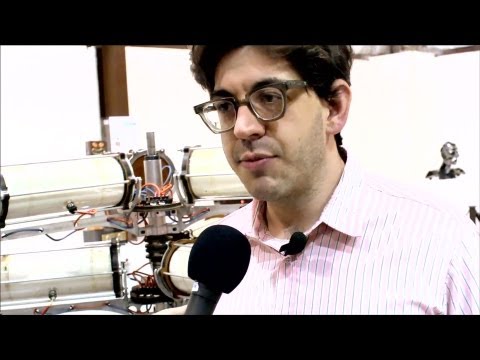 The Uira Engine is a part of the guts from the Raygun Gothic Rocket Ship, which now resides in San Francisco's Embarcadero. For Maker Faire Bay Area 2011, the engine was displayed by its designer, Alan Rorie. The engine consists of a series of cylinders that slowly rotate while emitting capacitive discharge that's pleasing to the eye. Parts of this were handmade as well as produced from a CNC, and provided an important visual component to the rocket ship.
Subscribe to the Maker Faire Podcast in iTunes, download the m4v
video directly, or watch it on YouTube and Vimeo.
Check out more videos from Maker Faire Bay Area 2011.
More: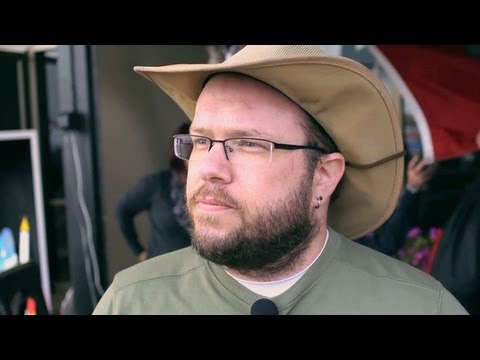 Jon Cox shows the Nor Cal Mars Rover Project at Maker Faire Bay Area 2011. This group of enthusiasts is dedicated to furthering the cause of making manned missions to Mars with the possibility of colonization in the future. NASA approached the group to design and build a prototype for a future Mars mission.
Subscribe to the Maker Faire Podcast in iTunes, download the m4v
video directly, or watch it on YouTube and Vimeo.
Check out more videos from Maker Faire Bay Area 2011.
More:
I try to avoid superlatives in my headlines, and have been for awhile now. But it's been a long time since I had such a hard time resisting that urge. Here's a few that came to mind while I was composing this one about the work of Dallas artist Gabriel Dawe: stunning, magnificent, celestial, gorgeous, beautiful, amazing, transcendent. "Awesome," if it could still be used literally, might also have been in that list.
So, yeah, check it out. As of this writing, Mr. Dawe has an ongoing exhibition of his piece plexus no. 9 at Houston's PEEL Gallery. Shown above is plexus no. 5. Do not miss clicking through the entire Plexus series at the artist's site. [Thanks, Billy Baque!]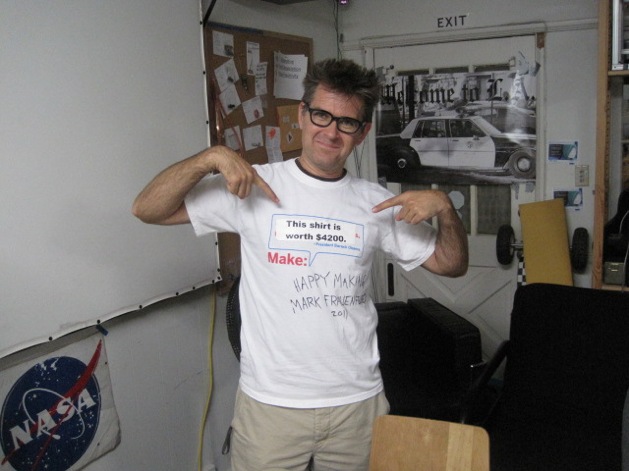 Crash Space in Los Angeles recently went through the process of becoming a non-profit. The lawyer's bill was $4200. To help them offset the cost, they are auctioning off a MAKE T-shirt with a Crash Space logo and a signature by yours truly. There are just a few hours left to bid on this priceless keepsake!

Sparkle Labs' Discover Electronics Kit is back in the Maker Shed and better than ever. New components, documentation, and an accompanying online video course will have you making circuits, building projects and reading schematics in no time. Everything you need to make a light detector, led flasher, noise maker and more is right in the box (well, except 4 AA batteries.) When you finish the course, you'll be able to upgrade your kit with additional components to let it grow right along with you. Perfect for beginners and anyone wanting to brush up on their electronics skills.

Andy Cavatora and friends built these gravity harps for a Björk concert currently playing in the U.K. It looks like each pendulum has a servo-controlled rotation system that changes what note gets plunked at the pendulum's nadir.

The first sentence of Precise Modeling's article about this amazing creation begins, "This particular Hind was flown by the Soviet Forces in Afghanistan…"
Those first three words—"This particular Hind"—say a lot: While most scale modelers are content to build more-or-less generic replicas of a particular make and model vehicle, Alex Sklyar, who spent about 9,000 hours over 15 years to complete this build, set out to achieve a level of detail at which the differences between one particular helicopter and another are significant and have to be considered.
Every reported fact about this model is more amazing than the last: It was begun in 1986, when much information about the Hind was still protected by the Soviet Union as military secrets. It is constructed mostly from corrosion-resistant metals: aluminum, titanium, brass, stainless steel. The pedals in the cockpit work. The tires actually have air in them. The shocks actually compress. Many of the parts were fabricated under a microscope. The list goes on and on.
The scale is 1:32, which brings the model in at just over 21.5″ in length. [Thanks, Scott!]