---
Thingiverse user Pieter Bos of the Netherlands printed these Mini-T beams based off the MakerBeam profile, originally added to Thingiverse by Luis.

I love the wooden spoon-carving instructions on this bushcraft knifemaker's website. Makes me want to whittle one. Our magazine editor-in-chief Mark Frauenfelder is a spoon carver, but I've never tried my hand at it. Looks like fun.

We're broadcasting shortly! Tonight's Make: Live, our streaming show and tell, celebrates the release of MAKE v28, the toys & games issue! Learn about David Harris' RFID teddy bear, Onyx Ashanti's Beatjazz controllers, and Michael Colombo's version of flashlight tag.
Make: Live 18 – Toys & Games
Wednesday October 12th, 9pm ET/6pm PT
Watch at makezine.com/live or on UStream
Please join us in the UStream chat or mark tweets with #makelive to interact live with the show.
We also give away a fabulous prize from Digi-Key to one chat member who can solve our photo challenge (suggest a prize!). This episode:
Want to show us your project? Upload a video or photos and send a link to live@makezine.com.

Our favorite maker holiday, Halloween, is right around the corner, and Make: Projects community member Marc Brownlow shared his awesome Skull Truffles how-to with us just in time. In true maker spirit, just making the truffles wasn't enough — he uses polymer clay to sculpt little skulls and then food-grade silicone to make the mold. The result? Tiny white chocolate skulls with bittersweet chocolate filling and walnut braaaains! You don't have to be a zombie to appreciate these.

Making Movable Art and Robotics a Little Easier with Arduino @ San Jose Mercury News…
Judy Castro doesn't have a background in engineering. But with Arduino, she doesn't need one to make her sculptures move, light up or breathe fire. The San Francisco artist uses the microcontroller and software program to create interactive works of art — something she once might have paid an electrical engineer thousands of dollars to do.

Arduino, the 6-year-old, user-friendly microcontroller, is emerging as a powerful, popular tool for artists and others in the Do-It-Yourself community. Arduino can be as small as your pinkie finger and can cost less than $30, but it can light up a few LEDs for the beginning programmer or, with the help of amplifiers and mechanical parts, turn on a hydraulic ram that will lift tons, ignite a flamethrower or create a light show that can illuminate a stadium.

"When I started tinkering with Arduino, it was very easy to understand," she says. "It's actually a lot of fun to work with without being frustrating so you can focus on the aesthetics of your piece rather than the coding."

In addition to its low cost, Arduino's open source nature — which allows people to share their work — is moving the microcontroller out of the realm of hackers and artists and into the hands of hobbyists young and old, says Make Magazine Associate Publisher Dan Woods. Unlike other tools, he notes, Arduino wasn't made for geeks.

"They created it for artists and others who didn't have a background in programming. If
someone has a project in mind, they can be up and running and doing something pretty basic in about an hour. They can see what a microcontroller does."

…and me! Spotted on Google+, a game of Battleship played with shots… er for the shots. I love the use of salt/pepper shakers(?) for the bridges on the carriers. Hope this is team sport, otherwise this is a wargame that takes real casualties.

Architect Paul Gaertner built this beautiful 1/72 scale replica of the so-called "Atomic Annie" US M65 nuclear-capable 280mm artillery piece, and its two specially-built tractors. In 1953, the first M65 successfully fired a 15 kiloton nuclear artillery shell (shot Grable) at the Nevada Test Site. Ultimately, 20 of the huge cannon were produced and deployed. Of these, 8 are known to survive, one of which is on permanent display at the Armored Fighting Vehicles Museum at Aberdeen Proving Ground. This was Paul's prototype.
Planning for the model began in 2000, and construction 2007. Starting materials were "Evergreen brand white styrene plastic sheet, rod, bar, tube and structural shapes, as well as aluminum and brass sheet, tubing and wire." Paul estimates 575 hours in the build, and has made his original drawings, based on photos and measurements from the prototype, available at a reasonable price.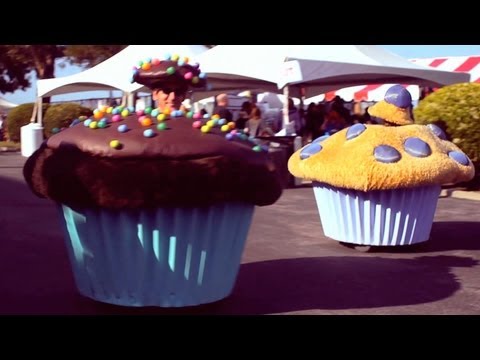 Lisa Pongrace's cupcake cars are powered by electric motors, and evolved from a costume idea for Burning Man. After building the first prototype, her friends wanted their own mobile muffins and helped create a fleet of confectionery art cars, now known as Acme Muffineering. Filmed at Maker Faire Bay Area 2011.
Subscribe to the Maker Faire Podcast in iTunes, download the m4v video directly, or watch it on YouTube and Vimeo.
Check out more videos from Maker Faire Bay Area 2011.
More:


Looking for some DIY fun for the family? The Brew it Yourself Root Beer Kit from the Maker Shed includes everything you need to brew root beer right in your kitchen. Make up to four gallons of delicious, old fashioned, naturally carbonated root beer at home in your own soda bottles.