---
MAKE friend and founder of iFixit Kyle Wiens is traveling with a crew through the slums of Kibera, Cairo's infamous Garbage City, and Cairo's electronics markets revealing how and why fixers do what they do. They're working on a documentary film about repair titled Fixers.
There are superheroes in our midst, and they're not wearing capes or costumes. They live in unassuming places, performing miracles with the most humble of tools. They bring ancient machinery rumbling back to life, fabricate new radiators from metal scraps, and repair minuscule circuitry with simple hand tools. They are brilliant hackers, tinkerers, mechanics and repair technicians, transforming our unwanted junk into coveted treasures — genius "fixers" with a preternatural ability to rip apart a piece of hardware and give it a new soul. Fixers are doing more than repairing things. They are the solution to an environmental problem poisoning our planet.
Kyle and crew are posting travel logs on The Atlantic as their journey progresses. The first installment is titled "Why Fixers Will Save Our Planet."

This weekend, makers in Phoenix, AZ, and Oakland, CA, will be diving into their exciting Maker Faires!
Featuring both established and emerging local "makers," the East Bay Mini Maker Faire is a family-friendly celebration coming to Oakland for its second year on Sunday, October 16, 2011. It will feature rockets and robots, DIY science and technology, urban farming and sustainability, alternative energy, bicycles, unique hand-made crafts, music and local food, and educational workshops and installations.
See the list of makers for details.
---
Presented by Maker Bench Tempe, Roosevelt Row and Tony Felice PR with support from MAKE Magazine makezine.com, CRAFT magazine and craftzine.com and O'Reilly Media, Maker Faire is a newfangled fair that brings together science, art, craft and engineering plus music in a fun, energized, and exciting public forum. The aim is to inspire people of all ages to roll up their sleeves and become makers. This family-friendly event showcases the amazing work of all kinds of makers – anyone who is embracing the DIY spirit and wants to share their accomplishments with an appreciative audience.
Phoenix Maker Faire will take place this Saturday, from 11am-7pm, at Roosevelt Row in Downtown Phoenix.

David Lang is on a journey, intensively immersing himself in maker culture and learning as many DIY skills as he can, through a generous arrangement with our pals at TechShop. He's regularly chronicling his efforts in this column — what he's learning, who he's meeting, and what hurdles he's clearing (um… or not). –Gareth
When I started this Zero to Maker process, I was inspired by the idea that I could become a self-made industrial designer – that I could bypass an expensive education by learning only what I really needed to get started. Now that I've started down the road, I've realized that it's a very long road. The good news is that I remain committed to my initial belief that there's a less expensive (and faster) way to learn: through a strategic blend of internet resources, access to the right tools, and involvement in a community of like-minded makers. Most important for me, however, has been the commitment to trying to figure out and examine more of what I don't know.
In a stroke of pure luck, I met someone at the Open Hardware Summit who's thinking about exactly this. Matt Sinclair, a practicing industrial designer who is also studying for his PhD at The Design School at Loughborough University, was giving a talk on DIY Reverse Engineering during one of the breakout sessions of the Summit. In one of his first slides, he explained his research of how digital fabrication technologies (and Additive Manufacturing technologies in particular) will impact the professional industrial designer's role and what happens when the consumer takes design into their own hands. Basically, what the self-made industrial designers aren't thinking about.

Matt Sinclair's project to reverse engineer a mouse
He went on to list five common issues that new makers and those of us without professional degrees tend to overlook. Matt was kind enough to summarize each of the issues into new-maker speak. By no means are these issues all inclusive or exclusive. In fact, I'm sure every maker, professional or not, runs into these issues in some form or another – the learning by doing (or mistaking) process.
Enter Matt…
Tolerances
As amazing as the computer-aided tools are, no machine or process will make a part that's 100% accurate to the dimensions of the CAD model – it's going to be a little off. That's okay. Design engineers actually plan for this type of variance and set acceptable limits, which is known as tolerance. It's easy enough for a newbie like me to figure out a tolerance for one part, probably through trial and error. The real challenge comes when you have multiple parts – each with differing materials and tolerances – that need to interact with each other. These "little" amounts of acceptable variations can add up quickly, and trying to sort out where the root problem (or problems) are can prove to be quite a headache. Cue next issue…
Functional Dimensions
Okay, you've got your parts back and they don't fit together like you wanted. How do you know where the problem is? Is Feature X of Part A too big, or is Feature Y of Part B too small? The first thing to realize is that this always happens, so don't feel bad about it (it's why engineers use rapid prototyping and soft tooling to check before they commit to the final tools). The second thing is to anticipate problems and generate a list of dimensions, preferably in order of importance with regard to the functionality of the parts. This lets you eliminate certain features and identify others as being the source of the problem.

A rendering of Matt's design
Post Production Finishing
The quality of surface finish from 3D printed or CNC machined parts are still a long way from what we expect from mass production processes like injection molding. If your parts are purely functional, or not visible, the surface finish may be acceptable. But if the aesthetics of your product are important then you'll probably need to clean up, or finish, the parts. Basically there's two ways of doing this, you can add material (by coating, in particular metalizing) or you can remove it (by sanding, polishing, sand-blasting, vapor smoothing etc). If the dimensions of your part are important, you'll need to know how much material is added or removed by the process you choose, and design the original part accordingly.
[David's Note: This is so important. In my last post, I may have gone a little overboard about my excitement for CNC machines without mentioning the sanding we had to do afterwards because the parts didn't quite fit together. It's truly amazing what the machines can do, but it seems to me the most experienced CNC operators know just as much about what their machines can't do.]
Testing
The only real rule for testing your products is that the testing needs to be appropriate to the product's use. If you've designed a product that's intended to save someone's life, you'd better be testing it a lot more vigorously than a product that's designed to sit on someone's shelf and look beautiful. A product doesn't only need to perform when it's new – you need to understand how its performance will degrade in certain conditions, and how it degrades through use. Software designers have it easy! They can release beta products and they can release bug fixes or upgrades. Almost any physical product has the capability to injure someone – saying "we'll fix it in the next release" is almost never an option.
Redesign
More than anything else, the necessity of redesigning your product because of the points above is something that amateur makers seem to underestimate. In my professional practice, it's not uncommon to have to redesign a product twice, so it's the third iteration that actually gets manufactured. A client that doesn't have this built into the project timeline is one that sets warning bells off. Accept that you'll have to go through this process, and embrace it as a way of improving the final product, and the final stages of your product's development will be a lot less soul destroying!
For more information on Matt and his work, please visit his website. Let us know what you think in the comments. What you would add to this list? Any stories to share?
More:
Follow David's Zero to Maker journey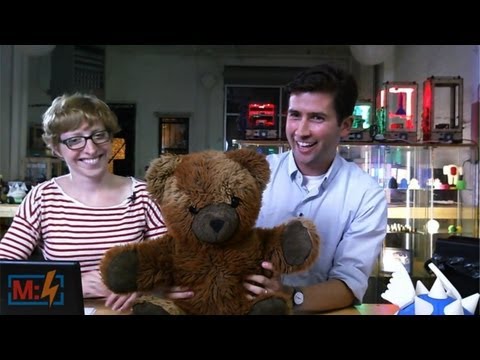 Make: Live episode 18 featured makers in MAKE v28, the toys & games issue! Onyx Ashanti performs and talks Xbees and sensors, and Michael Colombo explains his reflective improvement to flashlight tag. David Harris made Charlie's bear (above), originally designed for his nephew with cerebral palsy. It's a location aware plush toy with an embedded RFID reader, speaker, Arduino and wave shield to play sounds when it interacts with objects. Learn about how David made this fun toy and how Charlie himself has reacted to the bear.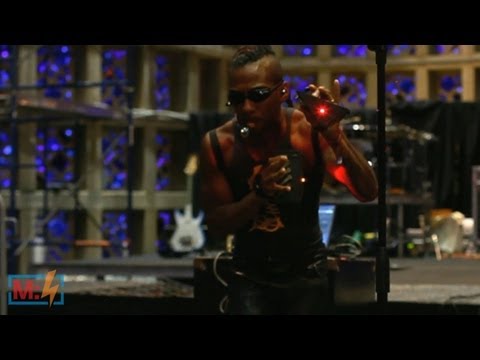 Electronic musician Onyx Ashanti performs at Maker Faire NY and joins us on video chat from Berlin to discuss his innovative (and open source) Beatjazz controllers for live performance. Find out how his pressure sensor mouthpiece works in conjunction with his accelerometer and FSR hand controllers and see him perform. Support the Beatjazz controllers funding campaign!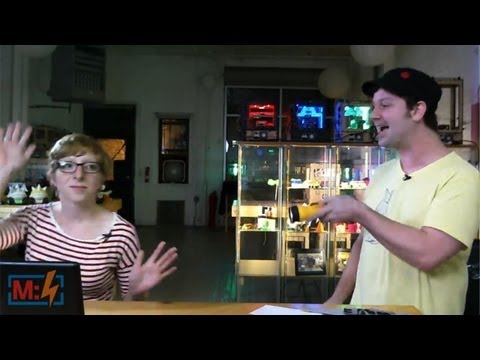 Michael Colombo (in collaboration with Eszter Ozsvald) came up with a new variation on flashlight tag that uses retroreflective letters on armbands. Find out about Mike's experience running the game (and coming up with new ones) with some summer campers.
Subscribe to the Make: Live Podcast in iTunes, watch Make: Live episode 18 in its entirety (or download in m4v format). Also check out the chat room transcript!
Show notes:
Want to show us your project? Upload a video or photos and send a link to live@makezine.com.
Next show:
Make: Live 19: Halloween Party
Wednesday October 26th, 9pm ET/6pm PT
Watch at makezine.com/live or on UStream
Please join us in the UStream chat or mark tweets with #makelive to interact live with the show.


Hive13 hackerspace's glass block matrix, built with ShiftBrite modules, now has an Android tablet app that controls it. Sweet!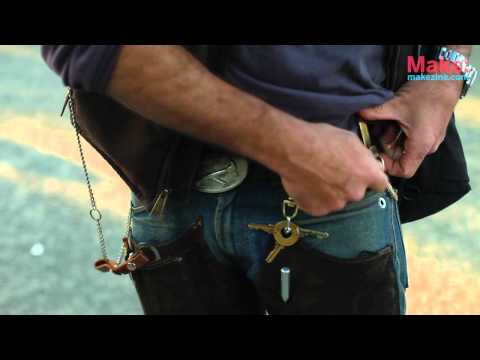 Maker Jimmy DiResta shares his modded keys at World Maker Faire NYC. His collection of handmade keys are a combination of his problem solving skills and creativity. They are a great example of making art from everyday items without sacrificing functionality. Jimmy is a designer and fabricator who can make just about anything, from just about anything. He's a woodworker, he sculpts in resin, he welds, and builds with plastics. His hammer and ax skull and crossbone belt buckle started as one of his wooden carvings before he cast it in metal. On a recent tour of his shop, I found the sewing machine he uses to add leather fronts to his pants next to the high-end wooden display he was building for a pop-up gallery.
Jimmy is perhaps best know for finding junk and transforming it on the Discovery Channel show, Dirty Money. He and his brother search the city for unusual and lackluster objects, then re-make them to be sold at the Hell's Kitchen Flea Market. It is hilarious to watch them banter and hassle each other as they work on projects, but the backbone of the show is what comes out of the shop. The shop with the most interesting keys in NYC.
Watch Jimmy's show Dirty Money tonight on the Discovery Channel at 10:30pm Eastern, 7:30pm Pacific.
Watch more videos from Maker Faires in the Bay Area, Detroit, and NYC.
Subscribe to the Maker Faire podcast in iTunes
, or watch the video on YouTube and Vimeo.

Clever, clever idea from NY design studio Rich Brilliant Willing (a play on the three founders' names, FYI), on contract for design blog Core77, which is giving these away to winners of its inaugural Design Awards this year. [via Boing Boing]

Folks on Thingiverse are talking about possibly banning uploads which could be used as, or relate to, weapons. In particular, a bunch of different builders have started to upload parts of an AR-15 rifle, including Crank's 5-shot magazine, pictured above. Where is this trend going? Should Thingiverse ban anything that could be used as a weapon? Leave your thoughts here or on Thingiverse's discussion page.


Introducing the Geiger Counter Kit from the Maker Shed. This kit costs a fraction of a commercial unit and it works just like you it should, blinking and clicking in the presence of radiation. It takes about an hour to build and even has a serial output for tracking radioactivity over time.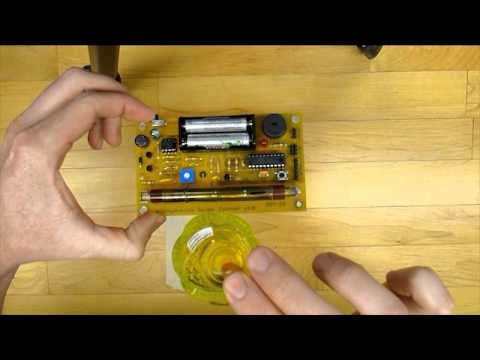 Is Grandma's pottery or glass collection radioactive? Do bananas give off radiation? Is that granite table given to you by your mother-in-law slightly "hot?" (In my case, yes!) With this Geiger Counter Kit these questions are yours to answer. While this is a functional Geiger counter it is for educational purposes only. Please do not use it for anything important.

Retired dentist Young C. Park built this 1/16 scale replica of the classic WWII-era fighter plane mostly from common aluminum roof flashing, of the type sold in big rolls at most hardware stores. Dr. Park spent considerable time and energy developing special methods for working this material, including an annealing technique that's a real gem:
After much experimentation I found that using a red "Sharpie" permanent marker pen made by Sanford works well as a heat indicator. Draw lines on both sides of the aluminum. Use a brush flame butane torch and slowly head both sides. The lines will turn brown and disappear completely. At that point it is properly annealed. I sometimes see a dark orange glow. The aluminum returns to its original color after it is correctly annealed. If I over anneal a part it is discarded. When correctly done, the soft metal is now easier to form, drill or carve.
The parts are shaped using a his old dental hand-piece, and joined using small wire rivets. There's a bunch of additional info about Dr. Park's process, and many more cool pictures of this and other models he's made, over at The Internet Craftsmanship Museum. [Thanks, Ken!]