---
We're super excited about our new issue, MAKE Volume 28, which just hit newsstands last week. The issue theme is Toys and Games, and naturally, our entire focus was on fun, from the playful 8-bit graphics style of the cover design by eBoy to the 176 pages of projects and profiles that give you permission to play. One of my favorite projects in this issue is by our own John Baichtal in collaboration with Adam Wolf: the Coffee Table MAME Console.
From the intro:
In 1997, Italian software developer Nicola Salmoria released the first iteration of MAME (Multiple Arcade Machine Emulator), a free software platform that lets standard PCs play classic arcade video games. Since then, other emulators (sometimes incorrectly called MAMEs) have come out for old game consoles like Super NES, ColecoVision, PlayStation, and others. For each of these emulators, countless game programs, or game ROMs, are widely available.

This means anyone with a computer can play a plethora of classic old video games, which is great. But the hard(ware) reality is, these timeless challenges, which fuse bare-essential graphics with great 8-bit soundtracks, just aren't as fun with delicate controls like keyboards, mice, or trackpads. Arcade games were designed for button-pounding, joystick-jamming physical action.
So true! Baichtal and Wolf show you how to make your own stripped down version of an arcade machine, where you use your TV as the monitor and the console connects to your computer via Bluetooth. The enclosure is made of black-painted plywood base, clear acrylic top sheet, giant buttons and joysticks, and red and blue LEDs that flash and dance while you play. We've shared the how-to in its entirety with you on Make: Projects so you can get your build on right away, but be sure to pick up the full Volume 28 for a good time guaranteed.
From the Pages of MAKE
MAKE Volume 28: Toys and Games!
MAKE Volume 28 hits makers' passion for play head-on with a 28-page special section devoted to Toys and Games, including a toy "pop-pop" steamboat made from a mint tin, an R/C helicopter eye-in-the-sky, and a classic video game console. You'll also build a gravity-powered catapult, a plush toy that interacts with objects around it, and a machine that blows giant soap bubbles. Play time is a hallmark of more intelligent species — so go have some fun!
On newsstands now! Buy or Subscribe


photo by Penny Adams
So I recently stumbled upon the work of Ohio-based maker Keith Corcoran, and I'm in awe. Halloween is over, but I'm wishing I could go back in time and make a trip to Keith's "Funhouse" to experience the totality of his "haunt." A cotton candy cauldron, spooky skeleton doling out entry tickets, and a really creepy clown in a rocking chair are just some of the props littering his lawn. This guy shows what is possible by recycling salvaged materials, modding existing products, and having a vision for what the finished installation might look like. Oh and fun – he clearly has lots and lots of fun along the way! Keith's skills include carpentry, painting, engineering and electrical engineering, and animatronics, among other skills I'm sure. Check out the rest of this post for some wonderful photos of Keith's building process which I hope inspire your next Halloween haunt!
The centerpiece of Keith's haunt was his human-gobbling giant clown head and glowing funhouse sign. The clown head is completely hand-painted. The sign measures 18′ wide and 5′ tall, and each letter was handmade from plywood, roofing flashing, and a string of C9 lights mounted inside. All of the sections for the funhouse face were printed on transparency and then overhead projected onto plywood, traced, cut out, painted, and assembled. The result is fantastic:
Using shipping palettes, Keith sketched out and his wife assembled this cotton candy cauldron, complete with a zombified server and child clown begging for more puffed sugar:

photo by Penny Adams
Also using shipping palettes, Keith sketched out and fabricated this spooky ticket booth. The skull atop the sign is a nice touch, as is the wainscoting effect from the palette wood:

photo by Penny Adams
This is my favorite element, the creepy clown in the rocking chair which operates a Jack-in-the-Box. Keith modified a store bought skull prop for the clown's head. This included using ping pong balls to produced those pronounced cheek muscles, and using newspaper and paper towels to produce pocky, porous skin texture. The rocking motion of the chair was produced using a hacked 12v wiper motor from a vehicle. This thing is so creepy I'm honestly not sure I would make it past it for just a lollipop!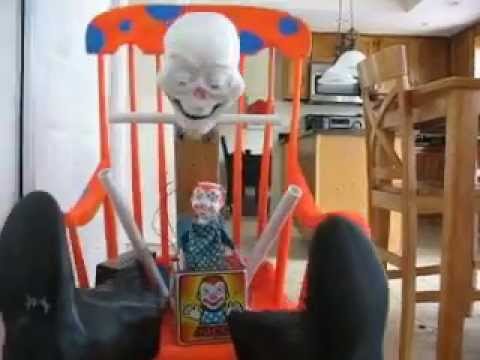 photo by Penny Adams
All photos/images by Keith Corcoran unless otherwise noted.
---
Inspired to make something for Halloween? Be sure to enter it in our MAKE Halloween contest to win cool prizes. Costumes, decor, food, whatever you create for Halloween, is welcome in the contest. Deadline in Nov. 8th, 11:59pm PST.
Read our full contest page for all the details.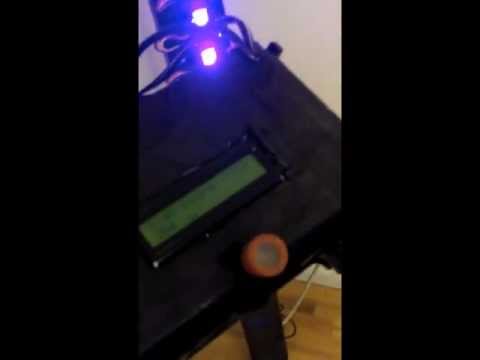 Phil wrote in with this breathalizer project he created with 25 Shiftbrite modules, and Arduino, and a MQ-3 alcohol sensor.
The MQ-3 Gas/Alcohol sensor is not accurate enough to use for any serious breathalyzer applications, it also needs to be properly calibrated which is a process I did not undertake. The 25 Shiftbrites are powered by a 4.5volt 500mA adapter, I'll have to check what I powered the MQ-3 with – but I recall it was the adapter from an old ZIP drive. The LCD and speaker I used are optional for this setup, certainly not required for the test-your-strength breathalyzer. Have fun and drink responsibly. *This device is no where near accurate enough to measure blood/alcohol levels.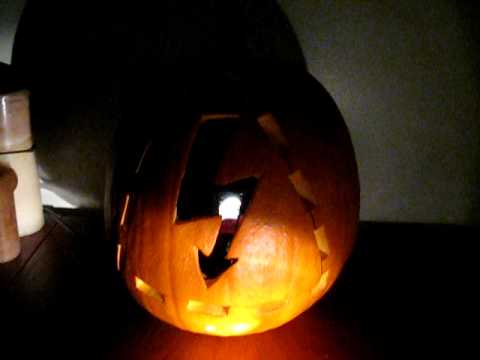 Nice Halloween stunt from hacker Matt Coates, aka mattjackets. Illuminated from within by the classic traveling arc, Matt's Jack-o'-lantern this year is carved with a high-voltage hazard symbol instead of a face. [via Hack a Day]
More:
Mercury arc valve rectifiers are beautiful
---
Inspired to make something for Halloween? Be sure to enter it in our MAKE Halloween contest to win cool prizes. Costumes, decor, food, whatever you create for Halloween, is welcome in the contest.
Read our full contest page for all the details.

TechShop, the network of membership-supported fab spaces, asks "What do you want to make?" For the last couple of years, the Young Makers program has asked a similar question, adding a couple of letters to it: "What do youth want to make?"
This Sunday afternoon, November 6th, TechShop and the Young Makers program team up to co-host a meet-and-greet at TechShop San Francisco. Young Makers are coming to infiltrate … er … get acquainted with TechShop, recruit TechShop members to become mentors this season, start new clubs to build projects for next spring's Maker Faire, and generally get to know one another. Autodesk will be there, too, to lead workshops on their new software Sketchbook (on the iPad) and 123D Make (on the PC).
From a pilot club a couple of years ago, the Young Makers program has grown to include dozens of Maker Clubs in the Bay Area and beyond. Kids bring ideas, and the program connects them with adult mentors and shop facilities. The completed projects are exhibited each year at Maker Faire. We're always looking to better tools and shops — and the insight of helpful mentors — to build our projects, so the Young Makers are keen to come check out what TechShop is all about.
Should you come? Yes! If one of these describe you:
You are

under 18

and want to make something for Maker Faire (or you are the parent of a maker-to-be under 18). We suggest the program works best for kids who are

over 12

, too.
You are a kid or an adult who wants to

start a Maker Club

at your school or after-school program, in your community or neighborhood, etc.
You're an adult who wants to

mentor

kids to help them make things (and are currently a member of — or may join — TechShop.)
Space is limited. Check out more details, and please do RSVP if you plan on attending (so we can slice enough cheese for the sandwiches — lunch will be provided).
Young Makers was started as a collaboration between Pixar, the Exploratorium's Tinkering Studio, and MAKE magazine/Maker Faire with the goal of inspiring and developing the next generation of makers, creators, and innovators. To find out more, visit youngmakers.org.
TechShop is a membership-based workshop that provides members with access to tools and equipment, instruction, and a community of creative and supportive people so they can build the things they have always wanted to make.

Bill Brommer from the Horseless Carriage Club brought his restored Ford Model T delivery car to Maker Faire Bay Area 2011. All of the automobile enthusiasts in his club are dedicated to the restoration of old cars built prior to 1916.
Watch more videos from Maker Faire Bay Area, Detroit and New York.
Subscribe to the Maker Faire podcast in iTunes, download the m4v directly, or watch it on YouTube and Vimeo.


Liquid Robotics' Waveglider is an autonomous submersible that explores the ocean using the power of the sun and waves. As Roger Hine explains at Bay Area Maker Faire 2011, the Waveglider can either traverse the waters on its own, converting the up-and-down motion of the waves into forward propulsion, or can be controlled remotely by a user with a GPS satellite link.
Subscribe to the Maker Faire Podcast in iTunes, download the m4v
video directly, or watch it on YouTube and Vimeo.
Check out more videos from Maker Faire Bay Area 2011.
More: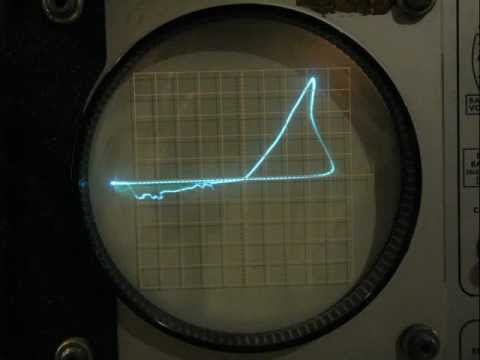 Fascinating video from Nyle Steiner, who reports on his experiments with simple homemade memristors made from what are, probably, Al-CuxSy-Cu and Al-PbS-Pb junctions. He describes the observations that led him to experiment with these systems and the results of his experiments, and then wraps up by drawing out a simple memristor demonstration circuit and showing its operation on-camera. [Thanks, Laine Walker-Avina!]
More:
The memristor

Terence on Ikea Hacker used "spare parts" from his Utby table legs to make an uber-industrial tape dispenser and paperclip holder.
The two hacks here are a tape dispenser and a paper clip dispenser. With the spare parts from the Utby stainless steel legs I made the tape dispenser with nuts, bolts, and a roll of tape. The paper clip dispenser just has a magnet glued on the inside of the square tube.

The staff of MAKE strives to produce media that you're passionate about. The best way for us to find out how we can make MAKE better is by asking your opinion, because it means a lot to us!
We would appreciate it very much if you spent a few minutes answering the following questions (it won't take long), mostly about MAKE Magazine and Make: Live. In return, you will be entered in a drawing to win a $50 Maker Shed gift certificate + 1-year subscription to MAKE!
Thank you,
From your friends at MAKE