---
Perhaps you've noticed recently when you make a pit stop at your local RadioShack that some of the displays have moved around, and there is cool new DIY merchandise for sale. Among that merch you'll now find MAKE kits and books. Above is some of what's for sale at the Novato, Calif., RadioShack. In fact, from Hawaii to San Juan (seriously!), from Fargo to San Antonio, 500 RadioShack stores are now carrying Maker Shed merchandise. You can find out if your store is participating by viewing this map we made, or checking out your local Shacks. MAKE is thrilled to be involved in the partnership and the DIY renaissance at RadioShack.
View Maker Shed RadioShack locations in a full screen map.
Amy Shineman, RadioShack's brand manager, reached out to the DIY community to ask them to participate in selecting the new DIY-centric products in stores.
To check out some of RadioShack's process behind their recent DIY initiatives and feedback from their customers, see the announcement of their final list of Top Ten DIY Suggestions from readers. They said they read through every comment — good, bad, helpful, and not so much.
And here's their recent post announcing the Great Create Arduino Challenge.

A follow up to my previous article "Is It Time to Rebuild & Retool Public Libraries and Make "TechShops"?" – The Public Library, Completely Reimagined @ MindShift.
You'll hear a lot of talk about the "death of the public library" these days. It isn't simply the perpetual budget crises that many face either. It's the move to digital literature, and the idea that once there are no more print books (or rather if there are no more print books), the library as an institution will cease to exist.

Librarians will remind you, of course, that a library is much more than a book repository. It's an information center (free and open information, I should add). It's an educational center. It's a digital access center. It's a community center. It's fairly clear when you describe the library like this that none of these roles are going away (nor should they), no matter what format our reading habits may move to.

But these new formats will indeed change libraries — how they operate as well as how they look. As our books become digitized, there may be less need for row upon of bookshelves. And as such, that's a great opportunity for libraries to re-think how to use that space.
Read more AND consider donating!

MIT's Professor Neil Gershenfeld gave a fascinating and engaging talk at the Carnegie Institute of Washington, DC on November 3rd. The event was a benefit for the emerging FabLabDC, which is intended to provide a high-tech fabrication laboratory within sight of the US Capitol. In the talk, he presented a unique vision of a community-based roadmap for automated manufacturing, where "data into thing" becomes "data is thing." Overall, a very interesting presentation, with lots to think about for technologists, urban planners, educators, and more. Other than a couple of small quibbles around a false dichotomy between hackerspaces and FabLabs, it was fascinating, informative, and a lot to get excited about. You can find a lot more info in the FabLab FAQ, and most of the slides presented at the meeting are can be found here.
More:

Weekend Projects builder Matt writes in with this great story about his foray into electronics, starting with one of my favorite projects from our series, the Light Theremin.
When I saw the Light Theremin, I decided I would give it a try. I took a trip to RadioShack and bought the necessary parts. When I got home, it took less than an hour to put it together and get it working. I brought it into work the next day and entertained my coworkers with it and could even explain the way the 555 timer was being put to use (astable mode!). I now keep it on my desk as a fun thing to talk about and I'm trying to decide what my next project should be…
Thanks for sharing your story, Matt. And we look forward to that next project of yours. Want to share your Weekend Projects mod with others? Email us your story and some pictures.
Are you keeping up with our Weekend Project series? Sign up below for the Weekend Projects Newsletter to access the projects before anybody else does, get tips, see other makers' builds, and more.
Sign Up for the "Weekend Projects" Newsletter
Please enter all required fields

Correct invalid entries

More:
See all of the RadioShack Weekend Projects posts (to date)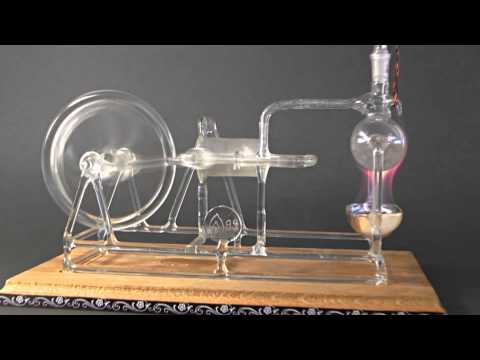 Czech maker Michal Zahradník built this steam engine entirely out of blown glass.
The crankshaft is glass. The piston is glass. The counterweight that makes the wheel spin evenly is glass. Imagine that everything is made out of glass. * There are no sealants used. All is accomplished by a perfectly snug fit. The gap between the piston and its compartment is so small, that the water that condensates from the steam seals it shut! * Notice the elaborate excessive steam exhaust system next to the piston. * The piston is the most arduous part to make due to to extreme level of precision needed. Its parts have to be so accurate that no machinery is of use here. The piston and its cylinder must be hand sanded to perfection, and they are very likely to crack in the process! On average, three out of four crack.
[Via Ponoko]

As this post goes live, we are eleven hours and eleven minutes into the eleventh day of the eleventh month of the eleventh year of the twenty-first century. 11/11/11 is being hailed, variously, as "Elevensday," the Last Binary Day of the Century, and Nigel Tufnel Day, and we here at MAKE would like to invite you to celebrate by joining us in building something, perhaps this weekend, that goes to eleven.  Just be careful not to confuse feet (') and inches (").
Already made a cool Elevensday project?  Or seen one?  Let us know, below!

Karol Łuszcz is studying electronics at  Poland's Gdańsk University of Technology. I'd say he's on-track for an impressive career. This vector-graphics laser projector, his third prototype, includes three laser modules at 650, 532, and 405 nm wavelengths (making it more of an RGV projector, really).  Many parts were salvaged, for instance, from a DVD burner, a printer, and a "disco ball."
Kinematic mounts for optical elements, and electronics to drive the mechanical scanners, were custom-fabricated. Components are mounted on a 3mm aluminum plate mounted in an aluminum briefcase modified with a projection aperture on the side. Magnificent, inspiring build. [via Hack a Day]

Back before cell phones had full color displays they used highly readable monochrome displays like this one, now available in the Maker Shed. These small (1.5″ diagonal) displays were originally used in old Nokia 5110/3310 cell phones. They feature a white backlight and 84×48 individual pixels so you can use them for graphics, text or bitmaps. The displays are easy to use, inexpensive, and are fairly power efficient. A level shifter is included so you can easily hook it up to an Arduino.
Features

Board size is 1.94″x1.66″x0.25″
84×48 pixels
Low power
Displays graphics, text or bitmaps
3.3v

Congratulations to Joseph, winner of the latest Weekend Projects giveaway. You get a Maker's Notebook and a Mintronics: Survival Pack (above). The Mintronics pack includes many of the components that we've been working with over the past few months in Weekend Projects. And with the notebook, Joseph will be able to jot down his project ideas in the years ahead. It was a lot of fun reading through all of the stories our readers shared, and especially interesting to hear how influential radio was for so many makers in getting hooked on electronics!
When I was in grade school I took some basic electronics classes. One of my neighborhood friends and I use to take apart old TV's and collect the parts. Great fun. A few years later I started building Heathkit kits. The first two kits I built was the powered breadboard and the bench top multimeter.

After many years of writing software I decided to get back into electronics as a way to improve my software development skills. What fun to combine software skills with electronics skills. Now I have been getting into developing software projects using micro-controllers to control external hardware devices.
Are you keeping up with our Weekend Project series? Sign up below for the Weekend Projects Newsletter to access the projects before anybody else does, get tips, see other makers' builds, and more.
Sign Up for the "Weekend Projects" Newsletter
Please enter all required fields

Correct invalid entries

More:
See all of the RadioShack Weekend Projects posts (to date)

Running through November 26th at the Netherlands Media Art Institute. The above work is "Identity Bureau, Synthetic off-the-shelf (OTS) British natural person" which plays to a loophole in British law that allows a person to have multiple legal identities.
'The Art of Hacking' focuses on the artistic side of hacking. The artists in this exhibition highlight the imperfections of our surroundings and daily lives. The projects subvert, improve on or circumnavigate 'official' systems and practices and offer alternatives. Superficially, hacking is often associated with spreading online viruses and other digital attacks.

Officially these criminal activities are not really known as hacking, but as 'cracking'. The real practice of hacking is done based on far more positive and artistic motives. It's a state of mind and there are elaborate ethical codes within the hacker community.

In short creative hacking combines artists' technical skills with the optimism to solve problems and the urge to overcome artistic and creative limitations. The basis for these works lies in a technical, online methodology that spreads into the physical world through the tangibility of the artworks.
[Via We Make Money Not Art]