---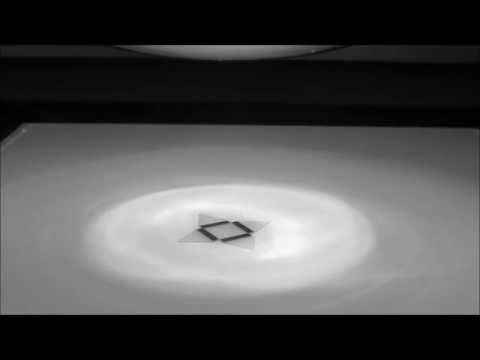 Researchers at North Carolina State University have discovered a remarkably simple and flexible way to make self-assembling objects, using just inkjet ink and "pre-stressed sheets of plastic" (that is Shrinky Dinks to those of you following along at home). By printing bold lines on the flat sheet of plastic, and exposing it to a heat lamp, the portions printed black heat up faster, and shrink more, causing the plastic to bend in predictable ways. The result is rapid and replicable self-assembly into 3D objects. It ought to be a simple thing to replicate at home – I wonder what a self-assembling robot frame would look like…  From On the Verge.
More:

David Lang, something of a reluctant maker, is on a journey, intensively immersing himself in maker culture and learning as many DIY skills as he can, partially through a generous arrangement with our pals at TechShop. He's regularly chronicling his efforts in this weekly column — what he's learning, who he's meeting, and what hurdles he's clearing (um… or not). –Gareth
Makers amaze me. I'm always in awe of how many different projects they seemed to be juggling at once. As soon as you dig into a conversation, you can usually uncover about five more that they're mentally planning. Show them a new tool and you'll get a list of new applications and experiments they can use it for. Surely this uniquely maker trait – a never-ending conveyor belt of project ideas – is a natural born characteristic. I had to rack my brain to think of even one thing to make, so balancing different project ideas would never be a problem for me, right? Wrong!
I get it now. As a maker who stopped by the OpenROV booth at the East Bay Mini Maker Faire commented: "Pretty soon, it stops being about what you can make, and starts being about what you have time to make."
I nodded in agreement, however, it didn't truly resonate until late Sunday afternoon when I realized my "little" side project had consumed my entire weekend, and was threatening to take up the next one as well. It all started on Thursday of the previous week when I had a conversation about vertical gardens and became enamored with the idea of making plants growing on walls. Prior to my Zero to Maker experience, I probably would have gone to the store or cruised the web to figure out the cheapest option or just read a lot about the process. Not anymore! I was going to make it!
I should also provide the context that I'm terribly bad with plants. If there's a word or phrase that means the exact opposite of a green thumb, that's me! So logically, I think the main issue is getting dirt on the wall. I googled to find some examples of wall growth and how to do it – finding one example of artists growing grass on ceramic. I thought that might be the right path. After spending half an hour on the phone with the maker of Liquid Ceramic, explaining my idea of mixing Liquid Ceramic with potting soil and adding grass seed, I was politely talked out of that strategy. But the idea didn't go away.
In an unrelated discussion with my girlfriend, I learned about a material called hypertufa – a mixture of Portland cement, peat moss and perlite – that, when covered with buttermilk, would grow a layer of moss. Although this didn't fit my exact vision of plants growing on the wall, I figured maybe I could make a series of wall-hanging planters that would suffice. And, honestly, I was just eager to try out the material. I penciled out a list of what I'd need, which included the hypertufa ingredients, as well as a sturdy mold to hold my concrete-like mixture. On Saturday afternoon, I stopped by TechShop to see if I could pick up any mold ideas, and quite impulsively, jumped into a class on Angular Sheet Metal to try and pick up some skills for building it. The class was fantastic. I spent the entire afternoon learning about and experimenting with the metal shop tools and imagining all the things I could make with them. However, I left the class with no mold to speak of. But that still didn't stop me.
Sunday morning I woke up on a mission. I told my girlfriend about the singular goal of creating a hypertufa planter. Despite the general lack of context, coupled with my strange behavior all weekend, she agreed to join in the "fun." The main reason she agreed to help (I think) was to see what I was making such a fuss about, not because she was exceptionally excited about the idea. The quick trip to pick up materials turned into a complete hardware store tour of San Francisco. By the time we had everything we needed, it was mid-afternoon and we were exhausted. Our fun "little" side project had turned into a straight-faced, nerve-tested focus on just getting something done. During our adventure, we purchased some plastic buckets which, after some slight modifications, we turned into acceptable molds for the hypertufa. They weren't the wall planter molds I'd envisioned, but they would have to do at this point. The next thing I remember is being covered in dirt, peat moss and cement mix – all over my clothes, rubber gloves and the work area we'd sectioned off in my girlfriend's backyard (and, believe me, I DEEPLY regret not getting a picture of this stage of the process).
By the time the dust (and concrete) had settled, we had two molds filled with our hypertufa. After we got everything cleaned up, I looked at the setting molds and reflected on the process – how far and wide I'd strayed from what I originally set out to do. A silly idea of getting plants to grow on a wall took me through a semi-embarrassing exploration of liquid ceramic-infused soil, through a class on angular sheet metal, and knee-deep in an experiment in faux concrete. I was a mile away from my goal, but I learned a lot in the process, and actually had quite a bit of fun. Also, there's always next weekend.
Update: Last I heard (via text message from my girlfriend) on the status of our experiment: "I dunno, it doesn't feel right, feels like compacted dirt. I think we should chalk this one up as a learning experiment." Of course!
More:
Follow David's Zero to Maker journey

Thingiverse user Artharis created this awesome Arduino-controlled animatronic tail. You can even customize it to however many vertebrae you want. [Via Thingiverse]

Weighing in at eighty pounds, the DW734 is the smaller of two bench-top planers that DeWalt offers. You can pick one up from a big box store for around $360-$400. The 15A, 120V electric motor spins the three cutting blades at 10,000 RPM and the automatic feed system uses two rubber drums to grab the workpiece and steadily feed it through the blades at 96 cuts per inch. The blades are reversible and produce a nice finish, however due to the mounting hole configuration they are very difficult to re-sharpen. You can buy a pack of three replacement blades for around $45 online.
The DW734 can plane wood up to 12.5" wide and 6" thick. There is a handy scale on the side of the planer divided into 1/32" and 1mm graduations. I have not tested the accuracy yet, and I really only use it as a reference when setting up the initial height of the cutting blades. One full rotation of the handle changes the height of the cutting head by 1/16".
To set the planer to the proper height, first lift the black bar in front to unlock the four-column carriage-locking mechanism. This will allow you to raise and lower the cutting head. Insert the workpiece and rotate the handle until the gauge comes into contact with the top of the workpiece and the red indicator arrow begins to move up. As you continue to lower the cutting head, the arrow will indicate how deep the planer will cut, up to 1/8".
The best depth of cut depends on the width and hardness of the wood. In some cases I have been able to take 1/8" cuts out of 2×6 pine. If you are planing a 12" wide piece of hardwood like maple, you should take less than a 1/16" cut, with a final clean up pass at a depth of 1/32", to ensure a nice finish. Once the height is set, remember to push the black bar back down to lock the cutting head in place. Flip the red switch and feed the first two or three inches of the workpiece into the machine until you feel the rubber friction drums pulling the wood in.
On the right side of the planer is a small dial that is used to set three common thicknesses. Setting it to 0, 1/4", 1/2", or 3/4" ensures that your part will be no thinner than the indicated value. This is very handy to prevent the cutting head from going any lower on the off chance you accidentally run the same stock more than once.
The compact design makes this planer easy to store. Two metal handles slide out from the top for convenient lifting. It is recommended that you have a friend help you lift this machine onto the bench top, but I have been able to lift it many times by myself if no one else is around.
The machine feels solid and rigid and I was impressed with the quality of the materials used in its construction. The metal infeed and outfeed tables help support long boards and the planer cuts straight and level. It comes with an attachment that redirects the flow of wood shavings that fly out. The down side to this attachment is that, when installed, the outfeed table cannot fold up and makes storage a hassle. Other than that, I have been very happy with the design and construction of the DW734. If you are willing to invest the cash, I would highly recommend this model for hobbyist or weekend use.


Over the weekend we lost Diaspora co-founder Ilya Zhitomirskiy to suicide. I can honestly say that I was privileged to be his acquaintance.
This past May, I traveled to the Bay Area (from New York) for Maker Faire. The night before the Faire, the Noisebridge hackerspace was having an event for speakers to present their projects in five minutes or less. When I delivered mine, I happened to mention that I'm an NYU student. Being from the same alma mater, Ilya struck up an hour-long conversation with me. The topics were as varied as you might expect when two creative technologists get together. One thing that stuck out for me was his love of MAKE, especially the how-to videos by Bre Pettis that he'd watched online as a teen.
We kept in touch afterwards, and he invited me to be an alpha tester for Diaspora. His death is such a shock to me as he seemed like such a vibrant character – full of joie de vivre. He mentioned several great ideas for future projects and I could tell these were only a sampling of a giant mental backlog. I would never have expected to lose him to suicide at just 22 years old.
Despite being part of one of the hottest VC-backed companies at the time, he was totally down to earth and interested in whatever topics came up. A member of the InMojo hackerspace in Tokyo gave us both proto boards. Ilya chose the Geiger counter, as this was shortly after the Fukushima incident in Japan.
It's heartbreaking when we lose a member of the maker tribe at such a young age. Ilya was passionate, idealistic, and driven. I'll miss him terribly, as I'm sure will others.

Quick, handy video tutorial from Jeremy Bloyd-Peshkin of tiny workshop, demonstrating a fast method of centering a piece of round stock in a 4-jaw chuck using a magnetic-mount dial indicator and a pair of chuck keys. If you've never seen this operation before, Jeremy's video makes it clear and simple to understand. [Thanks, Jeremy!]

Men, did you get an iNecklace for your lady but wish you could experience the goodness of glowing jewelry for yourself? Ladies, are you looking for that special gift for the sophisticated man in your life? The iCufflinks, now available in the Maker Shed, are a pair of gorgeously machined aluminum cufflinks with a subtle pulsating LED. The perfect gift for the discerning geek who loves open source technology and getting dressed up for special events.
http://vimeo.com/25108667
Features

CNC machined aluminum
Open source
Easy battery access
Includes replacement batteries
Packaged in a black velveteen box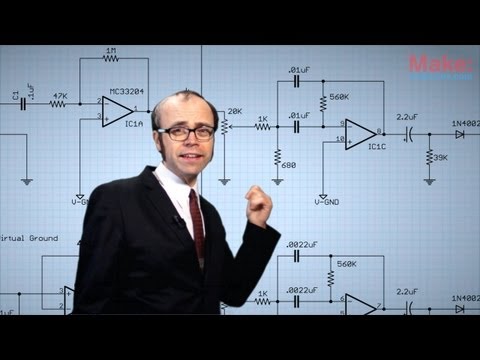 Schematics are the functional diagram of electronic circuits. With so many designs available on the web, understanding how to read schematics can unlock a world of possibilities for the electronics maker. In fact, if you can read a schematic, you can build a circuit before even understanding how it works!
The above video covers some vital basics. For more great info on the subject, be sure to check out Paul Spinrad's Skill Set: Reading circuit diagrams.
Subscribe to the MAKE Podcast in iTunes, download the m4v video directly, or watch it on YouTube and Vimeo.


Dexter Industries has announced a new product, a wifi module that can be added to a NXT project.
The Dexter Industries Wifi sensor for Lego Mindstorms NXT is a sensor designed to allow your NXT to connect to the internet via a local Wifi network.

The sensor can be used to communicate via HTTP, TCP, UDP protocols. The sensor can connect via WPA, WPA2-PSK, and WEP networks, as well as adhoc networks between the NXT and a wifi enable device such as a cell phone or computer.

The sensor operates with standard 802.11 b/g/n access and can log onto any home network. The Dexter Industries Wifi Sensor connects to the NXT via the high speed communications Port 4 and is powered by an external 9V battery.

The sensor is supported in RobotC and NXC.
To get people excited for the new product, Dexter created some fun projects like a tweeting robot and a NXT web server that use the module.